Welcome to Thoughts from the Road. Here's Kenneth Robertsen on bringing motorcycle travellers together with coffee…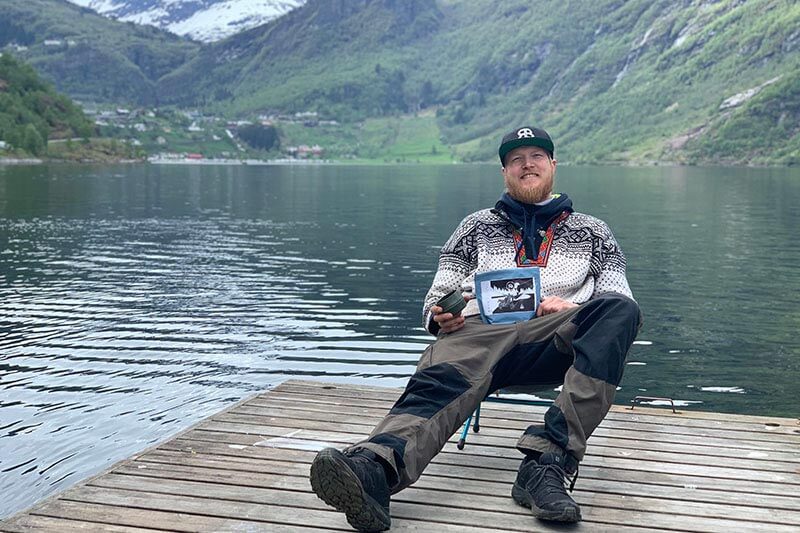 Kenneth Robertsen
I have always been curious about the world around me and have always had a sense of adventure. I started to travel as a backpacker at 24 and got hooked. I've always dreamed of exploring more.
This, combined with my passion for coffee (I've worked in the coffee industry for over a decade), is what has led me to where I am in life at this moment.
All my life I have been very introverted and a bit of a strange loner. But when I started to ride motorcycles a few years ago and forced myself out of my comfort zone, I began to understand all the things I may have missed out on.
I started a YouTube channel with my girlfriend as a way to force ourselves to push our boundaries. We were chasing our dream of riding from the north cape to Cape Town when we ended up in a bad accident and everything changed – the last couple of years have been tough for me.
But because of all the experiences I've had to go through, I've realised that I will never know when my last day arrives, so I'd better try and enjoy each day as much as possible.
That's why I sold my home and quit my job in Norway so I could follow my dream of exploring the world. And what better way to do that than on a motorcycle, with some coffee beans…
Follow Ride the Bean's adventures here:
Bringing Motorcycle Travellers Together with Coffee
My way of travelling is probably a little different to most. Don't get me wrong, I enjoy riding my motorcycle, cruising along, slicing through the wind and soaking in all the amazing views from the saddle – it's amazing. But, it's just a part of why I travel on a motorcycle.
I'm a bit of a loner and I enjoy having time to myself while riding and camping. But I also enjoy meeting new people, hearing their stories and perspectives on things. Doing that helps me grow as a person and get a better and fuller understanding of the world.
Having worked in the coffee industry for over a decade, I have met so many interesting people from all over the world. For some reason, almost everyone, no matter where they come from or what culture they grew up in, have some sort of relationship with coffee.
Even if they don't drink it themselves, their friends and family do, so it's instantly a great ice breaker when meeting new people.
Working with coffee and experiencing this for so many years has made me want to hold onto that same philosophy when I travel on my motorcycle as well. 
I know a lot of you minimalist bikers are going to laugh, but about a quarter of my luggage consists of coffee and coffee making equipment. I carry about 5kg of coffee with me. While in Norway, I used to roast coffee myself and take it with me on trips, but now that I live on the road, I have my good friend and Norwegian barista champion, Adrian Berg from Kaffi Coffee Roastery roast my coffee and ship it to wherever I am in the world (he can also ship it to you if you want – it's really good!).
So, whenever I meet interesting people on my travels, I like to sit down, make us a cup of coffee and get to know them. Just like having a motorcycle there when you meet fellow bikers, having coffee there is a great ice breaker, and it allows us to sit for a few minutes to calm down while we wait for the coffee to brew. Plus, having my own coffee often creates a lot of questions, so the conversation flows very easily.
Everyone has their own reason to travel. For me, it's for a sense of adventure and to escape myself. I struggle with depression and very often wish I won't wake up in the morning. And being very shy and introverted doesn't help.
But having the coffee there makes me braver. It is easier to ask, "Hey, can I make you a coffee?" than "Hey, you seem like an interesting person. Do you want to talk to me?"
And the best thing about it is that the coffee somehow seems to help people let their guard down. In my experience, people tend to open up when you make something for them. Whether it's food or coffee, they feel more comfortable around you and they share stories they wouldn't normally tell most people.
I have heard about people's struggles, their victories, what inspires them, what causes them pain, how they deal with it and so much more. And over time, all these stories have shaped me into the person I am today.
Hearing other people's perspective on topics you feel a certain way about is very humbling, and if you are open to it, it can help you become a better person too.
So for me, the combination of living on my motorcycle and using it to get to and explore new places, and using my love of coffee to meet new people and hear their stories is what has become the thing that gives my life meaning.
I don't know how long I will be able to do it, but as long as I have fun living this way and can make enough money to keep doing it, I think I will.
I hope I see you on the road someday. I'd love to make you a cup of coffee!
Kenneth Robertsen
What do you think? Are you a tea or coffee lover, do you travel with your favourite brews and offer a cup to fellow travellers? What better way to break the ice and get to know people!
Thanks for checking out this Thoughts from the Road column. We hope you enjoyed it! Here's a few more articles that we recommend you read next.