From Borneo to Bromo to Bali, Indonesia has been a mad, wonderful, exciting, dangerous and just outright crazy motorcycle adventure…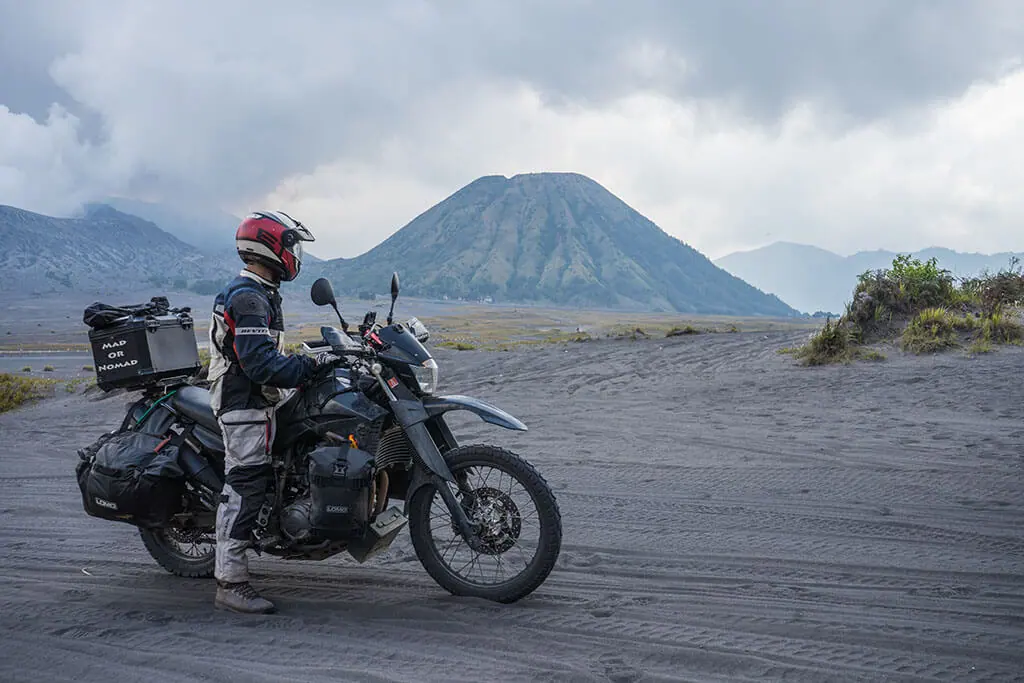 'Sea of Sand'
Our front tyre dug deeper into hot black volcanic sand as the rear sent plumes of charcoal looking smoke into the sky. The weight of riding two-up with all our luggage wasn't helping and we still had another five miles to go.
The sun climbed above the mountains simmering the valley below and burning the cool morning air.
We pushed on, determined to reach the volcano before heat exhaustion kicked in. You know the drill: weight back, light on the bars, heavy on the gas and let the bike do its thing. Except, we had weight all over and going too light on the bars was sending chills through Alissa's spine as she had flashbacks from her crash in Nepal and heavy on the gas just kept digging us in.
There was no choice but for Alissa to jump off and walk through the deep sections and on the stretches where we could get a good run, we closed our eyes and gassed it until the bars became too wild to handle.
Stopping for a drink, we admired the locals on battered scooters and 125s flying past with beaming smiles. Other than those desert warriors, this place was empty. But five hours earlier, it would have been rammed with tourists on a sunrise tour.
On the way here we passed hundreds of 4×4 jeeps on their return journey taking customers back to their hotels. The asphalt road to get to this region is incredibly narrow, winding and often built over mountain spines, and the drivers couldn't care less if you were coming the other way as they took up the entire road.
Friends who had done the jeep tour to see the sunrise over Bromo a few days before said it was crowded with thousands of people. But now in the afternoon sun, there was no trace of that mayhem – just dusty tracks.
Staying active
We reached the foot of Mount Bromo, parked the bike and climbed up to peer inside. Watching it bubble away reminded us that we were peering into one of Indonesia's 130 active volcanoes. Semeru volcano (located 11 miles south of where we stood) erupted two weeks ago. Luckily, there were no fatalities this year, unlike last year when it erupted and killed 50. Indonesia has the most active volcanoes in the world and one of the highest death counts.
Watching the smoke rise, the pit gurgle and the swirling colours change reminded us that it was probably time to go. We loaded up the bike and punched our new coordinates into the sat nav. We hooked a right and within ten minutes were on tarmac…
Confused, embarrassed and perplexed: we had clearly taken a very long detour to get here through the 'Sea of Sand'. We pulled over at the top of a hill to watch the volcano pump gas into the blue sky. It was a hard-fought battle to get here from Malaysia and gaze out over this moonscape…
The Boat from Borneo
To get from Malaysia to Java is confusing and involves shipping to Malaysia Borneo first, crossing a land border to Kalimantan Indonesia Borneo and then catching a ferry to Java (have a read of last month's blog post Back on the Road in Borneo).
We were brimming with excitement as we rode up the ferry's ramp ready for our voyage across the Java Sea. But the excitement was short lived. All the passengers sleep in the same room in joined bunkbeds. You're treated to an all-inclusive three meals a day (one cold curried egg and rice with a dollop of broth on the side for each meal) and everyone eats in their bed as hundreds of cockroaches run over your legs for 36 long and sweaty hours. It was good to touch down in Java.
But we should add that the people we met on the boat were incredibly kind and we made some good friends – especially two Islamic court judges who were bunking next to us.
I Will Overtake You. No matter What.
We've ridden through much of Southeast Asia. You'll often hear how crazy the riding is in Vietnam, especially Ho Chi Minh. But it's like a hive mind. You just have to get in there and go with the flow. Laos and Cambodia have their own set of dangers such as dogs running across the road and mad drivers. But the roads aren't busy, are rural and nobody's in a mad rush like in Thailand where the drivers are fast and you need to keep your wits about you. 
But this is different. Riding in Indonesia requires 100% commitment and confidence. A momentary lapse in concentration or the slightest sign of intimidation and you'll be swallowed – drowned by a sea of bikes, trucks and busses.
There is no rhythm. There is no weakness. You either overtake the second you arrive behind a truck or you've lost your chance. A hundred other scooters will undertake you, take your position and push you back. It's now their turn. And if they miss their chance, they will also be undertaken – each time pushing you further and further back until before you know it, you're back in Borneo. 
All the while we're sweating buckets in the beating sun. Stinging sweat trickles into our eyes making for blurry overtakes. The heat pounds into our riding gear and the XT pants, its fan whirring on full speed desperately doing its best to keep the overheating motor alive.
Our closest calls have been in Indonesia. Cars slice across the road and into oncoming traffic and it's your job to get out of their way. It's not uncommon to find yourself on a single lane road with three trucks abreast charging straight towards you as they all fight to and overtake each other. This happens a lot in Southeast Asia, but here it's relentless and fast and the only way to survive it is to be like them – we had one singular purpose in life and that was to overtake the vehicle in front under any circumstance. Riding through Java had made us road crazy.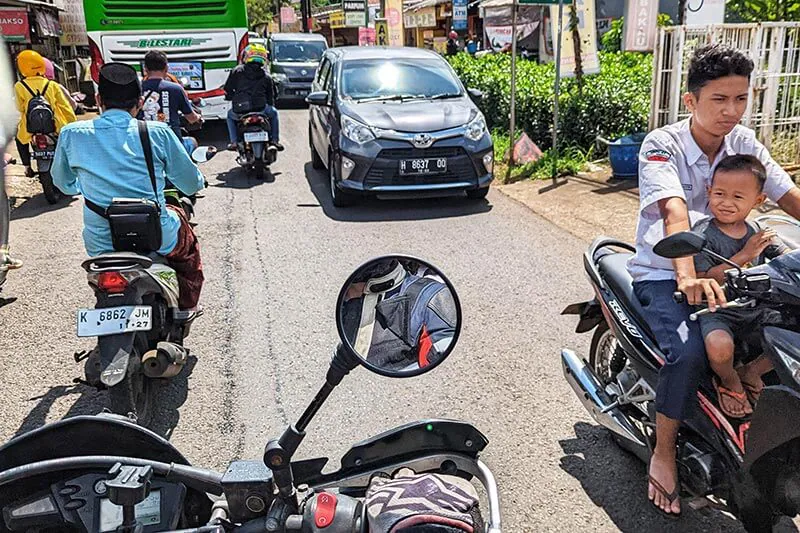 The people
But it's not all bad on the busy stretches. Every time we stop at a traffic light, the crowd of bikes push close to us, beaming smiles and curious locals ask how we are and if there's anything we need. It's so common that we lift up our flip front helmets ready for a chat at every red light.
People have been wonderful the world over, but Indonesians are amongst the friendliest, most inquisitive and kindest we've met on our travels. Everyone wants to shake hands and chat. We're constantly approached and asked if we can have our photo taken. You get this warm heartedness everywhere in the world, but Java is on another level.
We've received hundreds of messages and emails from people who have (unbeknown to us) taken our picture while we were riding through their town. They'd get in touch (we have our website name on our top box, so that's how they'd find us) and send us the pictures straight after.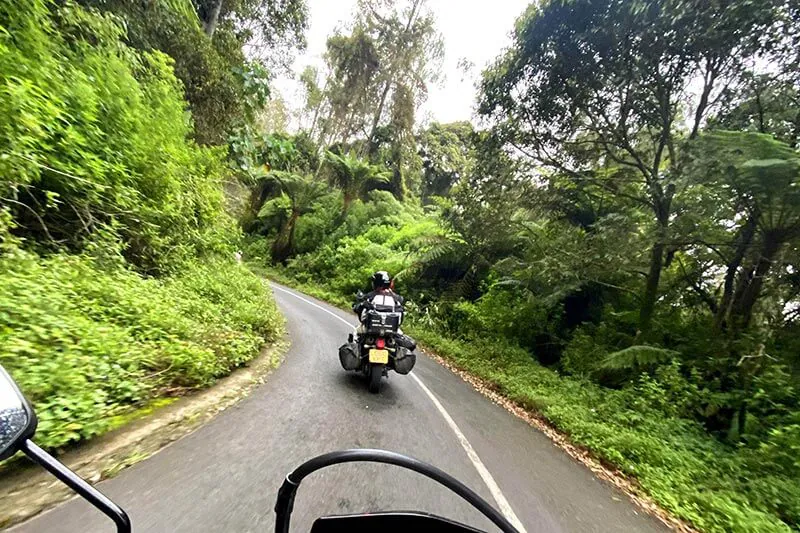 The difference a right turn makes
Once we had covered enough ground in Java to know we'd make it to Bali in time, we could get off the main roads and start digging out little tracks through the country.
The only risk is that sometimes a marked road on Google Maps that we've followed turns out to be a dead end or becomes impassable and we have to turn back. To ride the length of Java in one lifetime, there's no avoiding some stretches of main road.
But take a right turn, any turn, and within minutes you'll be swept away from the hustle and lost in dark green forests and misty mountains. The roads are raw and mystical, shrouded in clouds and cold air – a welcome relief from the heat of the main roads below.
Rolling through villages, past hundreds of rice fields, stopping off at ancient temples and chatting to locals who have never seen foreigners before calm my aggressive throttle hand. We stop to drink thick coffee, share sweets with kids who run out to see us and take it all in. We plot routes to interesting places like Bromo and chase squiggly mountain passes on maps. This is the side of Java we love.
Click the below tabs if you fancy reading about a few of the places we visited.
Borobudur Temple has the title of the largest Buddhist temple in the world. Built around 705 AD, it's an incredible feat of engineering considering around 55,000 cubic metres of stone were used to build this structure without mortar (they used dovetails and indentations to form joints) and they did this over 1,000 years ago.
The temple was abandoned around the 14th century as the region converted to Islam until it was rediscovered in the early 1800s and restored in the 1970s. Not a lot is known about the temple and why it was built as there are no records.
Also known as Rainbow Village, Jodipan used to be a slum. It was so bad that the government decided to evict everyone and demolish the entire area. But a bunch of students from a local university came up with the idea that all it needed was a lick of paint.
So, every house was painted a different colour in the hopes of attracting tourists. And it worked! Tourists flocked to check it out, the people kept their houses and the bulldozers backed off. Now that's ingenuity.
Ijen is another volcano complex. It's close to Bali and often visited by tour groups. It's well known for its blue fire, which is created by ignited sulfuric gas. You can only see the blue flames at night, so you need to hike 1-2 hours up the mountain at about 1am and then spend 30 minutes clambering down steep rocks in the dark to see it. Unfortunately for us, on the night we visited the sulphur smoke was billowing so much that we only caught glimpses of the flames.
Once you get down to the bottom, there's also a neon blue crater lake (which is considered the largest acidic lake in the world). But again, the smoke completely covered the lake.
What was incredible to see though were the miners working there. They break off the bright yellow sulphur and carry it in loads of up to 90kg on their shoulders back up the rocky mountain and down the other side.
There were at least 200 tourists on the morning we climbed. At least three quarters really struggled with the hike up and the climb down towards the crater. As you get closer to the crater, the fumes become so strong that you need to wear a gas mask – making the climb even harder. And as there was so much smoke, everyone had to constantly stop and close their eyes to stop the smoke from stinging.
All the while, these miners are working away and lugging the weight of an adult human on their back up and down for about £15 a day. They do it without masks and instead wet head scarfs with water and suck on the wet material. It's mad.
Many of the miners have opted for another line of work. If you can't be bothered to hike up the trail to the top of the mountain, they'll literally cart you up there. In the dark at 1am these guys were pushing tourists up this hill (that took us one and a half hours to hike up). They charge £30 and it takes three of them- two to pull and one to push.
Our photos don't do the gradient justice. It's ridiculously steep the whole way up.
We wanted to give some of the tourists a slap, like for example when one teenager got in and 20 minutes later all her friends decided they couldn't be bothered to carry their rucksacks so chucked them all in with her.
It's bittersweet though. On the one hand, the sheer laziness of it. On the other, you want these hard-working people to make a good living and earn money.
Welcome to Bali!
The next island over from Java is Bali and that's about as far as we could go with our bike before shipping it to Australia.
We caught a quick ferry from Java (nothing like the one from Borneo!) and headed for West Bali National Park. To get to our hotel we had to leave the XT at the docks and catch a little boat. We didn't need it in paradise anyway. There were only half a dozen guests, beautiful rooms, delicious food served on the beach and wild deer and monkeys roaming the grounds.
We hugged Bali's north coast as we headed east and spent days bobbing about in the clearest water we've ever seen while surrounded by multi coloured fish that looked like they fell out of a rainbow.
Shipping out
Christmas was fast approaching so we pointed the front wheel south and headed towards Ubud. The closer we got the more it felt like we were in a different country until we were stuck in traffic jams with thousands of tourists wobbling around and crashing into each other on rental scooters.
Tourist attractions were rammed full of people taking selfies and hour-long queues just so they could take photos of themselves to make it look like nobody else is there. Weird. We immediately sacked off every major attraction. The south wasn't for us.
Instead, we headed straight for the shipping warehouse and got a hotel a few minutes away. We rode to a carwash and spent the day before Christmas Eve stripping the bike back and cleaning every nook and cranny as they blasted Christmas tunes over the speakers to help us get into the festive spirit.
Australian customs are incredibly strict and meticulously check over bikes for any signs of dirt so we had to get it spic and span.
Since buying the XT new in 2009, it's never been cleaned and has been bound together by 13 years of grease and mud, so it took some time to clean. We nervously rode the bike from the carwash to the warehouse avoiding any dirt, stripped it down, took off the front wheel and handlebars, disconnected the battery, let the pressure out of the tyres, drained the fuel, crated it up and waved goodbye as it was loaded onto a cargo ship bound for Melbourne.
As we walked out of the warehouse on Christmas Eve, discombobulated from the whirlwind of the last few days and without a bike for the next two months – we realised we had no idea what to do next…
Read more on motorcycle travel in Indonesia and Southeast Asia
Thanks for checking out our Indonesia motorcycle travel blog, we hope you enjoyed it! Here's a few more related articles on riding in Southeast Asia that we recommend you read next. 
If you enjoyed this Indonesia motorcycle travel blog or have any questions, please post your comments below. We'd love to hear from you.