The Ritsurin Garden is the most famous and probably the most beautiful garden in Japan. If you can only visit one green paradise, then this is it! This mini guide will explain everything you need to know before you go!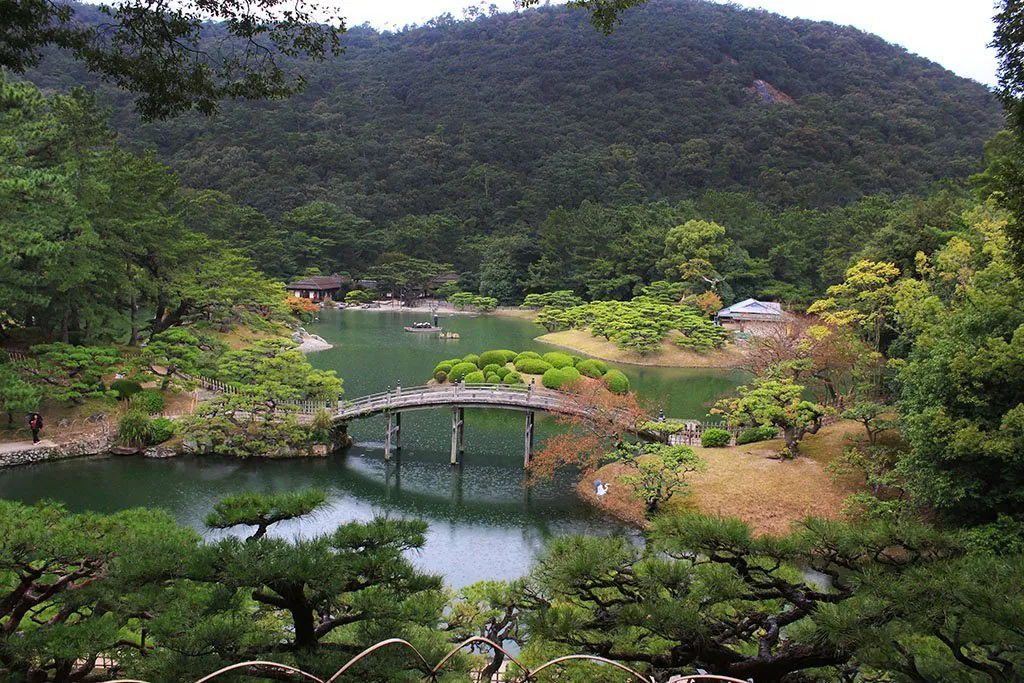 Tell me about the garden
The Ritsurin Garden is Japan's biggest Cultural Property Garden. It's a strolling-style feudal-lord garden, which was built around 400 years ago in the 16th Century Edo Period. It's located in Takamatsu and has the majestic Mt. Shiun for a beautiful backdrop.
It has six ponds and 13 landscaped hills, seasonal flowers, thousands of trees, pretty rock paths, bridges, stone arrangements, wildlife and some 300-year-old pine trees.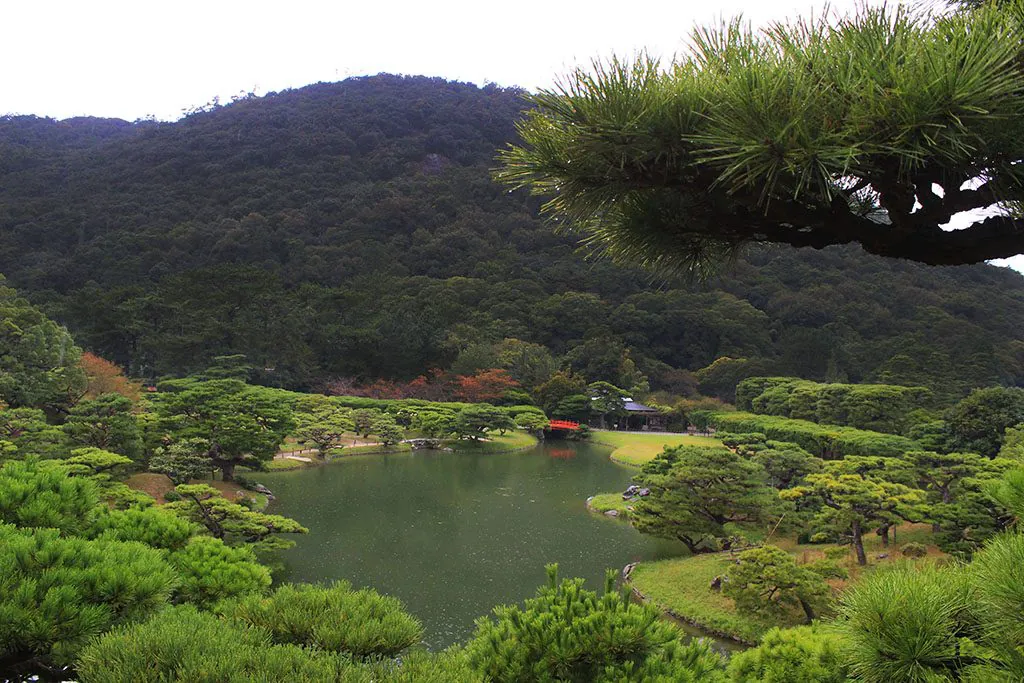 What are the Ritsurin Garden highlights?
Oteue-no-matsu (Royal Family Planted Pine Trees) – Four of the pines were planted by the Japanese Royal Family in 1914 and 1923. And the centre tree was planted in 1922 by Edward VIII of UK when he was the Crown Prince

Tsurukame-matsu – There are around 1,400 pine trees in the garden, a 1000 of which are tended by gardeners – and the Tsurukame-matsu is the most precious of them all. It's called the Crane and Turtle Pine Tree because of its shape.

Kyu Higurashi-tei Teahouse – The Kyu Tea-house was built around the year 1700. There are a selection of teahouses in the garden where you can take traditional tea in the same houses that lords once sipped the green stuff in hundreds of years ago. The tea-house opening hours are from 9am-4:30pm every day. It's 700 Yen for adults and 500 Yen for children for a powdered green tea with a sweet or 500 Yen for adults and 400 Yen for children for an infused green tea with a sweet.

Take a traditional boat ride – You can take a relaxing boat ride in the South Pond like a feudal lord. It's 610 Yen for adults and 300 Yen for children. You can take the boat from 9am-5pm from October to February.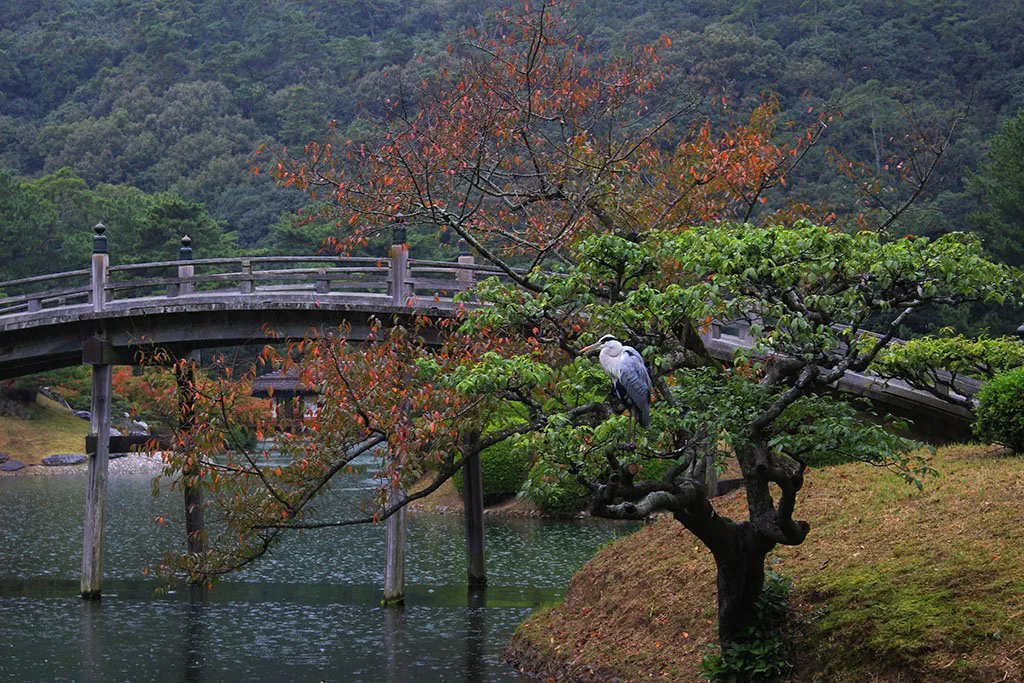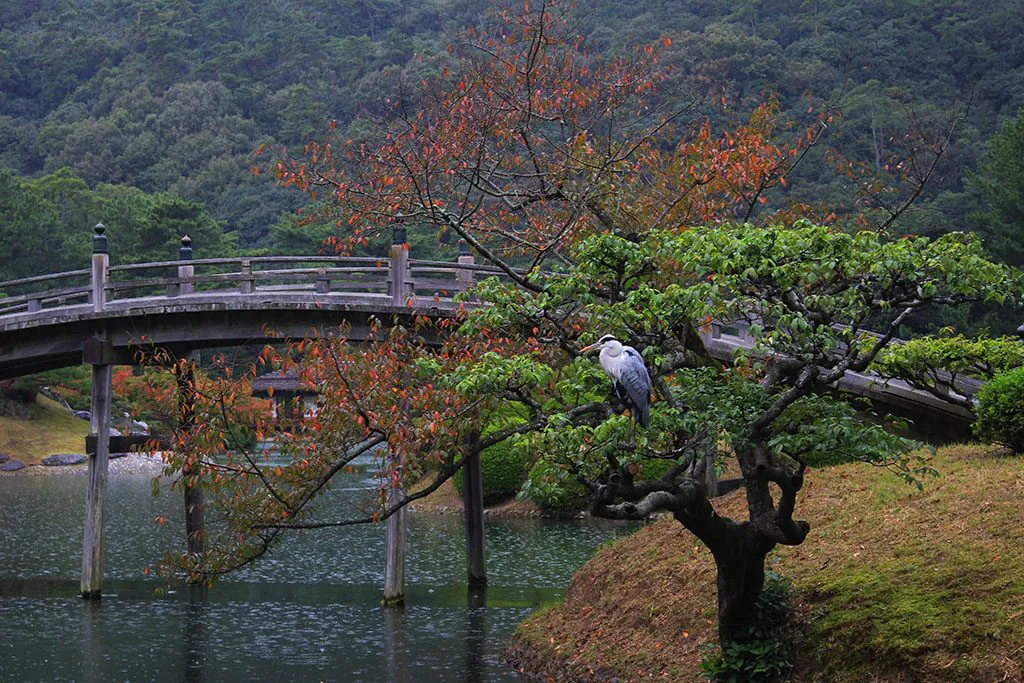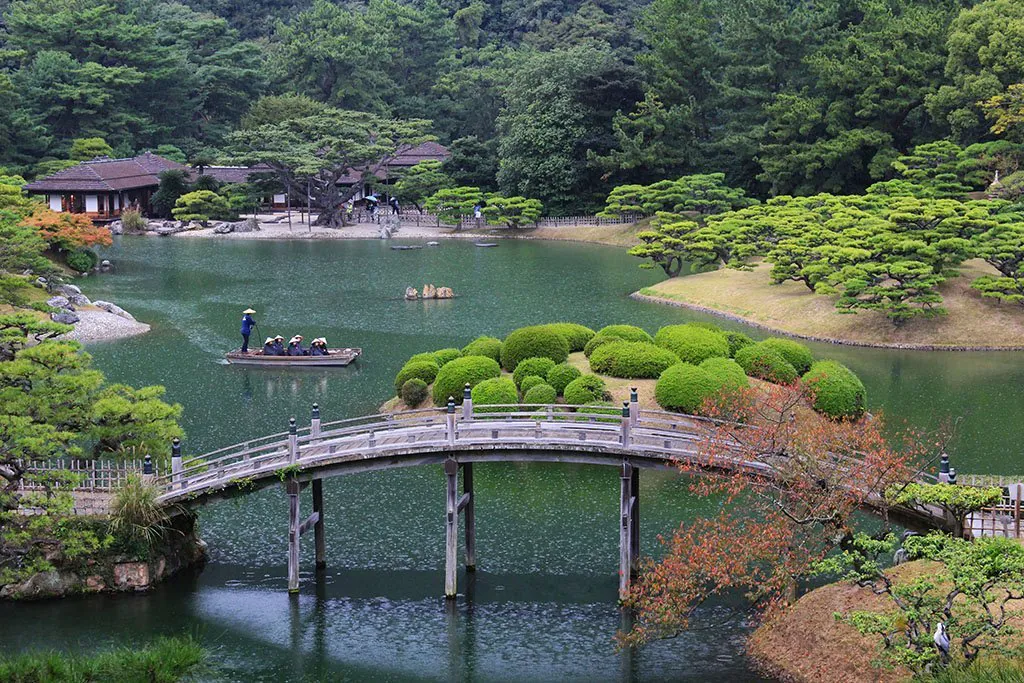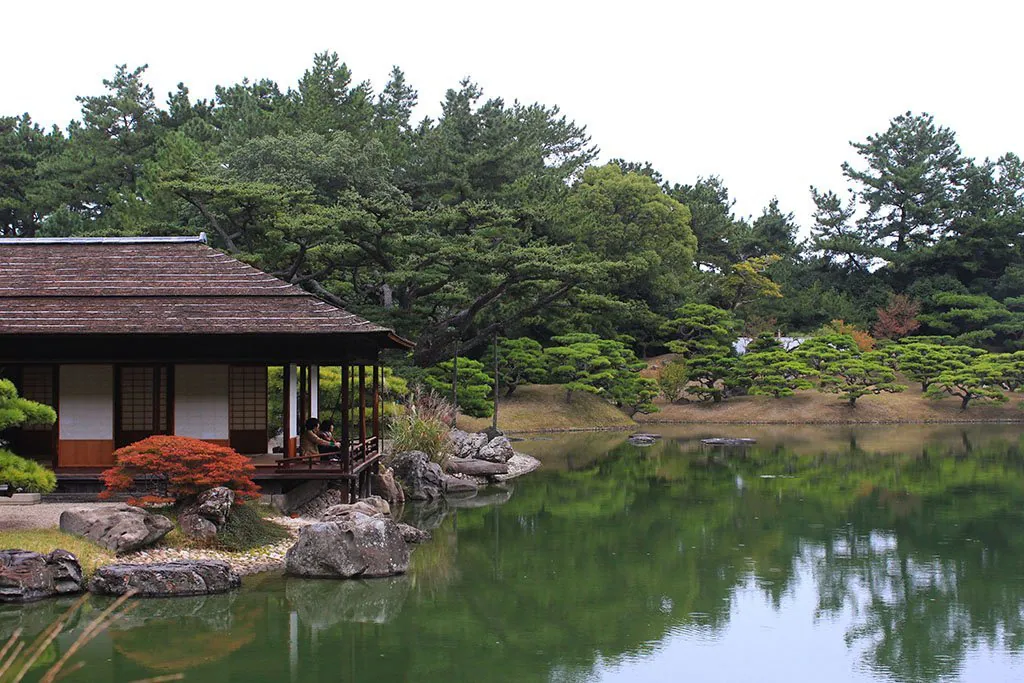 How long does it take to walk the garden?
There are two recommended routes. The South Garden Route takes 60 minutes and the North Garden Route takes 40 minutes. But that's if you just walk through, if you're stopping for pictures and to admire the garden you should expect to take an hour and a half to two hours at least.
What's the history behind the garden?
It's believed that Ritsurin Garden was originally started in the late 16 Century by the Sato Clan. It was passed on to different rulers until Yorishige Matsudaira began ruling the Takamatsu Domain and inherited the garden. His family developed the garden for over 100 years before it was completely in 1745. It was used privately for the next 228 years before becoming a public garden in 1875. In 1953 it was designated as one of Japan's special places of scenic beauty by the government and protected. The total area is around 75 hectares and the garden area is 16 hectares.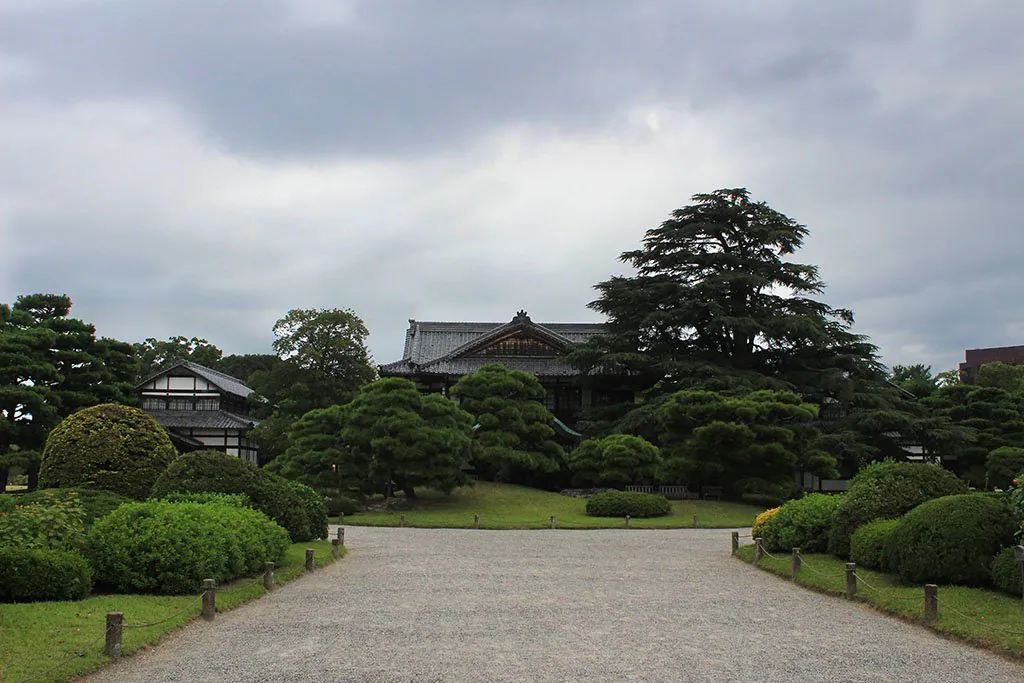 Opening hours, prices and location
Opening hours
Open: Every day
January, December – 7:00am – 5:00pm
February – 7:00am – 5:30pm
March – 6:30am – 6:00pm
April, May, September – 5:30 – 6:30pm
June, July, August – 5:30am – 7pm
October – 6:00am – 5:30pm
November 6:30am – 5pm
Prices
410 Yen adult
170 Yen Children
There are paid lockers at the north and east gate
You can rent audio guide devices for 200 Yen plus a 1000 Yen deposit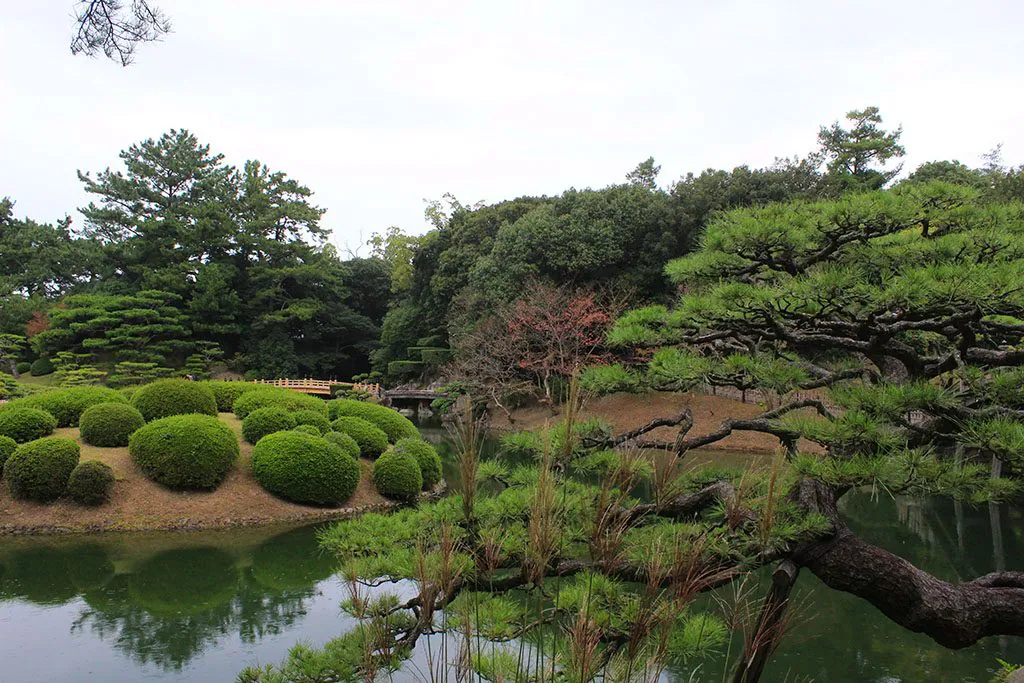 Location
The garden is located in central Takamatsu. The coordinates are: 34.329776, 134.044337 There are car parks inside the garden grounds and motorbikes park for free.
Here's a handy booking.com map to help find local accommodation in the area.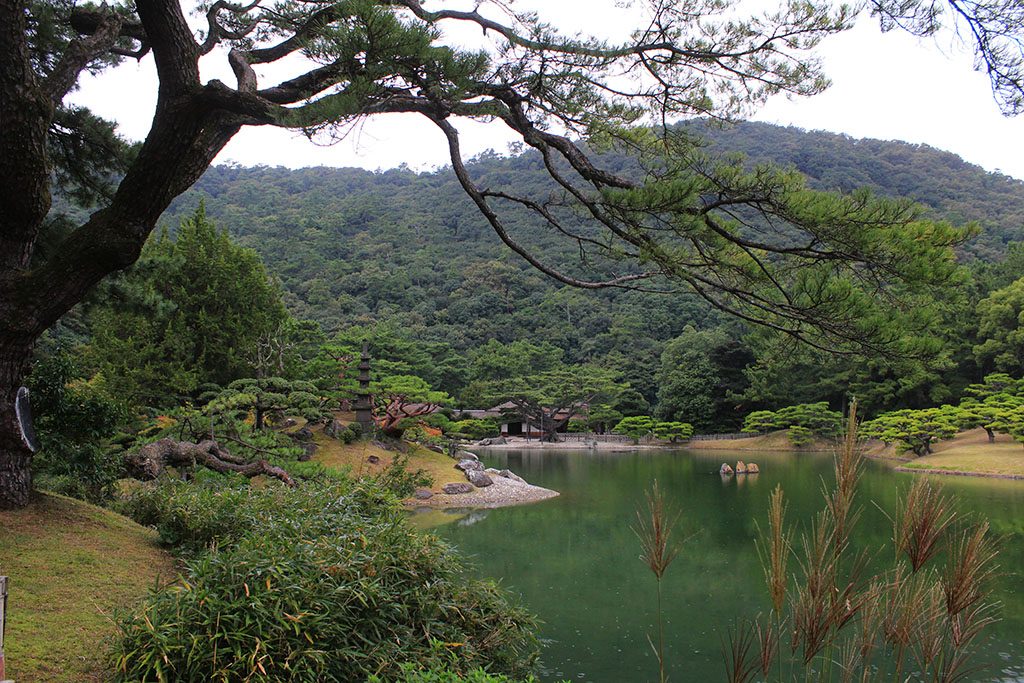 Top Tips
You can get a free guide service by volunteer staff! Just ask at the ticket counter.
There are two days a year where admission is free, January 1st (New Year's Day) and March 16th (Anniversary Day)
November is a spectacular time to visit. There are 70 maple trees which look beautiful in Autumn.
This has got to be the best garden in Japan, take your time and enjoy it!
Read more on motorcycle travel in Japan
Thanks for checking out our Motorcycle Travel in Japan Guide. We hope you enjoyed it! Here's a few more articles on motorcycling in Japan that we recommend you read next.