There's a sleepy little village in Japan where people don't really do much… probably because it's inhabited by 200 scarecrows and only 29 humans. Here's everything you need to know before you go!
Scarecrow Village Japan Guide
What is it?
In the Iya Valley, you'll find plenty of quiet little villages, but none as quiet or as weird as Nagoro. As you drive through, you'll notice nobody waves and everyone stands motionless. Probably because they're scarecrows. Over 200 of them are meticulously placed around the village in lifelike positions. There are scarecrows tending to farms, fixing telephone lines, waiting for the bus, having a chat with each other (silently) and the list goes on. The fun part for you is walking around the village and trying to find as many of them as you can, without being captured and turned into one yourself.
Erm, tell me more?
Every scarecrow made in the village is recorded in the scarecrow registry. They all have a name, sex, age, personality and a life story which you can read about. It's fun, strange, weird and creepy all wrapped up into one straw like bundle! We wouldn't advise visiting at night time… you can, but you may be added to the 'collection'.
Here's some interesting info for you…
The average lifespan of a doll is three years, because most of them are placed outside
Over 350 have been made since 2013
Each one has its own unique facial expression
In Japan the village is known as Kakashi no Sato (Scarecrow Village) and there are plenty of Japanese people who are too freaked out by it to visit
Who makes them?
Ms Tsukimi Ayano is the 'Scarecrow Mother'. She was born in Nagoro village, but moved away. When she came back in 2002, she realised that most of the people had left to find work in the city, making her once thriving town feel lonely and empty.
Ms Ayano made her first scarecrow to look like her father and used it to protect the fields from crows. She noticed that the neighbours would all say "Hi" to the scarecrow, so she began making more and more, eventually filling the village with them.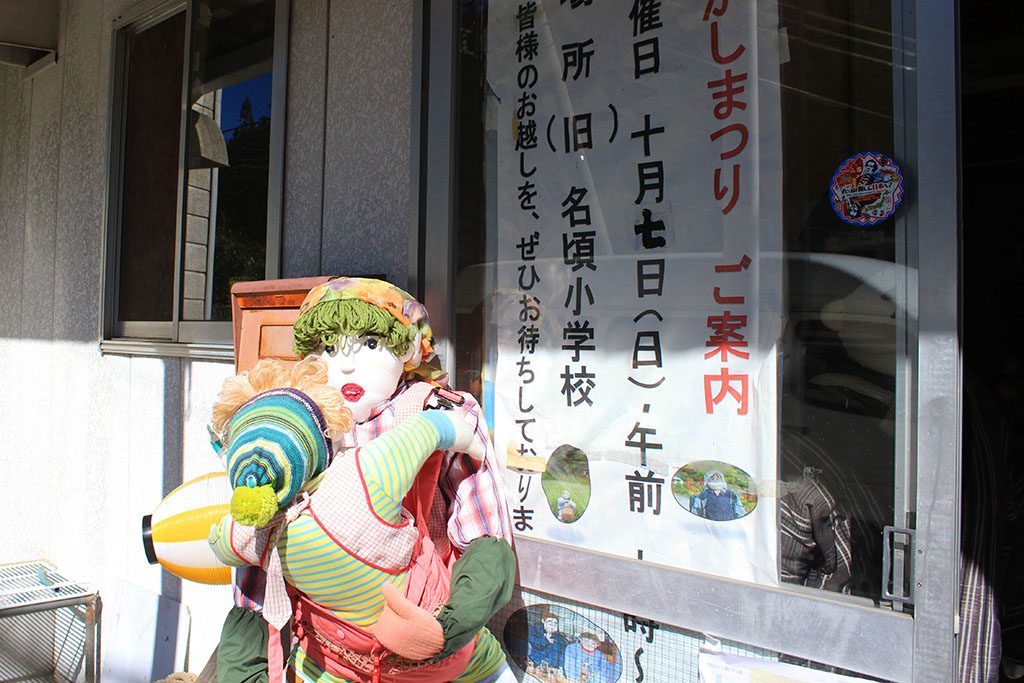 What else is there to do there?
Scarecrow making workshop (reservation required).
It's on the fourth Wednesday every month between 13:00-16:00 and closed between December and March.
It's located at Scarecrow Studio, 629-5, Sugeoi, Higashi-Iya, Miyoshi city
Coordinates are 497 362 321*65
The price is 3000 Yen
You can contact Ms Ayano on 090 8659 4691 if you'd like to book a private class
Take a sewing set and clothes to dress your scarecrow
Scarecrow Festival
There is a festival on the first Sunday of every October near the former Nagoro Elementary School
Ceramics
Ms Ayano also makes interesting ceramic sculptures, which you can buy in the village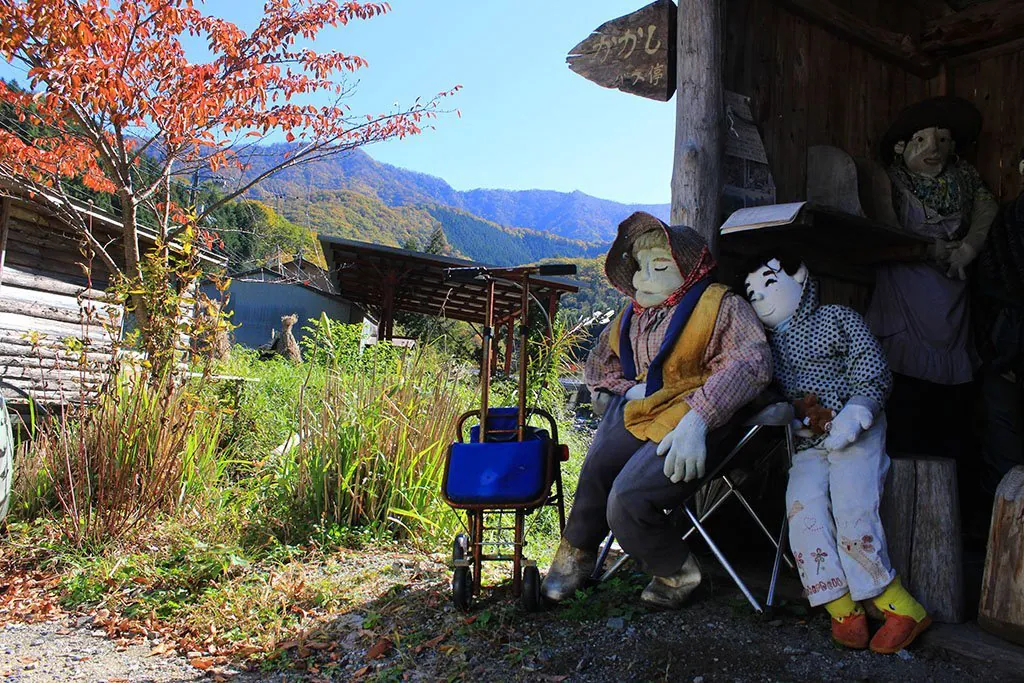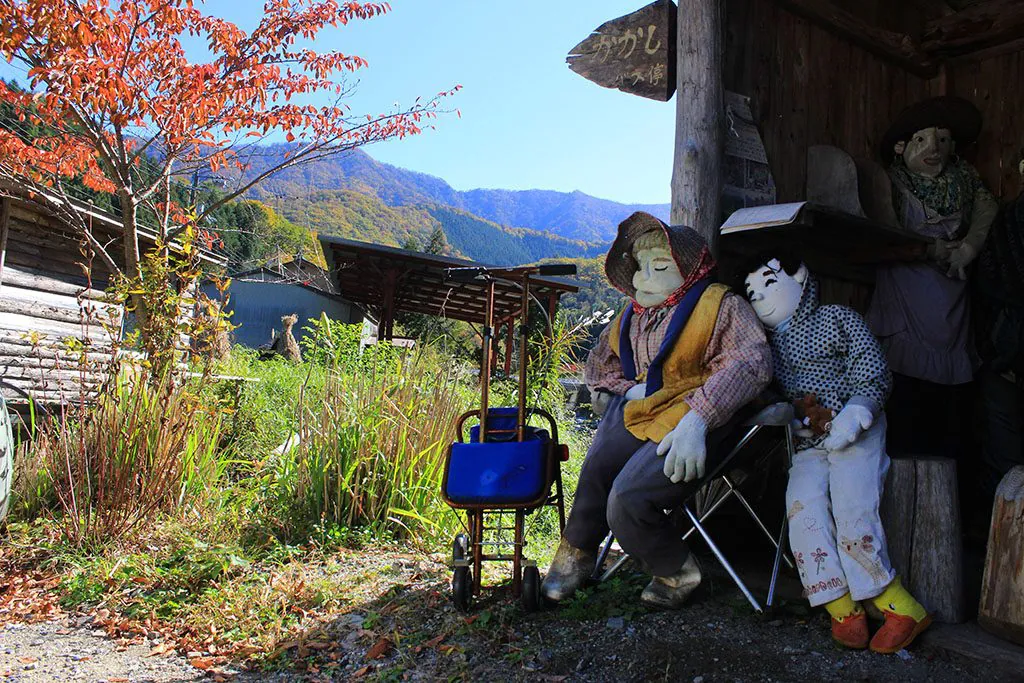 Where is it and how do I get there?
The Nagoro scarecrow village is on the same road that heads to the Double Vine Bridges of Oku-Iya, also on the way to Mount Tsurugi. The village and vine bridges are located in Tokushima on Japan's Shikoku island.
If you're heading to the vine bridges then make sure you stop off here on your way, it's only 3.4 km away. You'll need your own transport or hitchhike. Public transport only runs once a week.
You'll find the locations on the maps below.
You can paste the provided coordinates below into Google Maps or Maps.Me for exact pinpoints.
For maps to the other vine bridge and the famous Peeing Boy statue, check out our packed Iya Valley Vine Bridge guide.
Nagoro Scarecrow Village
Coordinates: 33.856468, 134.019392
Double Vine Bridge
Coordinates: 33.854045, 134.045216
Below is a Google map showing the above two coordinates for the Scarecrow Village (West) and the Double Vine Bridges (East). It's a 6 minute drive and well worth it.  
Japan Rail Pass
As there are big distances to cover in Japan, and you may not have your own transport to get to the Scarecrow village, the best and easiest way to get to the area is to use Japan's excellent train network. We'd advise getting a JR Pass if you're in Japan for any length of time on your trip. Check out the website Japan JR Pass to purchase your pass before you travel.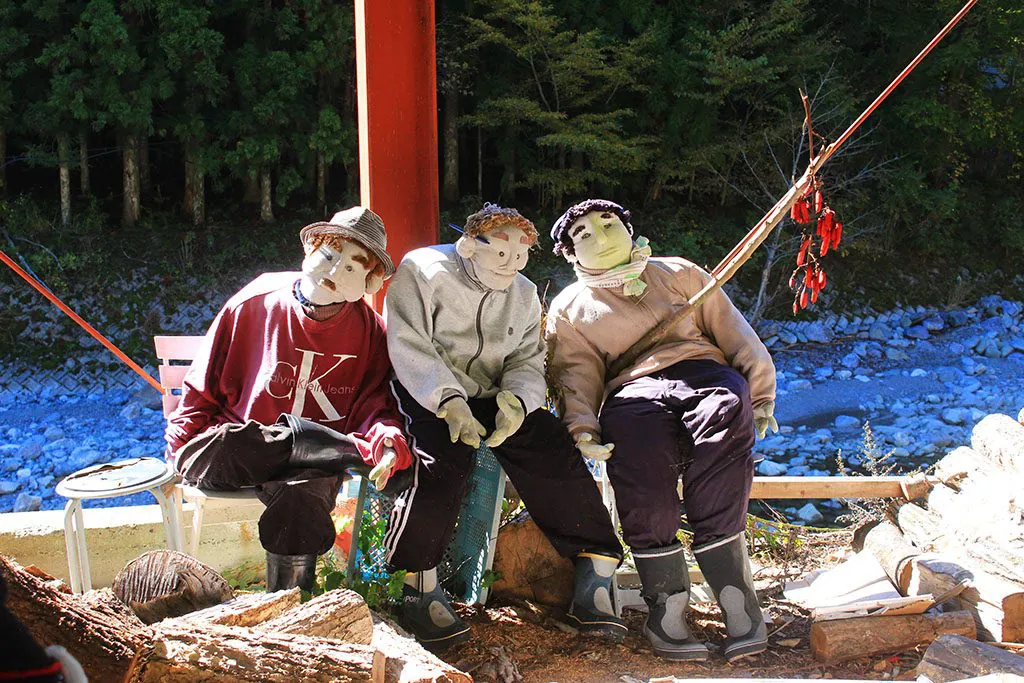 How much does it cost?
Nothing. Just park up and stroll around!
Where can I stay?
These are the two closest places to stay for a visit to the Scarecrow Village. You'll find them both on booking.com. Here are the links:
Read more on travel in Japan
Thanks for checking out our Japan's Scarecrow Village Guide. We hope you enjoyed it! Here's a few more articles on travelling in Japan that we recommend you read next.