"The Jackery 240 is a brilliant power station for lightweight travellers and motorcycle adventure riders. It's light, easy to transport, simple to use and has more than enough power and battery to charge electronic devices on your travels."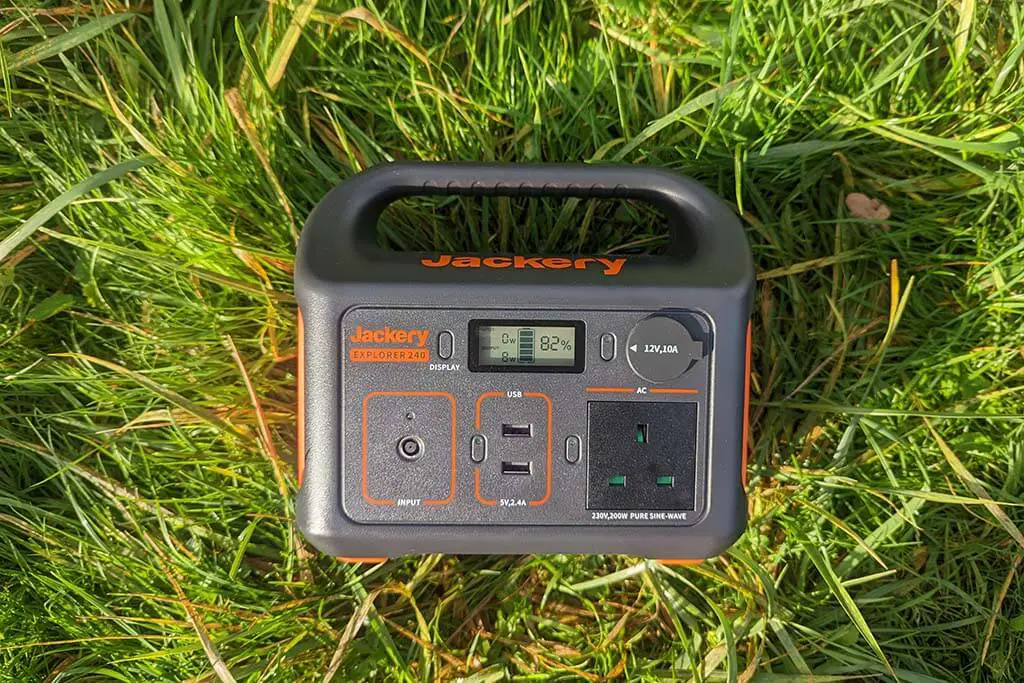 Features
The Jackery Explorer 240 is a portable power station for charging your electronic devices while travelling. We've used it on our trips and travels around the UK and love taking it on extended camping trips, to festivals and events so we're never without power.
How it works
It's an ultra simple device. Think of it like a USB battery pack. You just charge it up, switch it on, plug in your phone or electrical device and it'll charge it up. You can see how much battery the Jackery 240 has left via its display screen. Easy!
Battery
The 240 uses a 240Wh lithium-ion battery pack.
Outputs
It features one AC outlet, one DC car port and two USB-A ports. You can easily charge your laptop, drone, DSLR camera, phone, a mini-fridge… whatever you need. 
Charging the Jackery
You can use a Jackery solar panel to charge the 240 power station if you're going really off-grid. Or, more simply, just plug it into a normal plug socket at home – or even charge it via your car's 12v outlet. Charging via solar panel should take 5 hours, socket charging is 5.5 hours and via a car is 6.5 hours.
Charging your devices
To give you an idea of how many charges you can get from the 240, you can expect to charge a camera eight times, a mobile phone 14 times or a drone 5 times. The Jackery has a display whereby you can easily see the remaining battery life so you won't get caught out.
Size and weight
It measures 7.7 x 5.24 x 9.05 inches and weighs 3kg. Which is all surprisingly small and light considering the amount of power it can produce.
What's good?
We rely on our phone, laptop and camera as we travel and it's important knowing we can charge them up. This can be tricky on motorcycle trips, especially when you're camping often. So having an extra-large power station makes a huge difference.
We can charge two phones, our laptops and both helmets and don't have to worry about bringing multiple USB battery packs with us on our trips.
It's a tough and solid device as it works from -10 to 40C, is simple to use with push buttons and a display screen and stands up to the rigours of bike trips. But it'd be equally suited to car journeys or festivals etc.
Another nice touch is that the Jackery comes with a 30-day money back guarantee and a two-year warranty. But a quick note, if you buy it through Jackery's official website, you get an additional one year warranty on top of that. So, that's probably worth it.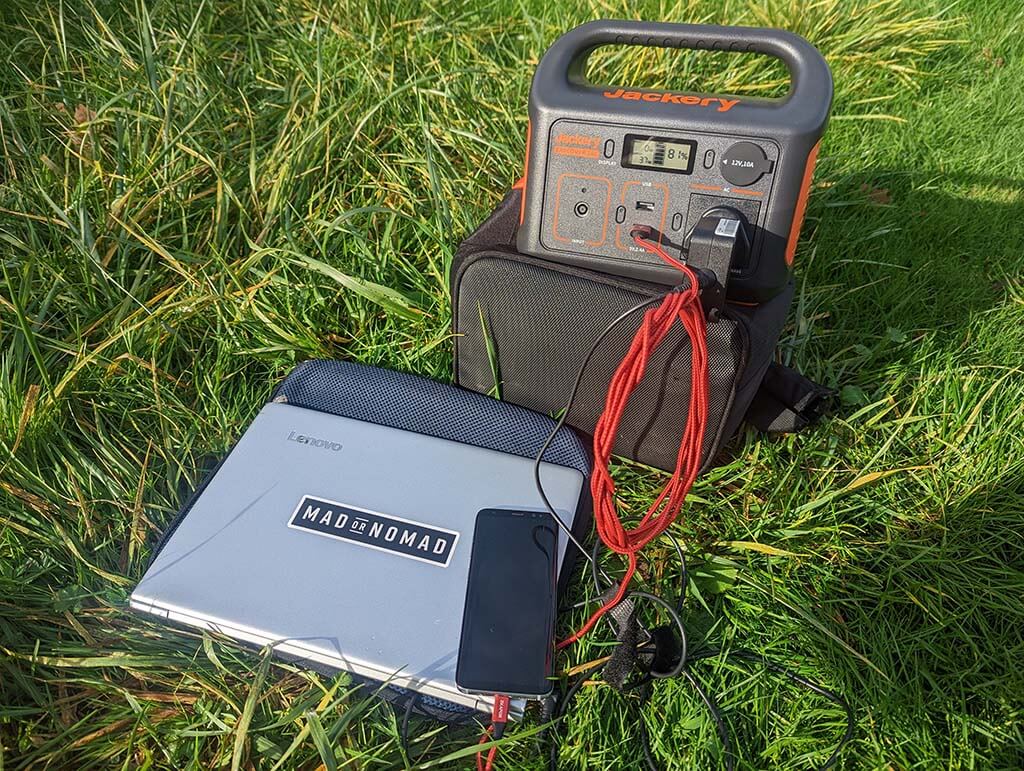 Round up
The Jackery 240 is a brilliant power station for lightweight travellers and motorcycle adventure riders. It's light, easy to transport, simple to use and has more than enough power and battery to charge electronic devices on your travels.
If you're heading away on a motorcycle tour, a weekend camping trip with your mates or even a biking festival, then this is perfect. Forget having to hunt around for a plug socket to charge your phone, instead you can just charge everyone's with this!
ps. We may receive a small commission, at absolutely no cost to you, if you purchase any products using the links on this page. We're not sponsored by anyone, are completely impartial and don't run ads. So this helps us keep the site running. Thank you for your support.
Read more on motorcycle equipment and electronics
Thanks for checking out our Jackery 240 Power Station Review. We hope you enjoyed it! Here's a few more articles on motorcycle electronics that we recommend you read next. 
Liked that? Try these next…
Are you interested in the Jackery 240 Power Station? Do you have any questions? Let us know in the comments below.