Italy Motorcycle Rentals and Tours
Here's our recommended motorcycle rental and tour companies for Italy.
"We are a local company of passionate motorcyclists. We love to show our wonderful towns, world-famous countryside and our exciting roads. Discovering Tuscany on a motorcycle is a must for every biker!"
Services: Guided and self guided tours in Tuscany in English, Spanish, French and Italian.  
Rental bikes: A selection of brand new bikes from Ducati, BMW, Moto Guzzi and Harley-Davidson.  
Rental prices: From £60 – £200 per day dependent on the model.
Tour prices: From £300 (including bike) for one-day to £2,335 (including bike) for one-week.
Insurance: Third party insurance is included. Additional insurance is extra. 
Kit availability: Helmets, gloves, jacket and a t-shirt are included.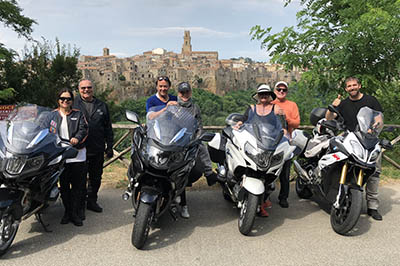 Read more on Motorcycle Travel in Italy and Europe
Thanks for checking out our Italy Motorcycle Rental Companies post. We hope you found what you were looking for.  Here's a few more articles on motorcycling in Italy and Europe that we recommend you read next. 
What's next? Check out these resources to get started on your adventure!
We'd love to hear from you! Let us know about your Italy motorcycle rental experiences and ask any questions in the comments below.