Italy Motorcycle Rentals and Tours
Italy is home to some of Europe's absolute best riding roads. Gorgeous weather, delicious food, proper coffee, stunning vistas, insane roads and biking mad Italians.
Recommended Motorcycle Rental and Tour Companies in Italy
Please contact the companies listed on this page directly for more information.
Hear the Road – Motorcycle Tours Italy 
"We are a boutique touring company providing exhilarating and authentic vacations in heart-warming Italy. The company is owned and operated by long-time motorcycle enthusiast, Enrico Grassi."
Services: Guided, self guided and tailor made tours in Italy.    
Touring bikes: A wide range of Ducati, BMW, Moto Guzzi and Harley-Davidson motorcycles on offer.
Tour prices: Prices vary depending on the duration and type of tour. Check their website for loads more info. 
Insurance: Included. A deposit is required for damage, theft and fire which is your maximum liability. 
Kit availability: Helmets and jacket for 5 Euros per day.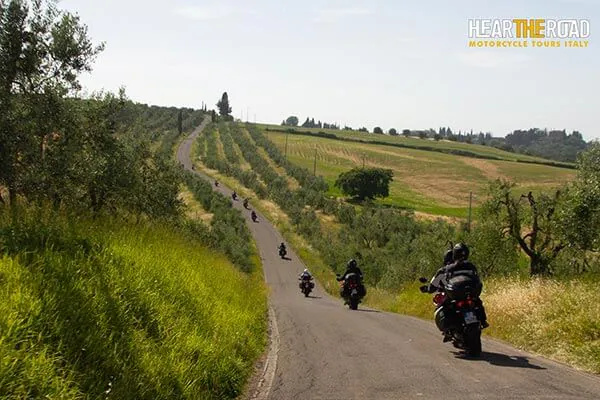 Italy
 www.motorcycletoursitaly.com
   Enrico Grassi
Office: +39 0761 1919820 / Mobile: +39 393 0403260 
  enrico@motorcycletoursitaly.com
"We are a local company of passionate motorcyclists. We love to show our wonderful towns, world-famous countryside and our exciting roads. Discovering Tuscany on a motorcycle is a must for every biker!"
Services: Guided and self guided tours in Tuscany in English, Spanish, French and Italian.  
Rental bikes: A selection of brand new bikes from Ducati, BMW, Moto Guzzi and Harley-Davidson.  
Rental prices: From £60 – £200 per day dependent on the model.
Tour prices: From £300 (including bike) for one-day to £2,335 (including bike) for one-week.
Insurance: Third party insurance is included. Additional insurance is extra. 
Kit availability: Helmets, gloves, jacket and a t-shirt are included.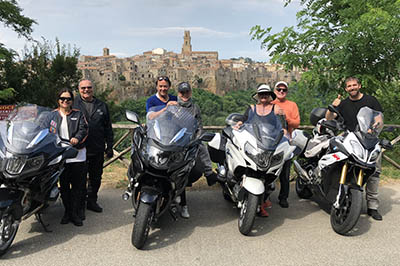 Florence, Italy
  www.tuscanymotorcycletours.com
   Adrian
 0039 375 60 50 154
  info@tuscanymotorcycletours.com
Moto Tours Europe / Adventure Roads
Italy, Croatia, Germany, Austria, Slovakia, Czech, Poland, Spain, Albania, Bosnia, Montenegro, France
"We provide the best motorcycle tour and lifetime experiences. Our clients' testimonials say it all, our guides are professionals, the bikes are always in impeccable condition and our places to stay are handpicked and authentic."
Services: Guided motorcycle tours and motorcycle rental services throughout Europe (including cross border rentals).
Rental bikes: Adventure tourers including the BMW GS range as well as Honda, Suzuki and KTM models.
Rental prices: You can find an exact list of rental prices on their rental page. Expect prices to start from €85 per day.
Tour prices: Tour prices vary depending on the tour and duration. But expect a range between €2,500 for a 6-day tour per rider to €7,800 for a 15 or 16-day tour. You can find more details on their tour page.
Insurance: Basic (third party liability insurance) is included and the deductible differs between bike models. Riders can also opt for additional insurance that will lower the deductible.
Kit availability: Yes, offered on request.
"We are a tour operator organizing ready-to-go and custom-made motorcycle tours in Italy. We don't have our own fleet but partner with all major motorcycle rental companies to offer our customers a complete service. This allows us to offer a vast range of models and brands wherever you want to ride in Italy"
Services: Guided and self-guided motorcycle tours throughout the whole of Italy. Italy on Motorbike offer both road and off-road/enduro tours and they can provide the bike or you can bring your own. 
Rental bikes: Italy on Motorbike partner with different rental firms throughout the country. So there's a vast range of bikes on offer. 
Tour prices: There are three different tour packages (guided, self-guided and trail guided) to choose from (and a separate fourth tailor-made package). Each package has a variety of options and tour locations to choose from, check the website for more detailed info and prices for each one. 
Insurance: Insurance is included. 
Kit availability: Kit can be provided. 
  Based all over Italy
 www.italyonmotorbike.com
   Gerasimo Coroneos
tel: +39 0541 942636

mob: +39 348 5161891
  office@italyonmotorbike.com
FAQs on Italy Motorcycle Rentals and Tours
Read more on Motorcycle Travel in Italy and Europe
Thanks for checking out our Italy Motorcycle Rental and Tour Companies post. We hope you found what you were looking for. Here's a few more articles on motorcycling in Italy and Europe that we recommend you read next. 
Click here for all of our Italy Motorcycle Travel Guides
Motorcycle Rental and Tour Companies
Planning a Fly and Ride bike adventure? Here's our recommended motorcycle rental and tour companies from around the world. Check out the page, click a country and see what's on offer!
Read More