Ireland Motorcycle Rentals and Tours
Beautiful landscapes, incredible history, rugged roads and some of the most stunning riding in Europe. Welcome to the Ireland Motorcycle Travel Guides! 
Recommended Motorcycle Rental and Tour Companies in Ireland
Please contact the companies listed on this page directly for more information.
Lemonrock Bike Tours Ireland
Lemonrock Bike Tours' goal is to share Ireland's best routes and local knowledge while offering the most authentic experience in Ireland.  
Services: Motorcycle Rental, Self Guided and Guided Motorcycle Tours
Rental bikes: BMW R1250GS, BMW R1200GS, BMW R1200R, BMW F750GS, BMW F700GS, Suzuki V-Strom DL650XT and Harley Davidson Street Glide.
Rental prices: Prices start at around £100 a day and change dependent on bike and rental time. Check out the prices here.
Tour prices: A 3 day/ 4 night tour starts at around £700 per person. There are a number of tours on offer. Check them out here.
Insurance: All rental prices include comprehensive insurance. 
Kit availability: Helmets are provided free of charge and there's a nominal daily charge for riding kit. 
Trim, near Dublin, Ireland
  lemonrockbiketours.com
  Paul French
00 353 46 901 1277
info@lemonrockbiketours.com
Flyride Ireland has been described as the "Friendliest motorcycle rental on the planet". They make renting a motorcycle incredibly easy with their unique online booking system.  
Services: Motorcycle and scooter rentals, self-guided and guided tours.
Rental bikes: Honda Africa Twin 1000, NC750X & CB500X motorcycles and Honda PCX125 & SH300 scooters
Rental prices: From £50 – £125 per day
Tour prices: From £125 to £1500
Insurance: Comprehensive insurance with roadside assistance
Kit availability: Full riding gear provided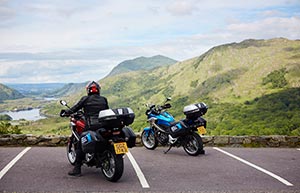 Craigavon, Northern Ireland
  Tim Allen
+4428 9261 3221
  timallen@flyrideireland.com
FAQs on Ireland Motorcycle Rentals and Tours
Read more on Motorcycle Travel in Ireland and Europe
Thanks for checking out our Ireland Motorcycle Rental and Tour Companies post. We hope you found what you were looking for. Here's a few more articles on motorcycling in Ireland and Europe that we recommend you read next. 
Click here for all of our Ireland Motorcycle Travel Guides
Motorcycle Rental and Tour Companies
Planning a Fly and Ride bike adventure? Here's our recommended motorcycle rental and tour companies from around the world. Check out the page, click a country and see what's on offer!
Read More