Indonesia Motorcycle Rentals and Tours
Here's our recommended motorcycle tour and rental companies for Indonesia.
Adventure Riders Indonesia
"We offer unique guided tours throughout the Indonesian isles. Our experienced guides have an incredibly vast knowledge of hidden trails and sights to make your time here a real adventure!"
Services: All-inclusive guided dirt bike tours. 
Rental bikes: Kawasaki KLX, Honda CRF, Husqvarna FE 
Tour prices: From £113 for a one-day trip to £1,970 for a 10-day guided tour. 
Insurance: Riders need to get personal accident cover on their own insurance.
Kit availability: All riding gear can be provided.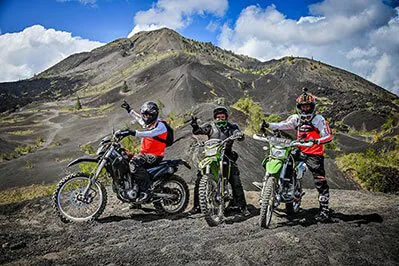 Bali, Indonesia
www.adventureridersindonesia.com
Allan Pedersen
+62 812 1002 4979 / +62 821 4436 7599
  info@advridersindonesia.com
Read more on Motorcycle Travel in Indonesia and Southeast Asia.
Thanks for checking out our Indonesia Motorcycle Tour and Rental Companies post. We hope you found what you were looking for. Here's a few more articles on motorcycling in Indonesia and Southeast Asia that we recommend you read next. 
What's next? Check out these resources to get started on your adventure!
Motorcycle Rental and Tour Companies
Planning a Fly and Ride bike adventure? Here's our recommended motorcycle rental and tour companies from around the world. Check out the page, click a country and see what's on offer!
Read More
We'd love to hear from you! Let us know about your Indonesia motorcycle tour experiences and ask any questions in the comments below.