Indonesia Motorcycle Rentals and Tours
Indonesia is one of the friendliest countries in the world and an incredible place to ride, from the jungles of Sumatra to the volcanoes of Java and beaches of Bali – there's something for everyone. Here's our recommended motorcycle tour and rental companies.
Recommended Motorcycle Rental and Tour Companies in Indonesia.
Please contact the companies listed on this page directly for more information.
Adventure Riders Indonesia
"We offer unique guided tours throughout the Indonesian isles. Our experienced guides have an incredibly vast knowledge of hidden trails and sights to make your time here a real adventure!"
Services: All-inclusive guided dirt bike tours. 
Rental bikes: Kawasaki KLX, Honda CRF, Husqvarna FE 
Tour prices: From £113 for a one-day trip to £1,970 for a 10-day guided tour. 
Insurance: Riders need to get personal accident cover on their own insurance.
Kit availability: All riding gear can be provided.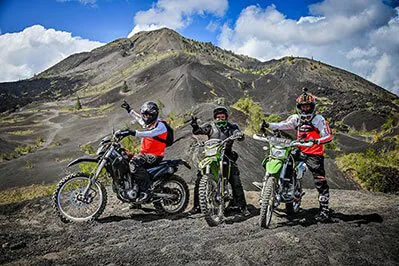 Bali, Indonesia
www.adventureridersindonesia.com
Allan Pedersen
+62 812 1002 4979 / +62 821 4436 7599
  info@advridersindonesia.com
Quick Facts on Indonesia Motorcycle Rentals and Tours
Money: ATMs can be found throughout Indonesia. Small shops will only accept cash.
Currency: Indonesian Rupiah.
Food: £10 per day on average.
Accommodation: £20 per day on average. 
Indonesia is spread out over many islands. Chances are that if you're renting a motorcycle in Indonesia or joining a tour you'll be doing so from Bali. In which case, May, June and September are the best times to visit. 
But even in the rainy season, showers don't last forever. 
Visa: Visa requirements are dependent on your nationality. Please visit the country's government website for visa information. 
Driver's licence: You need a valid motorcycle licence to legally rent a motorcycle or join a tour. If you risk riding without the correct licence, then not only will you be breaking the law, but your insurance will be invalid too. 
International Driver's Permit: An IDP is a requirement for many countries. The UK Gov website lists every country that requires one and which IDP is required. 
Insurance: Motorcycle insurance needs to be checked with the rental or tour company. Ask what they offer, what's included and what the legal requirements are. 
You should purchase personal travel insurance separately from your home country before travelling. 
Mount Bromo is an active volcano on the island of Java. This is one of Indonesia's main highlights for adventure bike travellers. You can rent a bike and head there yourself or join a tour from Bali. 
Either way, check out our Bromo Guide for more info. 
FAQs on Indonesia Motorcycle Rentals and Tours
Read more on Motorcycle Travel in Indonesia and Southeast Asia.
Thanks for checking out our Indonesia Motorcycle Tour and Rental Companies post. We hope you found what you were looking for. Here's a few more articles on motorcycling in Indonesia and Southeast Asia that we recommend you read next. 
Click here for all of our Indonesia Motorcycle Travel Guides
Motorcycle Rental and Tour Companies
Planning a Fly and Ride bike adventure? Here's our recommended motorcycle rental and tour companies from around the world. Check out the page, click a country and see what's on offer!
Read More