Our Yamaha XT660R is no stranger to travel. The bike has been through sandstorms, swamps, crashed, completely submerged, set on fire and abused.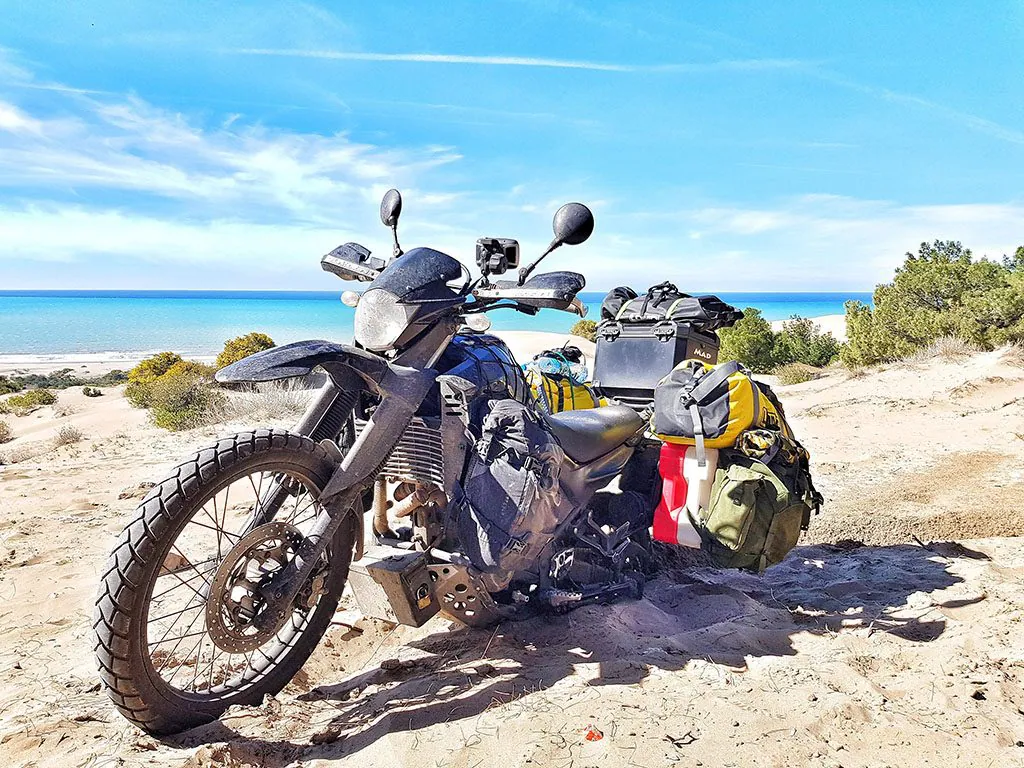 How we prepared our motorcycle to ride round-the-world
Back in 2011, I rode our Yamaha XT from the UK to Iraq and back. It was well prepared for that trip, or so I thought. Since then I've learnt a lot about motorcycle travel and what needs to be done prepare one for travel.  Here's the complete list of changes we made to the XT for our round-the-world trip.
Aesthetics
Dumb it down. The XT came in bright red and white colours with decals plastered all over it. I quickly swapped them out for plain black fairings and removed all the stickers. I like the battered and bruised look, it doesn't attract as much attention. Riding through a poor African village on a gleaming £20,000 motorcycle will attract a bit more attention than on this old girl and doesn't make you look as appealing to thieves.
Exhaust
The XT originally ran two pipes and the headers were routed underneath the bike – perfect for smashing on rocks. Swapping the unit for a Metal Mule two-into one-system shaved 10kg off the total weight and now has the pipe running alongside the bike. I'm still undecided on the system, it sounds and looks great but it's very close to the swingarm and can hit it. The Exhaust has also snapped off (after six years) and had to get welded back on in Slovakia. I also grinded off the bolts for the carbon fibre plate and heat wrapped it to stop the bolt from melting my trousers. Check out our Metal Mule review here.
Suspension
The standard rear shock was swapped out for a Nitron unit. I didn't think I needed a replacement rear shock for the Iraq trip. But I had the original swapped out for a British made Nitron shock due to having a pillion and extra luggage – and I wish I had done it sooner. The Nitron shock has made all the difference in handling and confidence when on the rough stuff. It originally came with a remote preload adjuster, which made flitting between preload settings smooth and easy (an unfortunate chain accident cut the cable and now it's manually adjusted instead). Still, a fantastic bit of kit. The front forks have stayed the same, I did buy and fit a pair of gaiters from eBay for £15 to protect the seals from dust.
Protection
Bashplate from German company Off-the-Road
Crash bars from SW-Motech
Handguards from Bark Busters
Collapsible gear lever from Off-the-Road and clutch casing protector
An old piece of hose pipe protects the coolant pipe from stray stones
Foldable mirrors off a KTM (stops them snapping when crashing) from eBay
Ergonomics
Grippy footrests from SW-Motech with removable rubber. I decided I wouldn't need the rubber and have since chucked them.
Renthal handlebar and SW-Motech bar risers
Renthal grips
The old seat was taken to Sussex Motorcycles and fitted with memory foam padding for both rider and pillion, it was widened and shortened too and I had new material put on all for £150. The padding has proved excellent, but the new seat cover isn't particularly tough. It would be a better idea to opt for foam inserts and keep your own seat cover.
I used to have a tall screen, which was brilliant but I swapped it back for the small one because I liked the look better. In cold conditions I wish I hadn't.
Luggage
Top box and luggage plate from SW-Motech (see our ultimate luggage set-up guide)
Rotopax petrol and water containers (6.6 litres each)
Pannier rack from SW-Motech (to keep the soft bags away from the rear wheel and exhaust)
A holdall shelf was welded onto the rack to take our camping bag
Tool box is an old army ammo tin, bought for £12 from eBay and bolted to the sumpguard and padlocked
Pipe luggage is made out of cheap guttering and attached to the rack with cement glued screw on caps. It carries liquids and spare fuel
Handy stuff
The XT didn't come with a centre stand, so I fitted an aftermarket one from SW-Motech (which as you can tell, has quickly become my go-to for XT parts)
When fully loaded the rear compresses and the sidestand is too long. So, it was cut down and a stronger piece of tubing was inserted inside with three holes. Two nuts were welded onto the original sidestand and one hole drilled through. Now it has three changeable height settings. A wider footplate was also welded on to stop it sinking in soft ground.
Tom Tom Sat-Nav and lockable RAM mount
Nifty stuff
The brake pins have both got a piece of steel wire wrapped around them and the bike so they won't get lost
The airbox has been greased with silicone to capture any dust and the air filter was changed for a K and N unit.
All electrical connections were greased up
Scottoiler high capacity reservoir system with dual injectors is attached behind the number plate
The original horn was swapped out for an extra loud one.
The cush drive rubbers are notorious for wearing out quickly on XTs, so square pieces of inner tube were cut up and laid across the cush rubbers to pack it out. A handy mod found on the XT660 forum www.xt660.com *UPDATE: The XT660 forum has unforunately been closed down now. You can still view the site and look through old threads but can't post anything new.*
Tools and spares
Tools were all placed into the army ammo box up front. Click here if you fancy making your own!
Spares are all kept in a Kriega bag which has been strapped onto the inside of the rear rack and rests on the gutter luggage.
Check out our Ultimate Guide to setting up your own Toolkit