This guide details how we prepared our Yamaha XT660R motorcycle for a RTW trip, but all of these modifications are transferable to preparing any adventure bike for travelling. Check out what changes we've made and get some ideas on how to get your bike ready to ride round the world too.  
Preparing our motorcycle for a round the world trip
Our Yamaha XT660R is no stranger to travel. The bike has been through sandstorms, swamps, crashed, completely submerged and set on fire… twice. Back in 2011, I rode it from the UK to Iraq and back. It was well prepared for that trip, or so I thought. Since then we've learnt a few things about motorcycle travel and what needs to be done to prepare one for travel. In this guide you'll find a complete list of changes we made to the XT for our RTW adventure.
And nearly all of these modifications and alterations are transferrable to any adventure bike and every traveller preparing their motorcycle for a round the world trip as well. So, use this guide to check out what we've done and for ideas on how to get yours ready too. 
READ MORE: 
How does your adventure bike look?
The XT came in bright red and white colours with decals plastered all over it. I quickly swapped them out for plain black fairings and removed all the stickers. I like the battered and bruised look because it doesn't attract as much attention. In rougher areas, expensive looking bikes attract more attention than raggedy looking bikes caked in mud and stops them from looking as appealing to thieves.
Also, riding through a poor village on a gleaming motorcycle that looks like it cost £20,000 isn't nice for the people who live there.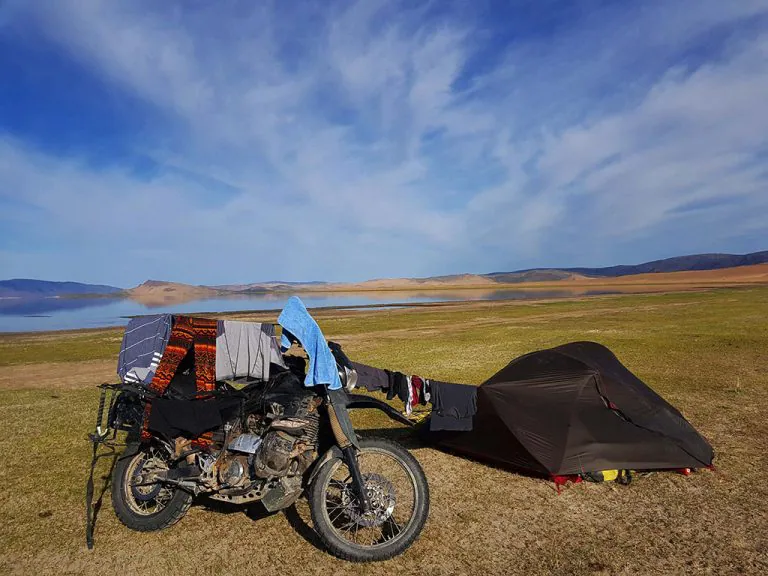 Exhaust routing
Check how your exhaust runs. Does it run underneath your bike? Has it got heat protectors fitted to stop it from burning soft panniers? Have you got a heavy twin exhaust system that can be swapped into a single can? These are all considerations to make when prepping your bike. Here's what happened in our case. 
The XT originally ran two pipes and the headers were routed underneath the bike – perfect for smashing on rocks. Swapping the unit for a Metal Mule two-into one-system shaved 10kg off the total weight and now has the pipe running alongside the bike. I'm still undecided on the system, it sounds and looks great but it's very close to the swingarm and can hit it. The exhaust has also snapped off (after six years) and had to get welded back on in Slovakia. I also grinded off the bolts for the carbon fibre plate and heat wrapped it to stop the bolt from melting my trousers.
READ MORE:
UPDATE: By the time we reached Cambodia after two years on the road, we had enough. We brought the original stock twin exhausts out from the UK (luckily we didn't chuck them), fitted them back and beefed up the bashplate. 
Motorcycle suspension
If your bike doesn't come with adjustable suspension and you're going to be riding off-road a lot and carrying luggage, an aftermarket rear shock is worth its weight in gold. It's not a necessity, but if you enjoy off-roading and really want to get the most out of it, then having a custom shock to cater for all the additional weight is a great idea. 
We swapped the standard rear shock on the XT out for a Nitron unit. I didn't think I needed a replacement rear shock for the Iraq trip. But I had the original swapped out for a British made Nitron shock due to having a pillion and extra luggage – and I wish I had done it sooner. The Nitron shock has made all the difference in handling and confidence when on the rough stuff. 
It originally came with a remote preload adjuster, which made flitting between preload settings smooth and easy (an unfortunate chain accident cut the cable and now it's manually adjusted instead). Still, a fantastic bit of kit. The front forks have stayed the same, I did buy and fit a pair of gaiters from eBay for £15 to protect the seals from dust.
READ MORE: 6 Tips for Travelling with a Pillion
Adventure bike crash protection
The most important bit of crash protection for a round the world motorcycle is your bashplate or sumpguard. Some adventure bikes come with a standard plastic version that will rip off after a bit of rough off-roading. Shoving a rock through your sump is a quick way to end a trip. You don't want to be wincing every time you go over jagged rocks in the middle of nowhere.
Next up is protecting your engine casings with crash bars, followed by foldable levers. 
For more info on how to protect your adventure bike, check out our dedicated article:
READ MORE:
Here are the crash protection modifications we made to the XT.
Bashplate from German company Off-the-Road
Crash bars from SW-Motech
Handguards from Bark Busters
Collapsible gear lever from Off-the-Road and clutch casing protector
An old piece of hose pipe protects the coolant pipe from stray stones
Foldable mirrors off a KTM (stops them snapping when crashing) from eBay
Ergonomics
Going on a round the world motorcycle trip means you're going to be in the saddle non-stop. The last thing you want is to be uncomfortable, so making your bike as comfortable as possible for those long days should be at the top of your list. 
We have a dedicated guide on improving your bike's ergonomics.
READ MORE: How to Ride Long Distance in Comfort 
Here are the changes we made to our bike.
Grippy footrests from SW-Motech with removable rubber. I decided I wouldn't need the rubber and have since chucked them.
Renthal handlebar and SW-Motech bar risers
Renthal grips
The old seat was fitted with memory foam padding for both rider and pillion, it was widened and shortened too and I had new material put on all for £150. The padding has proved excellent, but the new seat cover isn't particularly tough. It would be a better idea to opt for foam inserts and keep your own seat cover.
I used to have a tall screen, which was brilliant but I swapped it back for the small one because I liked the look better. In cold conditions I wish I hadn't.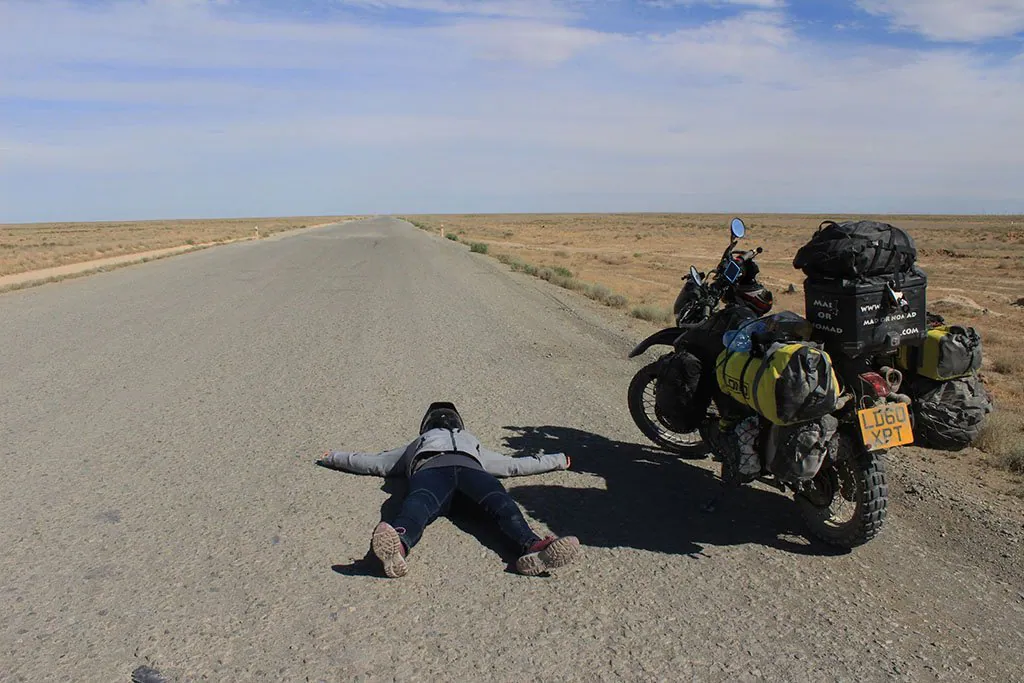 Handy stuff
The XT didn't come with a centre stand, so I fitted an aftermarket one from SW-Motech (which as you can tell, has quickly become my go-to for XT parts)
When fully loaded the rear compresses and the sidestand is too long. So, it was cut down and a stronger piece of tubing was inserted inside with three holes. Two nuts were welded onto the original sidestand and one hole drilled through. Now it has three changeable height settings. A wider footplate was also welded on to stop it sinking in soft ground.
Tom Tom Sat-Nav and lockable RAM mount (since swapped out for our mobile phone instead)
READ MORE: The Best Motorcycle Sat Navs
Nifty stuff
The brake pins have both got a piece of steel wire wrapped around them and the bike so they won't get lost
The airbox has been greased with silicone to capture any dust and the air filter was changed for a K and N unit.
All electrical connections were greased up
Scottoiler high capacity reservoir system with dual injectors is attached behind the number plate
The original horn was swapped out for an extra loud one.
The cush drive rubbers are notorious for wearing out quickly on XTs, so square pieces of inner tube were cut up and laid across the cush rubbers to pack it out.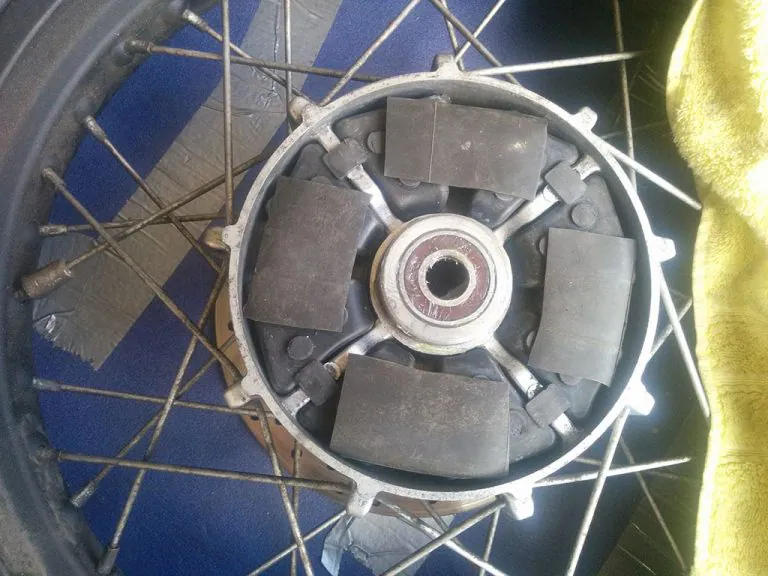 Tools and spares
Tools were all placed into the army ammo box up front. 
Spares are all kept in a Kriega bag which has been strapped onto the inside of the rear rack and rests on the gutter luggage.
READ MORE:
Changes
Nearly three years after leaving home in the UK, our set-up has changed completely. We've returned the XT to stock suspension and exhausts, the Rotpax and pipe luggage has been ditched, same as the sat-nav and so has one full 40 litre duffel. We're out of the cold (-20C) and don't need half of the stuff we started with. 
We now use one pair of Lomo panniers at the rear and a pair of Lomo crash bar bags up front. The tool box and top box has stayed the same.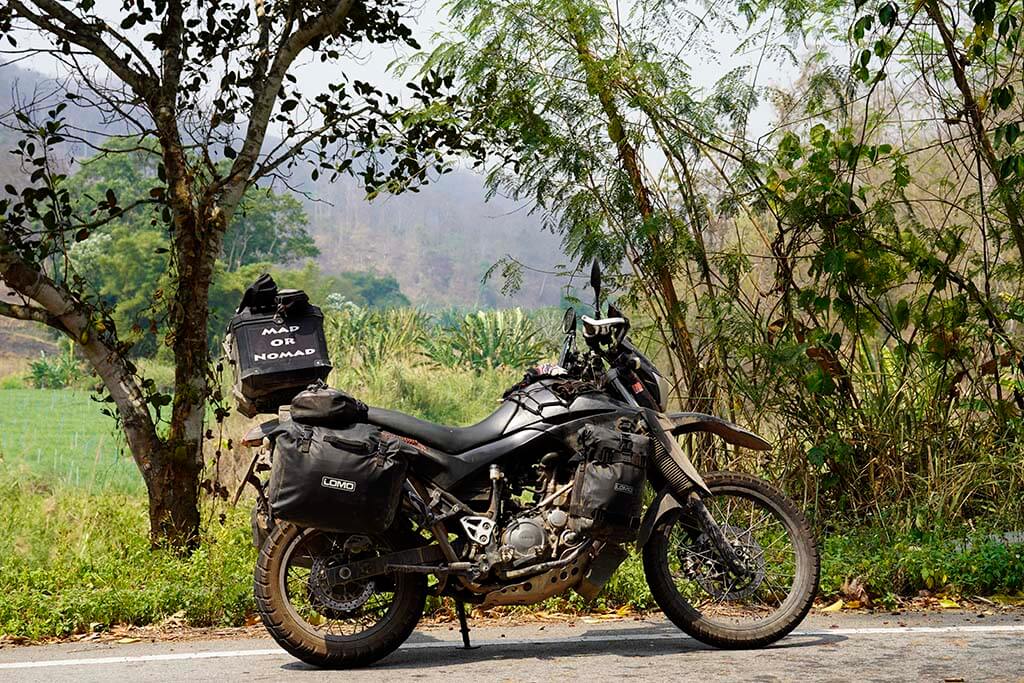 ps. We may receive a small commission, at absolutely no cost to you, if you purchase any products using the links on this page. We're not sponsored by anyone, are completely impartial and don't run ads. So this helps us keep the site running. Thank you for your support.
Read more on preparing an adventure bike for a round the world trip
Thanks for checking out our How We Prepared Our Motorcycle for a Round the World Trip Guide. We hope you enjoyed it! Here's a few more articles on adventure bike prep that we recommend you read next. 
Liked that? Try these next…