Iya Valley is an Instagramer's dream. Incredibly beautiful vines slither across the water creating stunning bridges that just look magical. This guide will show you which one to visit and how to get there, as well as loads of extra info on what to do in Iya Valley.
Japan's Vine Bridges and Iya Valley Guide
What are the Vine Bridges?
For hundreds of years, people have built bridges made from vines to cross the Iya River, which slices its way through Iya Valley. There used to be thirteen bridges but only three remain today. They're safe to cross as they all use hidden steel cables and are rebuilt every three years. They have become a tourist attraction, mainly because of the impressive photography and beautiful surroundings.
Iya Kazurabashi Bridge (Single Vine Bridge)
This is the largest and most popular bridge, stretching 45 metres. It stands alone across the valley and can be viewed from a road bridge just behind it. Being the largest and most popular also makes it the busiest. You must cross the bridge in one direction and then walk back round. So make sure you get all the pictures you want from the start. Expect queues and lots of people trying to get the same photo.
Open from sunrise to sunset, 550 Yen for adults, 400 Yen for children
There is car parking very close by and costs about 100 Yen.
Oku-Iya Kazurabashi Bridges (Double Vine Bridge)
The double vine bridges are two separate bridges, dubbed Husband (44 metres) and Wife (22 metre) Bridges. The bridges are located down a flight of stone steps into the valley. You pay at the booth at the top by the main road for an entrance ticket. Don't forget about the Monkey Bridge. Clamber inside, close the door and pull yourself across by pulling on the rope! It's fun and easy to do.
Open from sunrise to sunset, 550 Yen for adults, 400 Yen for children
There is free parking close by.
Unlike with the single bridge, (where you pay 550 Yen to walk across the bridge from one side to the other) you pay 550 Yen to enter the area, and can then walk along both bridges as many times as you like and use the Monkey Bridge too. It's much better value for money.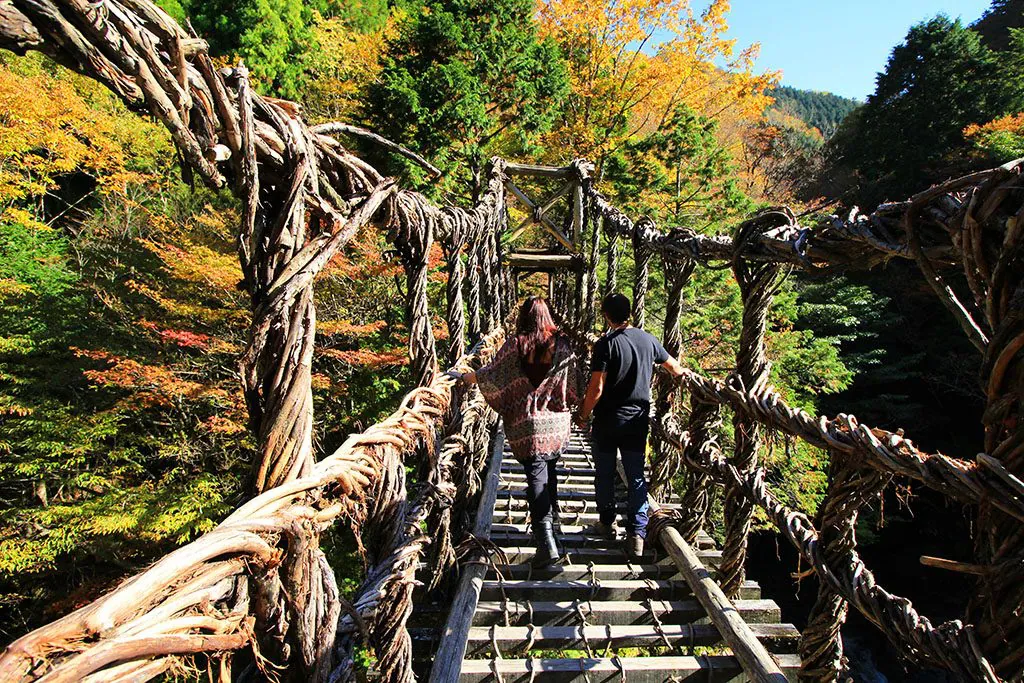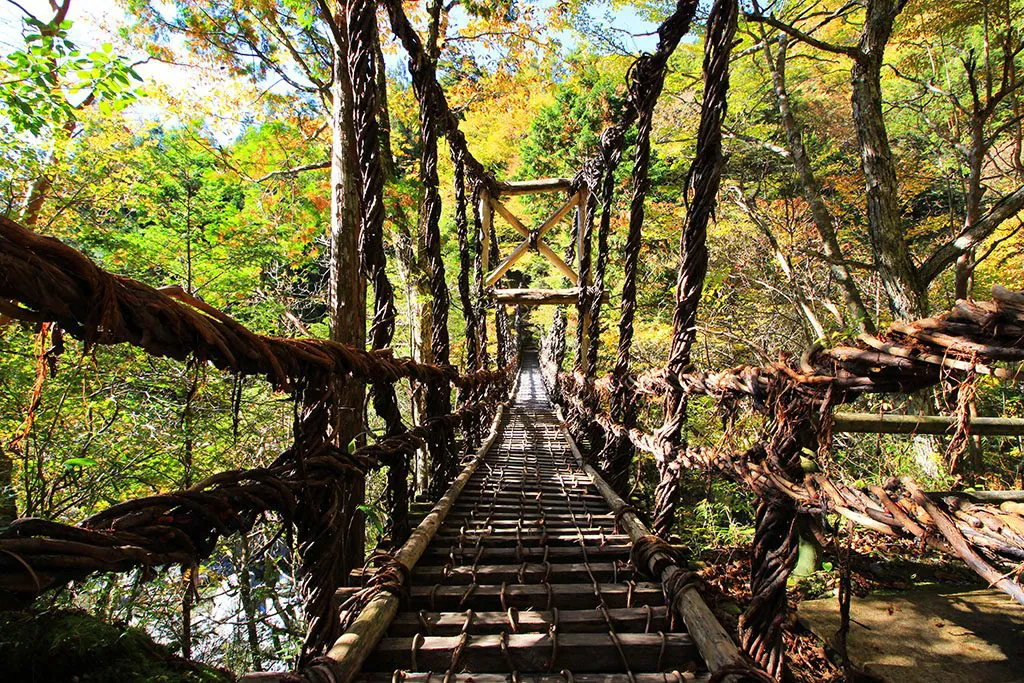 Which should I visit?
If you only have time to visit either the single or double bridges, we'd 100% recommend the double. Here's why… when we visited the single bridge in October 2018 it was rammed with people all waiting to cross and get that perfect picture. We didn't even cross it because it was so busy.
We rode to the double bridges and it was empty. It's a far bigger area and more beautiful. You pay to enter the area and can walk along the bridges and stroll on either side of the river and cross back (unlike with the single one). You also have the Monkey Bridge. And can walk down to the river and take photos shooting upwards. You're also about 10 minutes from the epic Scarecrow Village, which is a must!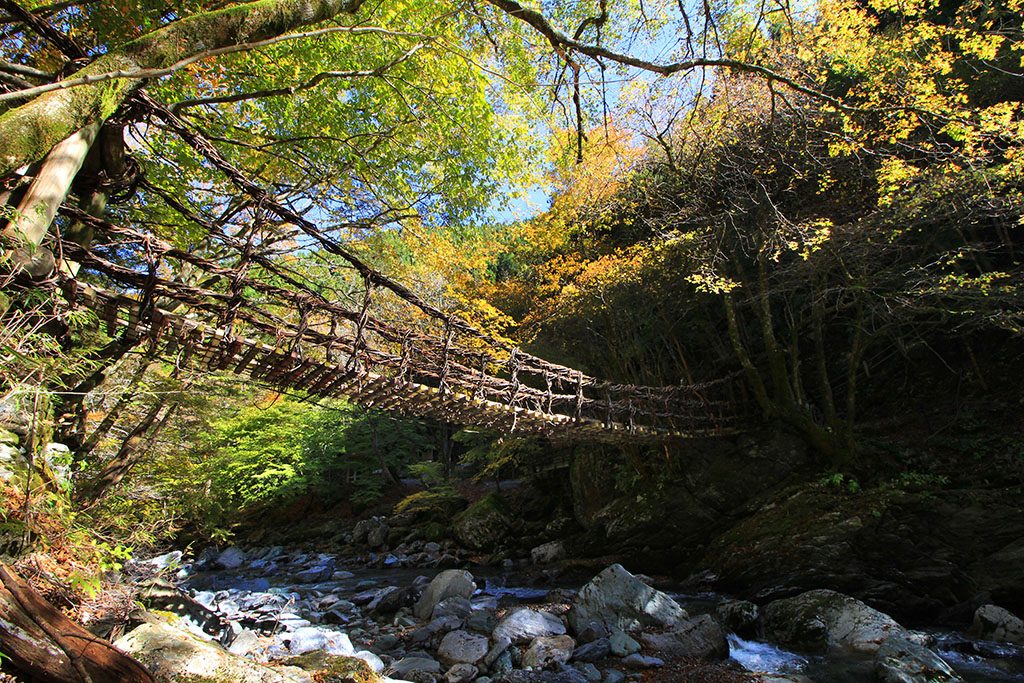 Where are they?
The Vine Bridges are located in Iya Valley, which is in Tokushima on Japan's Shikoku island. The single Vine Bridge and the Double Vine Bridges are 30km apart along twisty mountain roads, expect it to take an hour at least. You will find the Scarecrow village on your way and 3.4 km before the Double Vine Bridges.
You'll find the locations on the maps below.
Paste the provided coordinates into Google Maps or Maps.Me for exact pinpoints.
Peeing Boy Statue 33.923531, 133.818542
Single Vine Bridge 33.874935, 133.835061
Nagoro Scarecrow Village 33.856468, 134.019392
Double Vine Bridge 33.854045, 134.045216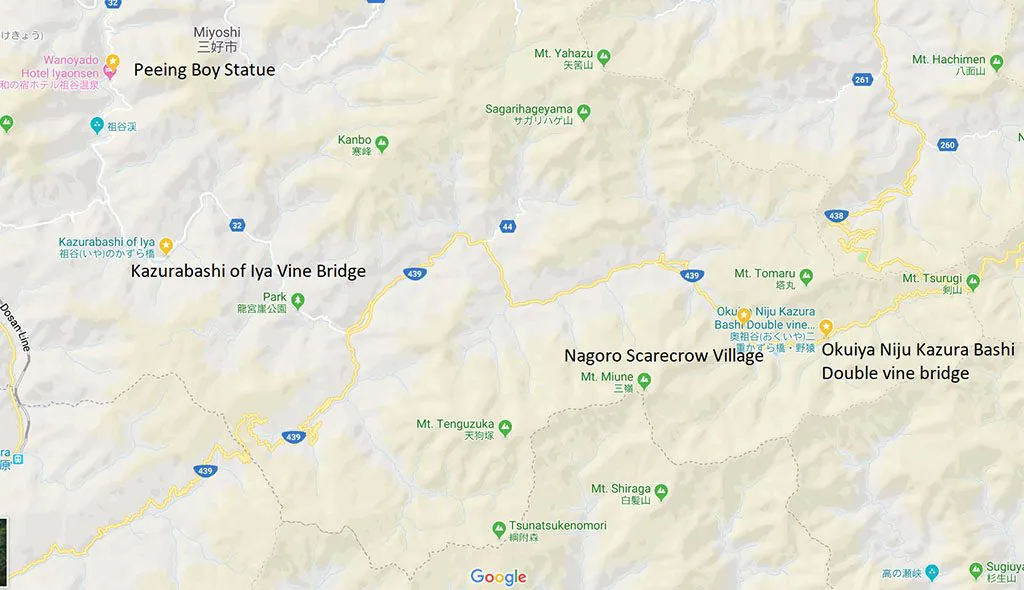 Accommodation in Iya Valley
There aren't many accommodation options near or around the Vine Bridges in Iya Valley. But if you are planning on staying in the area to make the most out of it, take a look at this Booking.com map for more info on what's available close by. 
Join a tour
If you don't fancy getting yourself to Iya Valley and finding your own way around, you can always book onto a tour. We recommend these two from Viator. 
What else is there to see and do in Iya Valley?
Scarecrow Village
If you're visiting the Vine Bridges, make sure you stop off at the Scarecrow Village. The village is filled with over 200 lifelike scarecrows (and only 29 human inhabitants). You can find the scarecrows performing daily activities like waiting for the bus, sitting in classrooms, fixing telephone wires, cutting down trees, fishing and more… it's weird, but wonderful!
Nagoro's Scarecrow Village
How to visit Japan's weird and wonderful Scarecrow Village
Peeing Boy Statue
This little guy is worth a visit. The cheeky chap stands on a cliff edge, peeing into the valley below. He's 9 km from the single Vine Bridge, which is about a 30 minute drive – so you've got to really want to meet him to go all that way.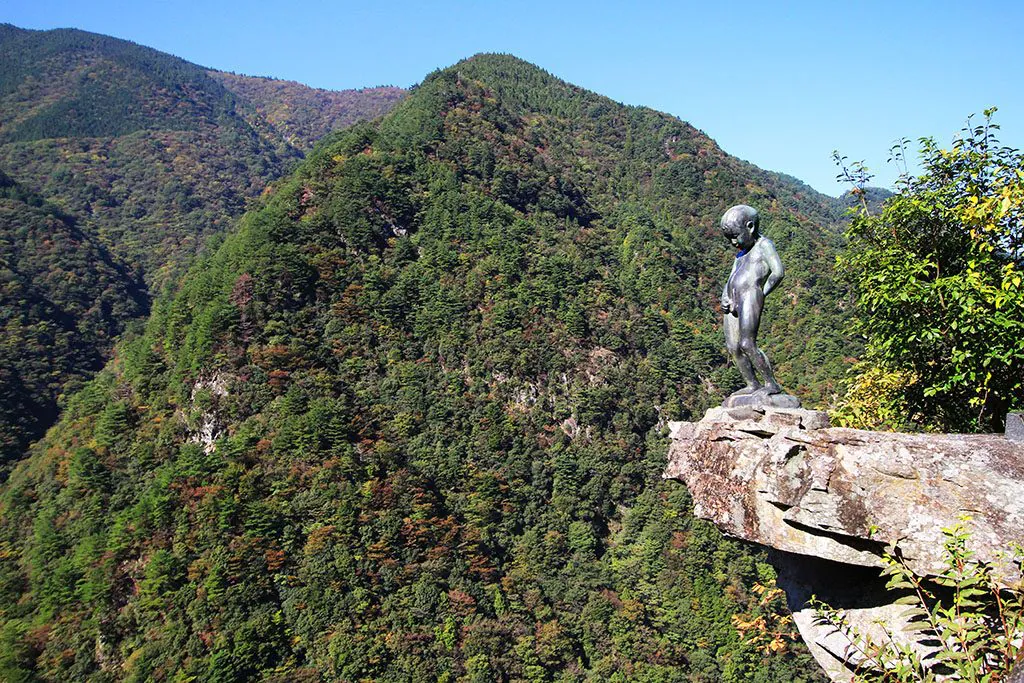 Read more on Motorcycle Travel in Japan
Thanks for checking out our Japan's Vine Bridges Guide. We hope you enjoyed it! Here's a few more articles on motorcycling in Japan that we recommend you read next. 
ps. We may receive a small commission, at absolutely no cost to you, if you purchase any products using the links on this page. We're not sponsored by anyone, are completely impartial and don't run ads. So this helps us keep the site running. Thank you for your support.