This guide explains what you need to know about transporting your motorcycle on the Trans-Siberian Railway through Russia. 
Trans-Siberian Railway motorcycle guide
You can transport your motorcycle through Russia using the Trans-Siberian Railway. Motorcycle travellers can load their motorcycles at most of the stations along the line. We transported ours from Irkoust to Moscow, but you can also go between Ulan Ude to Moscow or to Vladivostok. The longest section is from Vladivostok to Moscow.
Why transport your motorcycle on a train through Russia
I was able to ride my motorcycle from Irkoust to Moscow, but it's almost 6,000kms and at the end of October in Siberia it is very risky with the winter weather. And not enjoyable in such harsh conditions either.
You'll save a lot of time and money. Some sections are pretty flat and boring.
Plus, another reason is with the rising costs and increasing difficulty of shipping a motorcycle from Vladivostok to Japan, you may wish to end your trip in Vlad and return to Europe, so it'd save you riding the same road the whole way back. Or you could ship to Vlad and take the train to Moscow for a different experience.
Prices
For two motorcycles plus all their luggage (60-70kg per person) cost us EUR 820 (we paid in roubles).
You're looking at approximately EUR400 per motorcycle dependent on the side. Our bikes were a BMW F650GS and Yamaha Tenere 700 both fully loaded.
Time
Sending our motorcycles on the Trans-Siberian Railway from Irkoust to Moscow took six days. It is seven days from Vladivostok to Moscow.
The train and transportation runs every day of the year.
Recommended company
I used Ramon Moto Train Irkoust. The contact number is shown in the below picture, the owner doesn't speak English so you will need to use Google Translate, but the numbers listed below are available on WhatsApp, which makes it easier to communicate.
If you're not going from Irkoust, you can still get in touch with this company as they have contacts in most of the stops along the line. 
You can find them on Google Maps here.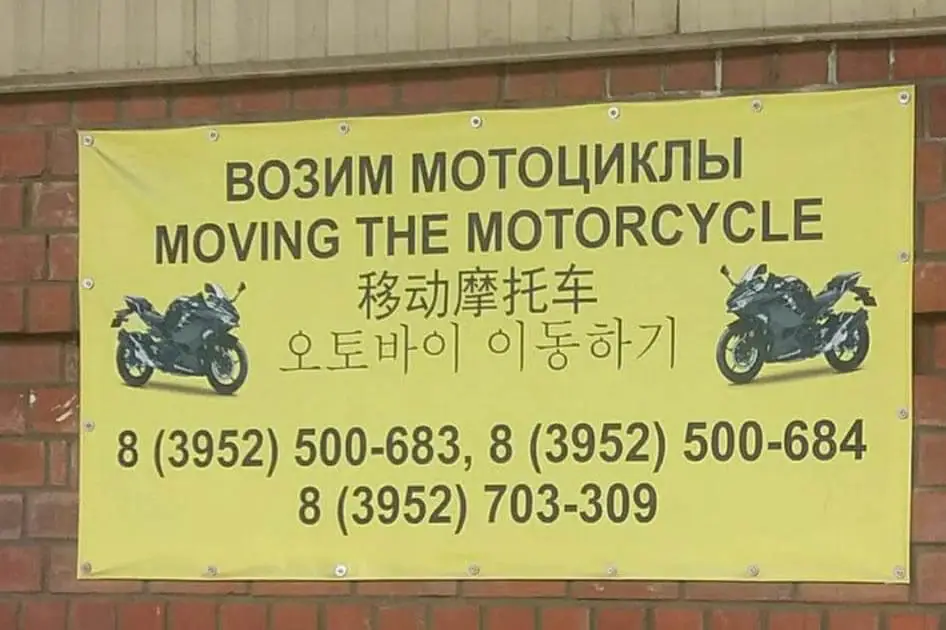 Process
Your motorcycle will be crated in a box. It's not a roll on, roll off situation. It's unclear if the motorcycle is insured while on the train, so you will need to look into this yourself if it's a concern.
You can load your motorcycle onto the Trans-Siberian Railway at any of its stops.
Find the motorcycle transport company who will be sending your bike on the train. You'll find them at the train station and can ask the staff at the station for directions to the office.
Pay the money and they'll prepare your bike by crating it all up in three hours and load the bike onto the train the next day. It's a smooth process as they have a professional team who will do everything for you. Your only task is to empty as much fuel as possible from your tank.
You'll be given a receipt and a phone number of the contact in Moscow to pick up your bike along with the train and container number for collection on arrival.
Rémy Dezelus is 35-year-old Frenchman riding his Yamaha Tenere 700 round the world. You can follow his awesome adventures here:  
Read more on motorcycle travel in Russia
Thanks for checking out the Motorcycle Transport on the Trans-Siberia Railway GUide Guide. We hope you enjoyed it! Here's a few more articles on riding in Russia that we recommend you read next. 
Are you planning a motorcycle trip in Russia? Let us know in the comments below.