Likelihood is, if you're shipping out of South Korea it's because you were in Japan on a Temporary Import and it's too expensive to ship from there. It is cheaper to ship from South Korea, and quite simple too.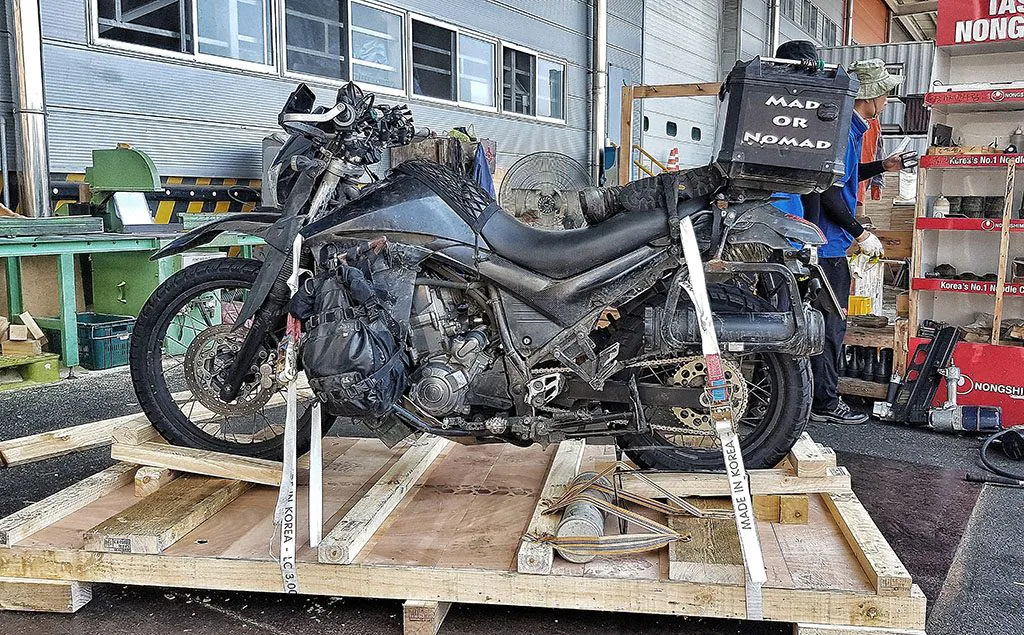 Shipping your vehicle out of South Korea
The only tricky part is making sure your insurance (and in turn, your temporary import) is in effect until the crating date. Once your vehicle is crated, it will be taken to a custom bonded warehouse ready to be placed on the ship. Once it's in the customs bonded warehouse, then it doesn't matter if your insurance and temporary import expires.
Agent
By far, the most popular agent for shipping your motorcycle or car from South Korea is Wendy Choi.
You can reach her on [email protected]
It may take her a while to reply, but don't be disheartened, she gets the job done.
Shipping fees
Shipping fees are completely dependent on the size and weight of your vehicle and where you're shipping to. If you'd like some rough numbers, please leave a comment below and we'll get back to you with some examples. 
Booking your shipping
Wendy can arrange for your vehicle to be freighted via ship or airplane. It's your call.  Consider that port fees can be expensive when shipping by boat, but the initial cost of flying is more expensive.
Book your shipment in advance and before arriving in South Korea. It will make customs run far more smoothly.
Remember, that your agent can only handle shipping from South Korea and isn't responsible for fees at the other end.
Crating location
The crating location isn't actually in Busan, but about 30km west. Remember, motorbikes aren't allowed on the motorways in South Korea, so plan your journey and leave well in advance.
The rough co-ordinates of the crating area are 35.083663, 128.767858 or 35.090833, 128.765779.
Wendy will give you a more accurate building name dependent on who your craters are.
What to do when crating
If you are crating up a motorcycle:
Disconnect the battery
Drain most of the fuel (I left 1 litre in the tank)
Get your bike as small as possible.
In South Korea, the guys at the crating yard will pack your crate up for you. The price is included in what you pay Wendy. You roll up, disconnect the battery, take what you want off the bike and then leave them to it. You will need to give them the Yellow sticker you received from customs and the paperwork. Get in touch with Wendy (or whoever your agent is) to confirm all is well before leaving. 
Remember, when shipping via boat, the crate cost is based on volume. When shipping via airplane, the crate cost is based on weight.