Here's everything you need to know about shipping a vehicle to Cambodia, clearing customs, fees, locations and agent details
Shipping your vehicle to Cambodia
In August 2019 we shipped one motorcycle from Busan, South Korea to Sihanoukville Cambodia and collected the bike in January 2020.
We shipped to Cambodia instead of Thailand and Malaysia because it is far cheaper and the bike could be left with customs for longer, with less cost than it could in other countries. Here's the process, what you need to know and how to do it too.
International Motorcycle Shipping Companies
Welcome to the Motorcycle Shipping Companies Finder. This page lists worldwide freight forwarders, companies, agents, fixers, ferry services and detailed guides. Click a country on the map to see what's on offer.
Read More
Shipping from South Korea
In our case, we shipped from South Korea instead of Japan because it meant we could enter and leave Japan via RoRo and in that case without an expensive Carnet de Passage. It's also cheaper to ship from South Korea than Japan. Here's how to get from Japan to South Korea and here's how to ship from South Korea. If you're visiting either country, we suggest looking at our Japan and South Korea Destination Guides for more detailed info on paperwork and checking out our International Motorcycle Shipping Companies Finder (linked above).
Cambodia Shipping Agent 
We used the services of Mr Lim Seang, who was extremely helpful in arranging the shipping while we were in South Korea, freeing the bike from customs in Cambodia and sorting our Cambodian Temporary Import out (a Cambodian TIP lasts 30 days – the same length as your visa on arrival).
In order to ship the bike to Cambodia, the South Koreans wanted an address in Cambodia, Mr Lim Seang gave us his personal address to use and then ECU Worldwide (the shipping company we used) arranged for his and our address to be used on the Bill of Lading.
Email: limseang312712@gmail.com
Facebook: Lim Seang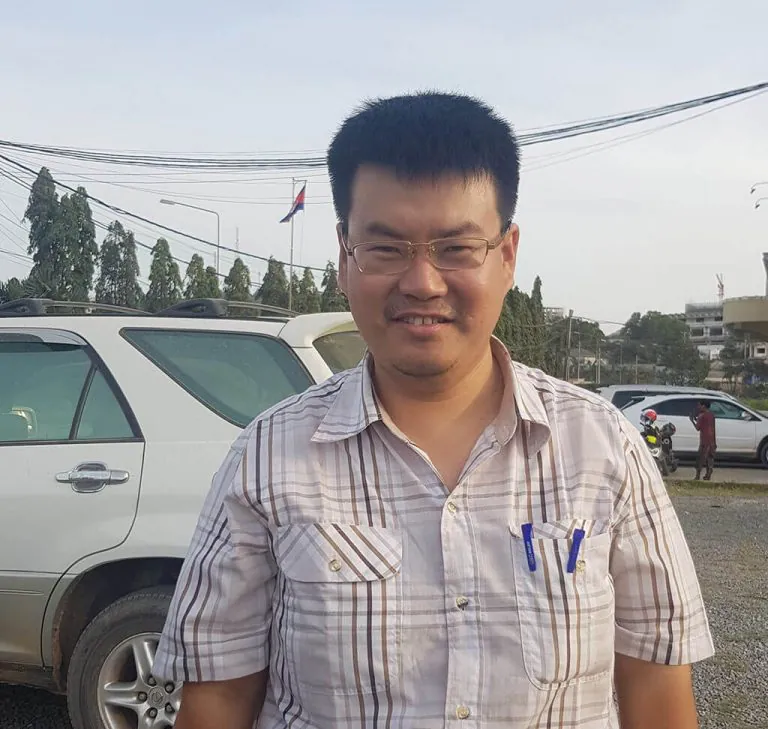 Cambodia Shipping Fees
As mentioned, we chose Cambodia because it was the most relaxed on leaving our bike for an extended period of time. Once we shipped from South Korea, the bike arrived at the Sihanoukville port and was put into a custom bonded warehouse and left in its box until we arrived five months later (meaning it doesn't need paperwork or a TIP until it's removed from the warehouse and goes through the customs procedure).
We believe you get the first 45 days for $30 at the port without any storage charge. We were told in August that there would be a 0.1% value of the bike charge plus $3.36 a day for port charges. However, ECU emailed us to say that it would only be a $0.20 per day fee.
With shipping by sea, there are always destination port fees. Here's what we were charged for five months:
ECU shipping company: $250
Mr Lim Seang: $30
Temporary Import/ storage/ port charges: $60
TOTAL: $340
The entire amount was payable on arrival at the port in Cambodia. The $250 fee from the shipping company was sent to us via email invoice once the bike arrived in Cambodia late August, but is only payable once we collect. We paid the entire amount to Mr Lim once we got our bike out of the warehouse.
Cambodia Shipping Procedure
Step one. Arrange a time to meet Mr Lim Seang at the shipping port. Note that the warehouse is open 8-10:50am and 2-6pm, so arrange to meet at the earlier of the two times.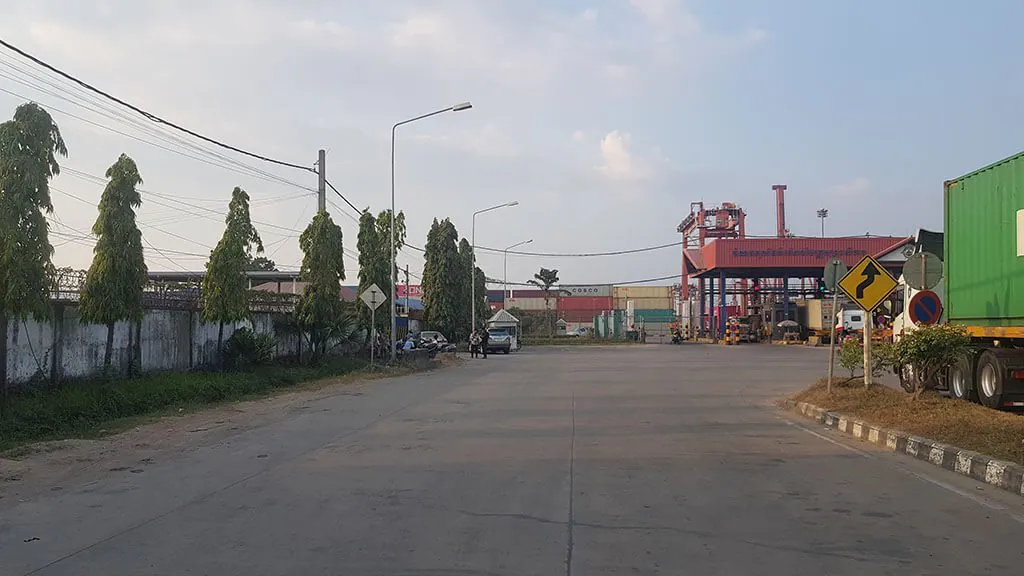 Step two. You will meet him at the Customs office. This is a tricky building to find, so we've put its exact coordinates on iOverlander. Just in case you don't have the app, the coordinates for Maps.Me are 10.644139, 103.510593. It is a large yellow building hidden behind a wall. You can either enter through the main entrance and drive around the port until you find it, or if you access it from the port entrance, you can simply walk through the booth gates, turn left and walk around the wall – nobody will stop you. Mr Lim will be hiding in that building somewhere, you may need to walk into some of the offices to look for him, or he may be sitting at one of the computers.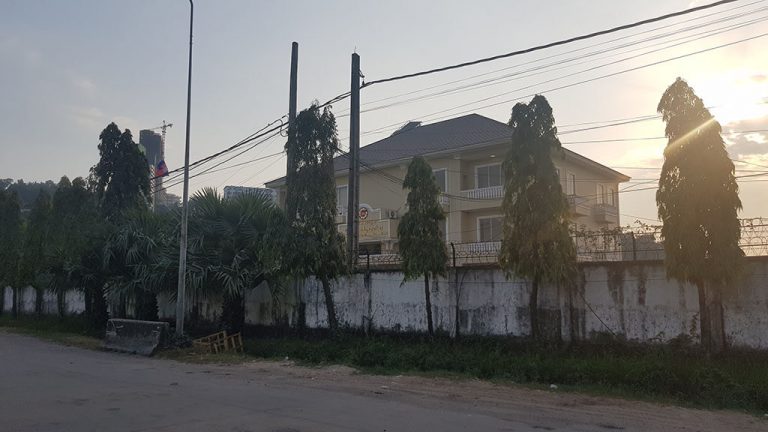 Step three.  Mr Lim will take you in his car to the warehouse. The guys will get your crate out and hand you a hammer and a crowbar and tell you to get on with it. So, make sure you take plenty of water and some snacks as it can be hard work depending on the type of screws or nails used to fix the box together.
Step four. Ride your bike back to the customs office and find Mr Lim again. Pay him the total amount in USD or Cambodian. He will give you your 30-day Temporary Import and you're free to go!
Important information
You must tell Mr Lim in advance where you will exact Cambodia. It will be written on your Temporary Import and you must leave at that point.
You DO NOT need to go to Phnom Penh first to get customs clearance, Mr Lim can do it at the port and you do not need to go there to pay your shipping company first either.
Cambodia is NOT a Carnet country. You can only get a Temporary Import and it is valid for 30 days, the same amount of time as your visa.
You can clear customs without the help of Mr Lim, but looking in the building it hardly seems worth the hassle. We'd definitely recommend using his services.
We suggest buying a local SIM card before you head to the port, just in case you can't find Mr Lim. Make sure he knows exactly what time you're coming. He is more easily reached via Facebook Messenger than email.
There is a petrol station very close to the port, if you completely drained your tank before shipping then consider buying your fuel before you get to the port. If you forget, one of the guys at the port can go and get you some fuel for a couple of dollars.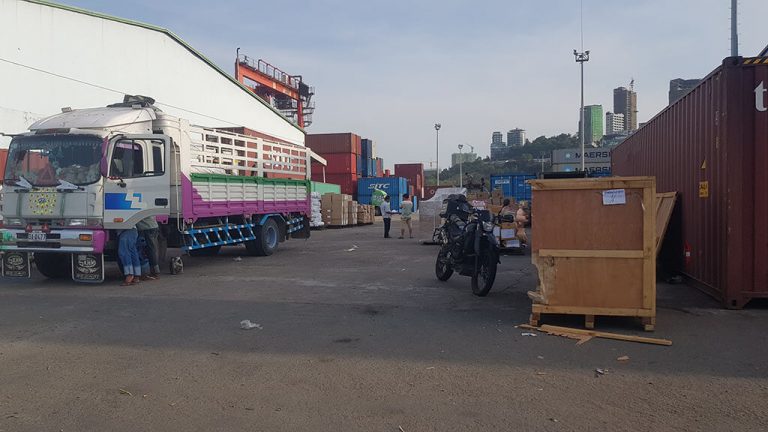 We hope you found this guide helpful. If you have any new information to add, please let us know in the comments below so we can update this page and help inform other travellers. Thanks!
Read more on Motorcycle Travel in Cambodia
Thanks for checking out our How to ship your motorcycle to Sihanoukville, Cambodia Guide. We hope you enjoyed it! Here's a few more articles on motorcycling in Cambodia that we recommend you read next. 
Liked that? Try these next…