As the Malaysia to Indonesia motorcycle shipping route has only just reopened, you'll find new information in this article with contact info and updated details as we get them.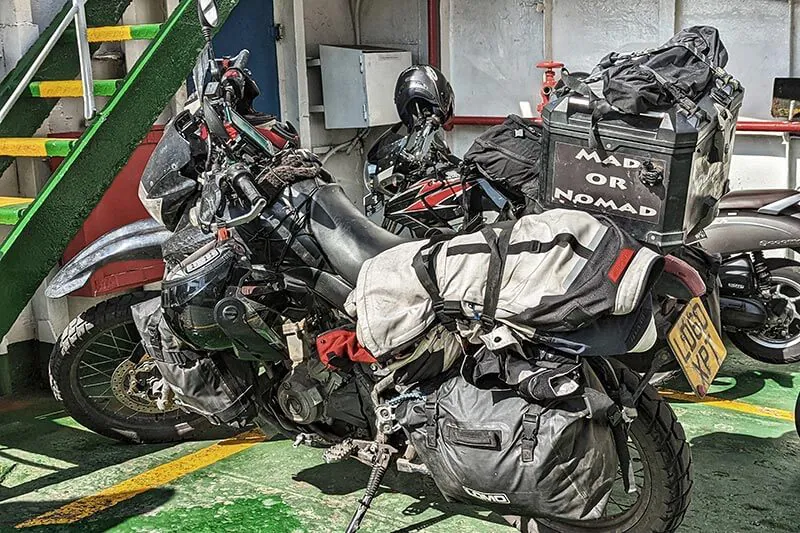 Motorcycle Shipping between Malaysia and Indonesia
Pre Covid, motorcycle travellers heading from Asia to Australia (or vice versa) would simply ride to Kuala Lumpur, Malaysia, head to Port Klang and put their bike on a boat to Sumatra. Then they could start the ride towards Surabaya, Bali or Dilli to ship their bike out.
However, all boat transfers from Malaysia to Sumatra ceased over the Covid period. And it was only around August/October 2022 that the first crossing took place in three years.
All information on this shipment is very new at the time of writing (November 2022) and subject to change. We would recommend checking the Malaysia Overland and Indonesia Overland Facebook Groups for more up-to-date information. Or if you need direct contacts for the people who took these routes, please email us.
How to cross from Port Klang to Sumatra with a motorcycle
Currently, there is only one cargo boat that takes motorcycles on board – but no passengers. So, you would need to load your bike onto the boat and take a flight.
The flight is to Medan, from there you would need to take a taxi to meet your bike.
Expect the crossing to cost around 5,500,000RP (£289GBP / $350USD).
The boat owner's name is Tony, he will help arrange the shipment and his number is +62 823 6008 5666.
As this route has only recently opened up again, it may change and more options may open up too. We will keep this page as up to date as possible, but if you have any new information, please drop a comment or email us. Thank you.
Read more on Motorcycle Travel in Malaysia, Indonesia, Borneo and Southeast Asia
Thanks for checking out this How to Ship Your Motorcycle from Malaysia to Indonesia Guide. We hope you enjoyed it! Here's a few more articles on motorcycling in Southeast Asia that we recommend you read next. 
Are you planning a motorcycle trip to Malaysia or Indonesia? Or do you have any questions or tips to share? Let us know in the comments below.