This guide explains how to ship a motorcycle or vehicle from Kuala Lumpur (West Malaysia) to Sarawak, Borneo (East Malaysia). 
How to Ship a Motorcycle from Kuala Lumpur to Borneo
Borneo is the world's third largest island and shared between three countries. The north half belongs to Malaysia, with a tiny enclave for Brunei and the south half is Indonesia.
Before Covid, the way from Malaysia to Bali was to put your bike on a boat from Port Klang to Sumatra and then to ride through Sumatra to Java. However, over Covid that route completely stopped and the first bike traveller in three years to cross did it around August 2022. For more info on how to do that too, have a read of How to Ship a Motorcycle from Malaysia to Indonesia.
So, during the period that shipping from Klang to Sumatra was no longer an option, a new route presented itself. And that's from Port Klang to Sarawak (Malaysia to Malaysia). From there, riders would cross into the southern part of Borneo (Indonesia) and then get an overnight ferry to Indonesia's island of Java.
It is a roundabout way of getting there, but the more direct Port Klang to Sumatra wasn't available – plus, the ride through Sumatra is a long and busy route.
But, for whatever reason you're interested in visiting Borneo, here's the info on getting your motorcycle there from Malaysia.
Shipping rom Port Klang to Borneo (East Malaysia)
Shipping options
From Port Klang, you can either ship or fly your motorcycle to two locations in Borneo.
Sea shipment: Port Klang to Sarawak, delivery 7-14 days, 1,050 MYR
Sea shipment: Port Klang to Sabah, delivery 7-14 days, 1,050 MYR
Air shipment: KLIA (Kuala Lumpur) to Sarawak, delivery 2 days, flights everyday Mon-Fri, 3,850 MYR
Air shipment: KLIA (Kuala Lumpur) to Sabah, delivery 2 days, flights everyday Mon-Fri, 5,110 MYR
Which option you choose depends on your timeframe and budget. If you want to ride in the north, it would be worth shipping to Sabah though and riding down to Sarawak before crossing into Indonesia. Otherwise, you would have to ride all the way north and enter Brunei before turning around to ride the exact same route back (and again through Brunei).
Shipping dates
This is important. Sea shipments do not run regularly. They may even only run once a month. So, it's crucial to contact your shipper to find a date that works for you in advance. And bear in mind that you will need to drop your bike off at the port at least two days before it is due to be shipped and between the hours of 9am-5pm.
Shipping contact, price and location
To ship our motorcycle, we used Posmotor.com run by Azizan. You can contact him via Whatsapp on +60 18 978 8087.
We paid 1,050 MYR to ship from KL to Sarawak.
The exact coordinates for where you need to drop your bike are: 3.0194276, 101.3641360
Paperwork and bike drop off
You will need to let Azizan know your arrival in advance. And then on the drop off day, let him know when you are 30 minutes away. Either he or a member of his team will meet you at the coordinates given above. Simply pull up and park before the barrier entrance. You will not be allowed to enter through that area.
You will need to send Azizan via Whatsapp pictures of your Carnet, passport, motorcycle documentation and he also asks that you get your ICP before arriving at the port. This must be obtained at the border to Malaysia once you have got your insurance – more info on this can be found in Motorcycle Travel Guide: Malaysia.
Once you're met by one of Azizan's team at the port, they will take photos of your bike and papers – especially your Carnet. You then need to leave the Carnet with them as they ship the bike with the Carnet. I left our Carnet in the top box. You then give them the keys as they will ride your bike through the barriers.
You can leave gear on your bike. Our panniers were full and our riding gear was strapped down to the seats. They cling film it all.
You'll then get a Whatsapp message when your bike is due to arrive.
You can be late to pick up your bike. The first five days are free, but thereafter is a charge of around 2 MYR per day as it is stored in their secure warehouse.
Motorcycle pick-up in Kuching, Sarawak, Borneo
Once your motorcycle arrives, you will get a WhatsApp message to let you know. You'll receive instructions on who to contact and where to pick your bike up from.
In our case, we picked up our bike from Kuching Port, Pending. Here's the exact location on Google Maps. And here's how the process went. 
We got a number of the local agent working for Azizan, we got in touch saying when we'd like to collect (make sure you ask about collection days and times in advance in case of public holidays and closures etc).
He sent me a Google Maps dropped pin of the port entrance and we agreed a time to meet. We stayed in a hotel 5 minutes from the port, so it was just a case of texting him before I left and calling a Grab taxi.
Once at the port, you sign a bunch of papers and give the port security officer your passport in exchange for an ID badge and a yellow slip of paper. The agent will then drive you to your vehicle and direct you to another office. You sign a few more papers, get them to sign the yellow slip, receive your keys and ride back to the entrance. Give the yellow slip to the police and get your passport back.
It's a smooth, easy and professional process. There should be nothing to pay. Check to make sure your Carnet is with your bike as it's likely you would have had to send it with the bike. There should be no additional entry or exit stamps in it. 
The pickup process is the same if you ship to Sabah in the north of Borneo.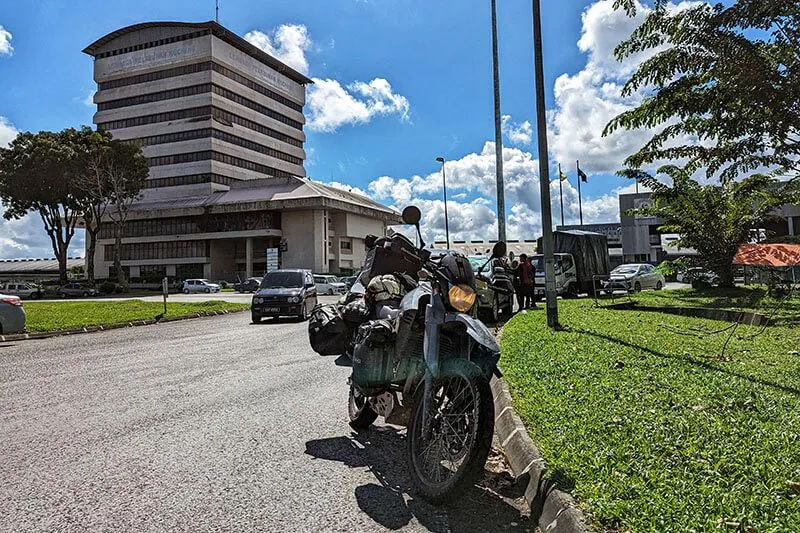 Read more on Motorcycle Travel in Borneo, Malaysia, Indonesia and Southeast Asia
Thanks for checking out this How to Ship a Motorcycle from Kuala Lumpur to Borneo Guide. We hope you enjoyed it! Here's a few more articles on motorcycling in Southeast Asia that we recommend you read next. 
Are you planning a motorcycle trip to Borneo or Southeast Asia? Or do you have any questions or tips to share? Let us know in the comments below.