This guide explains how to use the RoRo ferry service to ship your motorcycle between Pontianak in Borneo and Semarang in Java (both Indonesia). You'll find contact details, ferry info, how to do it, pricing info, our experience and top tips in this article.  
How to Ship a Motorcycle from Borneo to Indonesia
This guide explains our experience of using a roll-on roll-off (RoRo) ferry between Pontianak (Borneo, Indonesia) and Semarang (Java, Indonesia). The same process is applicable whichever direction you are going, only the location of the ticket office changes.
Our ferry crossing experience from Borneo to Indonesia 
This little Facebook video should quickly sum up our travel experience on the RoRo ferry between Pontianak and Semarang. 
What is a RoRo ferry?
RoRo stands for roll on, roll off. This means (unfortunately) you can't just chuck your bike on the boat and catch a flight or get a speed boat. You'll ride your motorcycle onto this boat, the staff will strap it down and you'll cross the sea with your bike and ride it off. 
Ferry schedule and booking
You can find the Indonesian ferry schedule online. The company is called Dharma Lautan Utama.
Visit their website dlu.co.id and you'll find a schedule with departure times. The sailing times aren't always as often as you might hope, so look well in advance.
DLU do have an app where you can pre-book tickets, but it's all in Indonesian and you need an Indonesian bank account to pay.
We turned up at the ticket office in person on a Saturday afternoon for a Sunday morning sailing and there was space (December 2022), but once we got on the boat, we soon realised we must have got some of the last tickets are there were no more free beds.
Ticket office
The Pontianak booking office can be found on Google Maps here.
The Semarang booking office can be found on Google Maps here. 
You will need your passport and vehicle registration to book your tickets.
Cost
The cost for two people plus one motorcycle was 1,700,000IDR (£89). Payment was only accepted in cash.
Duration
The standard sailing time is 36 hours. Our departure time was 10am Sunday and arrival was 8pm Monday, so we did arrive a few hours early. 
At the ticket office we were told to be at the port for 8am. We assumed that we'd just get there for 8 and end up waiting around for hours before being loaded on. But, 20 minutes after arriving they loaded all of the motorcycles on. This was a good thing as we got to go and choose our beds first.
Sleeping
There is one large air-conditioned room filled with connected beds. There's zero privacy and you'll be sleeping next to a lot of people in close proximity.
Be warned, there were a lot of cockroaches running around under the mattresses and up the little privacy connector boards. So, you may want to carry a bunch of tissues to squash the critters. Everyone eats their meals in their beds as there is no restaurant, so this may be one of the reasons for the bugs.
Throughout the night, the TV stays on and so do the lights. People play on their phones and chat and the air-con is on full blast. It's noisy, bright and cold, so pack an eye mask, ear plugs and blanket (we used our silk inner sleeping bag liner).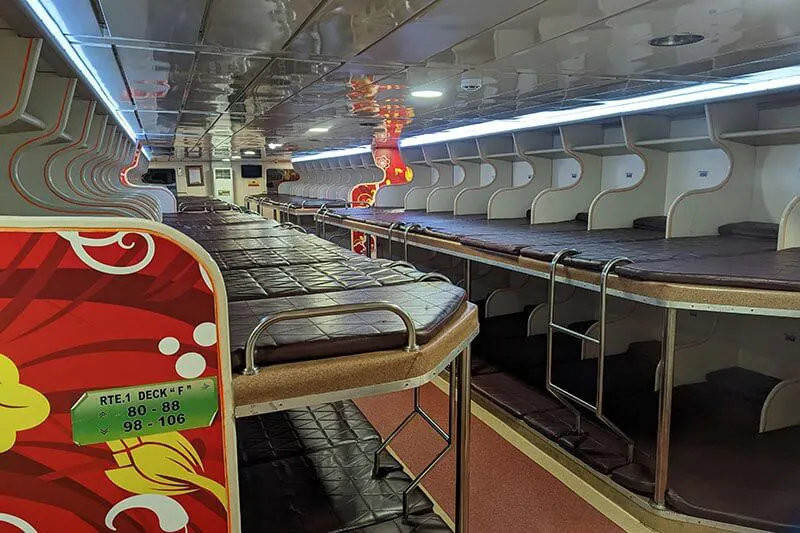 Your stuff
You aren't allowed to return to your vehicle, so take what you need with you. But bear in mind that there are no lockers, so you may want to take your valuables around with you when you go to the café or restroom – consider taking a smaller bag to carry these things if necessary.
Food
Keep a hold of your tickets as you need to show them to receive your meals. Breakfast, lunch and dinner are included in the ferry price. There'll be an announcement and you'll need to queue up for your lunchbox. You can then either eat outside on the floor, try and squeeze onto one of three benches or eat in your bed like everyone else.
Before you get excited about the idea of included meals – don't. You've basically got rice and broth for each meal with a slice of watermelon and a cup of water. There's an added egg for breakfast.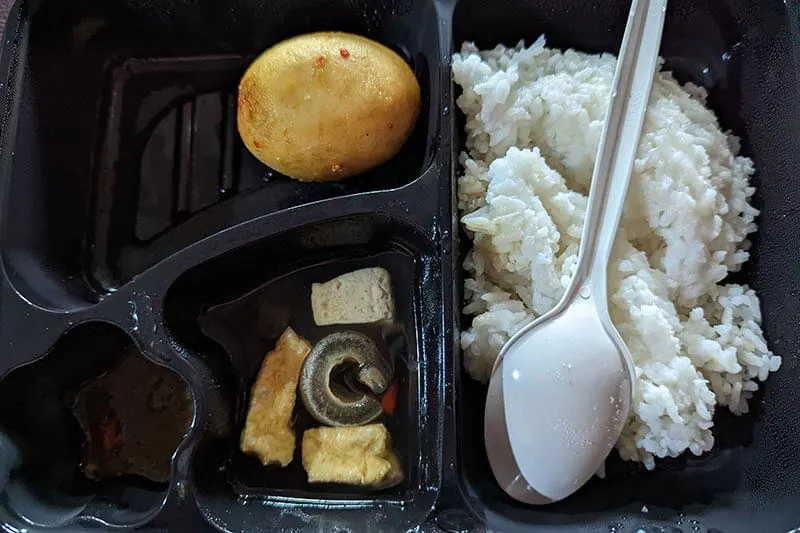 Amenities
There is a café on board which sells rice and chicken, pot noodles, crisps, biscuits and hot and cold drinks. It's a little more expensive than what you'd pay on land. I'd recommend stocking up on supplies before boarding. 
There are two rooms to charge your devices. One is right next to the sleeping cabin and this is a cramped room for smokers. Next door there's another room with a second (quieter) café, air-con and charging ports in boxes and a couple of sofas. There was nobody in here throughout the trip so it's worth stationing yourself in there.
There is entertainment in the evening. An upstairs room opens up where you can take your seat and watch performers take the stage for a sing-along. 
Overall, the space in which you can move about is rather small. It's a long crossing and not especially comfortable. It's worth downloading a series onto Netflix, bringing a book, lots of snacks and just hunkering down for the long crossing. This one is only worth doing if you have a vehicle and need to cross the Java Sea.
Arrival in Semarang, Java
The port in Semarang, Java is not far from the main city, but expect a dusty and busy long road.
There are no fees or paperwork to sign on arrival. But once you disembark, the staff will want to see your tickets one last time. 
There's a hotel called Nomaden Urban Stay that I can recommend and it's about 5 minutes from a McDonalds if you fancy something other than cold rice and eggs. 
Read more on Motorcycle Travel in Borneo, Malaysia, Indonesia and Southeast Asia
Thanks for checking out this How to Ship a Motorcycle from Borneo to Indonesia (Java) Guide. We hope you enjoyed it! Here's a few more articles on motorcycling in Southeast Asia that we recommend you read next. 
Are you planning a motorcycle trip to Indonesia, Borneo or Southeast Asia? Or do you have any questions or tips to share? Let us know in the comments below.