If you ever find yourself in the Middle East on your adventure bike and want to ride through one of the most remote parts of the world, this guide will help! Here's how to motorcycle to the city of Salalah in Oman.
How to Motorcycle From Dubai to Salalah, Oman
The beauty of Arabian Peninsula is unique. It mostly consists of barren deserts filled with sand dunes. Oman is a country in the southern corner of the Middle East. A magical land of old tales and myths and is where many of the Arabian Nights stories took place. The country is 99% desert… but with one exception – Salalah.
This guide explains everything you need to know about riding a motorcycle from Dubai to Salalah on the desert road and new coastal road.
The Desert
The desert doesn't have a specific name, as far as I know, but it is located in Oman between Nizwa in the north of Oman and Salalah in the south west. It's hot and dry most of the year with temperatures reaching 53C in the summer and 10C in winter. The desert is mostly made of clay (not sand), is hard packed and completely devoid of life – no animals or vegetation whatsoever. And riding through it is just one long straight line for 800kms…
Desert versus coastal route to Salalah
There is an alternative route and it starts at almost half way in the city of Nizwa. The normal route is to head south from Nizwa but recently there is a longer coastal road which can be accessed by first going to Duqm from Nizwa and then continuing south from there.
When to ride
I completed this ride in March 2018 so the weather was pleasant all day ranging between 20-30C, but it can get really hot between May and October. So, the ideal time to ride in this region is between November to April. 
Road conditions
The roads are almost perfect. The desert road is a single carriage and oncoming traffic is mostly 18-wheeler trucks, which creates huge turbulence for motorcyclists and causes the bike to weave. Also, the road is long and straight with no features, which makes concentrating on the ride hard and boredom quickly sets in.
Sights
Most of the ride is flat, but halfway from Dubai there are some mountain ranges on the side, but it is possible to select a longer route which passes through the mountains. The route I chose for this trip was the shortest and most direct. I must mention here that I took a different route on the way back and took the newly opened (at the time) coastal road from Salalah to the city of Duqm.
Distances
I rode on average about 200-300kms on the first day and only stopped for short rests or petrol and maybe a tea or coffee. My motorcycle at the time was a 2016 BMW R1200GS and the range is about 350kms to a full tank. On the first day I rode around 870kms from Dubai to the city of Duqm.
On the second day my stops were less frequent as I was on the desert road and there was really no point of stopping unless I reached to a petrol station and needed fuel or a bathroom/tea/coffee break.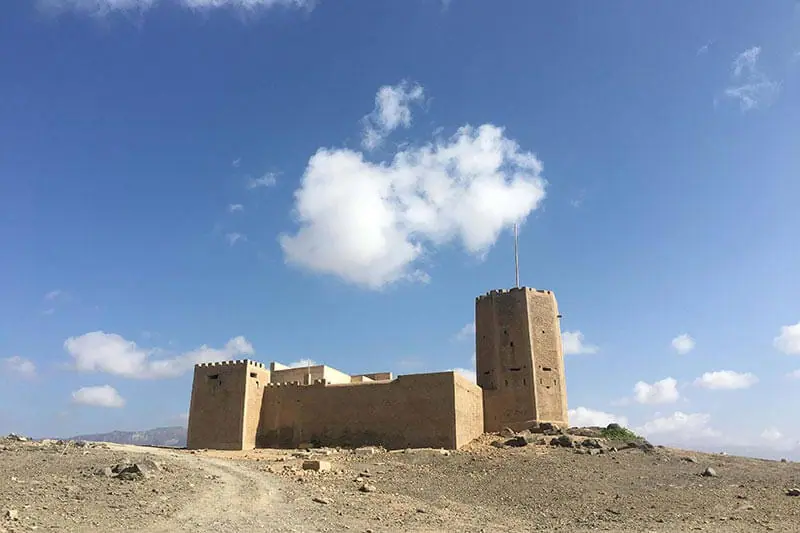 Accommodation
On the first day from Dubai to Duqm I stayed at a hotel, but there was the option of camping on the beach which I did on my way back from Salalah. Usually there are good hotels in this region from affordable to luxury since both UAE and Oman are well known tourist destinations. Camping is also possible anywhere you like, there are no laws restricting camping. At the same time, there are no specific camp sites with facilities either. During my stay in Salalah I stayed in a hotel, but on the way back I camped on the beach for one night in Duqm and another night in the mountains.
Breakdowns and recovery
My only recovery plan was to call emergency services or seek help locally from others who might be passing by. There is an AAA in UAE and Oman, but I don't think they cover those remote places. Luckily, phone signal is available almost all the way. But in some parts, like the new coastal road, you're so far from civilisation that it could take days to get help if you break down.
Difficulty level
This region is mostly desert and flat land, I heard a lot about the beautiful tropical nature of Salalah and wanted to visit it for myself. But as a motorcyclist, it seemed like a good challenge to ride the 3,000kms there in a week to visit these remote places along the way.
It turned out to be the hardest road trip I had done in a long while. But that's mostly because of the monotony and boredom. Riding this desert road will just have you wishing there was at least a bush, a shrub or even a small hole in the ground – anything for a change of scenery! But it was all worth it when I first saw those beautiful hills at the entrance of Salalah, the coconut plantations and the beautiful sandy beaches at Mughsail. It's worth the treacherous road trip to get there. I had a great sense of accomplishment.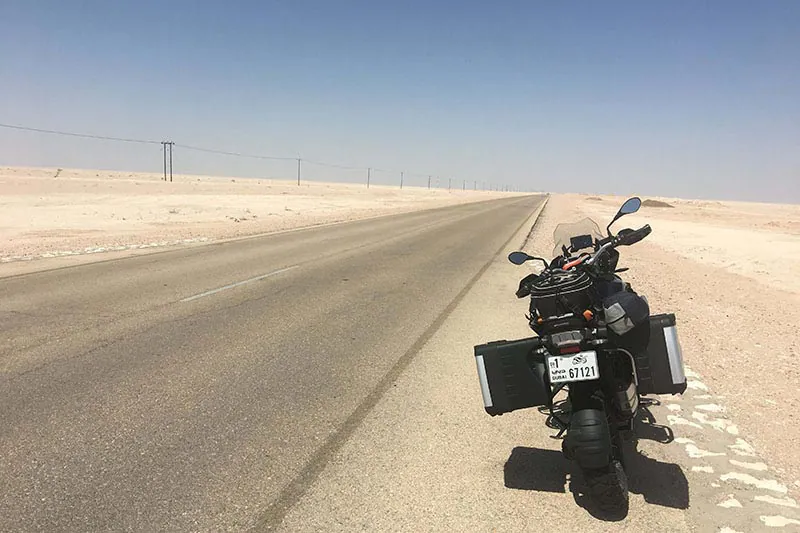 Fuel
At the time longest distance between fuel stations was around 400kms, which I could manage by having a relatively long range motorcycle. I also carried a 5 litre jerry can of spare petrol with me. Now things have changed and there are more petrol stations, but I suggest if you have a small tank (10-15Litres) that you carry some spare fuel with you to be safe. As well as carrying spare fuel, it's also a good idea to take spare food and water.
Duration
It is possible to do each way (Dubai-Salalah) in 2-3 days each way at a more leisurely pace, that is if you want to spend some times in the historical sites such as the city of Nizwa or Job's Tomb on the way. I know some people have ridden from Dubai to Salalah in 1 day, but that's not my style.
Reaching Salalah
The country of Oman is 99% desert with one exception – Salalah. This ancient city is trapped between a mountain range and the Indian ocean at the most southern part of Oman, and that makes it the 1% exception. The weather is subtropical and there is plenty of rain, therefore the area is green most of the year. Because of this feature, the place is a popular travel destination for neighbouring countries such as Dubai and Saudi Arabia.
After riding to Salalah, you'll want to spend a few days there as there are many historical and natural sites in and around the city. I believe a week is enough to see all the sites. Some of the best are the beaches of Mughsail, the historical forts in and around town, the historical harbour of Salalah which dates back to the 2nd-4th century BC (Salalah used to be a major hub for the frankincense trade). Also, the tomb of prophet Job is a few kilometres north west of the city.
Paperwork for riding in Oman
You do not need a Carnet de Passage to ride in Oman. There is a mandatory insurance and, recently, a front mounted number plate for motorcycles (same as India) is also required. Visa requirements are dependent on your home country and will need to be checked and arranged before travel. 
Riding in Oman
The north of Oman is mountainous and offers a lot of twisty roads. There are so many scenic roads to choose from and they are all well maintained. The people are so friendly and hospitable. They welcome tourists and try to help all the time. Even in the most remote places you'll find people who know a bit of English too.
Motorcycle Ride Report: Dubai to Salalah
Day 1
Started the day late because of thick fog. Got delayed for about an hour and half but finally left Dubai. Did about 860km to city of Duqm. Stopped for some Shawrma. Found the hotel and checked in about 7:30pm. Spent the last hour of riding in pitch black darkness.
Day 2
Start in Duqm City Hotel and leave at 8:45AM towards Haima. But before leaving Duqm I went on to explore the beach as I was planning to come back to Duqm from Salalah and camp on the beach if possible. I found a nice spot and saved it in the GPS.
First leg of the trip I took the road from Duqm to Haima. It was about 150km of absolutely nothing. Reached Haima about 11:00AM stopped in the only petrol station for fuel and some snacks then moved towards Thumrait which is about 441kms away and the last town before Salalah.
This part of the trip was the most difficult as this stretch of the road again has absolutely no features. Almost 500kms of straight road surrounded by an empty barren land. There are no animals or plants, just an empty desert. I was bored at this point as it's like the road will never end.
After about 223kms I stopped somewhere named Qitbit, which consists of an old petrol station, some sort of tyre shop/garage and a motel which I wasn't sure was still in business. This place is the only stop in between Haima and Thumrait which is a 441km stretch. After refueling the bike and myself with some snacks and water, I left towards Thumrait.
By the time I reached Thumrait, it was about 4:00PM but I was happy that I was almost done with that road. I was about 60kms away from Salalah and had heard this part of the road in between Thumrait and Salalah is scenic which is an understatement. About half way to Salalah from Thumrait the road starts to climb into the mountains and it is one of the most beautiful roads in this region.
As I reached to the mountain road, I realized the last two days and almost 1,500kms of boring straight roads were all worth it to be in such a beautiful place right now. I was in the heavens. This last part was one of the most enjoyable. I reached to city of Salalah around 5:30PM and checked into a hotel.
Day 3
I headed out to see the Prophet Job's tomb. They say the road leading there is one of the top 10 must see roads in the world. I was staying in Hamdan Plaza hotel which is one of the oldest hotels in Salalah. It is on the main airport road, which sits on the corner of the road that takes you to Job's tomb. So, navigation was easy. Get out of the car park, turn right and go straight until you hit the twisty roads. It took about 30 minutes of lovely roads and beautiful scenery consisting of private villas and farms on top of the hills surrounding Salalah.
Afterwards visiting the shrine, I continued along the same amazing road until it reached Mughsail, which is a beautiful beach road opposing a mountain.
Day 4
Day 4 was the best day of the trip so far because of the brilliant road back. This is the road I should have taken initially to get to Salalah from Dubai, but I had to experience the main horrible road just to satisfy my curiosity.
I checked out of the hotel and headed out of Salalah to Mirbat. This time I took the old Salalah street named "Sultan Qaboos St." which has all the plantations which Salalah is famous for. Suddenly I regretted not finding this place sooner. This is the Salalah I was looking for as it's what I saw in pictures and when people talked about the plantations. I continued east out of Salalah until I reached the port town of Mirbat where the famous Dhofar battle took place. I visited the famous fort of Mirbat and take a couple of photos before riding the rest of the way home. 
Then I moved north towards Duqm on a beautiful coastal road with the ocean on my right and a beautiful mountain range on my left. By late afternoon I had reached the beach in Duqm and set up camp for the night and immediately fell asleep to the peaceful sound of waves lapping on the sand.
Day 5
After packing up my camping gear, I rode into the city for breakfast and then headed to Muscat, the capital of Oman, where I'd spend the next few days. I then met up with a big group of bikers from Dubai to ride to Jabal Akhdar (green mountain) before riding back to Dubai to finish this incredible trip.
Hadi Amani was born in Iran in 1975 but grew up mostly in Dubai (UAE). Hadi started riding motorcycles in the desert and sand dunes back in 2008 but later found his true passion – adventure riding and exploration. Since then, he has ridden over 150,000kms around UAE, Oman, Turkey, Georgia and the Middle East.
Check out Hadi's adventures on Instagram
Read more on motorcycle travel
Thanks for checking out this motorcycle travel guide for Dubai to Salalah. We hope you enjoyed it! Here's a few more articles on motorcycle travel that we recommend you read next. 
Are you planning a motorcycle trip to Salalah, Oman? Do you have any questions or tips to share? Let us know in the comments below.