Welcome to the ultimate adventure bike preparation guide. You'll find a comprehensive list of modifications in this article – pick and choose what you need to create the perfect setup for your adventures… 
How to Prepare an Adventure Bike
Any bike can be an adventure bike and an adventure bike can be used for anything – from light trail on a weekend to big road trips to round the world epics. 
This guide's job is to help you prepare your motorcycle for whatever type of trip, travel or adventure you have planned. 
The first step is considering the type of bike you have and what you're going to use it for. This will affect what modifications you take away from this list and how you set up your motorcycle. If you're on a round the world trip, you may want to implement the majority of these mods, if you're heading out on an off-road holiday you might only want the protection section for example.
This guide covers the main adventure bike modifications so you can pick what you need to create the ultimate setup for your personal needs.
When prepping an adventure bike, comfort is often overlooked for the cooler mods like crash bars and skid plates. But your comfort is one of the most important things to get right on any adventure bike so you can concentrate on your riding and staying alert instead of how much your bum and shoulders ache.
READ MORE: How to Ride Long Distance in Comfort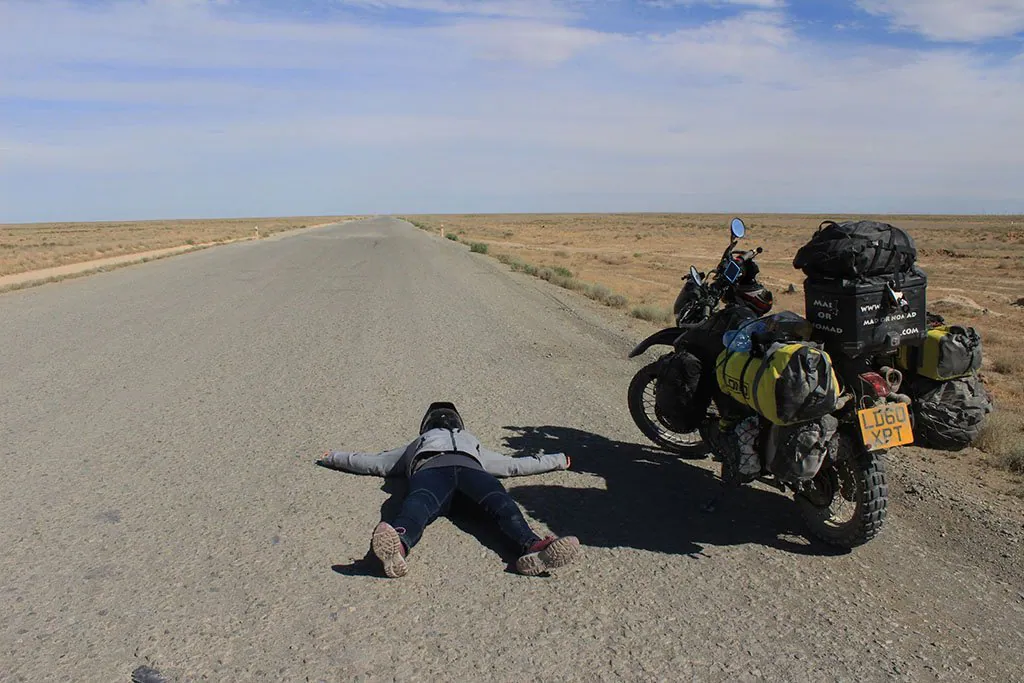 Seat
You have a few options with your bike's seat. The budget option is to go for a sheepskin throwover. Mid-range is to strap down a motorcycle seat pad or take your bike to a seat specialist to have memory foam or gel inserted. Or the upper end is to go for a custom seat specially made for your bike.
Which you go for depends on budget and how much time you spend in the saddle.
With our Honda CRF300Ls, we opted for Seat Concepts XL Comfort seats. You can see the difference in this picture.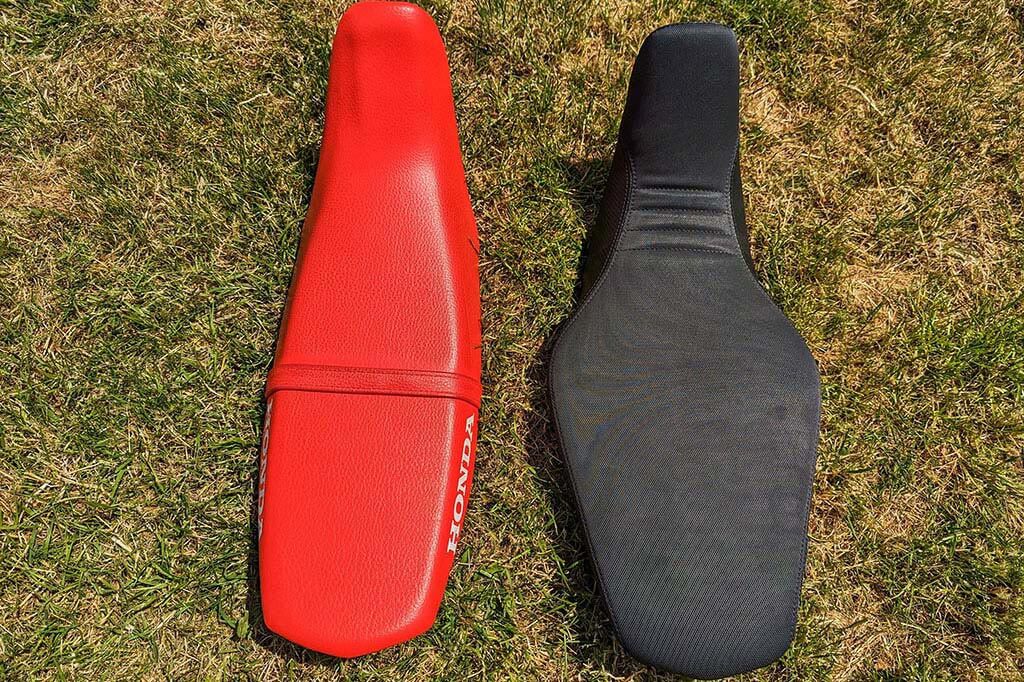 Screen
A screen or windshield takes the brunt of wind blast and bugs flying your way. They can act as excellent wind and rain protection, which help stop you from feeling as battered and tired when you finish a long ride. Some bikes may not come with one at all, in which case you might need to fit an entire screen, or if your bike does but the angle isn't right, you can go for a deflector attachment.
You may not find it necessary on smaller bikes, especially if you're not spending a lot of time bombing up and down motorways and most of your ride is off-road. It depends on what you're riding and how much road riding you'll be doing. 
Handlebars and bar risers
Getting your grip right is important for two reasons. Firstly, it helps prevent shoulder and back ache. The lower your bars, the more your back will have to bend so you can reach them and the more strain that puts on your shoulders. Secondly, when off-roading you need your bars at the right height so you're in a natural and comfortable riding position.
An easy way to remedy incorrect heights is to change the handlebars, which is often a good idea anyway dependent on the bike, as most stock bars are made of cheese. And you could also add bar risers to get that extra lift.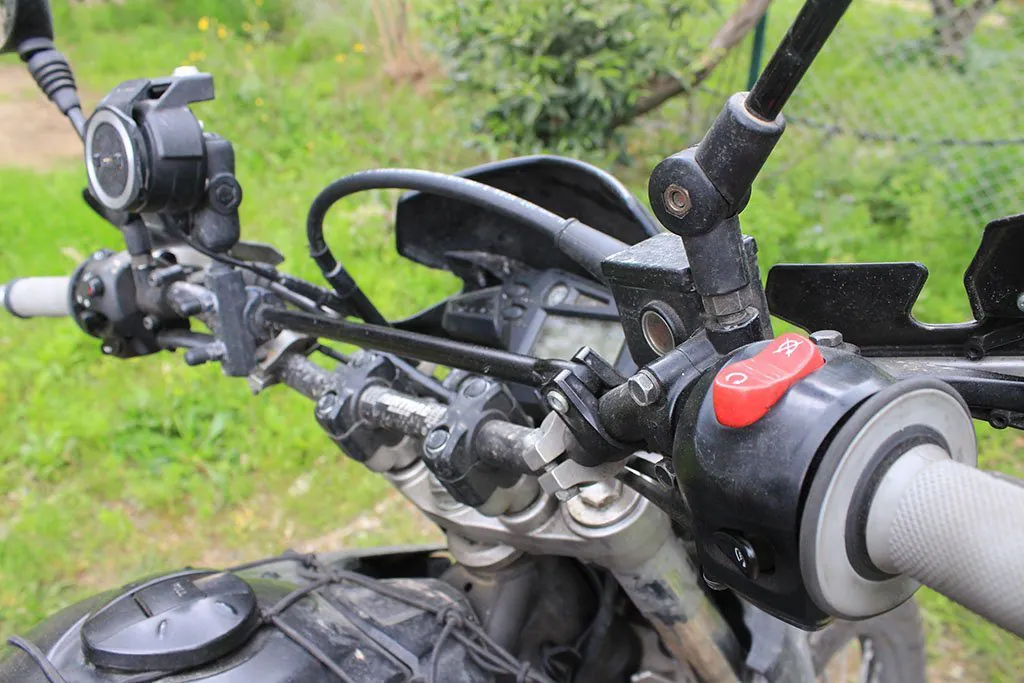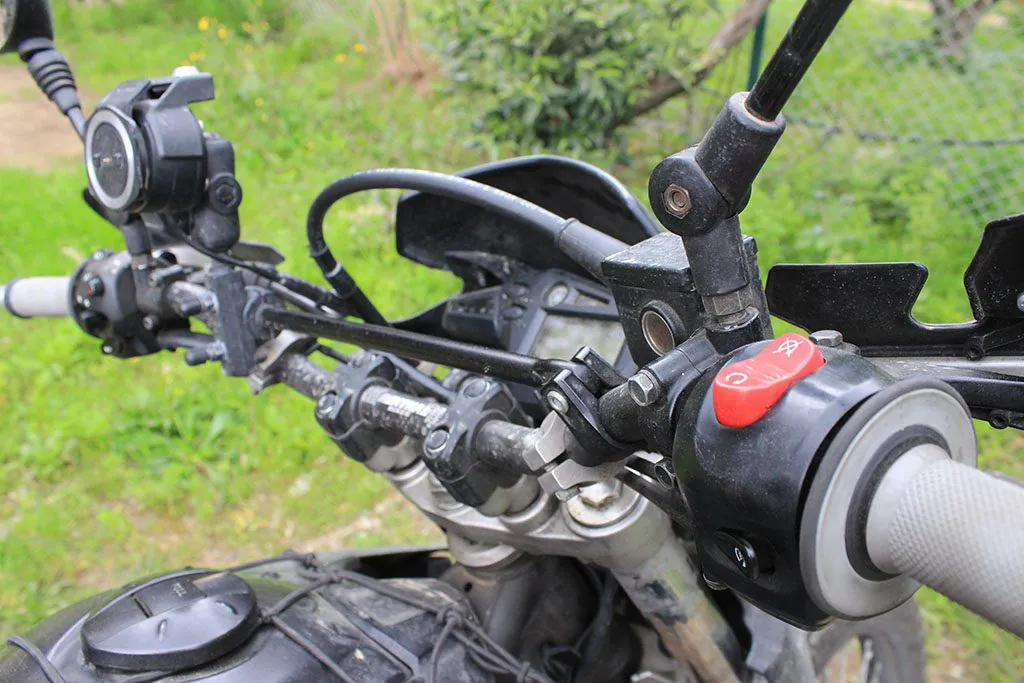 Heated grips
Heated grips are a luxury and not necessary for adventure bikes, but ride with them once and it's very hard not to want them on every bike. Having cold digits while on the bike isn't fun and will affect your riding. Treat yourself. Oxford are the kings of heated grips, we use them on our bikes – Oxford Heated Grips.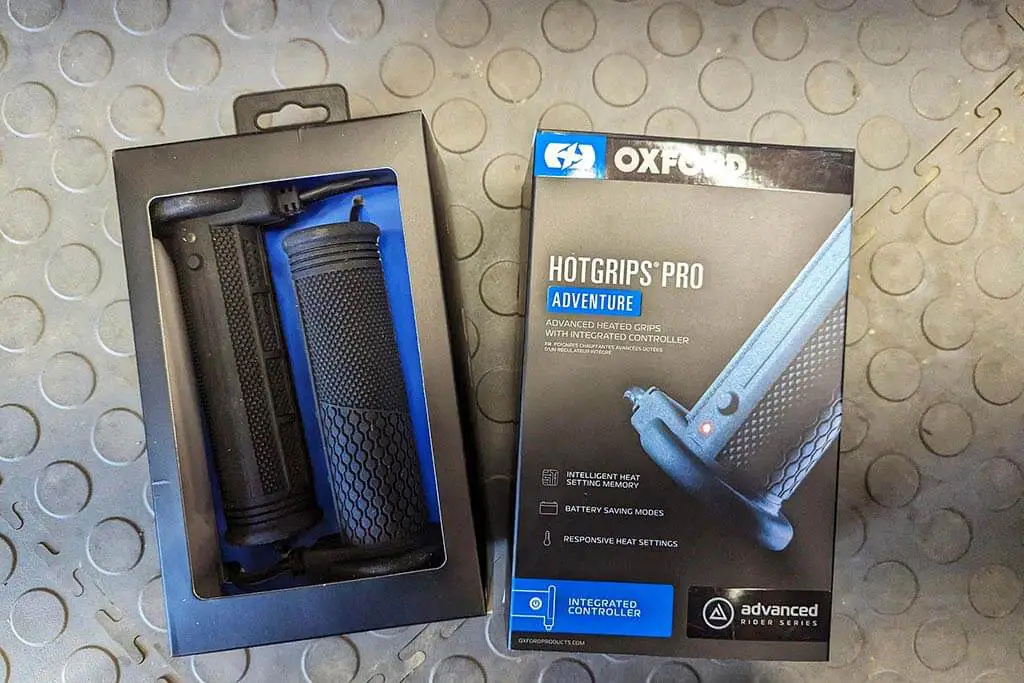 Foot pegs
Wide and grippy foot pegs are important for off-road bikes for comfort when standing and so your boots don't slip off in muddy conditions. If you're not going to be off-roading, then this isn't particularly important and you might even want to stick with pegs with rubber inserts, but it's a good idea to at least go for pegs with removable rubber. Or, if you'll be on the rough stuff more often, go for a wide peg with sharper teeth and chuck the rubber inserts. We use foot pegs from SRC Moto, pictured below.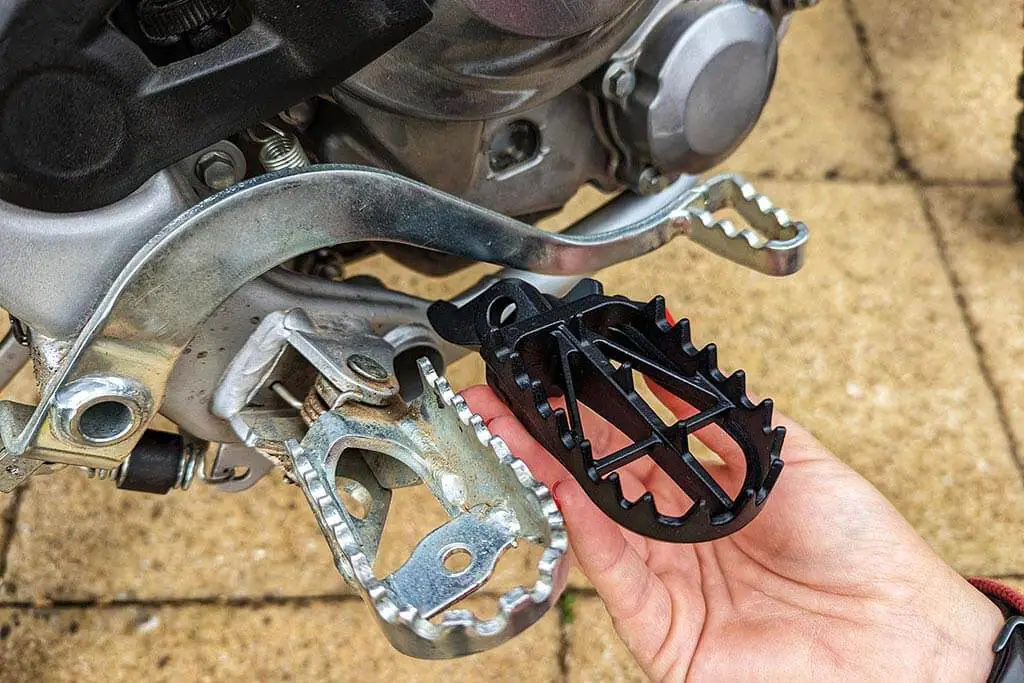 Side stand
Your side stand (or kick stand) doesn't exactly affect your comfort levels, but it can make a difference to your day-to-day life on the bike. Often, once you load your bike up with gear and the rear spring compresses, your bike's side stand may cause your bike to stand too vertical. This can become a huge pain when getting on and off the bike, especially on uneven terrain. It may be an idea to swap your stand out for a shorter one and a beefier spring. On our CRFs, we swapped the stock for a 20mm shorter and stronger Rally Raid stand.
Large foot stand
Another modification that makes everyday life on a bike easier is a wider plate on your kickstand foot. This is a must on most bikes as it stops your side stand from sinking into sand and soft mud, especially when fully loaded. The stand we use is from SRC Moto.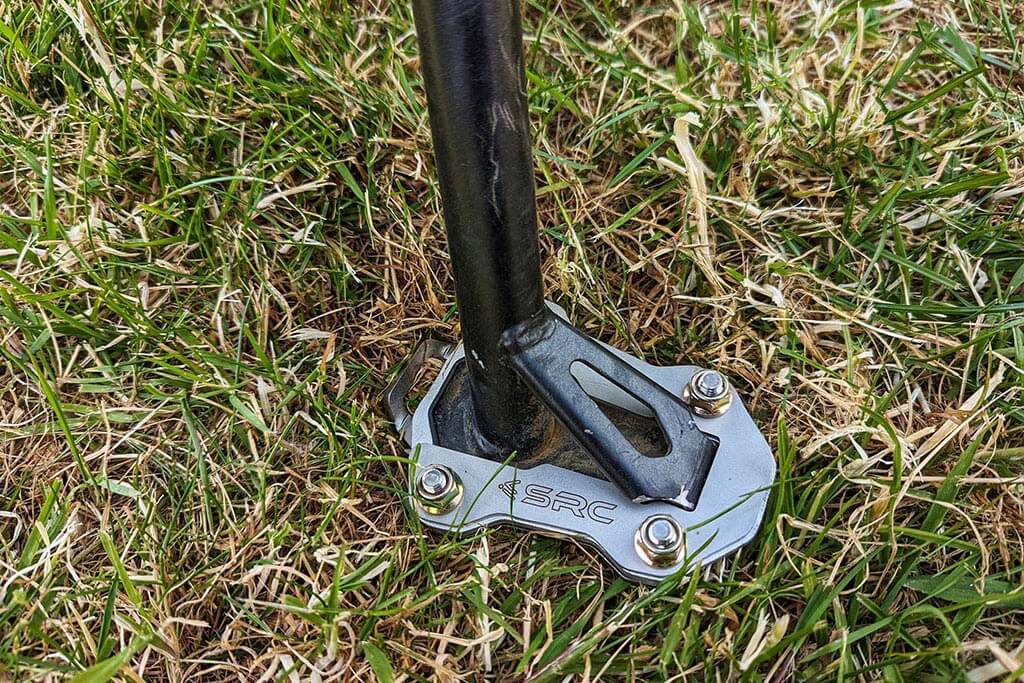 Centre stand
It's also worth investing in a centre stand if your bike is able to take one. It makes life easier when repairing punctures, removing wheels and for general maintenance. However, on some bikes a centre stand isn't possible. So for example, with our little Honda CRF300s, we simply use a Rolling Mavericks trail jack stand and that works perfectly. 
Lowering link
Can you touch the floor? This may not be something that affects many riders. But for some, having both feet flat on the floor will make a huge difference, especially if you're not particularly confident off-road or struggle to get on and off the bike every day. Adding a lowering link is a simple and effective way of lowering the bike.
Bear in mind, that it will reduce your ground clearance, but if you're lowering your bike to make off-roading more comfortable then ground clearance off-road isn't going to be your biggest concern. Just consider what you value more.
If you don't want to fit a lowering link, you could always try a lower seat first. But if you do want to go for a link, then we'd recommend Kouba Links.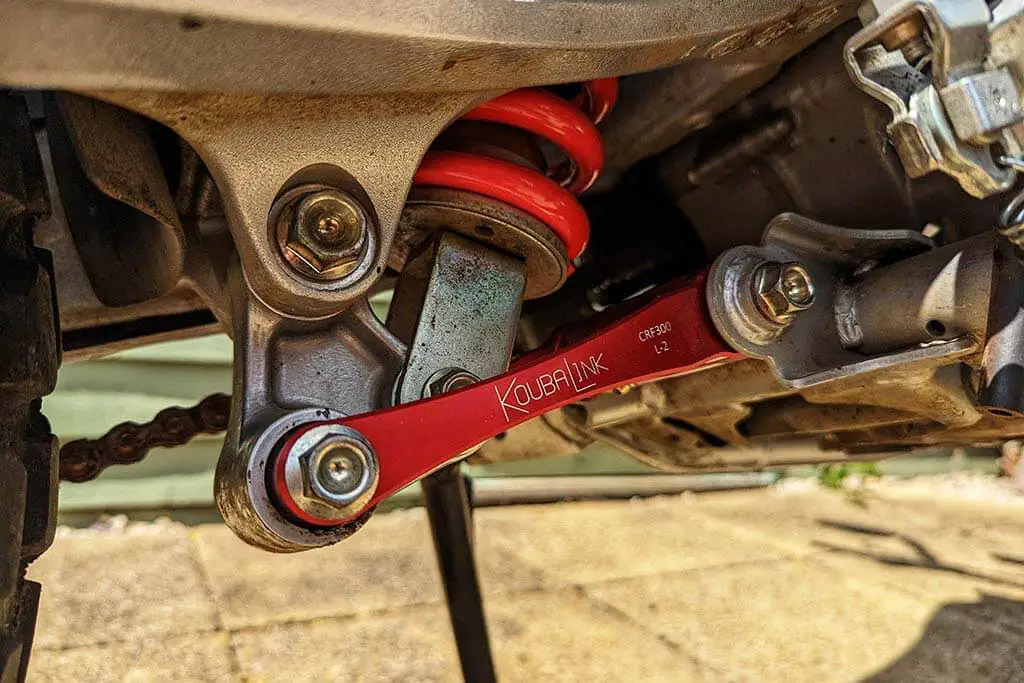 Ah, the captain's chair. Most of the important components making up your cockpit are covered in the 'comfort' section above such as your handlebars and screen. But, there's a few extras you may want to consider.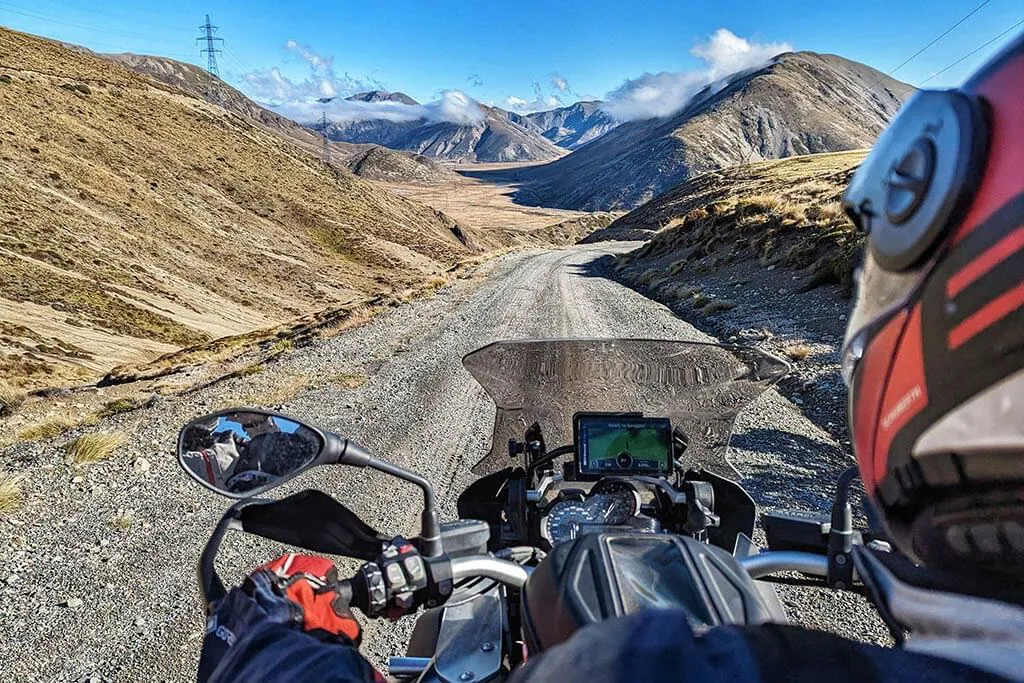 USB
If your bike doesn't already come with a USB port, it may be worth fitting one to keep your phone, electronic devices and navigation equipment charged. It's important in case of emergency too if your phone dies while out on the road. You can pick these up cheap from Amazon, but don't go too cheap if you want it to last. 
Navigation
Dependent on where and how you like to travel, you may want to use a sat-nav, a mobile phone or a paper map. A sat-nav will need to be wired in and live on your handlebar, so make sure you have room for it. The same goes for a phone mount. Paper maps typically get strapped onto your fuel tank in waterproof map holders or tank bags.
READ MORE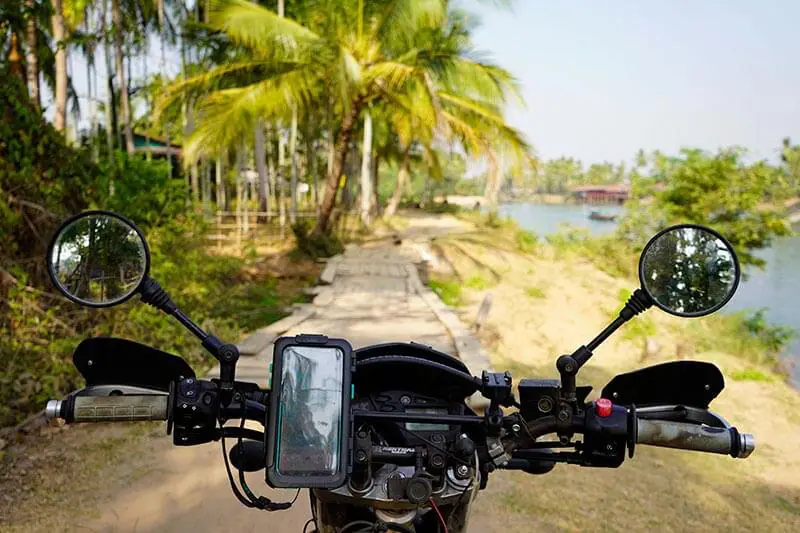 Levers
Short clutch and brake levers are less likely to get snapped off in a drop or fall, but they also make riding off-road easier and more comfortable, especially if you ride covering the lever with your first two fingers and use the remaining three to grip the bar.
If you're off on short rides, in places that you know well or have a tank bigger than 15 litres then this section may not be necessary for you.
Throughout most of the world you will be fine with a 15L tank or above. You may get caught out in a few places, like the north west of Uzbekistan for example where fuel can be scarce – but it's nothing a few Coke bottles filled with petrol can't fix.
However, if you've got a small tank or are really heading off into the unknown, you may want to consider upping your range. You have a few options here.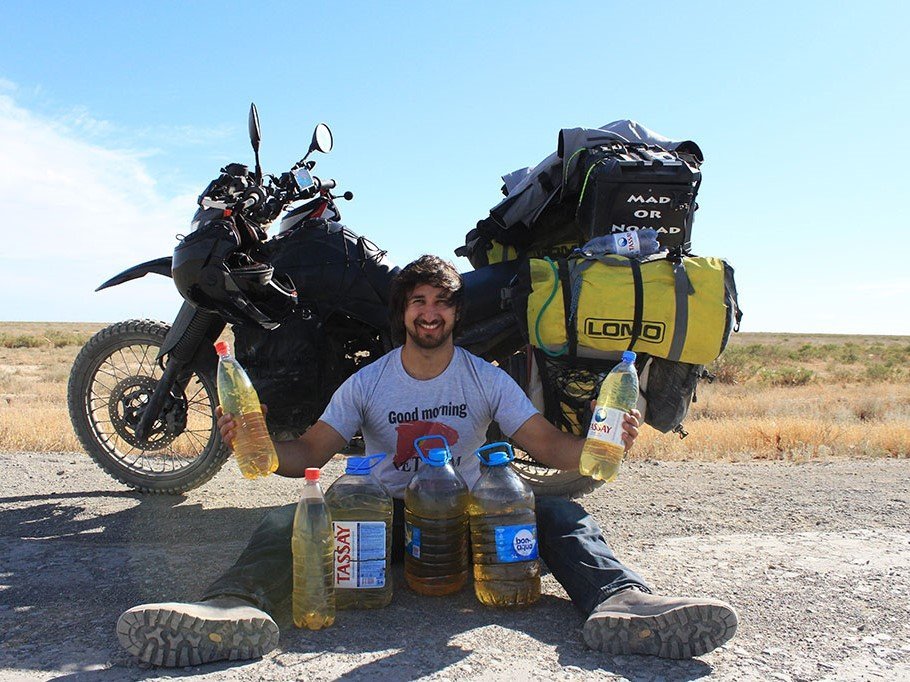 Larger fuel tank
A larger tank is the easiest, but most expensive way of upgrading your range. Our Honda CRF300Ls come with a 7.7 litre fuel tank as standard. We opted for an Acerbis 14L tank instead. If you can get an Acerbis for your bike, they're well worth the money and are seriously well made. For example, in the picture below, the CRFs fairings remained intact and no plastics had to be cut or removed to fit this larger tank.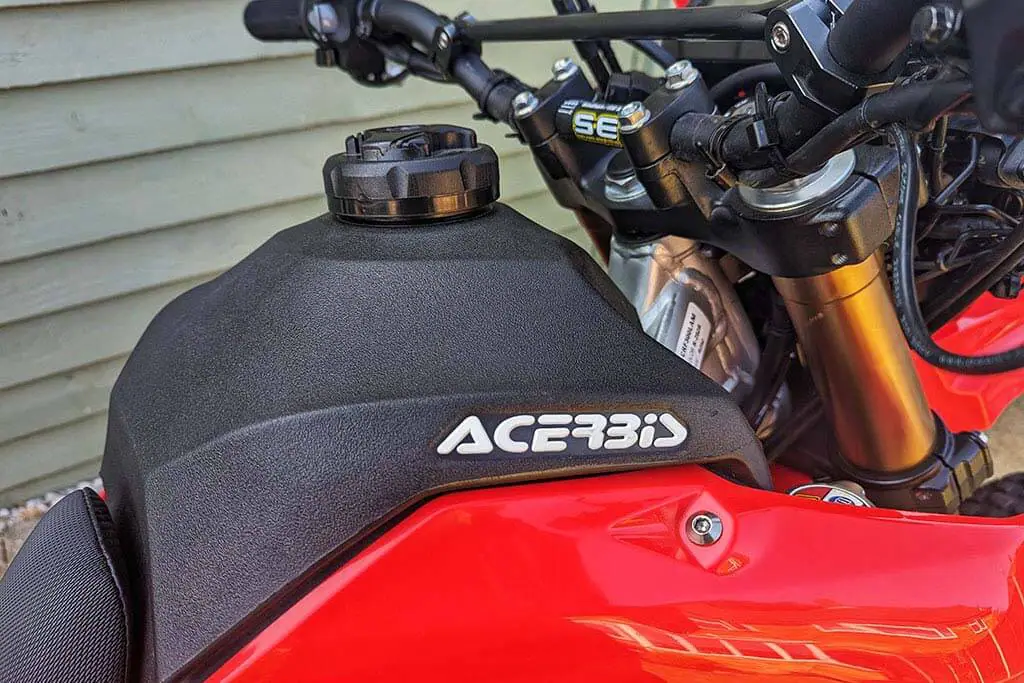 Auxiliary tank
Another option is to go for an auxiliary tank like one from Camel-Adv. These tanks are placed at the rear of the bike and typically add an extra 5 litres to your range. They link to your main tank so they're not just fancy looking jerry cans. Make sure you can get your luggage setup (pannier racks etc) to work with a tank like this before you buy.
Fuel cannisters
The easiest option to go for a hard-earing fuel cannister like those made by Overland Fuel. Our old Yamaha XT660R has a 15L tank and to supplement it we carried a 5L fuel can attached to the pannier rack. This saw us from the UK to Japan, through Southeast Asia and onto New Zealand. 
They can be easily mounted and locked to pannier or luggage racks or simply tied down to your back seat or top box. If you're going off grid, then you could also take a water cannister, which is invaluable for camping.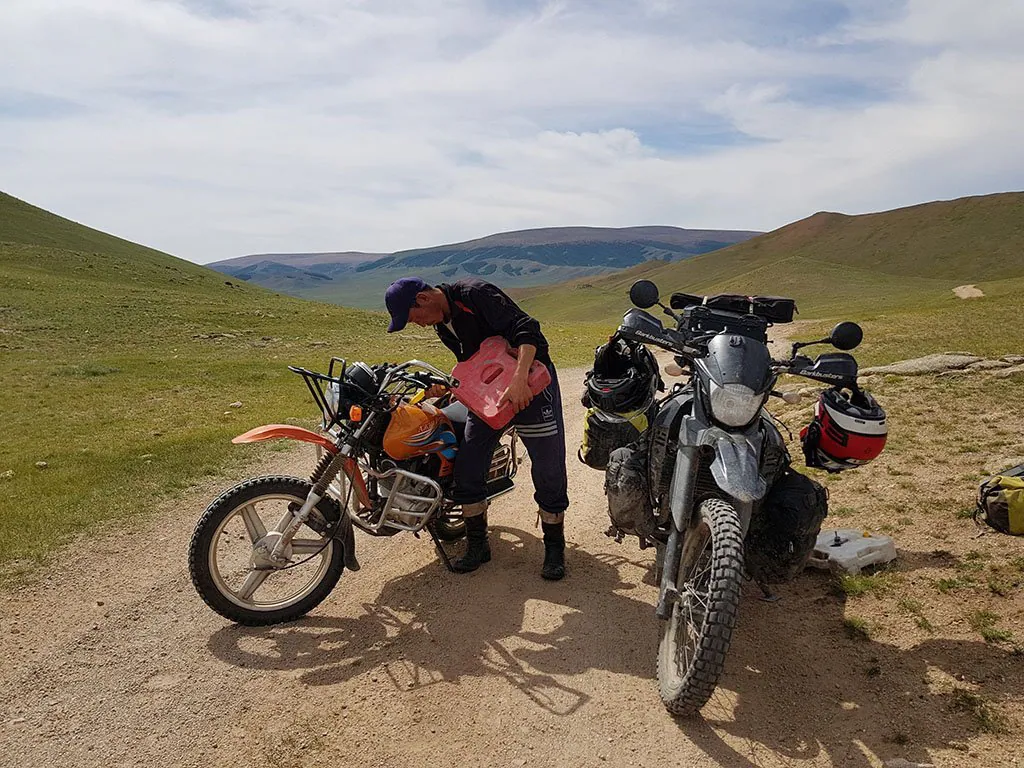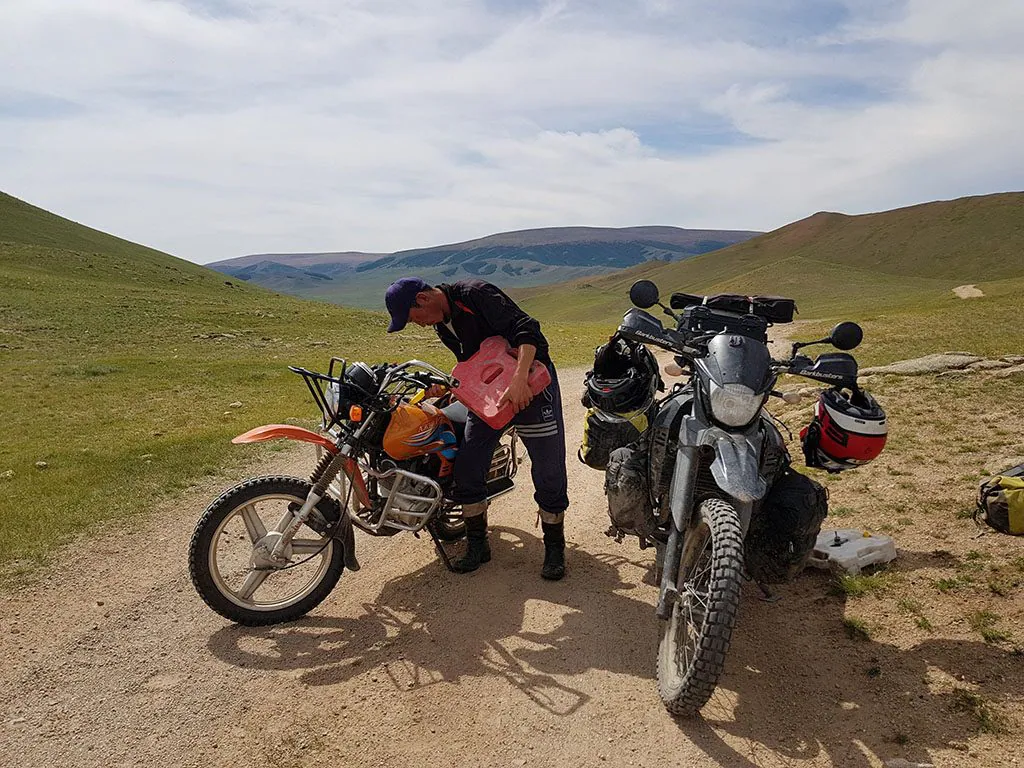 Fuel bladder
The cheapest option is to carry a packable fuel bladder. This collapses and can be stowed away when not in use. The downside is that they smell of petrol even when empty and they're harder to strap down.
Your suspension set-up is one of the most important modifications and things to get right on any adventure motorcycle. Handling, ride comfort and the feel of your bike are all affected by your suspension and it can make or break your bike – literally. So, you'll want to get it perfect, especially if you're riding off-road or carrying serious luggage.
For any adventure bike rider, it may be worth upgrading your shock for a new unit and having it specifically set up for your weight and riding style.
However, for round the world riders, it may be worth only uprating the spring and not the entire unit. Years ago, we changed our Yamaha XT660R's standard shock for a posh aftermarket one and had it perfectly setup for weight etc. After one year on the road with it, we left nearly all our gear in Tajikistan and rode into Afghanistan, by the time we returned the shock and collapsed and leaked all its oil. It was 500km to the nearest town where we could repair the shock. But the ride to Osh, Kyrgyzstan was over no-man's land and with no rear shock, it caused the frame and subframe to crack.
We had the original shock shipped out from home, fitted it and rode even worse terrain through the likes of Mongolia and it hasn't had a single problem in the last four years of hard abuse.
Now we've switched bikes to the Honda CRF300L, we have no doubt they'd ride better with a new shock system, but based on past experience we have opted for uprated, stiffer and longer springs only made by K-Tech suspension. It's something to consider.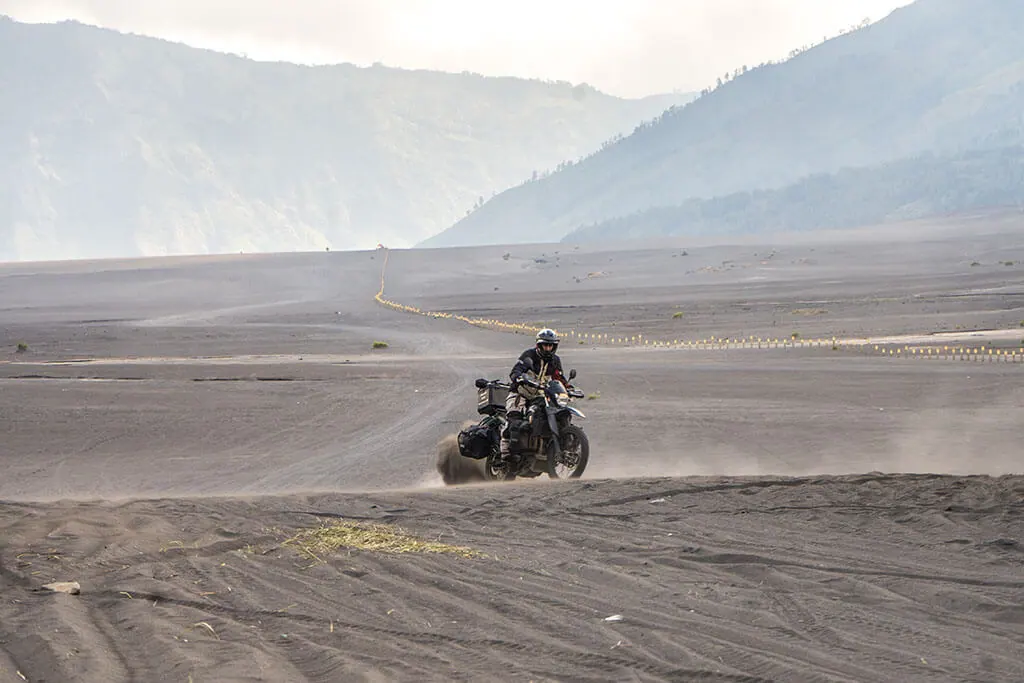 The right tyres are incredibly important when preparing your adventure bike. Are you going to be riding mostly road, a little off-road, extreme off-road, only gravel, sand, 50/50? There are so many considerations here and view points. Everyone has an opinion on what tyres are good and bad, what you should and shouldn't use. So, we won't go into detail on tyre choices (we'll save that for another article).
Instead, we advise considering what type of riding you're going to be doing and how much time you'll spend off-road. If you're only going for light trails every so often, don't waste your time on knobbly tyres. They'll wear out fast and for the 90% of the time you're on tarmac they won't be as good as road tyres.
Personally, we've been using Continental TKC80s for the last ten years whenever we can get our hands on them. They're the best of both worlds and we've tackled a multitude of different terrain with them. When we can't, we take whatever's going.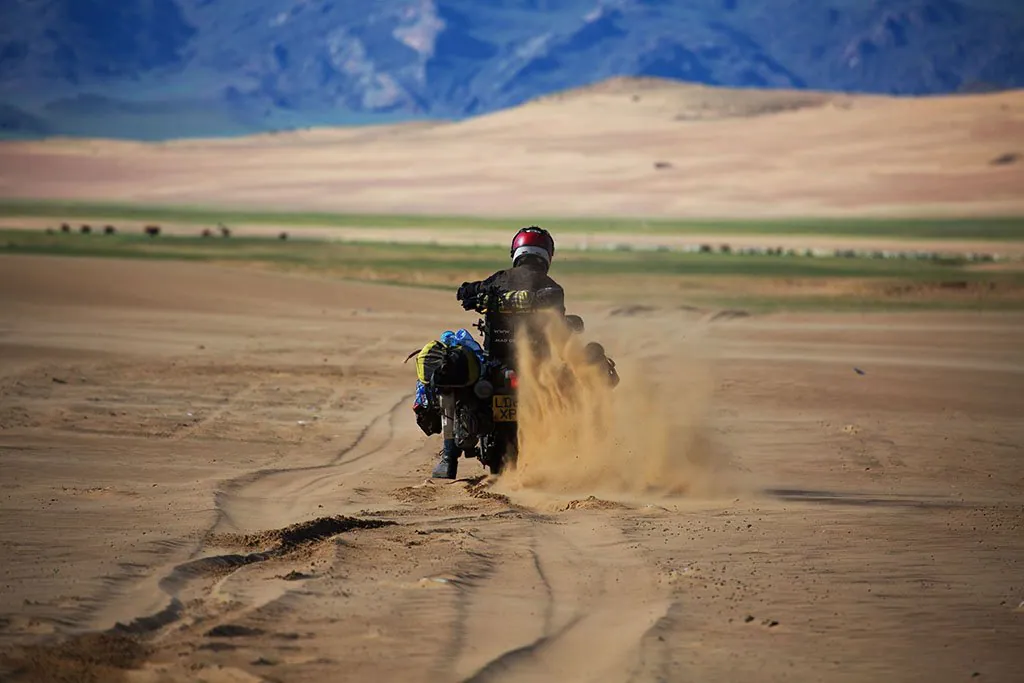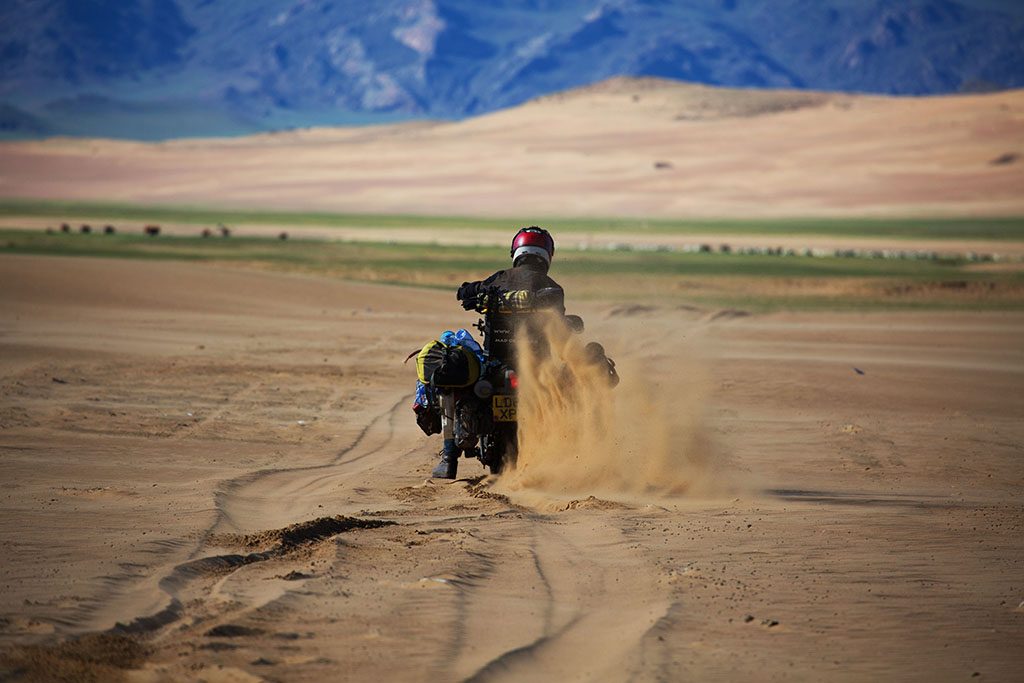 Preparing your adventure motorcycle with crash protection doesn't have to cost a fortune. The most important thing is a bash plate, everything else is optional. But taking the time before you go to add these extras can save huge stress while on the road. Here's the most important modifications you can make to adventure proof your motorcycle for travelling. 
Crash bars
Crash bars are an adventure bike staple. They protect your fairings, radiator and engine in a crash or fall and are well worth the investment. Make sure your engine is well protected and you won't sweat every time you drop your pride and joy. Another plus is that you can tie small crash bar bags to them for additional luggage space, which is handy as it helps redistribute weight to the front of the bike. We use Outback Motortek for our crash bars and bash plate. 
Bash plate
A bash plate (aka. sump guard or skid plate) is one of the most important protection accessories you can get to protect the vulnerable oil pan underneath your motorcycle. Plenty of bikes come with them these days, but not all are made equal. Check yours covers the entire underside of your sump – and looks and feels solid. If not, change it out for a heavy-duty option. 
Handguards
Handguards protect your hands and levers from both crashes and the elements. And that makes handguards a worthwhile addition for both road and off-road riders. I've fitted Barkbusters hand guards to all my bikes for as long as I can remember. The Australian company design and produce exceptionally well-made guards.
Radiator brace
Motorcycle radiators are fragile and easily damaged in a fall an also from flying rocks and stones. If your crash bars don't protect the rad, then consider buying a radiator brace or guard. We use the braces made by SRC. 
Mirrors
Stock mirrors tend to be rigid and fixed so they easily snap in a fall. It's a good idea to swap them for collapsible mirrors. A good example are Double Take mirrors. Easy to collapse and fold away, will move in a drop and indestructible. They're a great addition to any bike, especially one with stock mirrors.
Extras
Collapsible gear lever – Whether you ride on or off-road, go for a collapsible gear lever. It's a relatively inexpensive accessory that will prevent your lever from cracking your clutch casing or snapping your spindle in a drop.  
Frame protectors – On some bikes you'll find the frames are exposed with poor paint that scuffs at the mere sight of an off-road boot. 
Headlight protector – If you ride with others and sit up close behind them off-road, you may want to protect your headlight with a grill guard.  
Fork protectors – rubber or neoprene gaiters can be slipped over your forks to protect the fork seals from dirt.
Cheap protection – The exposed and delicate parts like coolant pipes need protecting too. Slice a cheap piece of garden hose, wrap it around your pipe and cable tie it into place. It'll stop stray stones piercing the vulnerable rubber. You can also stick a strip of steel to your oil casing with metal glue. That'll stop your brake lever putting a dent in the casing – and your trip. 
Air filter – an easy and cheap modification to protect your engine is to either swap our your paper air filter for a reusable and washable filter or to buy a pre-filter snorkel. 
The great luggage debate has had motorcycling's greatest philosophers arguing over soft or hard panniers for what feels like a millennia. The great bone of contention is that hard panniers break legs in falls, while soft panniers aren't secure. So the general consensus is: hard panniers for primarily road based trips and soft panniers for off-road travels. Personally, we run soft panniers with a hard top box to get the best of both worlds with none of the conns.
Hard panniers, soft panniers, racks, rackless, there's a multitude of luggage options all well suited to specific bikes and for different types of trips. It's down to you to decide what type of luggage system you want to use, the type of riding you'll be doing and how much gear you are going to take with you.
But to help you decide, we have a bunch of packed guides detailing the pros and cons of each system, the best luggage on the market and what's available. Have a read of these guides and pick what suits your travels best.
READ MORE: Motorcycle Luggage Guides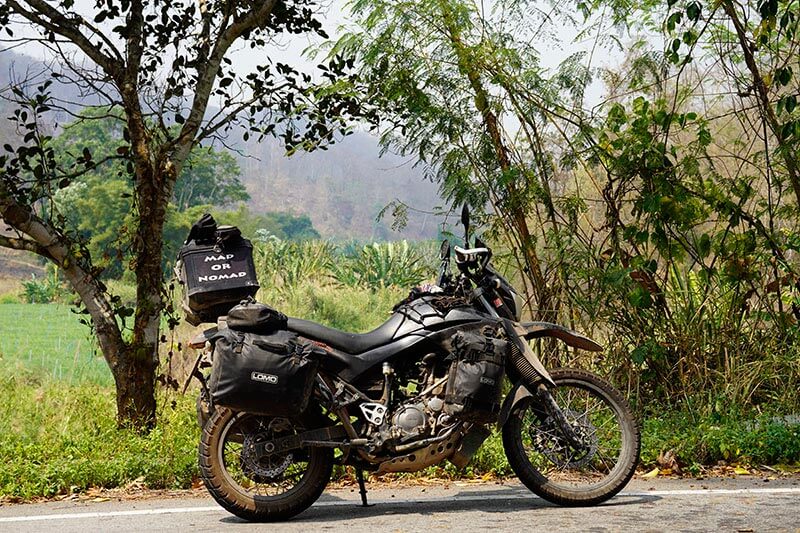 Tools
Preparing a tool kit for your adventure bike is prudent – especially if you're on a long trip. We won't go into what to take here, you can read about that in our tool kit articles. However, it's a good idea to consider how you'll carry your tools in your luggage. If you have a lot and it can't fit under your seat, you may want to make a tool tube or cannister to store them. 
READ MORE:
Of course you want your adventure bike to look cool. But, in some cases you might not want the attention.
For example, our bikes are used to ride around the world, and in rougher areas we don't want to attract attention on an expensive looking bike plastered in graphics and race decals.
A raggedy, old and battered looking bike covered in mud and cable ties is easier to fly under the radar. And secondly, riding through poorer villages on a bike that looks like it cost a fortune just doesn't sit right with us. 
With our Yamaha XT, we swapped out the plastics for black ones and removed all the stickers. For the Honda CRFs, nobody makes aftermarket plastics yet, so we had them painted by APB – our local vehicle body shop in Berkshire, UK.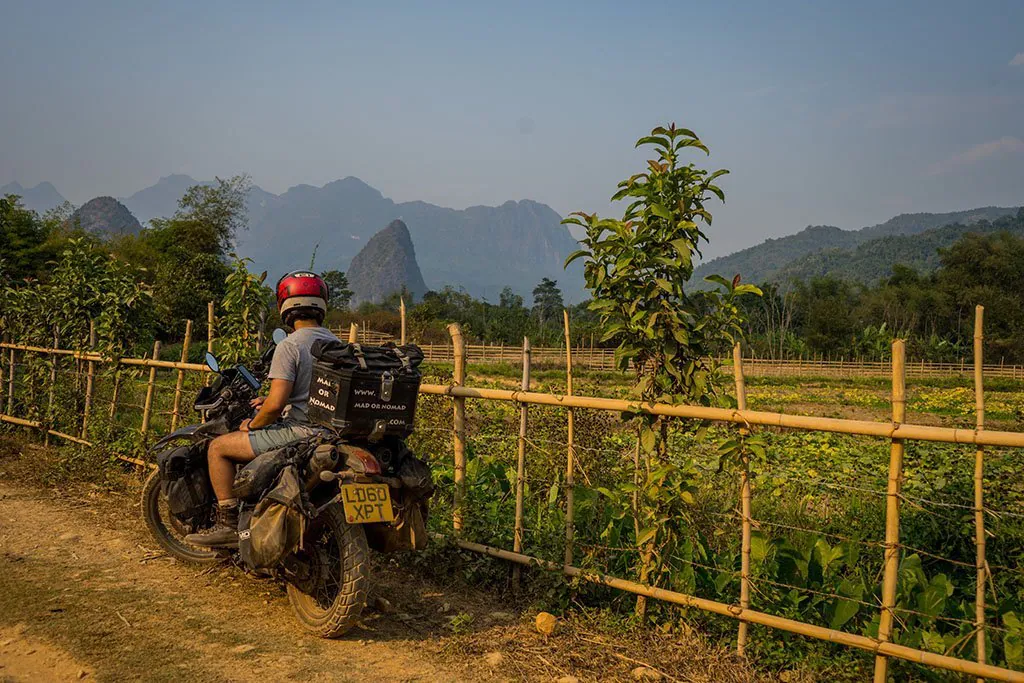 Read more on adventure motorcycles
Thanks for checking out the Ultimate Adventure Bike Preparation Guide. We hope you enjoyed it! Here's a few more articles on adventure motorcycles that we recommend you read next. 
Are you preparing your adventure motorcycle? Do you have any questions, tips or suggestions? Let us know in the comments below.