Packing for a motorcycle adventure is one of the most exciting parts of preparing for your trip because it means you're actually going! But, building a tower on the back of your bike can quickly wipe that smile away. Here's what you do and don't need for your bike trip.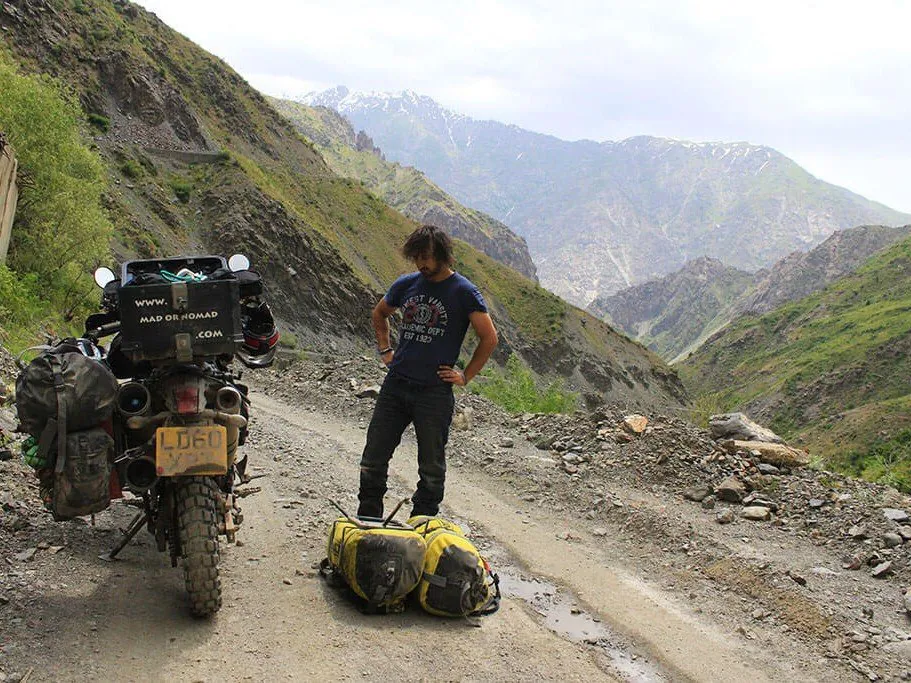 Packing for a Motorcycle Adventure
How to prepare your kit list
Step one is the fun bit. Make a list of everything you think you need for your motorcycle trip. Easy!
Step two is a balance. Everyone's idea of what they need is different. It all comes down to what you want and don't want to live without and what you're prepared to compromise on. For example, we all need a toothbrush and most people will pack a normal brush. But at one extreme end, some travellers will cut the plastic handle in half to save size and weight. And then at the other end are those who pack electric brushes because they don't want to compromise on dental hygiene. 
Another example is your towel. Some travellers take a normal towel, some take tiny microfibre towels… and others use a sock. 
Find your own balance and try and condense and minimalize on the things you can. If you really want a big towel and that makes you happy, then take it! Just be prepared to start hacking off your toothbrush handle instead. 
Step three is being ruthless – and it's harder than it sounds. The difficulty is overpacking. It's incredibly easy to do and you will do it. So, you need to be absolutely ruthless as minimalism is your friend.  
But remember, no matter how ruthless you are, you will still overpack, even experienced travellers overpack. If there's anything you're not 100% sure you're going to need, leave it at home otherwise prepare to post it home or ditch it on the road.
This guide explains how to pack for a motorcycle adventure and why you may need certain types of kit over others. Once you're done here, we recommend reading the ultimate motorcycle trip packing list below for everything you could possibly need. 
READ MORE:
Personal clothing
Your personal clothing section won't be as big and bulky as the dreaded camping bag, but it can get pretty close if you let it. Here's a few tips for keeping it small.
You don't need eighteen pairs of pants and three jumpers in the same colour. Pack light, small and smart. If you're heading to warm countries then one or no jumper will do. Wash your clothes more regularly and take less in the first place. 
When choosing clothes for your trip, make sure to ditch all cotton and instead go for synthetics and wool, which will keep you both cooler and warmer when needs be, dry quicker and wick sweat and moisture away from your skin.
Most clothing bulk comes from evening wear in colder temperatures. Consider using a small, foldable thermal jacket that doubles up as your motorcycle thermal and your evening/ camping jacket like the SubZero jackets we use. There's no point carrying a big woolly jumper for when you're off the bike and using another thermal jacket for riding. 
If you are heading to cold countries (check out the Winter Riding Guide) another option is to ditch the heavy and bulky layering system in favour of a single heated jacket. 
Motorcycle riding gear
Dependent on the type of clothing you go for, you may have extra garments to pack into your luggage. For example, if you go for a non-waterproof suit, then you'll need to make space for throw-over waterproofs. Have a look at our motorcycle riding gear guides for loads of tips and info on choosing the right kit for your trip. You'll find plenty of articles detailing the best adventure jackets, helmets, boots, buying guides and what to look out for.
But most importantly, firstly have a read of the how to choose your riding gear guide listed below as it explains what type of gear you should be looking for and all of the different types of kit out there.
READ MORE:
Motorcycle luggage
The luggage system you choose will greatly affect how you pack, how much you take and what security you need. We have plenty of detailed and dedicated articles to help you choose the right motorcycle luggage system for your trip.
Your luggage system will also be dependent on the type of motorcycle you're riding. For more info on that, check out the How to Choose an Adventure Bike for Travelling guide. Then move onto the different systems.  
When choosing a luggage set-up, firstly you'll need to decide if you're going for soft or hard luggage (see below guide). Once you've decided on that, go through the corresponding guides below as they list the best on the market, but also what to look out for when choosing them and our top tips. Once you've decided on your pannier system, then it's onto the motorcycle luggage guide for the rest of the gear from tank bags to top boxes, handlebar and crash bar bags. You'll find all of these guides and more in our motorcycle luggage guides section. 
READ MORE: Motorcycle Luggage Guides

Motorcycle camping gear
Your camping bag will be the biggest bag on your bike. We've met travellers who have been on the road for six months and not set their tent up once. They actively looked for a place just so they could say they camped at least once and then ditched the gear. If you hate the idea of camping then consider if you really need the bag. And if you want in for emergencies then only take the bare minimum. The necessities are: tent, sleeping bag, roll mat, stove, cooking equipment and torch.
READ MORE: Motorcycle Camping Guides
Bulky camping kit
The tent, sleeping bag and roll mat are the bulkiest and take up most room. Opt for low volume, lightweight and compression kit that can be packed away as small as possible.
Here's what we use on our trip to give you an idea of a low weight and volume small pack size.
But we also recommend you check out our packed sleeping mat guide too.
READ MORE: The Sleeping Mat and Bag Guide for Motorcycle Camping
Camping stove
We suggest using a multi-fuel stove, like the MSR DragonFly. It packs up small, is light and easy to refill because it runs on petrol or diesel. There's no point taking gas canister stoves as once you're out of Europe they're near impossible to refill. Don't forget your matches. 
Pots and pans
It's better to spend a little more when purchasing cooking equipment as there's no other way to get smaller, lightweight and compactable pots and pans. The cheap stuff rusts up and is heavier and you'll end up spending more in the long run. We use MSR's Quick 2 System, it's a little larger than other two-person sets, but we cook often and so it's worth it for us. Don't forget lightweight but sturdy plastic cutlery.
Camping extras
You'll also need miscellaneous stuff for cooking including a decent knife, washbowl, tea towel, sponge, washing liquid and a mini chopping board. It's also worth taking a small water-tight container for spices, salt, pepper and sugar. We also carry a small picnic blanket, which comes in very useful. We carried a couple of small camping chairs to start with, but they broke. Every time we saw motorcyclists with chairs we were mega jealous. It's a slice of luxury but very bulky and not absolutely necessary.
Food, water and fuel
Unless you plan on eating out for every meal (which will get very expensive, very quickly), you'll need to take a food bag. We use a waterproof Kriega US30 strapped to our crash bar to hold our food. You could get away with a smaller Kriega US10, but we opted for the bigger one because we camp often and like to cook our own food.
For water, we use a 6.6litre Rotopax water container. This is enough to drink from during the day, for emergencies and to cook, wash and clean with. If you're going to be off-roading most of the time, consider using a bladder pack. Depending on where you're travelling, you could also take water purification tablets.
We also carry a 6.6 litre Rotopax fuel container, which slots next to the water container. This was especially useful in Uzbekistan where we went hundreds of miles without a petrol station in sight.
READ MORE: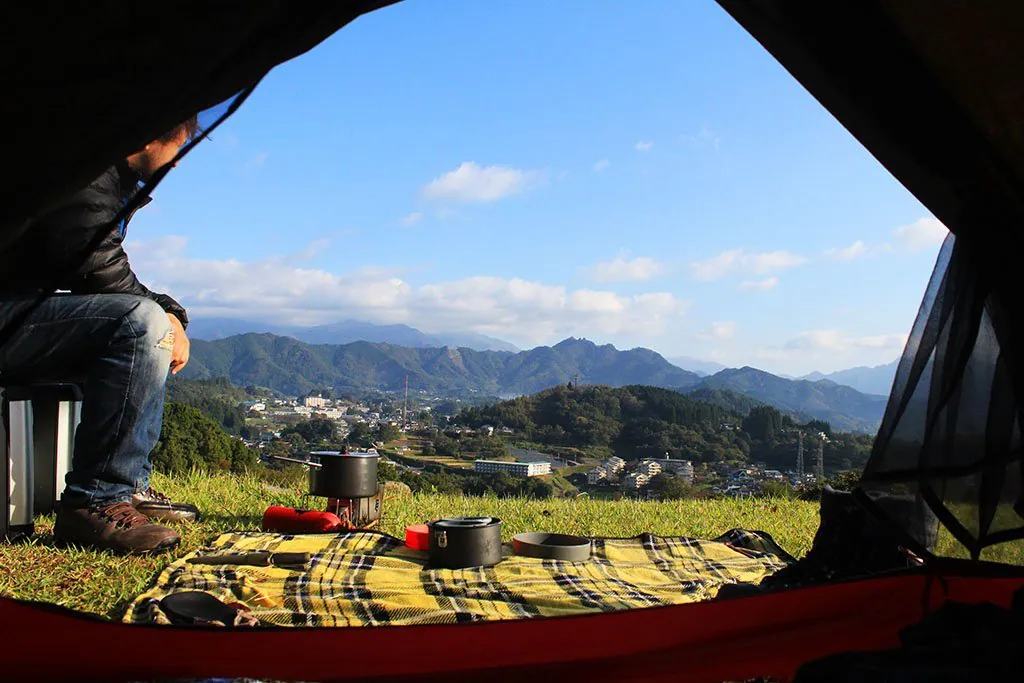 Tool kit
Taking a toolkit for general repairs and servicing as well as oils and lubricants is a good idea. Tools are heavy and it's easy to fall into the trap of over packing here. We suggest having a read of our comprehensive guide…
READ MORE:
Security
If you're heading into some particularly dodgy areas, you may want to take a chain, lock or security mesh net. Take a look at our guide for more info:
READ MORE: Motorcycle Security while Travelling
Electronics
The important electronics are your mobile phone, charger and adapter. Your phone can be your sat-nav (Top 5 Travel apps guide), translator, camera and used for help in emergencies. However, it's likely you'll want to take cool pictures of your trip, so also consider a camera and a laptop (if you absolutely need one).
Electronics can pile up, so try and keep it as low weight as possible. If you're going to be vlogging along the way, then you will also need additional gear. You can find more on that in our dedicated guide below. 
READ MORE:
Wash kit
It's important to keep up with your hygiene on the road. This one's a bit obvious, but we'd recommend, toothbrush (handles optional) and paste, floss, flannel, shaving equipment, small tube of shower gel and shampoo, soap, hand sanitizer and a face cleanser for all the dirt that's going to be blasted into your face all day long.
Paperwork
Keep your important paperwork in a water-tight pack. It's a good idea to also keep a small USB pen with a backup of your paperwork elsewhere on the bike.  
READ MORE: Motorcycle Travel Paperwork Explained
Miscellaneous
Here's where you can add a few extra necessities like a first aid kit, penknife, map and compass (only if you're going to use them), sunglasses, a small foldable rucksack for when you're off the bike, dry compression bags to keep everything dry. 
The Ultimate Motorcycle Trip Packing List
What to pack for a RTW Motorcycle Trip
The above article lists everything you'd need for a motorcycle adventure to pretty much anywhere in the world. However, if you're planning a round the world motorcycle trip, your gear (especially the amount) may change. In this case, you will need to be even more strict on the volume and weight of your kit because you will be lugging it around for a very long time and won't want to take anything unnecessary. Every item should have a purpose and be used. 
Take a look at the below guides for specific advice on RTW travel and gear. 
Read more on Motorcycle Packing and Preparation
Thanks for checking out our How to Pack for a Motorcycle Adventure Guide. We hope you enjoyed it! Here's a few more articles on packing and preparing for a motorcycle journey that we recommend you read next. 
ps. We may receive a small commission, at absolutely no cost to you, if you purchase any products using the links on this page. We're not sponsored by anyone, are completely impartial and don't run ads. So this helps us keep the site running. Thank you for your support.
Liked that? Try these next…
How do you pack for your motorcycle trips? Let us know your top tips and advice in the comments below. Thanks!