This detailed guide explains everything you need to know about travelling to Lo Manthang and Upper Mustang in Nepal on a motorcycle.
Motorcycle to Lo Manthang
Lo Manthang is a place whispered amongst hardy travellers and explorers. Extremely hard to get to, heavily restricted. Controlled and expensive – but it is like stepping into another world. It's an unexplored region and one of the world's last true frontiers and that makes it gold dust for motorcycle travellers and trekkers alike. But not for long…
Nepal opened the restricted region to the first foreigners back in the early '90s. Since then, it's been a very slow and hand-picked trickle of travellers that'd spend weeks on donkeys to get there.
But, pre-covid a few motorcycle travellers pioneered a route. A few years later and a couple of motorcycle tour groups made the journey. Now, post-covid, more tours are heading that way and soon the mysticism will be lost. So, if you want to go, go now.
Here's what you need to know…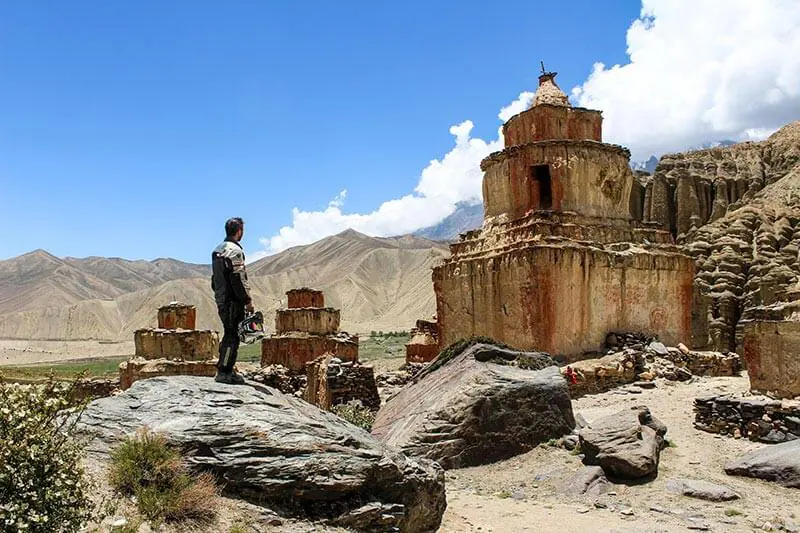 What is Lo Manthang?
The Kingdom of Lo was once an independent kingdom located in the Himalayas, to the south of Tibet. It was a strategically important region that controlled trade between the Himalayas and India between the 15th to 17th century. The kingdom's capital was the walled city of Lo Manthang, which was built around 1380 by Ame Pal (a Tibetan warrior). Although called a city, it's tiny with around 180 homes inside its fortified walls.
The entire kingdom was annexed by Nepal in the 18th century and became a dependency. But its monarchy officially remained in place until 2008. The last king of Lo passed away in 2016 (his lineage was traced all the way back to Ame pal).
Now, Lo Manthang is a Rural Municipality, the Kingdom of Lo is called Upper Mustang and they're both restricted regions of Nepal.
Why ride a motorcycle to Lo Manthang?
Because it is a new route and one of the world's last motorcycle frontiers. It's relatively unexplored and an incredible ride through raw and rugged landscapes. Have a read of our Lo Manthang feature and you'll see just why you need to take it on too.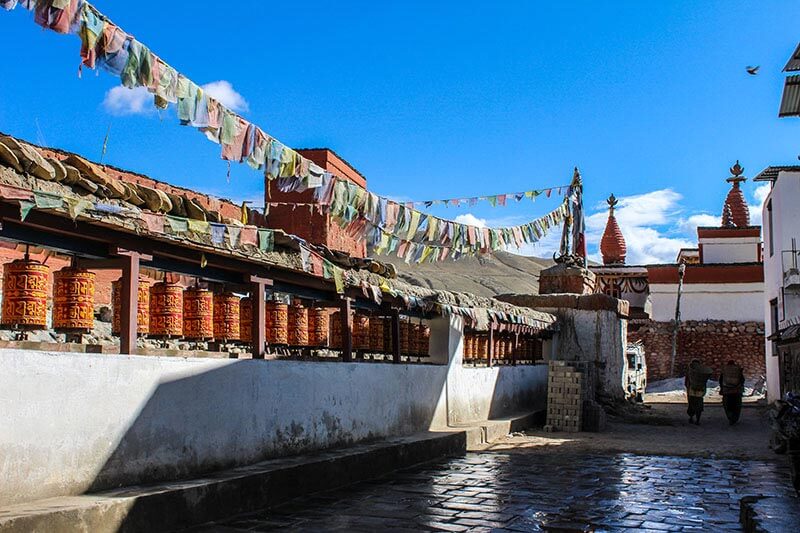 What is Upper and Lower Mustang
Mustang is a district in Nepal belonging to the Gandaki Province. It is split into Upper and Lower Mustang (Upper being further north towards Tibet and Lower being further south). The Mustang district is one of the most remote areas of Nepal and hugs the Himalayas.
You need to pass through both Upper and Lower Mustang to reach Lo Manthang. There are separate permits for both Upper and Lower Mustang, but this is only really useful for trekkers who may not want to head too far north. For motorcycle travellers, you will need two permits to visit Upper Mustang.
The first is the Upper Mustang Restricted Area Permit. This costs 500USD per person for 10 days and an additional 50USD per day thereafter. You will also need an Annapurna Conservation Area Permit which is just under 20USD. You can get these permits in Kathmandu or Pokhara at the Immigration Office.
Remember, you can not go solo and must go with at least one other person and a licenced guide. It is recommended to join a motorcycle tour that will handle all of this for you. More on that below.
Why is Lo Manthang restricted?
The Nepal government only allowed access to the demilitarised region in 1992. But, that was only to let a small handful of trekkers visit. Since then, yearly numbers have increased and around 2010 the first motorcyclists rode there with tours starting around 2019. However, it is all still highly regulated with mandatory licenced guides and expensive permits.
There are two reasons for this. Firstly, it helps protect the local traditions and ways of life from outside influence. It is one of the most preserved regions on Earth. And secondly, because of its proximity to Tibet and China and border security.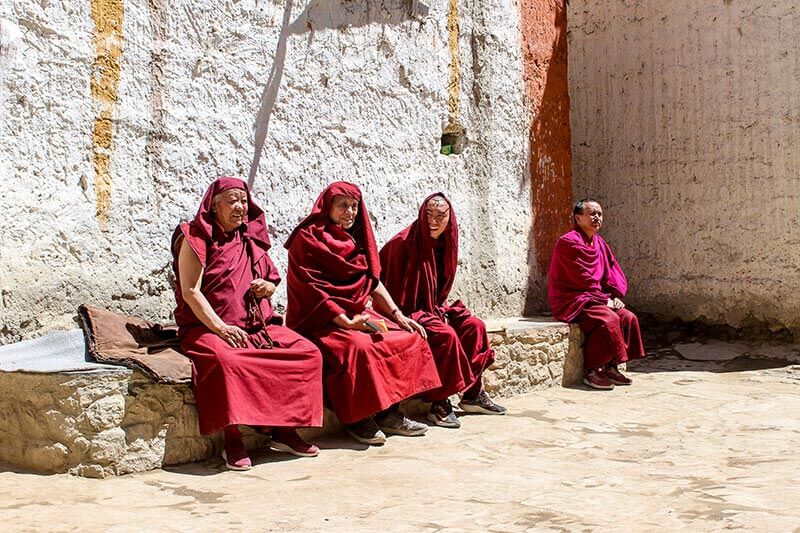 Lo Manthang motorcycle tour operators
The Mustang region of Nepal is restricted. You can't just ride up to Upper Mustang on your own. There are many police checkpoints along the way that will stamp you in and out.
It's highly recommended to go with an experienced tour company. There are only a very small handful of around five that offer tours there making it easier to find one.
Your tour company will handle all of the permits for you in advance and provide the homestays and hotels, provide the motorcycle, fuel, food and water. And perhaps most importantly, they provide a support vehicle with mechanics to follow. This vehicle will have spares and also carry the bulk of your luggage and oxygen for altitude sickness/ first aid kits in case you run into trouble.
Experienced motorcycle travellers know that a breakdown can cost weeks of time and that's something you do not have in Upper Mustang. You won't find garages on the side of the road and being stuck there can quickly end up being extremely expensive – making going with a tour company a far safer option.
Bear in mind, if you're determined to not do it as part of a tour, you will still need a licenced guide and must go with one other person as permits are not given to single riders.
Expect to pay around £3,200 for two-week, an all-in tour (not including flights).
If you're interested in riding there, check out our recommended companies below. 
READ MORE: Nepal Motorcycle Rental and Tour Companies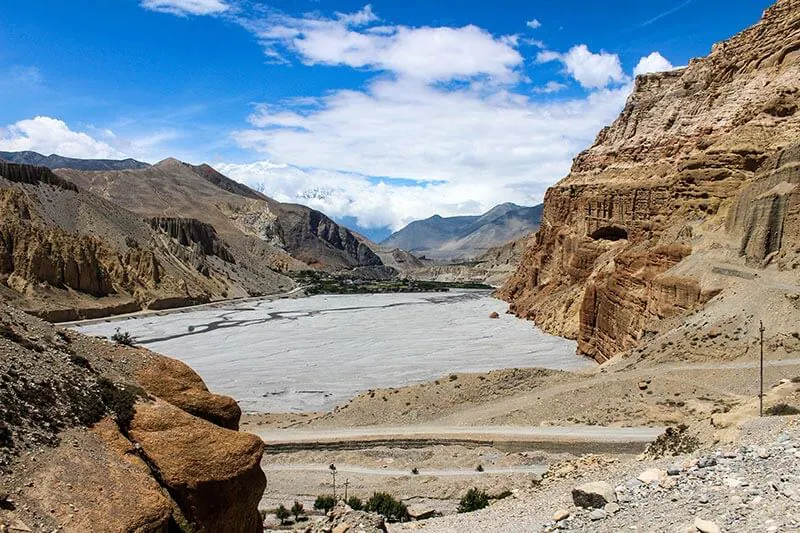 Skill level
The roads in Nepal can be difficult – especially in the far north. You may face water crossings, sand, silt, steep gravel inclines and declines, wet mud, gravel, roadworks and narrow mountain passes. Off-road skills and experience in similar conditions would make life a lot easier. 
If you're comfortable off-road, then you'll be fine – it's not like doing a hard enduro. But if you have limited off-road experience, I'd recommend signing up to an off-road training school in the UK. There are so many brilliant schools out there that'll teach you the basics in a day.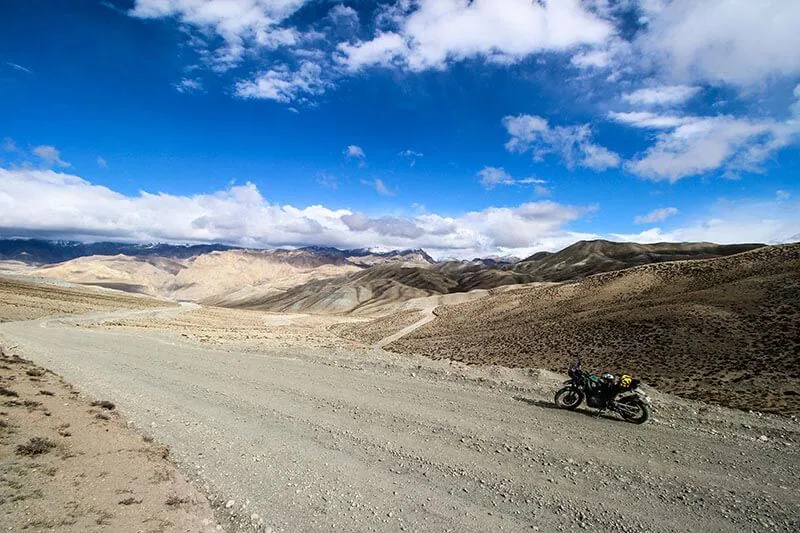 Riding gear
You will find searing heat, humidity, rain and freezing temperatures throughout the country. The best type of gear to wear in multi climate conditions are lightweight non-waterproof adventure suits.
Remove any waterproof and thermal liners and leave them at home. Instead, carry cheap throwover waterproofs and a compressible down jacket. That way you can easily regulate your temperature and quickly adapt to the conditions.
One hot and one cold weather pair of gloves, protective adventure style boots, a lightweight and comfortable helmet and a water bladder pack are all musts.
READ MORE: How to Choose Your Adventure Riding Gear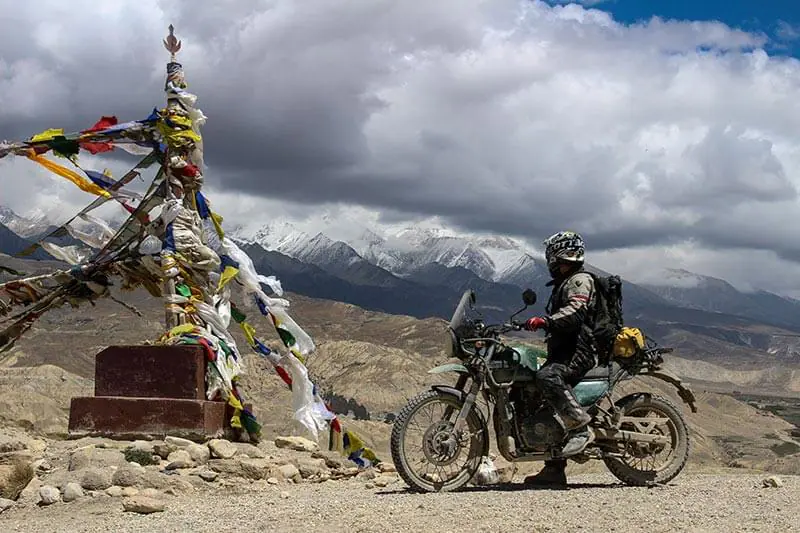 Visas and paperwork
At the time of publication, Brits can get a visa on arrival at the airport (15 days 30USD, 30 days 50 USD). Visitors must also fill out an easy online form available on the Nepal Government website.
You will also need to show proof that you have been double vaccinated against Covid. You can get this in the form of a letter from the NHS. An international driver's permit is also recommended and, of course, a full motorcycle licence is mandatory.
When to go
The best time to motorcycle to Lo Manthang and Mustang is between March, April and May. It's warmer with clearer skies so you can see the peaks. Do not attempt to go in the colder months. In winter, the people of Lo Manthang leave the eldest son to look after the home and livestock as the rest of the family heads south to sell wares in the markets. You don't want to be stuck up there for Christmas!
Please remember that these notes can all instantly change and are only correct at the time of writing. You will need to do additional research before you travel and check for any changes to pricing, rules, regulations and conditions.  
Read more on motorcycle travel in Nepal and Asia
Thanks for checking out this Motorcycle Travel Guide for Lo Manthang, Upper Mustang, Nepal. We hope you enjoyed it! Here's a few more articles on motorcycling in Nepal and Asia that we recommend you read next. 
Are you planning a motorcycle trip to Lo Manthang or Nepal or do you have any questions or tips to share? Let us know in the comments below.