Here's how to motorcycle from the UK to the Nurburgring and B500. This ride report will help you plan your trip to two of Germany's most legendary motorcycle destinations.
UK to the Nurburging and B500
The Nurburgring and Baden-Baden's B500 are legendary in motorcycling circles. Getting there and riding these incredible roads is a stone's throw from the UK and should be at the top of your European touring list!
This ride report will show you how to motorcycle to the two with a few excellent stops along the way.
Quick info
Route: UK, Zeebruge, Nurburgring, Cochem, Mosel, Baden-Baden.
Distance: 450 miles
Fuel: £50
Time: 3-5 days
Best time to go
The best months to ride to Baden-Baden are between May and September, although July and August can get very hot with temperatures in the high 20s.
Recommended hotels
Here are the two hotels we recommend you stop off at on this trip. Both links below take you to Booking.com.
Alternatively, take a look at this map of local hotels in the Baden-Baden region.
UK to Nurburgring Motorcycle Route Map
Ride Report: Zeebruge – Cochem – Nurburgring – Baden-Baden
Day 1: Zeebrugge/ Rotterdam/ Calais to Cochem – 240/280 miles
This route starts from the ferry port of Zeebrugge, Belgium although it is just as easy to start from Rotterdam or Calais, which adds around 40 miles.
From Zeebrugge, head to the N31 and the E40 motorway. At junction 38 leave the E40 signed for N67 Eupen. This section is about 150 miles and quickly gets you away from the busy port and congested smaller roads. Eupen is quite a small town but does have plenty of cafes and is great place for your first leg coffee stop. 
From Calais you have the option of either the E40 to junction 38 or the E42 until it merges with the E40 and then taking junction 38 for Eupen.
If you fancy a fun detour, leave Eupen and head south for approximately 20 miles to the historic Spa-Francorchamps race circuit!
The Nurburgring
After your brief stop in Eupen, continue along the N67 for 10 miles until you reach the German border, where you'll be very pleased to find the road surface changes from Belgium's uneven and noisy concrete slabs to the smooth tarmac of the N258. 
This is a fantastic road that swoops, rises and falls in equal measure and takes you almost to the entrance of the visitor centre at the Nurburgring race circuit 50 miles later. The visitor centre and circuit should be your next stop. It's a great place to visit to soak up the historic track, grab a spot of lunch and spend your change in the gift shop!
Green Hell
A mile or so away from the official race circuit is the famous Nordscleife (North Loop) also known as the 'Green Hell' – 13 miles of the original race circuit that is now a public toll road and where Nikki Lauda almost lost his life in the horrific 1973 Grand Prix.
Yes, that's right, you can roll up, buy a ticket and ride/drive arguably one the greatest and most historic circuits in the world! But be warned, it is not for the faint hearted: there are with no speed limits, no road signs or markings and lots and lots of very fast riders, drivers and Ring experts. I've completed a few laps and it always scares and excites me in a 60/40 mix!
After leaving the Nurburgring look for the L93 to Mullenbach where you can pick up the N257 to Ulmen. The 257 becomes the N259 and takes you the rest of the way to the beautiful town of Cochem.
Base Cochem
Cochem sits on the Mosel river with stunning views and an impressive castle which overlooks the town from its dominant position on the hilltop. There are numerous bars, cafes, restaurants and river walks to burn off all those extra calories too.
You could easily base yourself in Cochem for a few days and ride some fantastic roads around the immediate area as well and returning to the Nurburgring for more laps! Or head south for Baden-Baden…
Day 2: Cochem to Baden-Baden – 180/200 miles
Leave Cochem heading south on the N49 which hugs and follows the Mosel river. Cross over bridge after bridge as the road numbers swap between the N49 and the N53, but keeping heading south and you will be rewarded with beautiful views, riverside cafes and picturesque towns.
At Bernkastel turn left of the N53, head to Longkamp and join the N269 south for Neubucke before joining the N41 to Neunkerchen. Then head across the border to France and Bitche, after that you'll cross over the Rhine, back into Germany and into Baden-Baden.  
Baden-Baden is a busy town and, like Cochem, offers a host of bars, restaurants and cafes as well as some 'high end' shops and boutiques for anyone who wants to buy presents and gifts.
Welcome to the B500
South from Baden-Baden is the famous B500 and another 120 miles to its finish near Koblenz in Switzerland. Although, most ride around 90 miles to the town of Titisee-Neustadt to enjoy a lakeside lunch.
It cannot be stressed how much caution should be taken when riding this road. Firstly, because it can get extremely busy with other riders, some of whom will be local and going VERY fast! Secondly, because the police regularly set up speed traps and use unmarked cars and bikes. The fines can be eye wateringly expensive. You have been warned!
After lunch in Titisee you could return to Baden-Baden back along the B500 or via any of the many but still enjoyable minor roads. Alternatively, you could head over the border to Colmar in France and head north through the beautiful Vosges region back to Baden-Baden.
From there, you can retrace your steps home, plot another course or stay for years perfecting the twists and turns!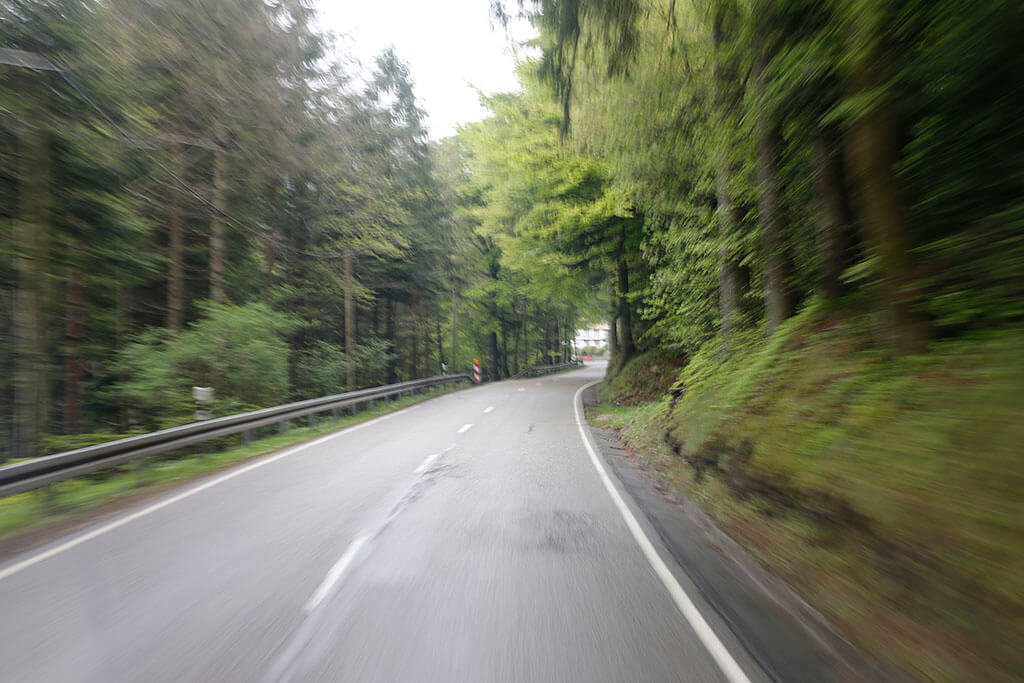 About the Author
Ian Speight has been riding motorcycles for 40 years with extensive touring experience in the UK and Europe. As an ex-police motorcyclist, Ian now works as a motorcycle tour guide and also owns and runs Ian Speight Advanced Rider Training.
Read more on motorcycle travel in Europe
Thanks for checking out our UK to Nurburgring and B500 Route Guide. We hope you enjoyed it! Here's a few more articles on motorcycling in Europe that we recommend you read next. 
Are you planning a motorcycle tour in Europe? Do you have any questions or tips to share? Let us know in the comments below.