Camping on a motorcycle tour is a brilliant way to save money, enjoy the outdoors, meet new people, properly get away from it all and have fun. But it can be tricky knowing where to start, especially if you've not done it before. So use this guide to help you plan and get the most out of your next motorcycle camping trip in the UK.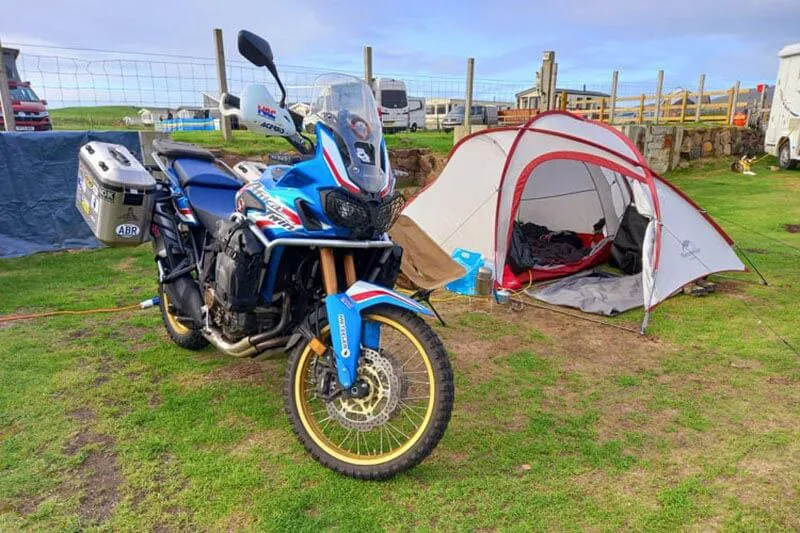 Can you wild camp with a motorcycle in the UK?
You can wild camp in the UK, but not everywhere. Scotland has always been quite relaxed about wild camping (so long as you don't leave a trace), but there have been some restrictions regarding Covid in certain areas recently.
England on the other hand is a different kettle of fish. While it is pretty much illegal for the majority of England, Wales and Northern Ireland, there are certain areas where you are allowed. This is because nearly all of the land in these countries is privately owned, however there are some exceptions like camping in Dartmoor National Park.
So, as the majority of land is privately owned, your best option is to ask permission from the land owner before you pitch up. Because finding the owner may not always be an easy thing to do, it's usually far easier to use an official campsite in England, Wales and Northern Ireland instead.
For more info on wild camping and how to do it, check out the comprehensive motorcycle camping guide. You'll also find loads of info on minimalist camping, cooking, gear, tips and advice in this packed guide too. 
READ MORE: The Motorcycle Camping Guide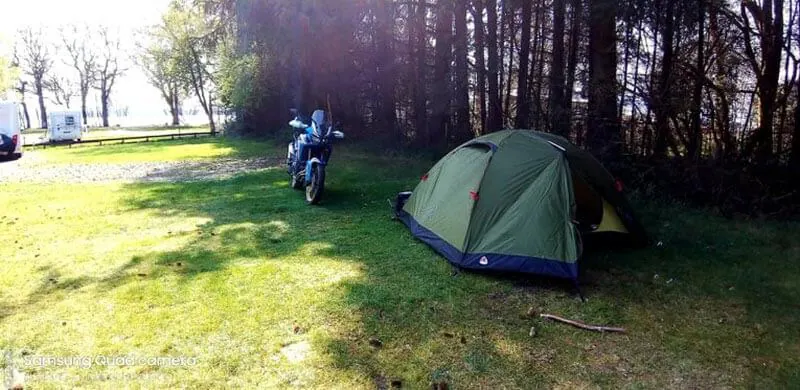 What's the benefit of using an official campsite?
Official sites offer a lot more to the camper. Secure sites are often patrolled and gated so you, your motorcycle and gear are safer. They have facilities like showers and toilets, cafes and shops on site, electrical hook ups, fire pits and picnic tables etc. It takes the rough out of roughing it so you can enjoy your trip a lot more easily.
How to find a good biker friendly official campsite?
Nearly all campsites are motorcycle friendly nowadays. So it's not a case of finding a site that turns away motorcyclists, but it's more of a case of finding a site that is suitable for riders and bikes. 
Some of the very best motorcycle friendly campsites have been collated onto one page so you can find the closest sites to whether you're riding. 
READ MORE: The Best UK Motorcycle Friendly Campsites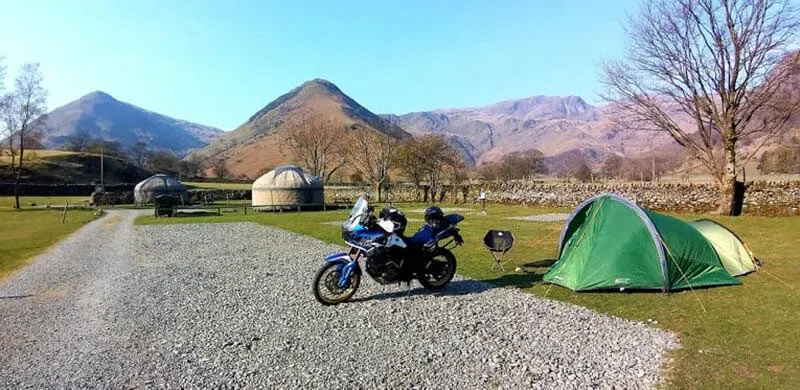 Where in the UK should I camp?
Tie your camping location in with your motorcycle tour. Plot a route of where you want to go in the UK and figure out how far you'd like to ride each day, then use the above link to the UK friendly campsites and find a site that's close to that distance. Remember to stop before you get too tired and before the sun goes down – it's no fun setting up and cooking in the dark. 
For help planning a UK motorcycle tour, take a look at the UK page, there's loads of route guides and ride reports on there.
READ MORE: UK Motorcycle Travel Guides
Booking ahead vs turning up?
Right now there is a boom in camping so booking ahead is definitely recommended to ensure you get a pitch. If you don't book, you could turn up right at the end of a long day's ride and be turned away and have to find an alternative. If you do book, you'll have to stick to a set itinerary, which can take the fun out of it.
What to look for when booking?
When I book a site, I mainly look at location, scenery and certain facilities. I need to be able to park my motorcycle next to my tent. It needs to be close to a particular area I'm visiting or route I'm riding. A good mobile signal is essential for some people and some camp sites don't have that, so check if that's important to you. And finally, check if you're allowed to light campfires if that's something you want, otherwise bring a stove or check there's a local restaurant close by.
How much does a campsite cost in the UK?
I pay anything from £10 to £20 a night normally depending on location, time of year and facilities. You can find some much more expensive sites than this that really hike their prices up in peak season. Check first so you're not caught out and ask if there's any deals for discounts for multiple night stays.
Where to pitch at a campsite?
Preferably far enough away from the loos and washing up blocks, but not so far that it takes more than a few minutes to walk there. Also, it's good to be away from noisy kids and sometimes the sites without all the facilities and WiFi are the best for that. Finally, if you're on road going tyres, be careful parking riding down a steep grassy embankment or hill to pitch your tent. If it rains overnight it can be a bit messy getting back up!
Is it safe to leave your motorcycle gear at a campsite?
I've been motorcycle camping since the late '70s and have never had a problem with bike security. However, I always take a lock or two with me in case I have to leave the bike somewhere unexpected – maybe after a puncture etc.
I have always left my gear in the tent and gone for a ride and never had an issue. Some sites do have lockers to hire also if you're particularly worried about certain items.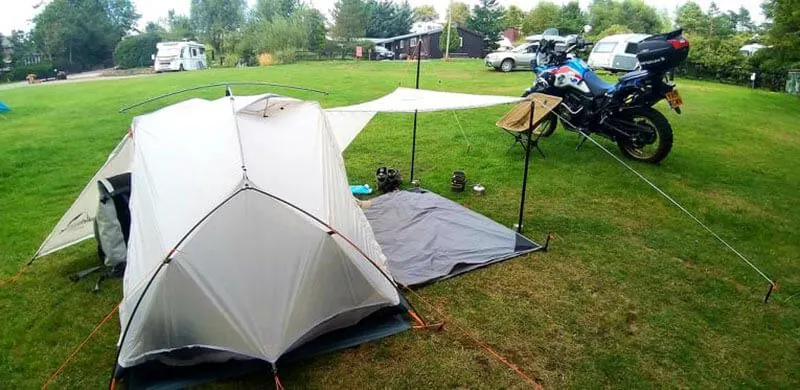 How to park your bike?
Always park your motorcycle about three or four metres from your tent and on its sidestand. I have a modified foot on the stand to stop it from sinking into the grass. Some folk use a flattened beer can or plastic stand pad, but this can be a hassle finding or carrying with you. The easiest option is to buy side stand plate attachment for your bike or to simply weld a larger flat plate onto the bottom of your stand.
It's also worth parking your bike so it leans away from your tent so that if it does tip over in the wind it won't fall on you or your gear in the night.
READ MORE: How to Adventure Proof Your Motorcycle 
What's the best tent for motorcycle camping in the UK?
Every camper has their own view on what tent is best. You need to weigh up all the important considerations before buying like weight, pack size, how easy it is to erect, space, standing room, somewhere to cook when raining and so on.
Take a look at the 10 best tents guide, as well as listing some of the best tents on the market, it also has a detailed buying guide explaining all of the different considerations to help you choose the right one. 
READ MORE: The 10 Best Motorcycle Camping Tents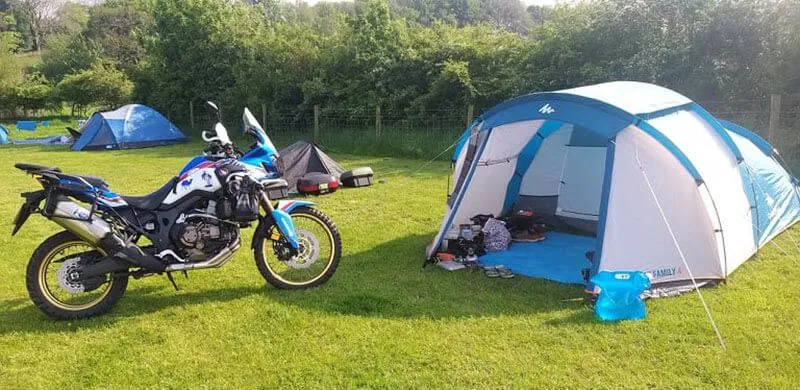 What essentials do I need for UK motorcycle camping?
Personal items vary greatly from person to person. For me, items like a folding chair, tarp to sit under and cook in inclement weather and an inflatable pillow are a must. Some people may see these as luxury items and would do without by sitting on a camping mat, not cooking and using a stuff sack filled with clothes for a pillow. It all depends on what you're willing to compromise on. Here's a few more items I always take: 
Midge spray and candles at certain times of the year, warm clothes for cool nights – I use a down jacket, pants and booties for cold weather trips.
I use crocs, which are brilliant for the showers.
If you're cooking, I'd suggest a couple of rehydrated meals as backup.
A head torch is a must because it frees up both hands and is just so convenient.
A reflective blanket to put on the ground inside the tent helps to keep the tent warm and protect the groundsheet.
To help pack your camping kit, take a look at the below guide, it has everything you could possibly need on a camping trip.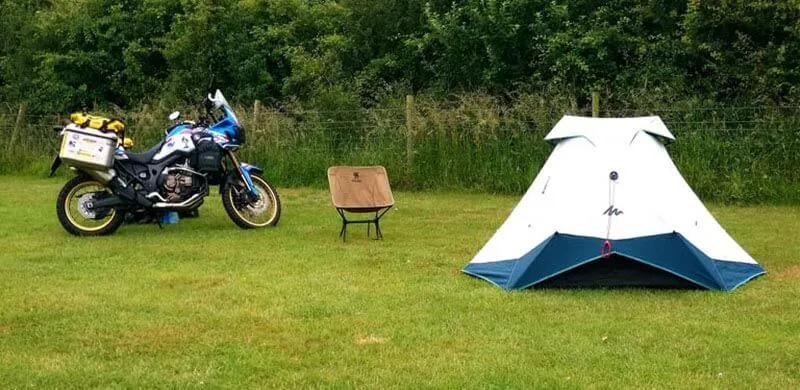 Top Tips for motorcycle camping in the UK
After 43 years of motorcycle camping, here are some of my best tips to help you get out there and enjoy it too.
Pack as light as possible but don't skimp for the sake of comfort
Don't worry if you get it wrong first time as it's a learning curve. We're all unique in what we want to get out of camping trips.
Don't be afraid to go solo. You'll find you're not alone as other campers will approach you for a chat which doesn't happen as much if you're in a group.
You don't have to spend loads on gear. There are plenty of budget items that work very well and often the trade off is weight or compactness.
If asking others for opinions on gear, be prepared for polar opposite replies. Some folk have to buy the most expensive stuff while others buy the cheapest. Read between the lines and work out what's right for you.
Be prepared to get fully hooked because motorcycle camping is seriously addictive and fun. My first trip motorcycle camping trip was at 19 years of age in 1979 with my girlfriend. We travelled 10 countries in Europe on a Suzuki GS750 with a crap tent and waterproofs but we loved it! Sometimes, it's the days where things go slightly wrong that you'll remember, look back on and laugh.
Rob Burden is a hugely experienced motorcycle traveller and tourer. He's 61 years old and knows the two-wheeled world well after working in the motorcycle trade for 30 years. He's travelled most of Europe, some of Africa and Turkey. And as well as non-stop motorcycle travel, he's also a seasoned traveller on foot with 3 Himalayan treks and climbs of over 20,000ft under his belt. 
Read more of Rob's articles and guides on the Mad or Nomad Contributors Page.
Read more on motorcycle camping
Thanks for checking out The How to Motorcycle Camp in the UK Guide. We hope you enjoyed it! Here's a few more articles on motorcycle camping and touring in the UK and Europe that we recommend you read next. 
Are you planning a motorcycle camping trip in the UK? Do you have any questions or tips to share? Let us know in the comments below.