Portugal is one of the best places on Earth to ride a motorcycle. We went on a self-guided motorcycle tour of Porto and fell in love with the place. This guide will explain everything you need to know to do the same and have an incredible Portugal motorcycle adventure.
Our Portugal motorcycle tour experience
We had just got married (August 2022) and planned to resume our round the world motorcycle trip a couple of months later in October where we'd fly back to Thailand and pick up our bike. 
So, just married but temporarily bike-less, we wanted to go on a minimoon with a motorcycle but had no time to prepare or plan routes and hotels etc so renting was out. And as it was our minimoon we wanted to ride alone so a guided tour was out too. 
That left self-guided tours… we signed up, booked our flights and had the time of our lives – it was perfect.  
You can read about our ride and what it's like touring in Portugal in our blog post:
READ MORE: Minimoon: Portugal Motorcycle Tour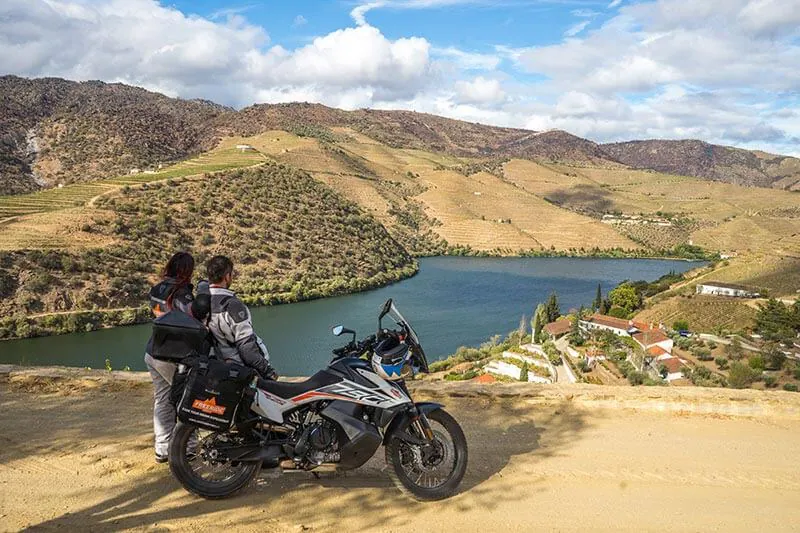 How to Join a Guided or Self-Guided Motorcycle Tour in Portugal
Our self-guided tour was run by Freeride Spirit in the Porto region of Portugal. Here's everything you need to know about doing the same. 
Why join a motorcycle tour in Portugal?
Motorcycle tours take the stress out of planning a trip. They're perfect for those who might not have the time to ride their own bike to a foreign country or spend hours researching routes, roads and hotels. Instead, that's all sorted by professionals who know their country inside out.
All the leg work is taken care off so all you have to do is book a flight, turn up and have fun. Organised tours are a great and easy way of exploring countries on two wheels.
Guided vs self-guided?
Guided tours are led by a professional tour guide and there will usually be more riders with you. So, if you have a bunch of likeminded mates and enjoy the social aspect of riding in a group then this is a great option.
A self-guided tour can be done alone (or with friends too) but without a tour guide. Instead, you'll get a pre-loaded GPS with the route that you'll need to navigate and follow yourself each day.
Typically, both types of tours include the same setup such as the motorcycle, hotel, transfers etc.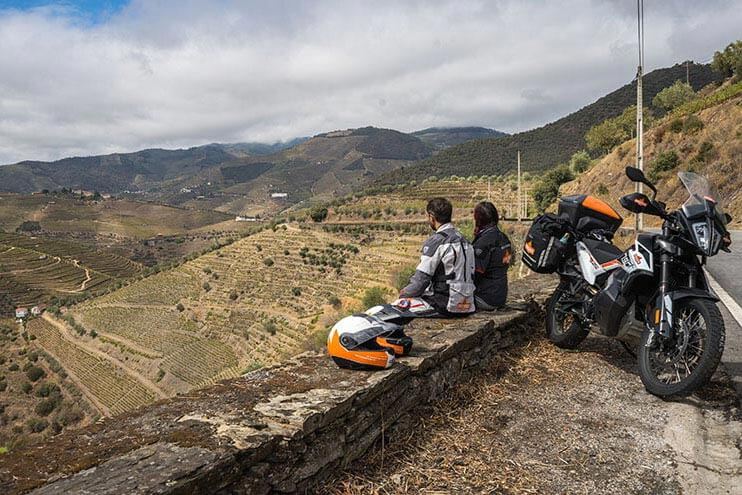 What do I need for a tour in Portugal?
You'll need a valid driver's licence and passport and must be over 21. But that's about it. All the riding gear including helmet, intercom, gloves, boots and suit are included. So just take clothes for the evening and money. It's best to carry cash for small town cafes as not everywhere accepts bank cards – especially once out of the big cities. Also, don't forget your swim suit as the hotels have pools. 
What's included?
The bike (a choice of KTM 790 or 1290 Adventure), luggage (two soft panniers and one hard lockable top box), full route on GPS, full riding gear, hotels (4 or 5 star), breakfast and dinner, airport transfers, road and emergency support and medical and vehicle insurance. It's literally a turn up and ride service.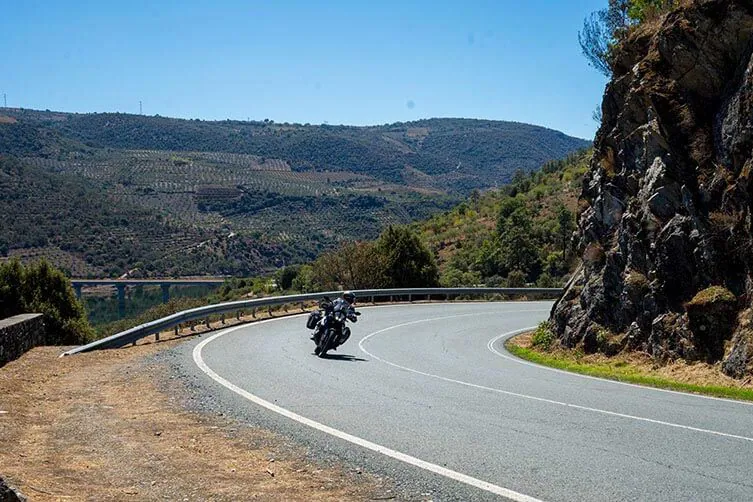 How much is a Portugal motorcycle tour?
We joined the Adventure tour in Portugal, which included a mix of on and off-road riding.
Our 5-day riding and 4-night accommodation tour was £2,180. With a pillion it's £3,280.
Don't forget, you'll need to factor in your own flights (we paid around £150 each for a return ticket from Heathrow) and will need spending money for lunch and snacks. 
There are options for shorter or longer tours too so you're not limited to a 5 day riding tour. Tours can be customised to you personally too.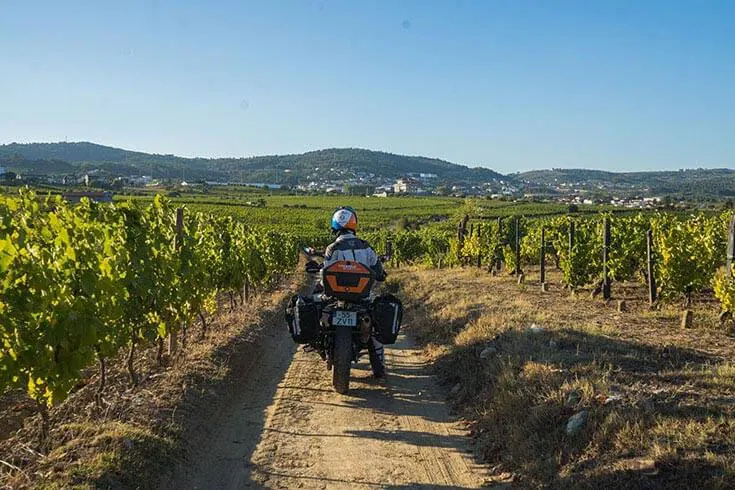 When to go?
Tours are run all year round, but the best time to visit is between spring and autumn as the weather is neither too hot or cold. 
How hard is the riding?
The riding itself is not hard. The road route is full of incredible twists and turns, long sweepers and switchbacks. You will want motorcycle touring experience in order to make the most out of your time and trip. And there's a lot of ground to cover, so if you're not very confident the route may take you some time. However, if that is the case, you can always ask the company to give you a shorter ride. 
The off-roading sections of the tour are optional and diverge and link back up with your main route. You receive a guide book to accompany your GPS and the book explains the routes and the off-road routes are graded by difficulty level. As we rode two-up we stuck to the easier level and that was fine for travel with a pillion. But, off-road experience would be very useful on a tour like this if you want to try the dirt tracks. 
Even without the off-roading this would have still been an excellent tour though.  
How long is the riding?
Expect to ride between 100-200kms per day dependent on how many off-road rides, detours and points of interest you include. We left our hotel around 10am every morning and arrived around 7pm, but that's because we stopped a lot and wanted to see everything!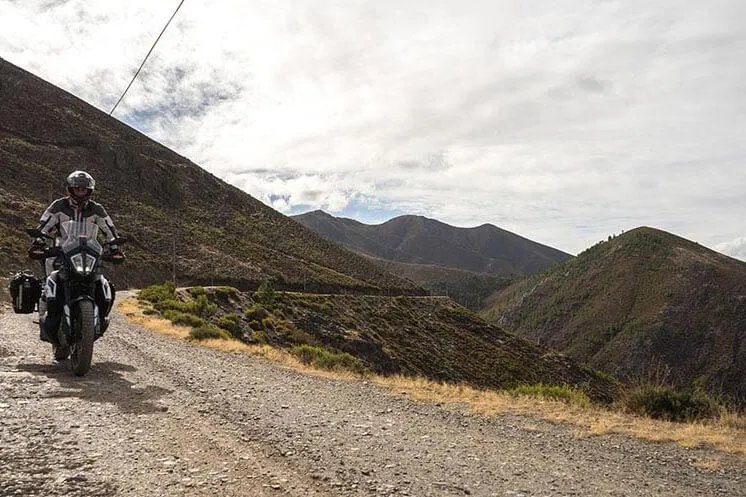 Top tips
You'll find a water fountain in all the little towns you pass – usually in the main square. So it's a good idea to carry a thermal cold bottle and just keep topping it up.
Don't forget to carry cash as little cafes won't accept card.
Have a think about what you want to see in the day and the points of interest on your route the night before so that you don't need to stop to figure it out on the way. 
Make time for the highlighted routes, the people who planned these routes really know their stuff. 
If you can, pay for a check in bag on your return flight as you'll want to bring loads of bottles of wine back with you, so factor in what luggage bags you'll be taking. Don't forget that you can leave bags and luggage that you don't want to take on the tour at the Freeride headquarters.
Of course, it is a motorcycle tour, but make time for all the little coffee shops and eateries along the way. They make the experience extra special.
If possible, book a few extra nights in a hotel in Porto for after the tour. It's a beautiful city and a fantastic place to unwind after an awesome ride.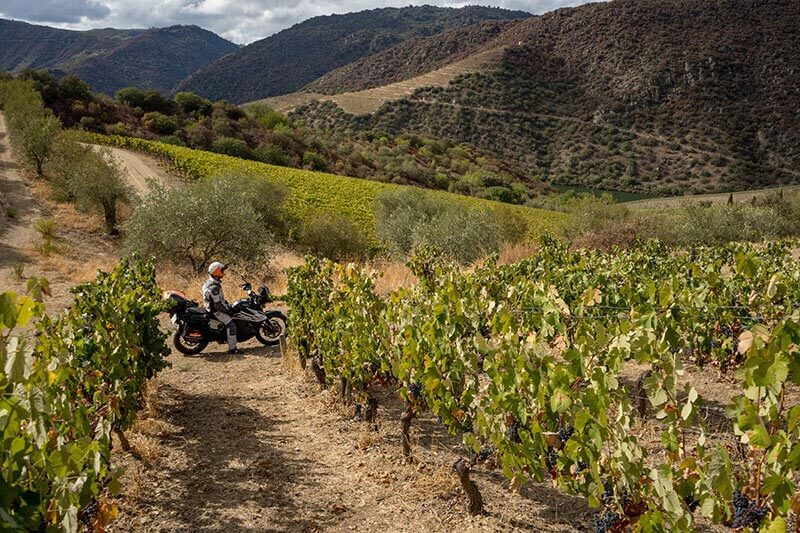 Read more on Motorcycle Travel in Portugal and Europe
Thanks for checking out the How to Join a Portugal Motorcycle Tour guide. We hope you enjoyed it! Here's a few more articles on motorcycling in Portugal and Europe that we recommend you read next. 
Are you planning a motorcycle trip to Portugal or Europe or do you have any questions or tips to share? Let us know in the comments below.