If you're thinking about joining an organised motorcycle tour in India but don't know where to start, then this packed guide is for you. You'll find everything you need to know here on choosing an India bike tour company from what to look out for, questions to ask, the different types of tour operators and much more. Here's what you need to know about joining a motorcycle tour in India…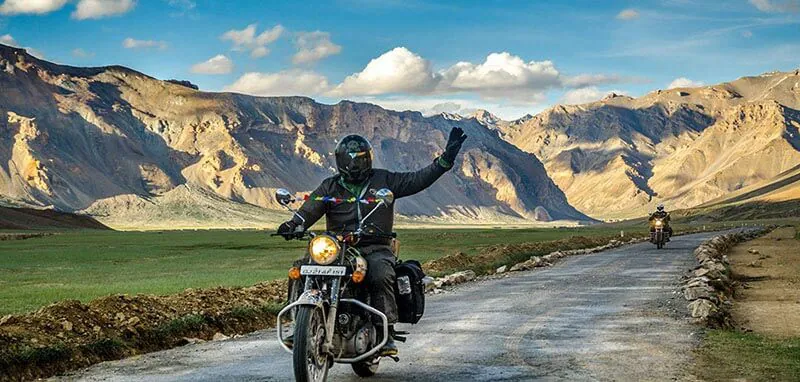 Everything You Need to Know About Joining a Motorcycle Tour in India
There's a lot to cover in this guide and we don't want you to get swamped with all of the information, so we've split it up into main sections and have explained what you'll find here:
Firstly, we weigh up organised motorcycle tours, who they're for and the reasons why you might want to join one in India.
We'll then move on to how to choose a company, the type of operators you'll find and their pros and cons, different price levels, considerations you'll need to make and how to figure out if the company is dodgy.
Thirdly, we'll discuss the rental bike, how to choose your motorcycle, what to look out for and questions to ask.
Next up are our recommended tour companies, followed by a final list of hard earned top tips. Let's get started…
Why motorcycle travel in India?
There are few countries in the world as 'motorcycle travel friendly' as India. However, this vast land comes with its own chaos that's very different from the West and has idiosyncrasies that are unique to this subcontinent. So where does one begin?
Let's start with what you can expect to see… 
Spread over 3.287 million km² and home to 1.39 billion people, India is massive. For many, it conjures up visions of colour, festivals, crowds, food, culture, gods and mystery.
You can head North and find yourself in a snow-capped wonderland, made more interesting by a sub-culture of winter traditions, everyday life and cuisine endemic to the legendary Himalayas. Or travel South to lay back and relax in chilled coastal towns and beaches and enjoy the Southern Indian lifestyle.
Jagged mountains, sublime coastlines, tropical forests, fertile farmlands, waterfalls and lagoons, incredibly rich culture, traditions and beauty – there's something for everyone. There are so many attractions which require detours and longer durations in specific locations, that you could spend a lifetime travelling here and still have only covered a fraction of what India has to offer. 
This is where an escorted or guided motorcycle tour helps give you a window into options that pique your interest the most.
Why join an organised motorcycle tour in India?
As an adventure motorcyclist, the last thing on your mind is joining a guided-motorcycle tour. That's fair enough because ideally we all dream of discovering those far-flung lands solo, just you, your bike and the world – but that requires time… 
And these days, most of us just don't have the time to plan, research and book everything while juggling work and life commitments back home.
So, having all of the leg work taken care of maximises the amount of travelling and riding you can do while ensuring you don't miss a thing. And that's where organised motorcycle tours come in.  
This guide takes you through how to choose a company, what to look out for and our personal advice and experience. And even if you decide to organise the trip by yourself and go alone, you will still find loads of useful information here to help you plan an awesome motorcycle tour in India. 
Questions to ask yourself first
If you are used to riding solo, then there may be downsides to riding in a group. 
Are you willing to be accommodating and patient of other riders' peculiarities, and sometimes odd personalities? 
Are you willing to be respectful of the region you're travelling through (culture and traditions), religious sentiments and other human factors? 
Are you willing to follow the basic dos and don'ts put forward by the organiser? Such as adherence to riding rules, tour lead directions and instructions from the support crew. They are all put in place for your own safety. 
Are you alright with riding in between the lead guide and the sweep at all times?  
You have to consider if the tour is in line with your riding style (pace of riding) and the terrain you're familiar with. What is the pace of the itinerary – is it a continuous list of places to see and things to do, or is it more focussed on big miles followed by spending longer durations relaxing in between those big ride days? 
While getting out of your comfort zone is the best thing you can do on an adventure, if you are unsure of these factors or don't research them when booking a motorcycle tour, you may end up having an unpleasant experience overall.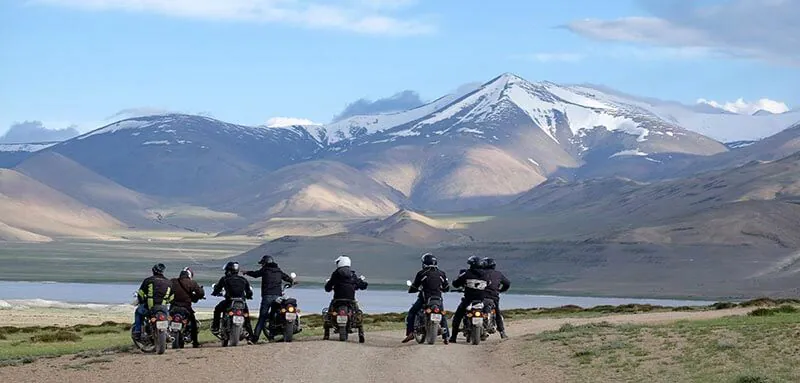 Four benefits of joining a motorcycle tour in India
A journey in India may be a once in a lifetime experience for many. Therefore, having everything set up perfectly before you go, ensures you don't waste your time or money. The advantages of an organised motorcycle tour can be put into these four main benefits.   
Planning
Whether planning excites or bores you, you can't ignore its importance. With a guided motorcycle tour, almost all the details of your trip are taken care of including: a detailed itinerary, road support, access to a regional expert, a good understanding of the terrain and information on what to pack (and how much). This will leave you with more time to prepare for the fun things you want to do when you're finally here.  
Also consider the motorcycle itself. You won't have to figure out which bike to hire, what the actual condition of the bike will be when you arrive, where the best places are to stop, and what accommodation is safe and comfortable.  
Experience
When in Rome, do as the Romans do is the old saying. And who better than the locals to show you what India really is. Details like which festivals you shouldn't miss, the best time of year to travel, the political climate in some regions, and how to get to the places you want to see and experience all become much easier to understand. 
Another factor is where you spend your nights. Finding good accommodation can be difficult if you decide to book on the spot or look for places online. Food is important as well, especially if you're travelling in India for the first time (read Delhi Belly). Plus, on a tour, your guide knows the best places to drink and eat (à la carte) should you have any cravings that deviate from the set plan. 
And you can ride luggage free, as most guided tours have a back-up vehicle to carry all of your gear (in reasonable amounts). Allowing you the freedom to stock up on souvenirs, carry fragile items, or even relax in the vehicle if for some reason you don't feel like riding on a particular day.
Safety 
Having an expert advise you on safety requirements is a massive plus. For example, when riding in the Upper Himalayas you need to take into account high altitude riding considerations such as proper acclimatisation, combating symptoms of AMS, timely access to an oxygen tank and where the nearest hospital is are all factors that become the literal difference between life and death.
It's not just you or your pillion, it's also the motorcycle. And in the back-up vehicle, you have access to a mechanic at all times, a puncture repair kit, essential spares, extra fuel reserves, a full tool kit, and a seat in the vehicle should you sustain an injury or have an accident. 
Getting lost in India is a potential risk too, and a tour guide who knows the route like the back of their hand goes a long way in preventing this. Premium tour guides are often multilingual and speak fluent English, so communication is also a lot easier (especially in stressful situations). 
Hidden gems 
Sometimes it's the journey and not the destination that counts. For a country like India, this couldn't be more true and is where a motorcycle tour guide excels. They can offer you an insight into the region from a native perspective, sharing things you just won't find in the guide books.  
Travellers often miss out on really special spots because they aren't marketed like most popular tourist attractions. Hidden turns and roads that lead to spellbinding views and perfect little restaurants for drinks and a meal with your riding mates become accessible and easier to find.
Another upside to travelling with an organised tour is that your true experience of a destination's local flavour won't be restricted. Most popular places in India have a buzzing, hectic and (almost always) unorganised tourist setup in the centre of town. These places often pop up as the first or only options to choose, if you don't know better.  
How to choose a motorcycle tour company in India
Regardless of which tour company you go with, ensure that you do a basic check to find out whether the company is registered or not. Ask for the itinerary plan, inclusions and exclusions, the motorcycle you will be riding and enquire about the add-on experiences on the tour.
As well as these basic checks, here are some more points to keep in mind when booking a guided motorcycle tour in India.
Understanding the tour operator landscape in India
There are numerous motorcycle touring agencies that vary from regional specialists to all-rounders and large companies and small businesses too. They can be broadly placed into three categories: 
Foreign motorcycle tour agencies with a non-Indian tour leader and a local support team.
Local tour operators with a support team who are native to the tourist region you are travelling in. 
Urban Indian touring agencies who operate out of major cities with a local support team located in the travel destination. 
Keep in mind that tour aggregator platforms list tours by all three types of organisers. Here are the three options explained in more detail. 
The three types of motorcycle tour operators in India
Which is the right one for you? Depends on what you're comfortable with and what you want out of the trip.
Foreign tour agency: A trip organised by a foreign tour agency generally carries the highest price tag in the market, but that does not necessarily guarantee the best experience. A part of the premium you pay goes into their maintenance of operations and marketing in their own country. 
The upside is that they understand western touring standards, which reflect in the trip experience. The downside is that no matter how much they might have travelled in India, they could still fall short of being able to fully explain the local culture to you, the rituals, idiosyncrasies, local language and why some things are just the way they are in India. 
Local tour operator: A trip organised by a local tour operator is often the most competitively priced and based solely on this factor could be a great option. Plus, you do see the region from a local's perspective and there's no one better to show you hidden spots and local flavour. 
However, a downside is that you'll often face a language barrier in understanding them and getting your needs understood. There's also a very high chance they have only their local standards as a reference point for quality and experience. So, certain standard aspects of a tour get missed out or even completely ignored.   
Urban Indian tour agency: A trip organised by an urban Indian tour agency is possibly the best balance between price and experience, as they are cheaper than a foreign agency but much better on quality delivery than a local operator. The owners of these agencies have not only explored the country over a period of time, they have also travelled and lived outside of India. 
This gives them the advantage of being able to combine local insight and an understanding of international touring standards. Often multilingual and fluent in English, they are just as easy to deal with as foreign touring agencies. The downside is they are not as competitively priced as the local tour operators – if the price point has a lot of weight in your decision making process. 
India tour company considerations and questions
India motorcycle tour prices
When searching online, Indian tour prices can sometimes appear confusing or even strange. Some of this is tied into the earlier points made. For example, a standard motorcycle tour to Ladakh in North India, could range from 30,000 to 300,000 Indian Rupees for the same duration of travel, similar trip support and an almost identical itinerary plan.
The thing to keep in mind here is that while the low-cost tours seem like a bargain, the experiential factor and other points take a hit. Whereas the mid to higher priced tours ensure that a certain level of operating standard is in place, and a high experiential factor is kept in mind to enhance the overall trip experience. 
Whichever price bracket you choose to go with, ensure that you confirm all the details before booking, these are covered below. 
Who is leading the tour? 
Regardless of the price category, who will be leading your trip is a crucial point to consider. This is especially important when looking for trips on tour aggregator platforms. Here are some questions to ask: 
1) Will the person whom you are speaking with (about the booking and details) be leading the tour? 
2) In some cases, the owner of the company will lead the tour and so is it going to be him/her? Or is it a tour leader in the support team that will be leading the ride? 
It's best to get as detailed as possible in terms of the tour leader's prior touring experience, languages she/he speaks, and their personality, as you will be interacting with them throughout the tour for all your requirements.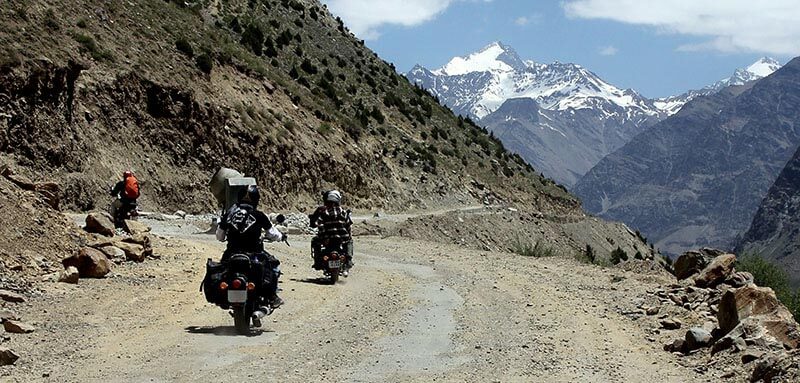 Considerations for low-cost tour companies 
Not all low-cost tours are sub-par or will result in an underwhelming trip. However, if you do decide to go with this option, it's best to be aware of the factors we'll list below. But before you do anything, make sure your tour agency is a registered organisation first.  
Accommodation and meals 
Enquire about the accommodation setup for the duration of the tour. Is it a private room, double sharing (two people in a room), triple sharing (three people in a room) or dormitory accommodation? 
Often a low-cost tour will have a triple sharing or a dormitory setup which can get uncomfortable. Enquire which meals are provided on the tour and what type of cuisine. Sometimes, variety in meals is basic and perhaps repetitive throughout the trip. 
Almost all cuisines are available at most tourist destinations (albeit with an Indian touch). Apart from very exotic requirements, you have the choice of being able to dine on Continental, Indian, Indo-Chinese (look it up) and popular fast food options as well. 
Large group sizes
Ask about the group size or how many riders will be on the tour. Ideally up to 10 riders is great to travel with. As you add more to that group size, potential chaos can ensue as the tour leader is often only trying to get a very large group (sometimes 30+ riders) to function on a schedule. This can kill the experiential angle of the trip.
Support staff on the trip
Another factor that comes into play is manpower on the trip. While the group sizes are large, they are handled by a disproportionate number of support staff. Because of this, you could find yourself having to really put in effort to get help, and interactions end up being purely transactional. 
Finally, ask about the model and year of the bike. Check if they have a back-up vehicle, on-road mechanic, tools, provision for fuel and spares for the trip.
Breakdowns can come close to being nightmarish as infrastructure for repairs in remote locations are not well established which will leave you realising the full impact of how much you have to do to get back up and running after a major issue with the bike.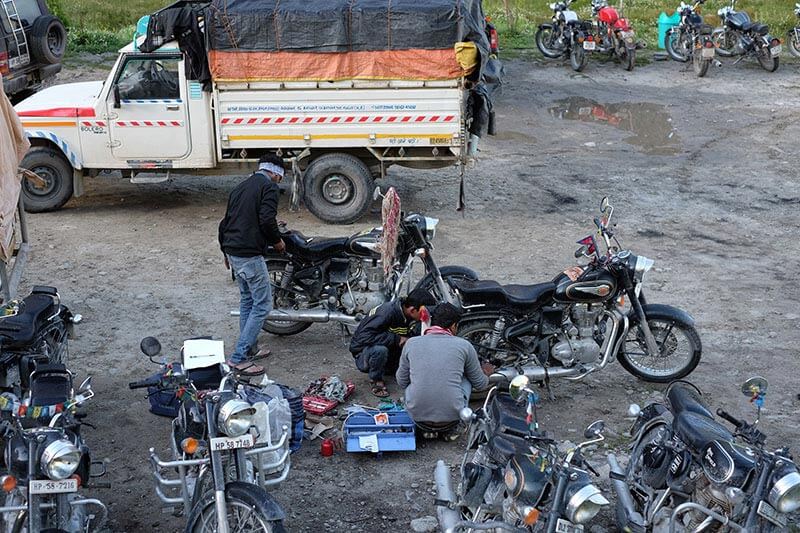 How to know if an Indian motorcycle tour company is 'dodgy'
When looking to book a guided motorcycle tour in India there are a few factors to consider.
As discussed earlier, the first red flag is that they are not a registered entity, and the company is not clear in their communication about the overall trip details or the complete list of inclusions and exclusions. More importantly, the finer details in those inclusions and exclusions. 
The second flag is that the trip price is way lower than the other touring companies you are considering. 99% of the time they are cutting corners on food, staff support, bike condition, more than one rider sharing the same bike, accommodation sharing, and the kind of experiences included in the trip. 
The third flag is them asking you to make a payment to a personal bank account rather than a business account. This is an important point to keep in mind and should be a cause for concern, even if it's a personal account with the proprietor's name or a team member's name on the account. Ideally, the company name (being advertised or mentioned to you) and the business account name they are requesting a transfer to should match. 
Finally, like any other purchase you make, if you see that the tour agency has had bad reviews, there may be some truth in it. If you are giving them the benefit of the doubt, ensure that you go through (in detail) all the factors listed in the previous section.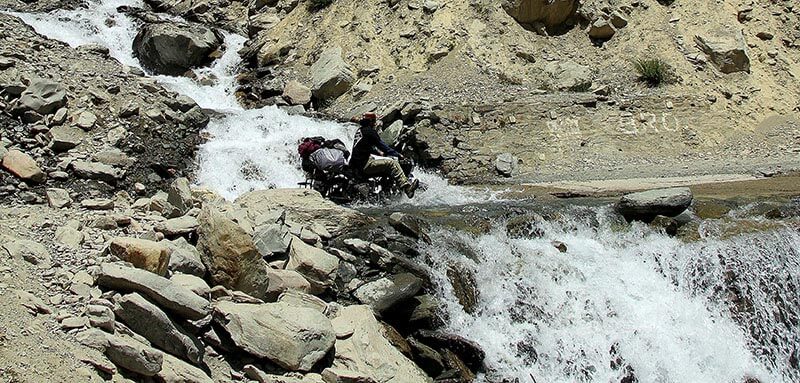 Questions to ask the tour company before signing up
When planning to book a guided motorcycle tour in India consider and ask these queries in your decision-making process. This will give you a perspective on whether you can handle the route comfortably (in terms of your own riding experience). It will also help in planning for what kit to pack, who you are being led by, and other important details. 
What is the terrain you will be encountering? Tarmac, off-road, highways, green lanes, trails, gravel, sand, mountain passes, coastal routes… All of these come with their own set of considerations. 
What is the skill level required for the trip? While you can have a fun adventure punching above your riding experience level, things can get complicated fast if you're not prepared for the difficulty in trip terrain and weather conditions.
What is the total distance you will ride? Ask about the daily distances you will be covering and how many hours of riding you'll be doing.
Who will be leading you on the trip, what is his/her experience, does she/he converse well in English, or the language you are comfortable speaking? Will he/she ride with you on all days? 
How many days will be riding days? And how many days will have other activities involved (if relevant)? 
What are the Covid precautions taken by the tour agency, and at the places you will be staying at? 
What is the level of accommodation that will be provided (star ratings)?
What are the included meals and are they vegetarian or non-vegetarian (depending on your preferences)? Will non-alcoholic drinks and water be included in the package?
Is riding gear provided on the trip? If not, are there provisions to rent kit when you start riding?
How will luggage be carried? Is there a back-up vehicle with support staff (on-road mechanic, guide, helper)? Will tools and spares be carried on the trip?
What is the year, model and brand of the bike being provided to you? 
Does the motorcycle rental come with insurance and do you have your own travel insurance in place as well? Does it cover you, if you are travelling to and within India and on a motorcycle?  
What are the contingencies in place if there is a breakdown, accident or emergency evacuation? Is it included in the tour price or not? 
Which is the airport for trip arrival and departure? And are airport transfers included?
Is the company registered or not, what is their detailed cancellation policy and refund percentages in case of any cancellation or trip complications?
Finally ask for a detailed itinerary that contains the day-to-day trip plan.
READ MORE:
How to choose a motorcycle for an India tour
Depending on your riding style back home, these options are the most popular when picking a motorcycle to tour in India. If you are used to a sportsbike or street bike, the Bajaj KTM is a better fit. If you're more used to a cruiser or adventure touring style of motorcycle then the Royal Enfield is a better choice. 
Of all the Royal Enfield models available at the moment, the Himalayan (a 411cc single-cylinder small adventure tourer) has become the most popular option as a rental bike in India. Easy to handle, decent power delivery and ample space for rider and pillion make the Himalayan a great choice. 
Another popular option is the Bajaj KTM Duke 390 (a 373.2 cc single cylinder street bike and highway tourer) that is definitely more powerful than the Himalayan, and is more in tune with a street/sport style of riding and handling. But keep in mind that when off-roading, it has a stiffer ride setting, is trickier to control for new riders, and does not have the same pillion seat space and angle as the Himalayan.
Before these machines took over the rental landscape, your options for a touring motorcycle were predominantly the Royal Enfield Standard or Classic models. They can pretty much handle any kind of beating the roads in India could throw at them. 
But, when fully loaded they feel like steering a ship, and have heavy vibrations at high speeds. Though they are still the quintessential image of motorcycle touring in India, these bikes are not as easily available these days, in spite of being abundant on Indian roads. If you do get a chance to ride one, do it for the sheer novelty of these iconic machines. 
READ MORE: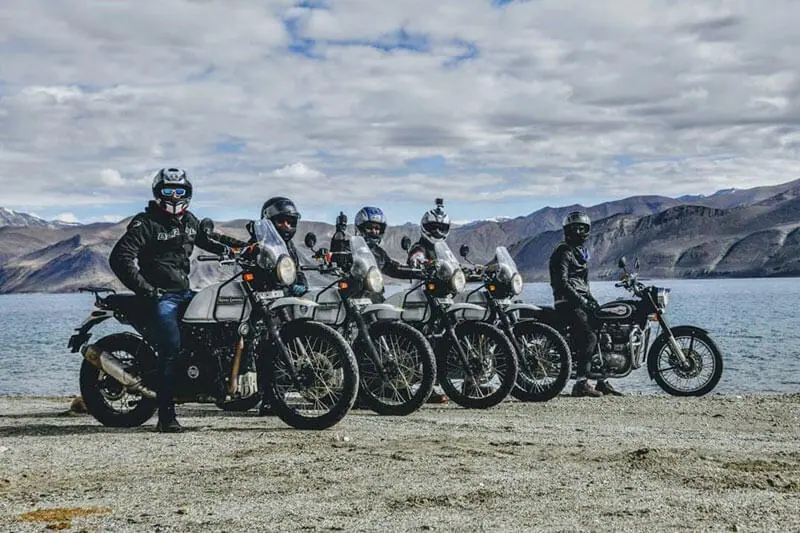 Checking your motorcycle
Arguably, the most important aspect of your tour is the motorcycle you will be riding. Your peace of mind is directly related to the condition and feel of the bike you get.  
Typically, a well organised and properly run tour company will have all the standard bike health checkpoints in place. The advantage of an organised motorcycle tour is that you don't have to worry about those details. But, if you decide to go with a low budget tour or are renting out a motorcycle yourself and are new to this, here are some basic points to look for when you are checking the bike: 
The condition of the tyres.
The condition of the chain and sprocket, level of lubrication, any broken sprocket teeth.
Take the bike out for a spin and get into some bigger potholes (not hard to find in India). You want to be able to check the condition of the shock absorbers bottoming out, unusual noises etc. 
Is there a lag in power when you accelerate?
Any bends that you can feel in the handle or pulling to one side when handling? 
How fast do the brakes react on activation?
Is the bike intended for commercial use? You can get into a situation with local police if the bike is registered as a private vehicle.
Is the insurance and registration of the vehicle in order?
Are the headlight, tail light, horn, and mirrors in working condition?
Is the oil level at the required level?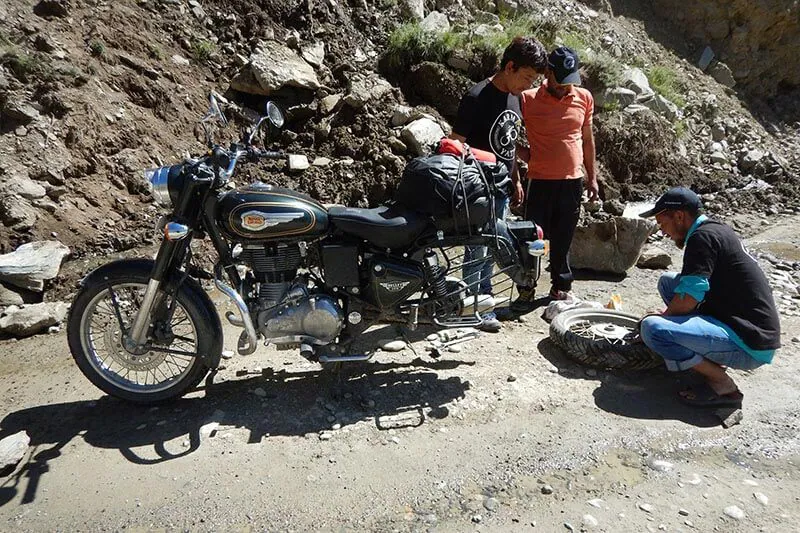 Recommended motorcycle tour companies in India
You will find many tour operators, companies, rental shops and guides all over India offering their services. At first, the sheer amount of businesses can feel hugely overwhelming and it's hard to know who to trust, but hopefully by now you will have a much better understanding of how to pick a commendable company and what to look out for. There are some excellent businesses out there and passionate guides and operators who will give you an incredible adventure in India. 
I have personally been riding with and leading tours with a a company called Karma Yatri for the past eight years and would like to wholeheartedly recommend their services.
Karma Yatri
Now in their 11th year of operations, Karma Yatri offer bespoke motorcycle tours. Well researched and seamlessly planned, their tours give a rider the best experience possible, but still have enough flexibility to allow for an adventure to behave like an 'adventure'. These journeys are curated from experiences spanning over two decades of travel and combine local culture and adventure. 
Karma Yatri likes to keep things simple, and their team of Himalayan veterans will ensure that your trip is a tailor-made adventure, yet at no time will you feel your security or comfort compromised.
Karma Yatri keep their tour groups small (up to 10 riders max) so you have the chance to closely interact with the tour leader, support staff and fellow riders. Their itineraries are flexible and can be customised to suit the pace and type of holiday you're after. 
They understand how far a little bit of luxury goes at the end of a long riding day, and partner with handpicked hotels that fit this requirement. Expect picnic lunches, BBQ evenings by the beach, impromptu detours to secret locations, and even on-road yoga sessions and a masseuse are available on select rides and routes. 
With a motorcycle fleet and service network available at various points in India, tours led by the owner of the company, local operations with global standards, and partnerships with exclusive hotels, you are in the safe and capable hands of a specialised motorcycle touring company that provides only the best in this extremely beautiful and unique part of the world. 
Visit the website: www.karmayatri.com
Top tips for motorcycle travel in India
When riding and trip planning in the Himalayas, account for a buffer day or two at the start of the trip to properly acclimatise. 
When riding between the months of June to October anywhere in India, always carry rain gear.
When riding anywhere in India (except the Himalayas), your riding gear should be suited for tropical climates. 
As much as possible avoid riding after dark. With the exception of major/ metro cities: poor lighting conditions, lack of service infrastructure, robbery (in some parts), and a high risk of getting stranded are possibilities. 
Always carry safety/emergency cash, as some remote locations do not have provisions to pay electronically or withdraw money from an ATM.
When planning riding distances, keep in mind that India's overall road conditions are moderate to bad in some stretches. At a relaxed riding pace in non-mountainous regions,100-250 kms per day is a comfortable distance. For mountainous areas like the Himalayas and North East India, 60-150 kms per day is a comfortable distance to cover.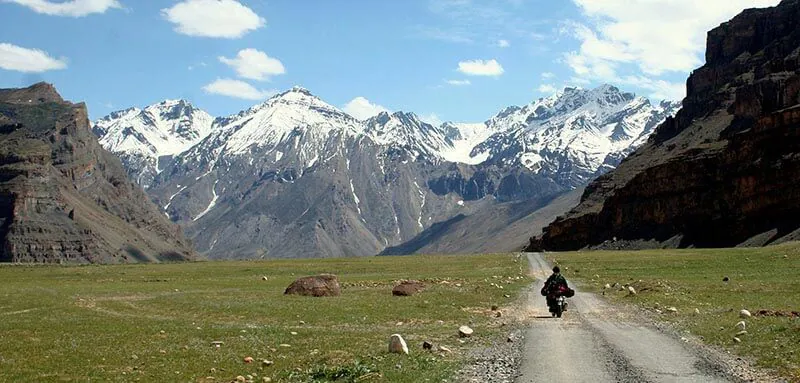 Shawn Pereira is an avid motorcyclist with over 15 years of riding experience, having toured solo and professionally across India. His never-ending thirst for adventure and curiosity of the unknown keeps him on the road as much as possible. 
Enabling other riders to truly feel the thrill and excitement of all that motorcycle touring in India has to offer is one of his many passions. Shawn has been riding with Karma Yatri for the past eight years and has led and managed numerous trips to various destinations in India with riders from all over the world.
When he's not riding, he's writing about motorcycling and plotting dots on the map for his next adventure. 
You can join Shawn and Karma Yatri on a motorcycle tour in India here: 
Read more on motorcycle travel in India
Thanks for checking out this How to Join a Motorcycle Tour in India Guide. We hope you enjoyed it! Here's a few more articles on motorcycling in India and Asia that we recommend you read next. 
Are you planning a motorcycle tour in India? Do you have any questions or tips to share? Let us know in the comments below.