COVID AND FERRY SERVICE UPDATES
UPDATE: 06.09.2022
DuWon Ferry has started to accept all passengers on a service between Russia and South Korea. You can also take your motorcycle or car on this ferry.

This ferry sails weekly and you can find passenger and vehicle prices on their website where you can book your tickets:

dwship.co.kr

At the time of writing (06.09.2022) this ferry only travels between Vladivostok and Donghae and does not sail to Japan. Although, we do expect this to change soon. 

You will need to sort customs in Vladivostok before sailing. We recommend contacting

Yuri from Links Ltd. 

And you will also need to arrange customs and entry in South Korea. You can find

Mr Youn's details here.
UPDATE: 16.02.2022
The new ferry service from Korea to Japan has now been running a weekly service for over one year, but without passengers.

We're hoping the company will take passengers by the end of 2022.
The new ferry provider
The original ferry service provider, DBS, sold their company to another Korean company called DuWon, which is a cargo company operating RO/RO services.

They did plan to take passengers, but Covid put a halt to it. We believe they will resume a passenger service only after the Covid situation has fully stabilised.  

Currently there is no easy way to get from Vladivostok to Japan using a ferry. Duwon will not take travellers' vehicles (cars, trucks or motorcycles) because it may cause delays.
Route change
Previously, DBS ferries used the Sakaiminato port in Japan and their office helped travellers to arrange import/export paperwork. Now, Duwon travels to Maizuru port, but there is no infrastructure there to help overlanders at all – not even Japanese travellers.
Other RO/RO services
There may be options to ship with other companies, but we are not aware of any and other travellers who have tried been denied.
Other options
Yuri at Links Ltd (details below) can ship a motorcycle from Vladivostok to Japan (or receive one from Japan) as LCL in a crate or box or in a container via Korea, but this will take around one month. However, we have no information on who would arrange the services on the Japanese side.
What to do
Unfortunately, there's nothing that can be done at the moment other than wait for the Duwon Ferry Services to start taking passengers and vehicles again once the situation stabilises – when that will be, nobody knows.

We will keep this page updated as and when we have any new information. If you have anything to add, please get in touch or leave a comment. Thanks and safe travels.
UPDATE: 26/09/2020
DBS Ferries, who provided the ferry service from Russia to Japan and South Korea,  suspended their services last year. However, we just had news that the company has been purchased by a South Korean company, and has already undertaken two voyages – but without passengers due to Covid. It's expected that passengers will be allowed to board once the border closures are lifted. 
This guide will explain and break down the costs and details needed to travel by ferry from Vladivostok to Japan or South Korea with or without a vehicle.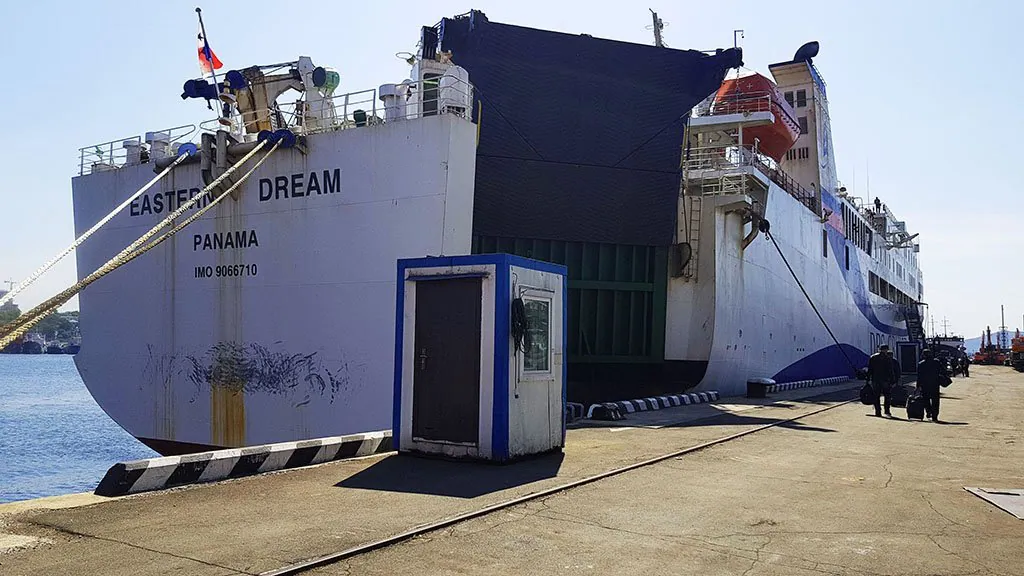 Russia to Japan and South Korea Ferry Guide
Taking a motorcycle or vehicle on the ferry from Vladivostok, Russia to Japan or South Korea isn't as tricky as you might think. Read on to find out how to do it…
Routes and Info
The ferry service is DBS and it runs from Vladivostok to Donghae, South Korea and then to Sakaiminato, Japan. It then returns to South Korea and back up to Vladivostok.
The ferry only docks in South Korea for a few hours to drop off and pick up new passengers. If you're heading to Japan you do not need to change boats, it's just a quick stop off.
We took the ferry from Vladivostok to Sakaiminato, Japan in September 2018. Two people on one motorcycle. As we took the ferry to Japan, we can't provide any information on what happens when you leave the boat in South Korea yet (We will be going to South Korea in a few months and will update the page). However, all other information on boarding at Vladivostok and customs etc will be the same. The ferry ticket prices are shown below for both SK and Japan.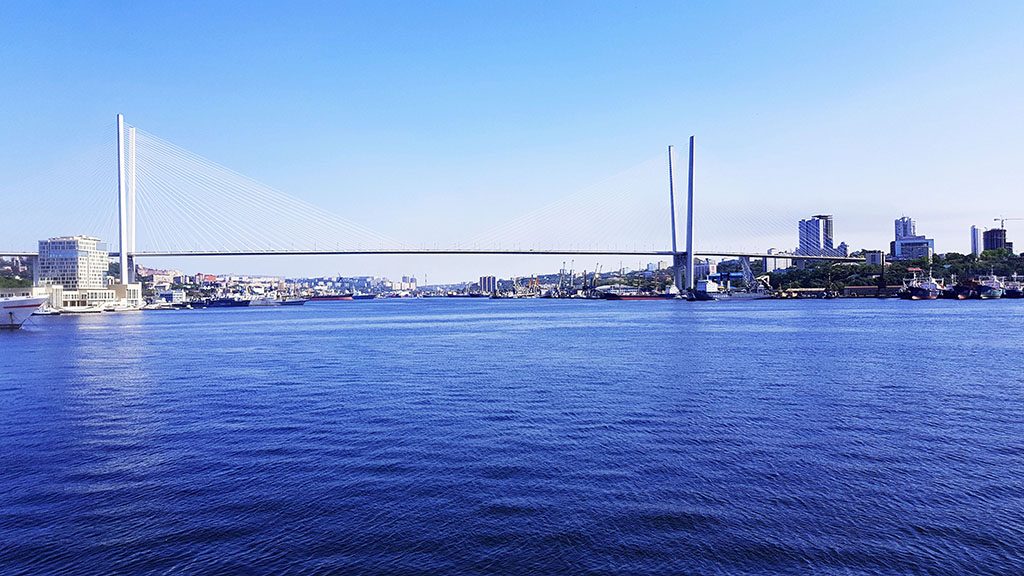 Russia to Japan Ferry Timetable
The ferry departs Vladivostok on Wednesdays. During the months of February and March DBS work on their boats and the timetables change slightly. It takes two days to get from Russia to Japan.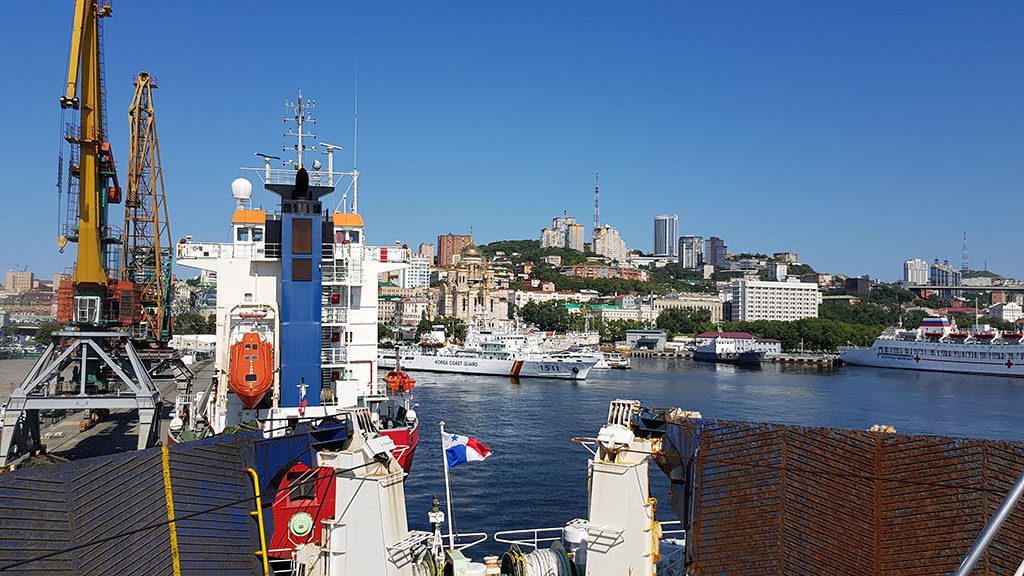 Vladivostok Customs
To get your vehicle through customs you will need to employ the services of Yuri from Links Ltd. He is the man in the know and has been doing this a long time. Contact him in advance and explain your situation and he will send you an Excel sheet with up-to-date prices and everything you need to do. You will need to send him copies of whatever documents he requires from you.
Yuri's details are:
Yuri Melnikov, Manager of Links Ltd, 89 Svetlanskaya str., office 312, 690001, Vladivostok, Russia Tel: +7 423 2220887, Mobile: +7 902 5243447, ymelnik@links-ltd.com, www.links-ltd.com
Yuri's office coordinates: 43.11617, 131.90513
There is motorcycle parking right outside. Enter the building and go up to the second floor, there is no signage outside. His office is located on iOverlander as well.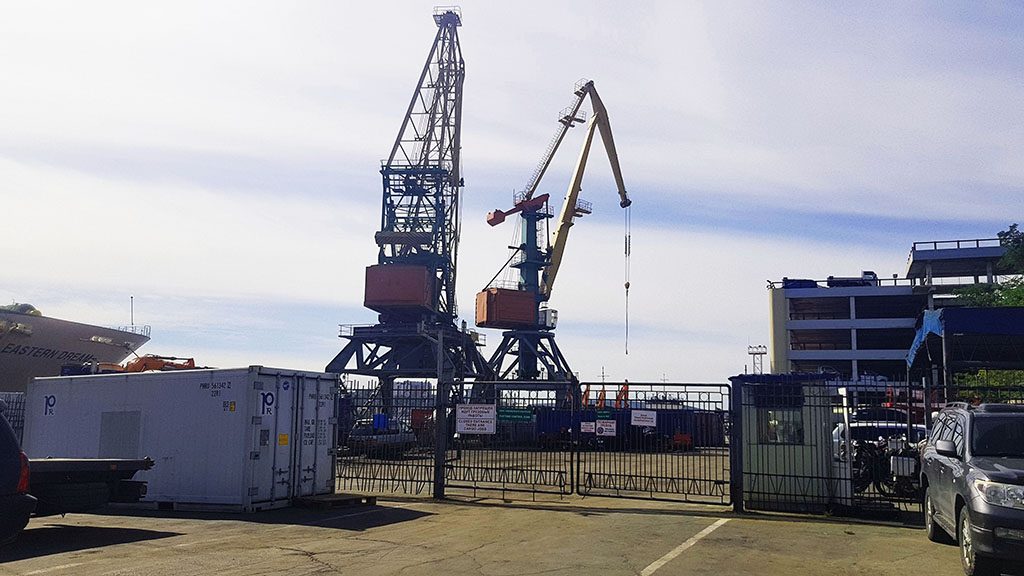 Japan Customs
Before arriving in Japan, you will need to email the incredibly helpful Tatiana Chernysheva at tatiana.dbsferryjp@gmail.com. Tatiana works for DBS, and will help you with your import, carnet de passage or temporary import (see below) and can arrange your insurance for you. She speaks Russian, Japanese and English and is very helpful and efficient.
You will need to pay Tatiana for port fees in Japan on arrival. The amount is £78, but must be paid in Japanese Yen, which equates to 11,320JPY. Make sure you have the amount, in Yen before you board the boat in Russia. You will also need Yen ready for the insurance.
Finding Japanese Yen in Vladivostok is harder than expected. Bank Primorye will exchange for you and is a few minutes' walk from the port. The coordinates are 43.10883, 131.87854
Japan Vehicle Insurance
Everyone is required to purchase Compulsory Automobile Liability Insurance (CALI), which is third party. It's illegal to drive without it and you can't leave the port without it.
Luckily, Tatiana can arrange your insurance for you in advance. Simply send her the information she requires, fill out a form and email it to her and it will be waiting for you. You will need to pay her in Yen on arrival, so have the cash with you ready. 
If you're not planning on taking a ferry and want to source your own insurance, check out the below guide: 
International Driving Permit for Japan
You must have an International Driver's Permit to drive or ride in Japan (even if you are renting a car there). You can purchase an IDP in the UK at the Post Office, it costs £4.50 and you just need to take your passport, driving licence and a passport photograph. The reason for this is that the IDP has translations inside it.
There is an exception for people from France, Germany, Belgium, Switzerland, Monaco, Slovenia and Taiwan who may drive using the national driving permit with Japanese translation. This can be done at the local JAF office for 3,000 JPY, but it's about an hour away and will cost an arm and a leg in a taxi (as you won't be able to use your vehicle until it's done).
Carnet vs Temporary Import for Japan
People will tell you that you must have a carnet de passage to visit Japan with your own vehicle. However, there is another way round it – Temporary Import. We did not enter Japan with a carnet.
Tatiana will help you with arranging your carnet for Japan, as you will need to visit the JAF office to get it translated once you land (you cannot drive without it). And she will also help with arranging the temporary import if you need that instead.
There's a lot to go through on this subject, so we have written a separate detailed guide explaining the differences and how to use the temporary import.
READ MORE: Carnet vs Temporary Import Guide for Japan
If you are going down the Carnet route and landing in Sakaiminato. Then here's how to get to the JAF Matsue office. 
Address: 1092-1, Higashitsuda-cho, Matsue-shi, Shimane 690-0011
Tel number: 0852-25-1123
Taxi: Round trip is about 16,000JPY for a four passenger car. 
Bus: You will need the Sakaiminato – Matsue station. A round trip is 2,000 JPY  (+ 45 minute walk or a taxi ride in Matsue)
Bus schedule:
Sakaiminato JR Station 11:55 – Matsue JR Station 12:36
Sakaiminato JR Station 13:25 – Matsue JR Station 14:05
Matsue JR Station 13:05 – Sakaiminato JR Station 13:45
Matsue JR Station 14:20 – Sakaiminato JR Station 15:01
Train: There is no direct train. All trains Sakaiminato-Matsue use a transfer in Yonago for about 2,000JPY (+ 45 minutes walk or taxi in Matsue). You can take taxi or walk from Matsue JR Station to JAF Matsue.
IMPORTANT NOTE: Be back in Sakaiminato before 17:00, as Customs work until 17:15. If you're late, customs clearance will be held next week's Monday and you will have to wait!
Prices
You will need to pay a port charge in both Russia and your arrival country, for Yuri's services, for your vehicle to go on the boat, a ticket price in whichever cabin you choose and insurance once you arrive in your arrival country.
Note: The rider/ driver of a vehicle pays half price. So in our case, the rider paid 166USD for a ticket while the passenger paid 257USD
For two people, with one motorcycle, travelling second class and including insurance – we paid £1058 in total to get from Vladivostok to Japan.
Fees in Russia
Yuri charges £150 to sort all your paperwork, deal with customs and book your ticket (this does not include the ticket price).

There is a £27 Russian port charge

DBS tickets, port charge and Yuri's fee are all paid to Yuri after you've cleared customs. You will need to pay in Russian rubles, cash. You will need to pay the fees in Japan or South Korea to the fixer there in that currency also, so have your money converted before you set sail.
Vehicle pricing
We paid £470 for a one-way ticket from Vladivostok to Japan for our motorcycle. To go from Vladivostok to South Korea would have been £390. This price is just for the vehicle. You also need to pay for your own ticket.
It will be more expensive for a car. Yuri will be able to give you more accurate prices.
Ferry tickets
You can book your ferry ticket up to three months in advance. There was a little apprehension about booking our tickets as we got the impression tickets sold out fast. This wasn't the case. We booked 10 days in advance for a sailing in September. Apparently, it's much busier in summer so you may want to consider booking further in advance then.
You do not have to book the ferry tickets with Yuri, instead you can book directly with DBS by contacting Olga at olga@dbsferry.com. We had Yuri do it for us all in one.
If you are applying for a Russian transit visa then Yuri can send you a temporary receipt of booking (without payment), as you will need to show proof at the Russian embassy that you will be leaving the country.
READ MORE: Russia Transit Visa Guide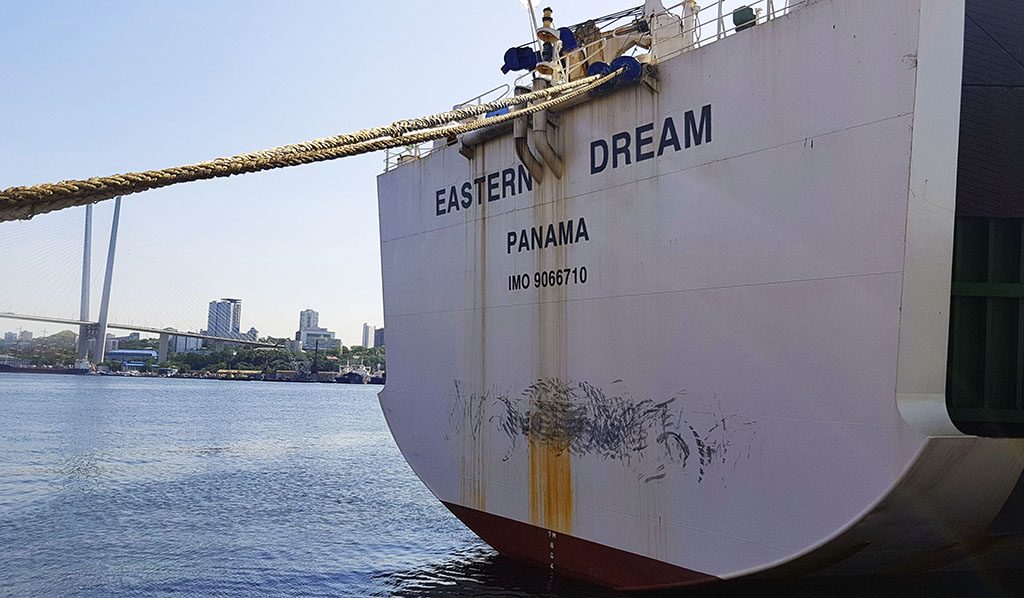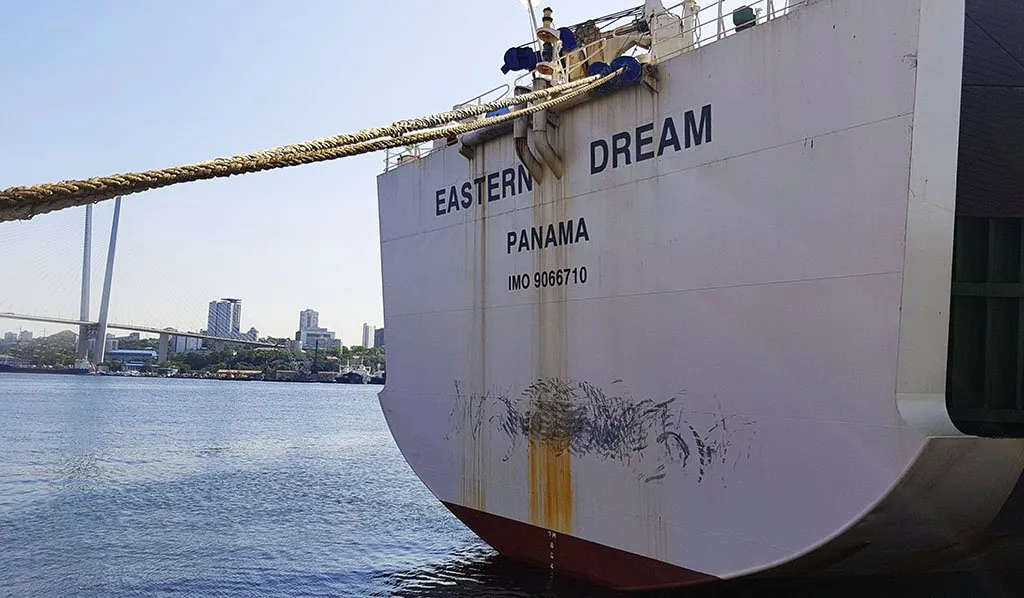 Cabins and ticket prices
You will need to choose which ticket price you want, prices are listed below. Somehow, we ended up in the junior suite on the outbound half to South Korea. Once we arrived in South Korea everyone on the boat had to change rooms/ beds. For the second half of the journey to Japan we changed to second class, which had eight beds to a room. There's not that much difference economy and second class, apart from a door. We wouldn't recommend opting for the rooms with the mats as they are literally just small rooms with mats on the floor. The bed options have privacy curtains and more space.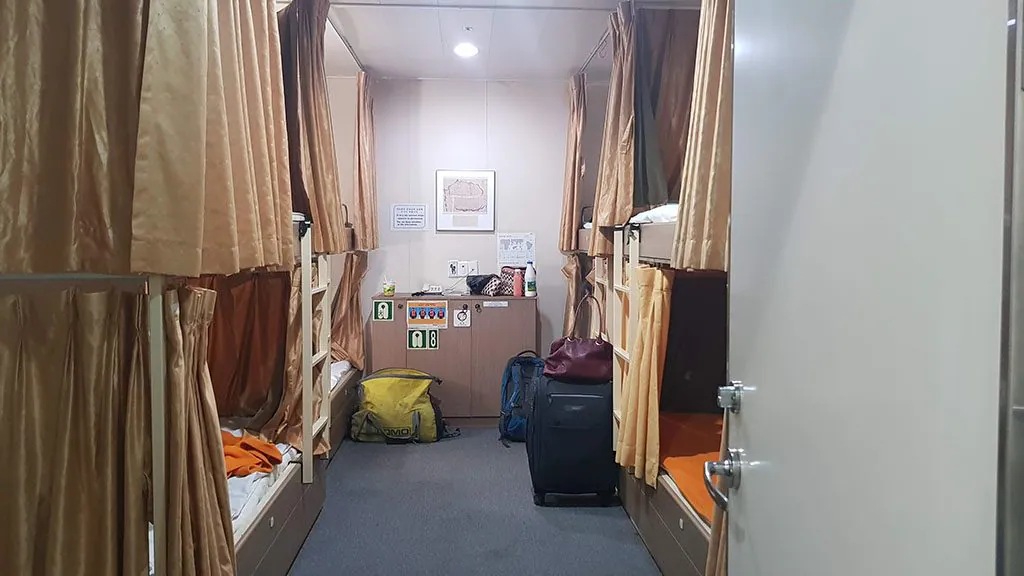 Procedure
You will need to email both Yuri and Tatiana in advance. They will both need at least 10 days' notice to sort your paperwork.

Customs needs to be done the morning before you board the ferry.

Yuri will tell you to visit his office in the morning with your vehicle. He will then lead you and your vehicle to the port where you will leave your vehicle and not be able to return to it until you are on the boat the next day. It will be locked behind a fence and you need to leave the keys to your vehicle with it. They will not, under any circumstances, let you get back to your vehicle later in the day.

A few people we were with got caught out by this as they didn't realise, they were leaving their vehicle there and had all their luggage at their hotel. So, make sure you pack whatever you don't want to physically carry onto the ferry onto your motorcycle or in your car before going to Yuri's in the morning.

Once your bike has been locked away, one of Yuri's staff will take you in a car to the customs office where you need to sign some papers. It's very straightforward. You'll then return to the port and pay Yuri. He or his staff will drop you back at your hotel.

The next day you will arrive at the ferry terminal. You need to visit the DBS office in the terminal building. Whatever time Yuri tells you to get there, arrive hours earlier. There are long queues and they won't care if you're a tourist on a motorbike. Once you have your ticket you can go to the ground floor of the terminal building and go through customs and passport control before boarding the ferry.
What to expect on the boat
Comfortable beds in economy, second and first class with privacy curtains
No sockets to charge your devices, you will need to pay the staff to charge (there are charging ports in the junior suite if you've opted for that room)
There is a small shop which sells snacks and food, it accepts Yen. Expect things to be overpriced.
There is a cold-water dispenser, free of charge
There is a boiling water dispenser, free of charge – we'd recommend buying lots of noodles and rice packets before you board the ferry and living on those for the crossing.
Also pack your own tea and coffee, cups, spoons and bowls.
An expensive restaurant
Lounge area
You can get back to your vehicle but need to ask the staff nicely to unlock the doors and they will accompany you.
There is also a safe behind the reception desk where you can store valuables.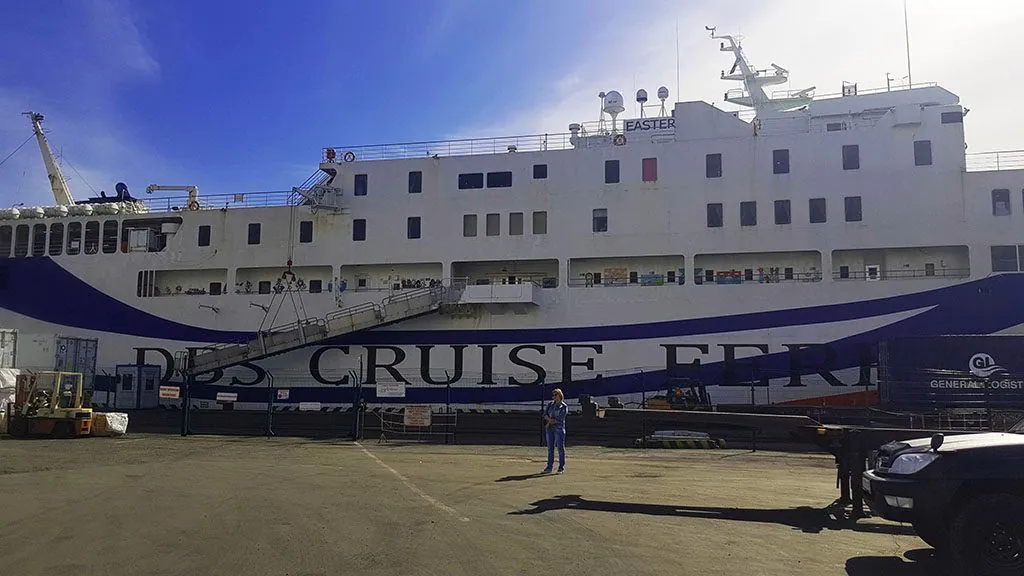 Top Tips
Take your own food on board and use the free boiling water stations
If you are sailing to Japan from Vladivostok, they will give you the option of leaving the ferry in South Korea to go for a walk while they resupply and arrange new passengers to come on. They will tell you that you have around 4 hours. As soon as you get off the boat and go to SK customs, you'll realise that it'd take 2 hours to get through customs and then 2 hours to get back. There is no point. As soon as we saw the queue, we made a huge fuss and they eventually let us turn around and wait on the boat instead.
The Japanese are very clean and the economy and second-class options are good, it's not like crossing the Caspian.
Make sure you check out the incredible sunset!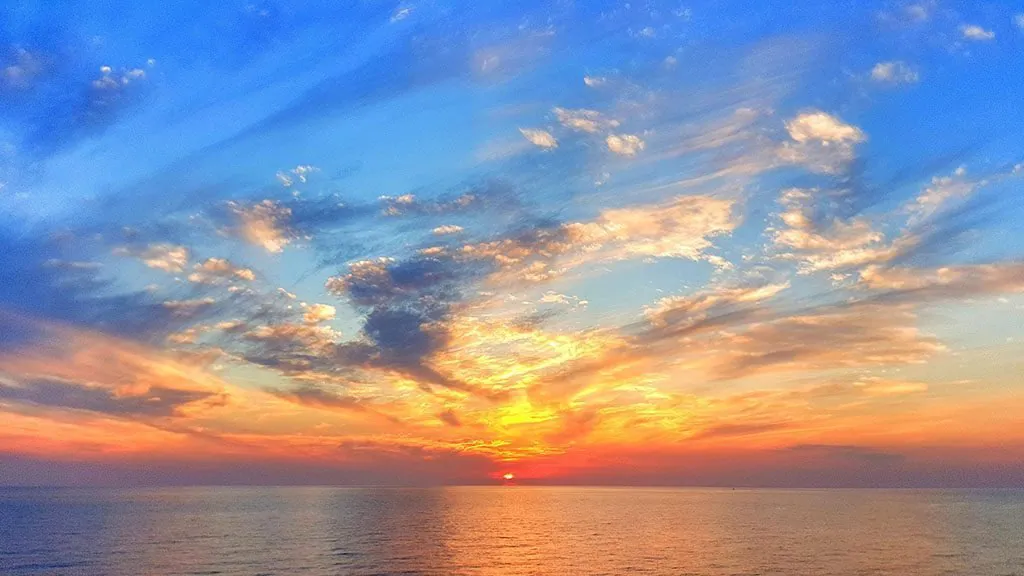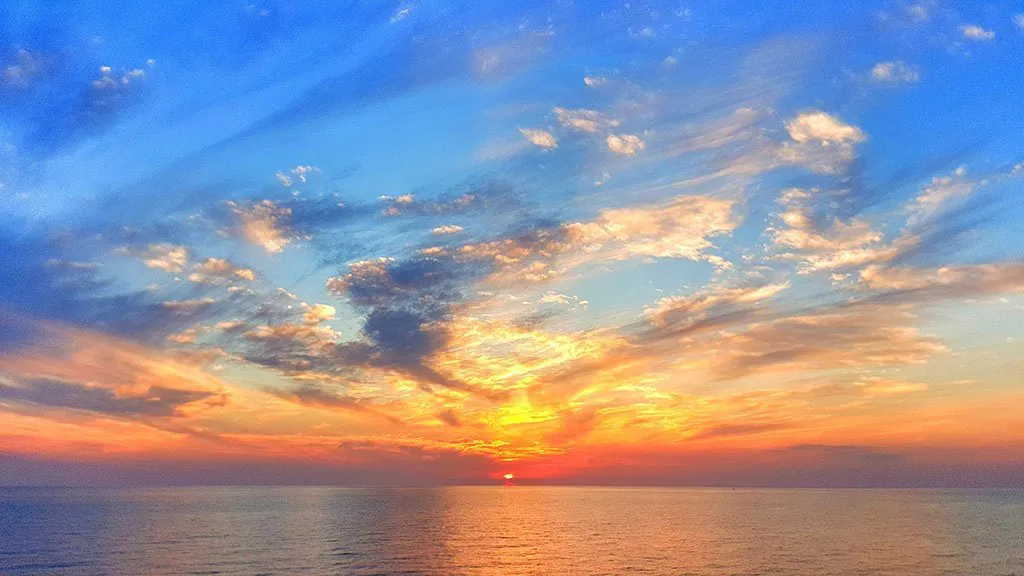 International Motorcycle Shipping Companies
Welcome to the Motorcycle Shipping Companies Finder. This page lists worldwide freight forwarders, companies, agents, fixers, ferry services and detailed guides. Click a country on the map to see what's on offer.
Read More
Read more on Motorcycle Travel in Japan
Thanks for checking out our Motorcycle Travel in Japan Guide. We hope you enjoyed it! Here's a few more articles on motorcycling in Japan that we recommend you read next. 
Liked that? Try these next…