Taking a RORO (roll-on roll-off) ferry from Japan to South Korea isn't a well-documented procedure, but don't worry, it's simple enough. This guide will point you in the right direction and get you across.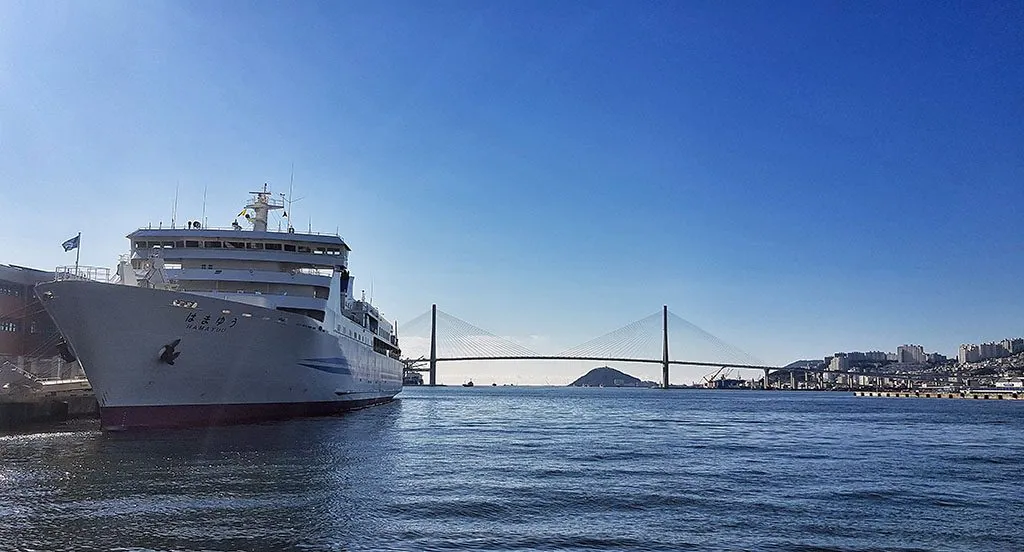 Japan to South Korea Ferry Guide
There are three main ferries that operate between Japan and South Korea: DBS Ferries, Kampu Ferries and Camellia Line.
You can enter and exit on any of the three ferries. For some reason, people think that if you enter Japan with one company, you must use them again to leave – not true.  This is probably because if you entered Japan using a Temporary Import, then it stipulates that you must enter and exit using a ferry, but it doesn't say that it must be the same one. 
READ MORE: Carnet vs Temporary Import for Motorcycle Travellers in Japan
We shipped from Vladivostok, Russia to Sakaminato, Japan with DBS ferries. And we used Kampu Ferries to get from Shimanoseki to Busan. The reason we didn't go with DBS again was because their sailing times are further apart, slightly more expensive and they ship to Donghae, while we needed to get to Busan to ship our bike out of the country. So, this guide will focus on the Kampu ferry from Shimonoseki to Busan.
IMPORTANT UPDATE 06.09.2022
DuWon Ferry has started to accept all passengers on a service between Russia and South Korea. You can also take your motorcycle or car on this ferry.
This ferry sails weekly and you can find passenger and vehicle prices on their website where you can book your tickets: dwship.co.kr
At the time of writing (06.09.2022) this ferry only travels between Vladivostok and Donghae and does not sail to Japan. Although, we do expect this to change soon. However, there is a ferry service between South Korea and Japan – more on that below. 
You will need to sort customs in Vladivostok before sailing. We recommend contacting Yuri from Links Ltd. And you will also need to arrange customs and entry in South Korea. You can find Mr Youn's details here.
IMPORTANT UPDATE 21.11.2019
Unfortunately, we've received reports from travellers that Kampu Ferries have just suspended their service and are only offering ferry rides to Japanese residents. We got in touch with Kampu, who confirmed, saying it has just come into effect. 
We suspect it is due to the increasingly fragile political situation between Japan and South Korea, with many South Korean companies boycotting Japan. The service may be resumed at a later date, and so just in case, we have left the Kampu Ferry information and guide in this article below. It still contains relevant and up-to-date information on customs clearance, vehicle insurance and import fees for South Korea. See the 'South Korea Side' section at the bottom for more info. 
We have now updated this guide with information on crossing from Japan to South Korea with Camellia Line Ferries who are continuing their service for foreign nationals. The below information was supplied by Rene Hilbert who crossed November 2019.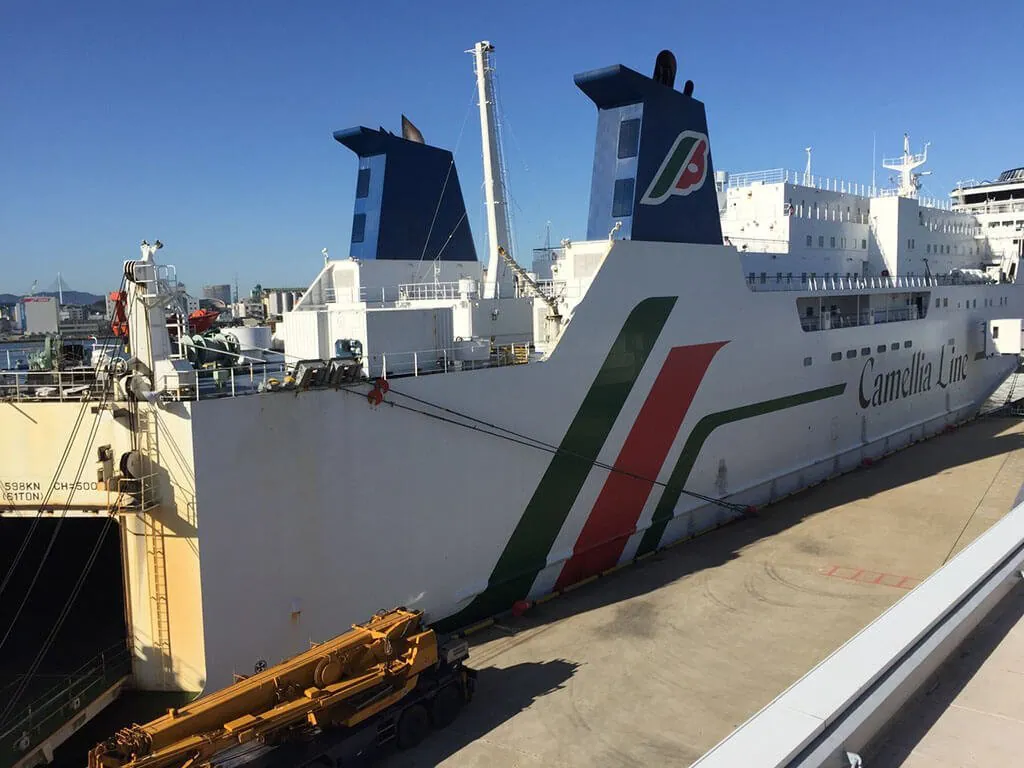 Camellia Line Ferries – Hakata to Busan
Procedure
Bookings need to be made via email or phone a minimum of one week in advance. 
On your departure date, arrive at the Hakata Port International Terminal for 9:30am and go to the Camellia Line office on the third floor, right-hand side.
An employee will take your documents and tell you to come back one-hour later at 10:30.am. You're free to go while customs are completed for exporting the motorcycle from Japan. When you return, an hour later, the documents should be stamped. It's a quick and easy procedure with no luggage checks. 
The ferry leaves everyday at 12:30 and arrives at 18:00 in Busan. 
Once you arrive in Busan, a Camellia Line / Korea Ferry employee will take you to customs to x-ray the luggage and you'll go together to sort your import documents and pay for insurance. Motorcycle insurance is 184.000 Won for 1 month, import guarantee is 160.000 Won (and lasts the same amount of time as your insurance).
You will need to show the customs officials how you will be leaving the country. If you are using Mr Youn you will need his contact details for them to confirm your shipping. It should take around two hours before you can leave Busan Port with your vehicle. 
At the Busan International Ferry Terminal, you can buy a prepaid South Korea SIM card for 60.000 Won for 20 days.
Prices
HAKATA PORT
The transportation charge for a 300cc and over motorcycle is ¥25,000 – cash or card
The price includes driver's second class room fare.
Passenger 2nd class fare is ¥9,000
A customs clearance fee : ¥5,000 – cash only
Oil charge : ¥500 – cash or card
Port tax : ¥500 – cash only
Passenger tourist tax : ¥1,000 – cash only
The payments are made on the day you embark at the Camellia counter.
BUSAN PORT 
Vehicle insurance : ₩180,000 
Guarantee fee : ₩160,000
You must pay a vehicle insurance and guarantee fee when disembarking.
Booking your ferry ticket online
Another option for booking your ticket online is to check with directferries.co.uk as you can find up-to-date and current sailing times and availability without having to contact the ferry company directly. 
KAMPU FERRIES: CURRENTLY SUSPENDED SERVICE 
Even though the service has been suspended, the information is still relevant on customs and what to do once you're in South Korea with paperwork. 
JAPAN SIDE
Making a reservation
Throughout the year, the ferry sails daily. But the frequency may reduce in the winter months, so check in advance.
The latest you can make a reservation is one week in advance and the earliest is two months before your boarding day. To make a reservation you will need:
A carnet or temporary import – you must have a valid CDP or Japanese Temporary Import document.
International Driver's Licence – you must have a valid IDP to enter South Korea
Driver's Information sheet – this is an document the Kampu ferry staff will email you. It has basic info on there for you to fill out like passport number, vehicle chassis number, address in Korea etc.
NOTE: You may be asked for an Automobile Inspection document to be sent along with the above. We didn't receive one when entering Japan and told them we didn't have one to send. This wasn't a problem.
You need to scan the above bullet pointed documents and email them to Kampu ferries.
Contact details
Costs
Example fare for one person and a motorcycle in second class is 24,000 JPY
Port facility tax is 610 JPY (cash only)
Fuel surcharge 600 JPY
Passenger tax for 'promotion of international tourism' – 1000 JPY (cash only)
NOTE: You can pay for the fare and the fuel surcharge by card, but the port tax and tourist tax must be paid in Japanese Yen. You will need to pay when you check in. 
NOTE: There is an additional charge of 9,000 JPY for a motorcycle passenger.
Class types
The below prices include the passage of one motorcycle:
2nd class – about 10 people to one room – 24,000yen.
1st class – private room with western style bunk bed – 29,500yen
Deluxe room – wider than 1st class with western style twin beds – 37,000yen
For more info visit  http://www.kampuferry.co.jp/passenger/english/top.html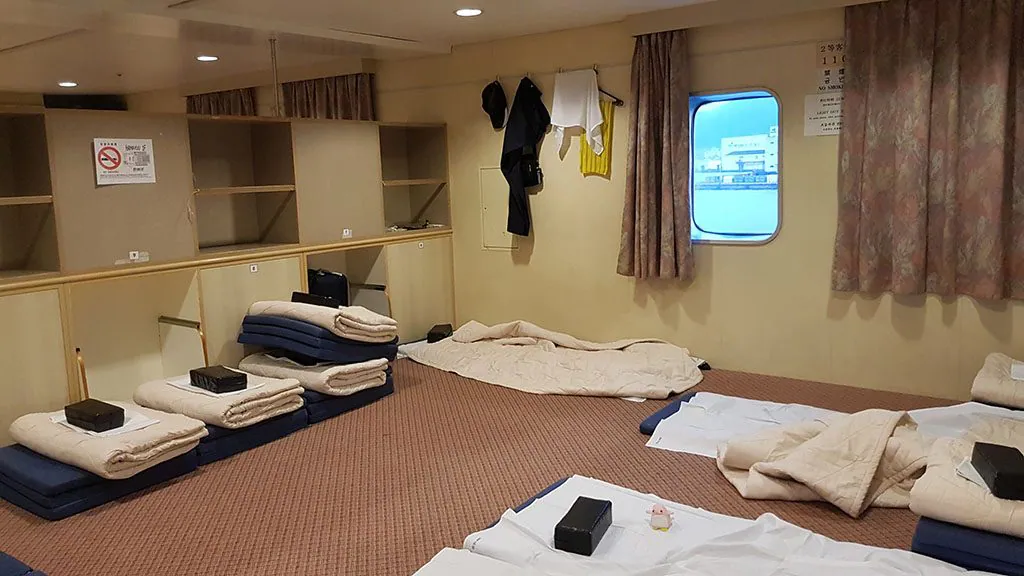 Check-in
Check-in time is between 15:00-15:30.
The ship sets sail at 19:45 and arrives at 08:00 the next day.
Arrive at the ferry terminal for 15:00, park your vehicle downstairs and head upstairs to the paying desks. You will need all the documentation you scanned over, plus your passport and vehicle registration documents. Once you've paid, they will give you a map to the customs building and a document to give to them. Get back in your vehicle and drive there. Ignore the map as it's rubbish. Instead, use these co-ordinates.
Customs building
When you get to the customs building, go around the back and park up. It won't look like much but this is where you enter. The staff didn't understand what I needed or wanted and asked me to go back to the ferry port. You will need to persevere here as you 100% need to have your temporary import document or carnet de passage stamped out of Japan in this building and hand them some paperwork. Someone should eventually take you and your document upstairs for processing. There is no money to be paid here.
Shimonoseki, Japan Customs building for exporting vehicle to South Korea co-ordinates: 33.945083, 130.923287
Back to the ferry terminal
Once you ride back to the ferry building, you will need to drive your vehicle upstairs and park it in the inspection building. They will inspect it around 18:00, so feel free to walk around or visit the mall, which is along the main bridge. Once you've been inspected you will go through passport control then be led onto the ferry.
On the ferry
There is a small restaurant, an overpriced shop, arcade and not much else on the ferry. There is, however, a nice little onsen (men and women are separate). I'd advise to take your own food and water.
The crossing takes 10 hours
The busiest time of year is July and August
Max capacity of 400 people
It always runs at the same time.
SOUTH KOREA SIDE
You will be met by a Kampu Ferry representative who will take you to visit customs, get cash out of an ATM and pay for your insurance and Warranty.
You will need to purchase:
Vehicle liability insurance – Vehicle insurance (cash only in Korean won)
Warranty fee – this is what they call a Temporary Import (cash only in Korean won)
Both documents are very expensive. For 7 days of insurance (assuming you are 30+ years old) expect to pay 80USD (same for motorbike or car). For 1 month it's 180USD.
The warranty fee is not much better. See below.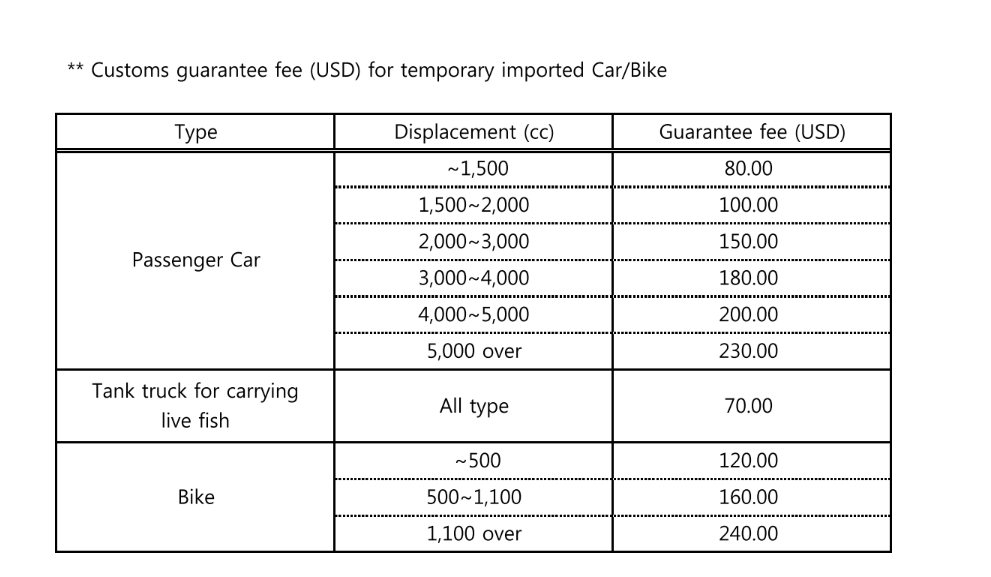 The important thing to note here is that your 'warranty fee' will last as long as your insurance. If you buy one week's worth of insurance then that's how long your temporary import is for.
Customs will want to know that you are leaving the country again. If you are planning on shipping your vehicle out of South Korea then you may need to provide them with your agent's details for them to confirm.
You do not need an agent to get through customs in South Korea. It is very straightforward.
If you are shipping out of the country then consider how long you need insurance for carefully. Once your vehicle has been crated then it will be moved to a customs bonded warehouse. Once there, you don't need insurance, even though the bike is technically still in the country.
For example, I purchased one week's insurance and entered on a Monday. On Friday my bike was crated and on Tuesday the following week it was loaded onto the ship. But, the crating and shipping was all pre-booked and pre-planned before even entering South Korea. You don't want to arrive and then arrange it otherwise you may need to return to customs to purchase another week.
Customs may also want to see you again before you leave the country if they believe your bike wasn't crated before the expiry of your insurance. Your shipping agent will be able to handle this before you leave customs for the first time over the phone. 
You will eventually get your insurance, warranty and a big yellow sticker. These papers are gold dust, don't lose them. You're now free to go!
Please remember all prices and sailing times are subject to change. Always check with these providers first.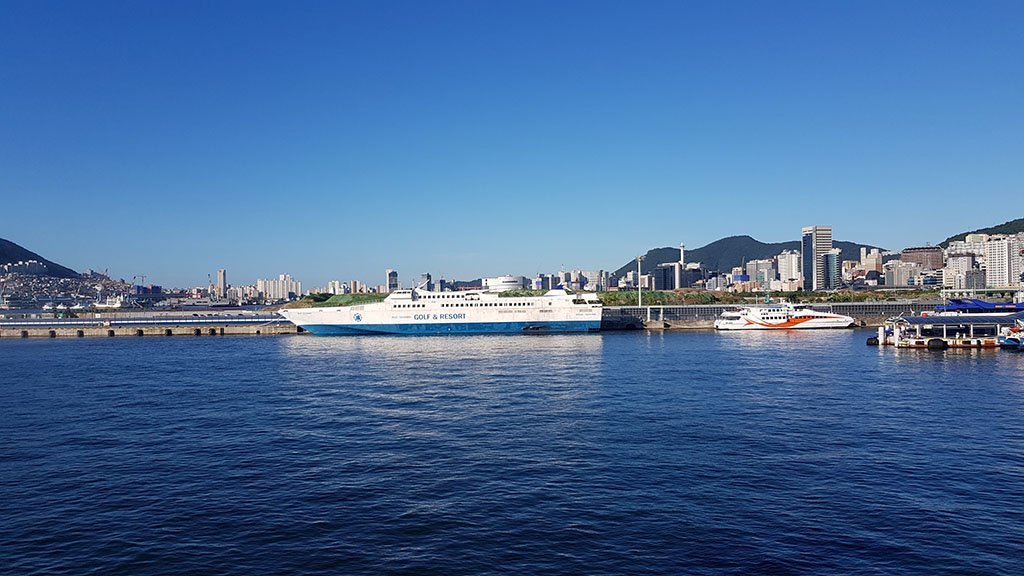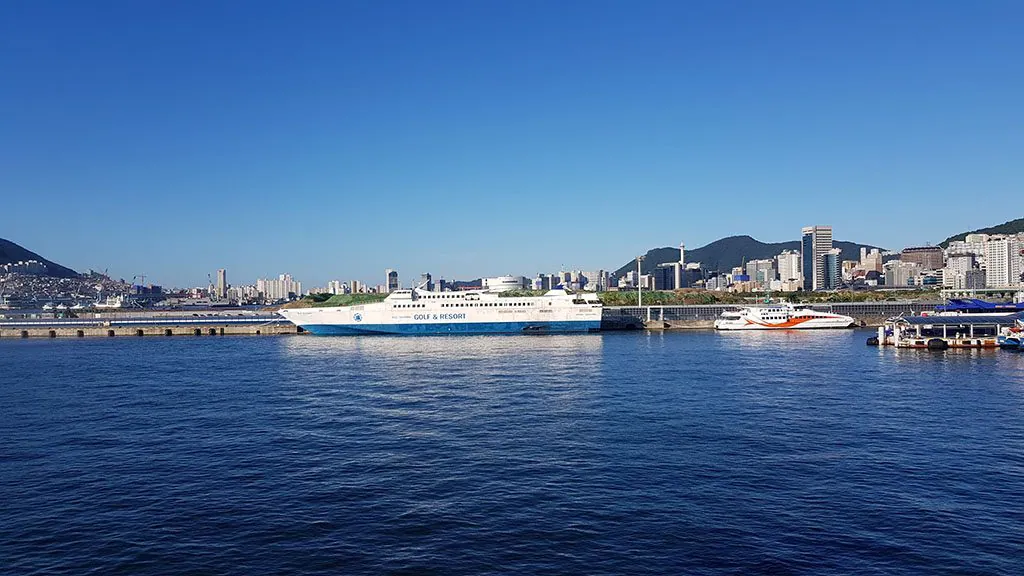 Read more on Motorcycle Travel in Japan
Thanks for checking out our Motorcycle Travel in Japan Guide. We hope you enjoyed it! Here's a few more articles on motorcycling in Japan that we recommend you read next. 
Liked that? Try these next…