You don't need to chuck a Touratech catalogue at your motorcycle to go travelling on it. These easy tweaks will save you time, hassle and money in the long run. Here's how to prepare and protect your motorcycle for adventure riding and RTW journeys
How to Protect Your Motorcycle for Adventure Riding
Preparing your motorcycle with crash protection doesn't have to cost a fortune. The most important thing is a bashplate, everything else is optional. But taking the time before you go to add these extras can save huge stress while on the road. Here's the most important modifications you can make to adventure proof your motorcycle for travelling. 
Proper protection
Plenty of bikes come with sumpguards these days, but not all are made equal. Check yours covers the entire underside of your sump – and looks and feels solid. If not, change it out for a heavy-duty option. Crash bars too, make sure your engine is well protected and you won't sweat every time you drop your pride and joy.
Cheap protection
You've got crash bars and sumpguard protectors, excellent. But the exposed and delicate parts like coolant pipes need protecting too. Slice a cheap piece of garden hose, wrap it around your pipe and cable tie it into place. It'll stop stray stones piercing the vulnerable rubber. You can also stick a strip of steel to your oil casing with metal glue. That'll stop your brake lever putting a dent in the casing – and your trip.
Think outside the box
The great luggage debate has had motorcycling's greatest philosophers arguing over soft or hard panniers for what feels like a millennia. The great bone of contention is that hard panniers brake legs in falls, while soft isn't secure. So, try this configuration: keep your soft panniers for the bulk of your luggage (safer when off-roading) and use a hard-top box for your valuables. You'll get the benefits of both methods and none of the cons.
READ MORE: Hard vs Soft Motorcycle Luggage
READ MORE: The Motorcycle Luggage Guide
READ MORE: The Best Soft Panniers for Adventure Bikes
READ MORE: The Best Hard Panniers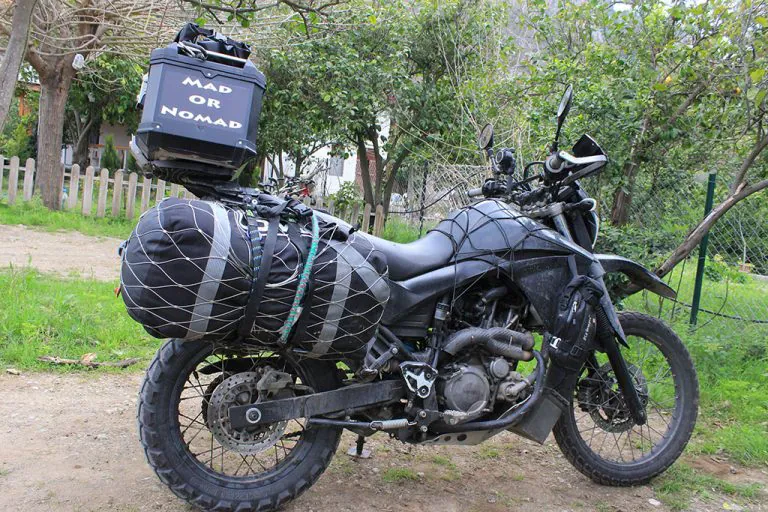 Don't put your foot in it
Trying to put your side stand down in sand or soft mud can easily result in an embarrassing topple. You'll end up spending 15 minutes searching for a rock and then performing a one-handed balancing act by holding the bike upright with one hand while trying to wedge the rock under your sidestand with the other. Instead, you could buy a bigger foot-thingy online and screw it on. I couldn't find one I liked so had a steel plate welded on. They're often very cheap, simple to fit and save loads of hassle.
It's also worth investing in a centre stand if your bike doesn't already have one. Trying to change a rear tyre without one in a desert is not fun – at all. We use the SW Motech centre stand. I don't know how we would have managed without a centre stand. 
Are you sitting comfortably?
A long day in the saddle is greatly affected by … your saddle. Spend some time weighing up your seat options. A tiny change here can make a big difference when pumping out 500 miles a day.
An easy option is a blow up AirHawk. Even easier (and much cheaper) is a £12 sheepskin throw-over, which will keep your bum cool in heat and warmer in the cold. It'll also double up as a ground mat when camping too. I've tried both on different trips and each has their draw back. So, for this trip I had the seat reshaped and packed with memory foam. 
Our advice is to either go for the cheaper seat options like AirHawks or sheepskin throw-overs or spend big on a reputable seat modification company. 
READ MORE: How to Ride Long Distance in Comfort
Get your wrists right
Handlebars are seldom adjusted on adventure bikes. It's a minor alteration which can make a huge difference to your wrists and stop your arms and shoulder muscles from aching. Changing the standard bars for wider bars is one option. But usually bars could do with just being raised. I needed my bars stronger, wider and higher so I swapped the standard one for a Renthal and put a pair of SW-Motech bar risers in. The ride is more comfortable and easier on the wrists when standing and sitting.
Standing strong
Any adventure bike pegs which don't have removable rubber inserts need to go in the bin. Trying to stand on a rubber peg with a wet or muddy sole is hard and dangerous. Your boot can easily slip off when standing up while off-roading and could cause an unnecessary accident. I swapped mine out for SW-Motech ones with removable rubber inserts, they'll grip your boots in tougher conditions. I ended up chucking the rubber inserts.
Get some leverage
A foldable gear lever isn't a must have. But crashing on one and having it either crack your clutch casing or snap your gearbox spindle is pretty annoying and very expensive. Change your standard one out for a collapsible lever. It won't cost you an arm and a leg, takes less than a minute to change and could easily save a fortune if you have a spill.
It's also worth getting handguards for your clutch and brake lever too, and not just the plastic ones, but with reinforced metal. These have saved my levers on countless occasions and help keep hands warm on frosty rides.
Read more on preparing for a motorcycle trip
Thanks for checking out our How to Adventure Proof Your Motorcycle Guide. We hope you enjoyed it! Here's a few more articles on adventure bike prep that we recommend you read next. 
Liked that? Try these next…