Welcome to the Adventure Motorcycle Traveller Reviews. Here's a 32,000-mile review of the Honda NX650 Dominator by Marc Travels.  
Quick info
Bike: 1989 Honda, NX650 RD02 Dominator
Purchased for: : £2,000 (second hand)
Miles covered: 32,000
Years owned: 3   
Honda NX650 Dominator Specs
Engine: Four stroke, single-cylinder, air-cooled-cooled, 644cc
Power: 45 bhp
Torque: 39 ft-lbs
Wet weight: 178kg
Seat height: 870mm
Tank capacity: 12 litres
Tyres: 21 and 17
Front suspension: 41mm 
Rear suspension: Pro link
The Honda Dominator is my first bike, and to be honest, when I purchased it three years ago I didn't have a lot of money in the bank at the time. I took out a £2,000 loan to buy a motorcycle that I could go anywhere I wanted to on. And importantly, it had to have something special about it. Scrolling through eBay, I saw the red Domi, it stuck out in sharp red and was even exactly the same age as me (born in '89). That was it, love at first sight and I had to have it. I bought it the very next day!
I haven't made many modifications to the bike. I installed crash bars for protection, a luggage rack to handle the panniers, handle bar risers for comfort and a new YSS shock to handle the added travel weight. Other than that, she's good to go. 
This bike is 33 years old and there are bound to be all sorts of issues. But, I must say, I had ridden over 24,000 miles (the bike had 30,000 miles on the clock when I bought it) with no major break downs. And that was all over western Europe and even a big trip to Iceland.
On my recent trip to Portugal in winter, I had to deal with electrical issues due to the amount of constant rain, as well as broken rear bearings. But I blame the many icy river crossings of Iceland for that!
And it also had a worn out chain tensioner. Apparently that's a common issue with these engines though. The Dominator is in the workshop as I write this getting ready and prepared for my upcoming Scandinavia journey.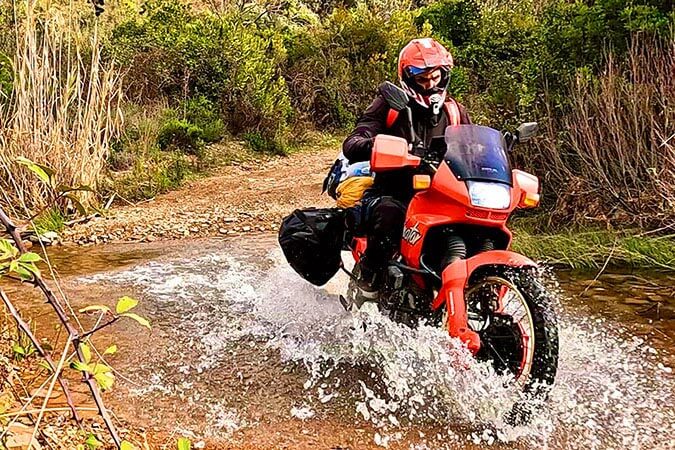 Maintenance, servicing and parts
For servicing intervals, I believe it's between 1,200-1,800 miles, but I usually stretch it to 2,500 miles.
Maintenance on the Honda Dominator is very easy. This bike, born in the '80s, has only basic electronics, no ABS, no assistants, no computer, ECU no anything! Everything is accessible and easy to work on, take apart and put back together.
Parts for these old Japanese bikes are still easy to find, there are plenty of them and they can be sourced anywhere. 
As mentioned before, there is nothing there to help you with this bike. Riding the Honda Dominator is as pure of a motorcycling experience as it can get. It vibrates, it's loud, the seat is hard as hell and you don't ever want to be caught out on a highway with it… but it will get you where you want to go – 100%! 
And that's what I love about this bike. It's been going for over 30 years and it will do another 30, I'm sure of it. I travel slow, I film and I stop often so long distance comfort isn't that important and it works for me! 
Good, bad and improvements
What's good is you'll never be missed on this bike. People will approach you at ever petrol station. And that's an awesome way to connect with fellow motorcycle travellers. It's defintiely a conversation starter. 
The bad is that a 124-mile tank range from its 12-litre tank isn't great, but to be honest, after 100 miles on the Dominator, you're going to want a break anyway.
And as for improvements, I think anything and everything that could have improved on a motorcycle like this has already been done so by Honda over the last 30 years. 
It is what it is – an old-timer. You've got to love it for what it is. 
I haven't been around the world with it (yet). And surely for the big trip it's got to be way smarter to get a new bike. I mean, any new bike is probably going to be better than a 33-year-old bike on a round the world journey.
But I'm determined to prove that it's possible to ride the world on a Honda Dominator. I'm not sure if anybody has done it before, but either way I'm going to give it a go! To be continued…
Marc Travels
As the world was put into crisis mode in 2020, it became impossible for me to
continue working as a professional musician. I've been a musician for over 15 years now, but since all the tours and concerts have been cancelled I decided to get a motorcycle and ride off into the sunset – quite literally. With a camera, a YouTube channel and a lot of passion for filmmaking and travel, within two years I managed to create this new life where I can work as a motorcycle vlogger and support myself with this new found passion and have big adventures ahead of me. 
Follow Marc's adventures:
Read more on Motorcycle Reviews 
Thanks for checking out this Honda NX650 Dominator Motorcycle Review. We hope you enjoyed it! Here's a few more articles on motorcycle reviews that we recommend you read next. 
Liked that? Try these next…
Are you planning a motorcycle trip, interested in the Honda Dominator or have any questions? Let us know in the comments below.