"The Helikon Camping Chair is an exceptionally well-made, lightweight, tough and super comfortable chair that'll last your RTW motorcycle ride." 
Snapshot
Price: £99.00
Mileage tested: n/a
Time tested: 4 months
Function: 5/5
Durability: 5/5
Ease of use: 5/5
Value for money: 5/5
Where to buy: military1st.co.uk
Why use a camping chair on a motorcycle trip?
We set off on our round-the-world ride on 1st January 2018. We left during Storm Eleanor and darted to Slovakia where our bike broke and we got snowed in for three weeks waiting for parts. So, we didn't camp much during that time. But we knew we'd be in a tent for the majority of our trip and had packed accordingly. That meant we had two lightweight camping chairs with us. We lugged those chairs all the way to Turkey before their first use as that's when we properly started camping because we could finally feel our toes again. 
Mine broke the first time I used it. Alissa's lasted two days before one of the legs went into soft sand, bent and then broke. They were cheap £20 chairs of Amazon, so they went in the bin and we carried on, thinking we'd be fine with just a camping mat. But we weren't. Camping on a daily basis can take its toll if you're constantly squatting, kneeling and sitting on the floor. Preparing food and cooking, eating, relaxing all on the floor every day aches the wrists, back, butt and legs. We eventually started making our own chairs out of the duffel bag and top box.
But that gets tiresome and uncomfortable pretty quickly too. We carried on like this all the way to Japan. By that time, literally at the top of our 'things we urgently need' list was two camp chairs. It didn't matter how bulky or heavy they'd be. We needed them. And, we weren't going to set off for the next leg of our trip with cheap ones again and get caught out for another three years abroad without them, so we looked for the best…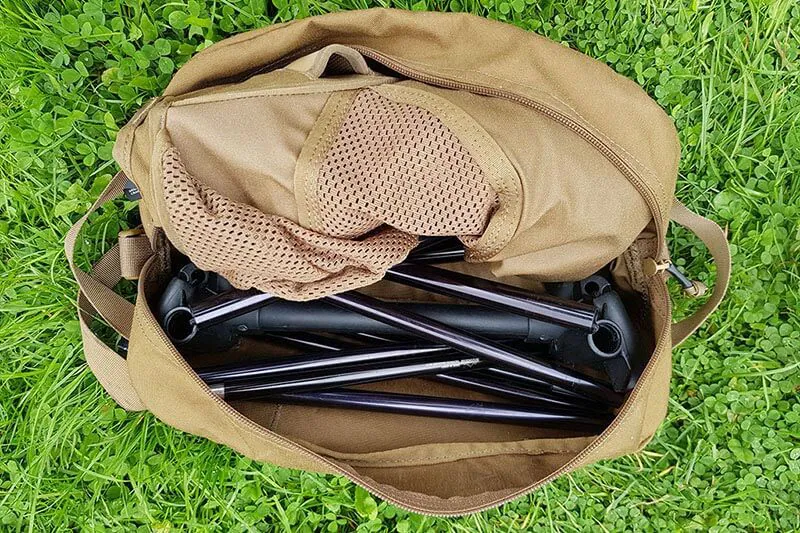 Features
Helikon-Tex is a Polish firm who have been making tactical military gear since the early 1980s. They pride themselves on their tough and durable kit and so we thought their chairs would be a good bet! 
The Helikon-Tex Range chair is made out of Cordura 500D with two large mesh panels either side for breathability. The poles are aluminium and the chair has two pockets either side and comes in a tough carry case with a extendable buckle strap for carrying. 
Weight: 1320g
Dimensions: 35x11x13cm
Supports weight up to: 150kg
What's good?
Unfortunately, due to Covid, we had to leave our bike in a mate's garage in Thailand, put the trip on pause and fly back to the UK to wait it out, so we haven't had a chance to test out the chairs on our travels. However, they have had constant use in our back garden on a daily basis; from lounging out in the sun to garden parties to friend's kids clambering all over them and that drunken friend falling asleep in one for two hours and we're massively impressed. We will be adding to this review once we're back on the trip. 
Durability
The material is exceptionally tough and you can feel the quality in your finger tips. The poles are thick and the main body is hardened plastic. The heaviest mate to test the chair weighs in at 110kg and he used it for a good few hours and found it comfortable with a beer in pocket. I'm 74kg and it's like the chair doesn't notice me in it. 
Comfort
It's surprisingly comfortable even after an hour sat in it without moving. It arches slightly backwards so you're in a little recline which makes it more comfy. But you're not too far back so as to make cooking etc a strain when leant forwards. It's an all-day comfy chair and more relaxing to sit in than our actual garden furniture. 
Ease of use
The chair weighs 1320g, which is pretty light for something so tough. Setting up the chair does take a little muscle power to get the poles into their slotted material pockets, taking it down is easy and, thankfully, the carry bag is more than big enough for it all to just be stuffed in in one quick go. It also packs up quite small for a chair of its size and can quite easily be tucked away into a pannier or camping bag. 
What's not?
Of course, it is a premium price tag at £99. But we're looking at an exceptionally well-made, lightweight, tough and super comfortable chair that'll last your RTW motorcycle ride. The Helikon-Tex Range chair is worth the money if you camp regularly and want to be comfortable while doing so.
Round-up
The Helikon-Tex Range camping chair is a high-quality, well-made, all-day comfy chair suitable for motorcycle travellers. It's light and small enough to stow away in your panniers, tough enough to stand up to constant use and abuse, and perfect to relax in after a long-day in the saddle. If you camp on your bike travels, it's well worth it and highly recommended.  
Helikon-Tex Range Camping Chair Review: 20/20
The Ultimate Motorcycle Camping Gear Checklist
Read more on Motorcycle Travel Gear
Thanks for checking out our Helikon-Tex Range Camping Chair Review. We hope you enjoyed it! Here's a few more articles on motorcycle luggage that we recommend you read next. 
Liked that? Try these next…
We'd love to hear from you! Please leave your comments below.