Hard vs soft bike luggage is one of motorcycling's greatest unanswered questions. Check out the pros and cons to each and our ultimate set-up.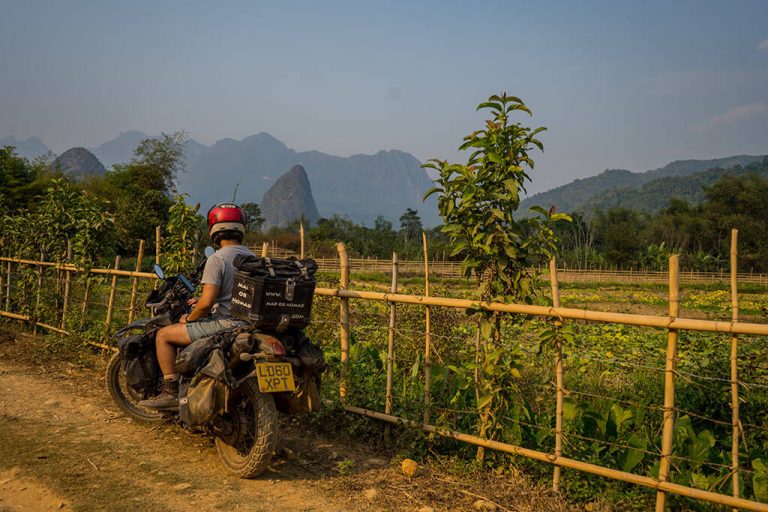 Your luggage system can be one of the trickiest things to decide on. You've got hard vs soft luggage, weight distribution, security and arrangement to think about. It's no easy feat. And it's made even harder by having no right or wrong answer. Philosophers, great thinkers and brilliant minds have been pondering this question for a millennia (well, quite a while) and they still argue. Don't get sucked into it, have a read of these pros and cons and try the set-up you feel comfortable with. It comes down to what suits you best and the type of riding you'll be doing.
Hard Luggage for Adventure Bikes
Hard luggage pros
Hard luggage is brilliant. You've got security and peace of mind thanks to metal containers complete with locks. It's neat, there are no straps flailing in the wind and your gear is perfectly compartmentalised into one of three boxes. Hard panniers can be plastic or aluminium with most adv riders opting for aluminium as it can be bent back into shape in case of a drop. The three boxes can also double up as two handy chairs and a picnic table. Lovely jubbly.
Hard luggage cons
Cost is one big factor. Fitting a GS with boxes will cost you thousands. Your width is greatly increased making filtering very difficult if you ride in cities. But most importantly the top con is if you're actually going to ride off-road. Hard panniers can brake legs in a topple, stick your foot out to try and catch yourself or get it stuck in a rut and that pannier driving into your leg won't be pretty. Be honest with yourself here, if you're hardly going to touch the rough stuff then this doesn't matter. If you're not going off-road then hard boxes are the way to go.
Soft Luggage for Adventure Bikes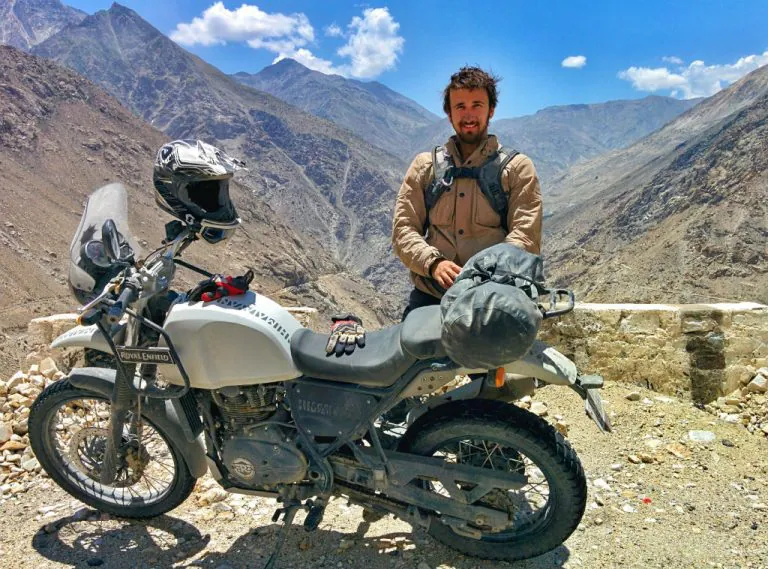 Soft luggage pros
Soft luggage is cheap, easy to attach and repair. It looks more 'rough and ready' reducing unwanted attention. If you're going to ride off-road, soft bags are the best choice, you can paddle through ruts and crash without the fear of your motorcycle luggage doing more damage to you than the fall itself.
Soft luggage cons
The only real con with soft luggage is security. There are options on the market which are now slash proof, but I haven't tested those yet so can't vouch for them. We're not particularly fussed about slash proof panniers regardless. A simple PacSafe wire mesh (or cable if you'd rather save the faff) is enough to deter most opportune thieves. We started with a PacSafe net but ended up ditching it after a few months. 
If someone really wants to get inside your bags then nothing will stop them, not even a lock on a pannier (which can always be smashed with a hammer and chisel). Waterproofing is another factor, but I've had '100% waterproof' soft bags leak less than metal top boxes. So, this can always be overcome by putting your stuff in another dry bag. 
The Ultimate Adventure Bike Luggage Set-up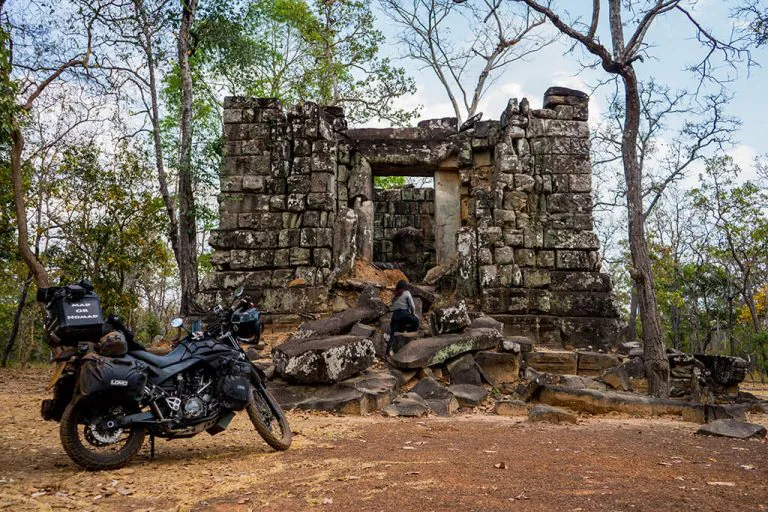 I've tried both set-ups and have never been completely happy with either. Full on hard luggage attracts too much attention, makes the bike too wide, heavy and uncomfortable off-road. While with soft luggage I'm forever worrying about my gear's security. What's the answer to hard vs soft luggage? We're now only happy with this compromise…
A hard-top box and soft panniers is the absolute perfect combination for any adventure bike rider. You've got all the benefits of both systems wrapped up in one.
All of the electrical and expensive equipment (laptop, cameras, paperwork) live in the top box and clothes and camping gear live in soft bags. We don't have to worry when off-roading, we're slimmer than with metal boxes, it saved a mini-fortune and we have added security for our valuables. Check out how we use this set-up below.
How We Arrange Our Bike Luggage
Top box
All our electrics, laptop, camera, paperwork and important stuff live in here. We use a SW Motech Top Box.
Rear panniers
Our soft panniers contain camping equipment including sleeping bag, tent, grill, MSR stove, clothes, flip flops and wash kit. The kit lives in rucksacks inside the panniers. If we go into a hotel we just pull the rucksacks out and take them with us. Easy. We use Lomo soft panniers, check out the 6 Best options on the market here. If you're worried about the contents of your bags, you can always use a PacSafe Mesh Net. 
Check out The Ultimate Motorcycle Camping Gear List 
Front panniers
In one of the front panniers we have our waterproofs, spares, accessories, tyre compressor, puncture repair kit, torch etc. In the other we have food, water and miscellaneous. This stuff always lives on the bike and we never take it off, no matter where we leave our bike. 
Tool luggage
We bought an army ammo box for £12 from eBay, drilled some holes in it and attached it to the sumpguard up front. We then drilled a few more holes, attached half a gate lock hoop and then popped a padlock through it. Now it's a secure tool box, holds all our tools, is hard-wearing, waterproof and helps distribute the weight upfront. Here's How to Make Your Own Tool Luggage.
The ULTIMATE Adventure Bike Tool Kit
Home-made Gutter Tube
This tube holds spare oils like engine oil, WD-40 and other accessories like tape, ratchet strap etc. In areas where fuel stations are further apart this stuff comes out and we put Coke bottles filled with petrol in here. For a list of all the stuff we use, try the Our Round-the-World Packing List article. 
Edit: We stopped using the tube since we reverted to the original twin exhaust system. Everything that lived in there now lives in the front panniers.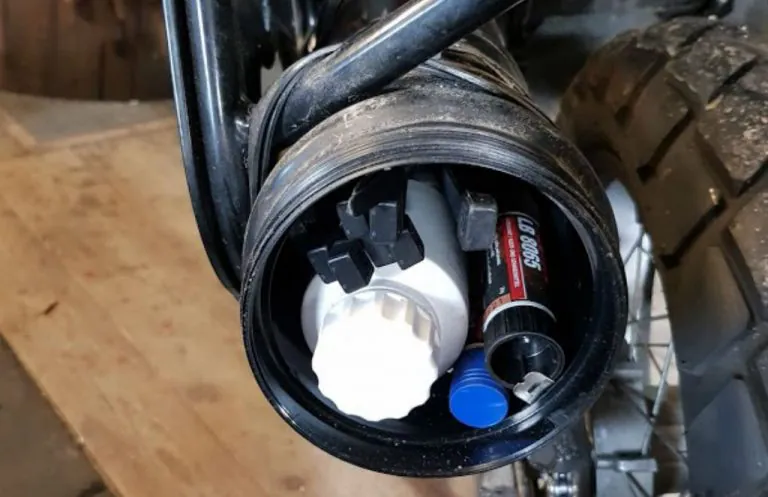 Rotopax
We used to carry Rotopax fuel and water containers, which came in especially useful in countries like Uzbekistan and Mongolia where we needed extra fuel and water. The XT has a little 15l tank, so the fuel container comes in very handy. And the water is important for camping, washing ourselves and dishes.
Read more on Motorcycle Luggage 
Thanks for checking out our Hard vs Soft Luggage for Adventure Bikes Guide. We hope you enjoyed it! Here's a few more articles on luggage, packing and preparing for a motorcycle journey that we recommend you read next. 
The Ultimate Motorcycle Camping Gear List
If you liked this article on Hard vs Soft luggage for adventure bikes or have any questions, please leave us a comment below. We'd love to hear from you!