Hidden in the extreme north of Vietnam is one of the world's best motorcycle routes. So, after we shipped our bike from Bali to Australia, we flew to Vietnam for Christmas Day and then headed north for the legendary Ha Giang Loop…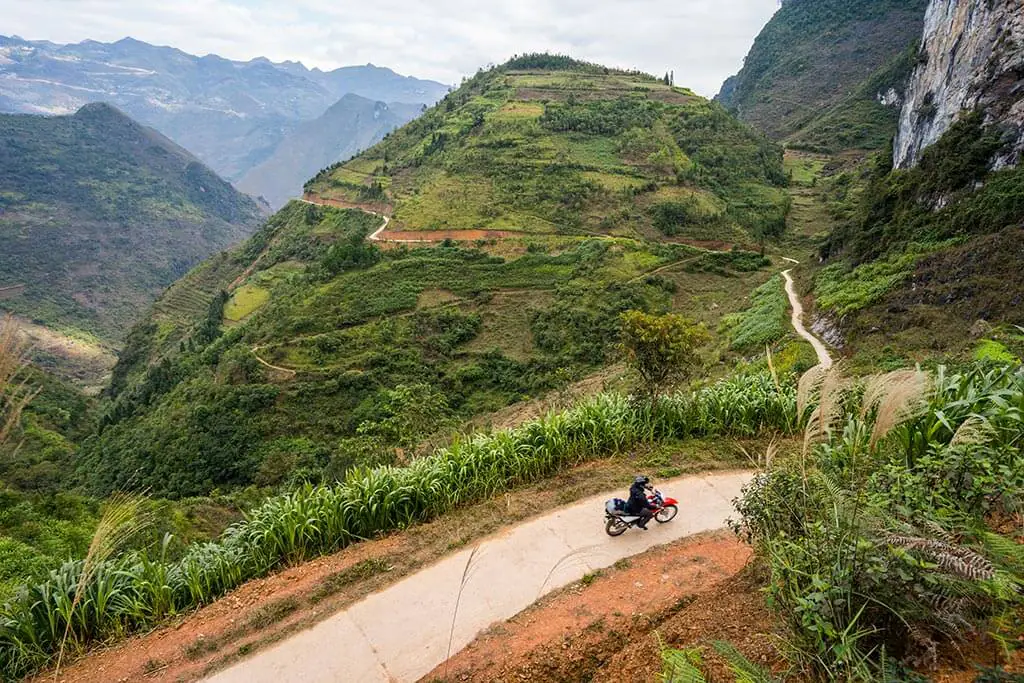 Merry Christmas 
A wave of relief washed over us as we left the shipping warehouse in Bali on Christmas Eve. We didn't know if our bike would get stopped at quarantine in Australia when it arrived in 8 weeks, but we did the best we could cleaning it and that would just have to be a tomorrow problem… But not literally tomorrow because that would be Christmas Day. 
Two friends from the UK and their son (Thy, Nick and Hiro) were in Ho Chi Minh City, Vietnam for the holidays and invited us over, so we booked a last-minute flight and flew out that evening.
We landed, dropped off our rucksacks and headed out for a walk around the city to find the craziest traffic we've ever seen. Apparently is always this busy on Christmas Eve in the centre. 
Turkey was swapped for bao buns on Christmas Day and we spent a few days swanning around spas and drinking coffees. We had to make time to visit museums and the Cu Chi tunnels too. 
We were last in Vietnam five years ago, and funnily enough for Nick and Thy's wedding. After their wedding, we trekked in Sa Pa and rode rental scooters around the countryside. We heard of the legendary Ha Giang Loop tucked away in the north but didn't have the time… until now. Here's what happened once we booked a flight to Hanoi. 
The Cu Chi tunnels were a part of an incredibly large network of underground tunnels used by the Viet Cong spread throughout Vietnam to fight against the Americans in the Vietnam war from 1955-1975.
The tunnels were used as bases; to hide; fight from; store food, weapons, medical supplies and for soldiers to sleep. The conditions in these claustrophobic tunnels were horrific with constant disease, malaria, poisonous insects and a lack of air, food and water. The tunnels were also rigged with booby traps for the Americans too.
American forces were largely ineffective at countering, destroying or even locating these tunnels and had no idea how significant, intricate and large the tunnel system was until an Australian unit went in.
The tunnels were a huge advantage for the Vietnamese forces and credited with helping the Vietnamese win the war.
A cold start
My left pinky finger is the last to go. The rest of my digits gave up and went numb hours ago. The cold makes quick work of my knock-off North Face jacket and laughs at our open face helmets as it tickles our snotty noses.
We're an hour and a half short of our intended destination in Ha Giang, but night has set and after riding for seven hours with no gloves in 5C, it's time to stop. Alissa, cleverly, bought a pair just before we left Hanoi but I said I'd find some along the way. We passed a shop that looked like it might have sold them about four hours in, but by that point I was paradoxically too cold to stop and warm up my hands.
We spot a motel in a little town, park the bikes and ask the owner if the room has heating. He laughs. Shivering, we step into a refrigerator disguised as a hotel room and dive under the covers for warmth. Not exactly how we expected to see in the New Year.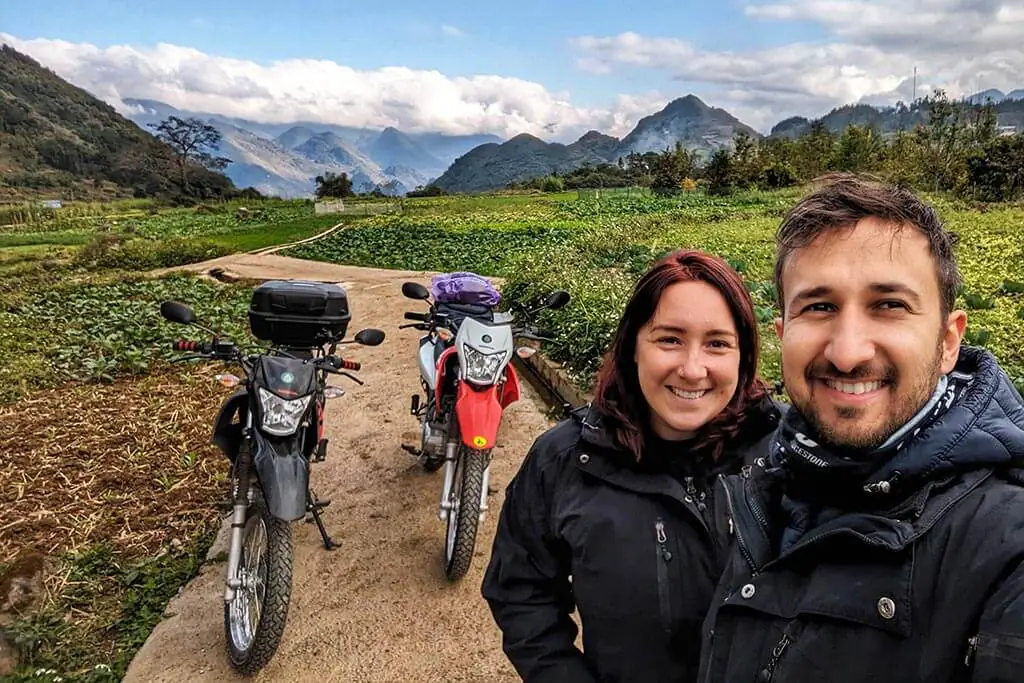 Hot in Ho Chi
Last week, we were in Ho Chi Minh City in shorts and flip flops celebrating Christmas Day. We caught a flight to Hanoi on the 29th, bought a jacket each, rented two Honda XR150Ls, pointed them north and left on December 31st. We heard it'd be cold, and we're used to that as we've ridden as low as -15C, but with the right gear it's easy going. Here, and in no gear, perhaps we've made a mistake…
Gearing up
We had planned to make it to the city of Ha Giang on the first day so we could take our time on the loop riding only 30-50 miles per day. So, we leave the fridge early doors to catch up with our intended schedule, but our first job is to find – and actually stop this time – for better gear.
Christmas came six days late for the owner of a small shop selling winter jackets as we pull up with chattering teeth. "We'll take it!" 'Take what?' "Everything!" Suited and booted in a puffy down-jackets, thermal tops, gloves and tracky bottoms we're now ready for anything.
Heaven's Gate
The city of Ha Giang is (unsurprisingly) the start and end of the Ha Giang Loop. With no ticker-tape parade to see us off and nothing much going on, we ride through the imaginary start line and head for Quan Ba.
The scenery starts to change the second we leave the city. The dusty shacks lining the roadside disappear, the views widen and we hit the start of the ascent. The road rolls higher, easing us in with some gentle turns. Our Honda XRs immediately perk up at the chance of flexing their muscles, so we pile on the gas and start flying around corners before coming to a sudden stop…
There it lay – 'Heaven's Gate'. One twisty road leading down into a sea of green protected by a ring of pale blue mountains in the distance. The cold disappears, feeling returns to our finger tips and the grumpiness vanishes, replaced by the excitement of riding beyond the blue. The three hot chocolates we just chugged at a shack overlooking this view probably helped too. This is a perfect New Year's Day, and if it's just the start of what's to come, it's going to be a good week – and year.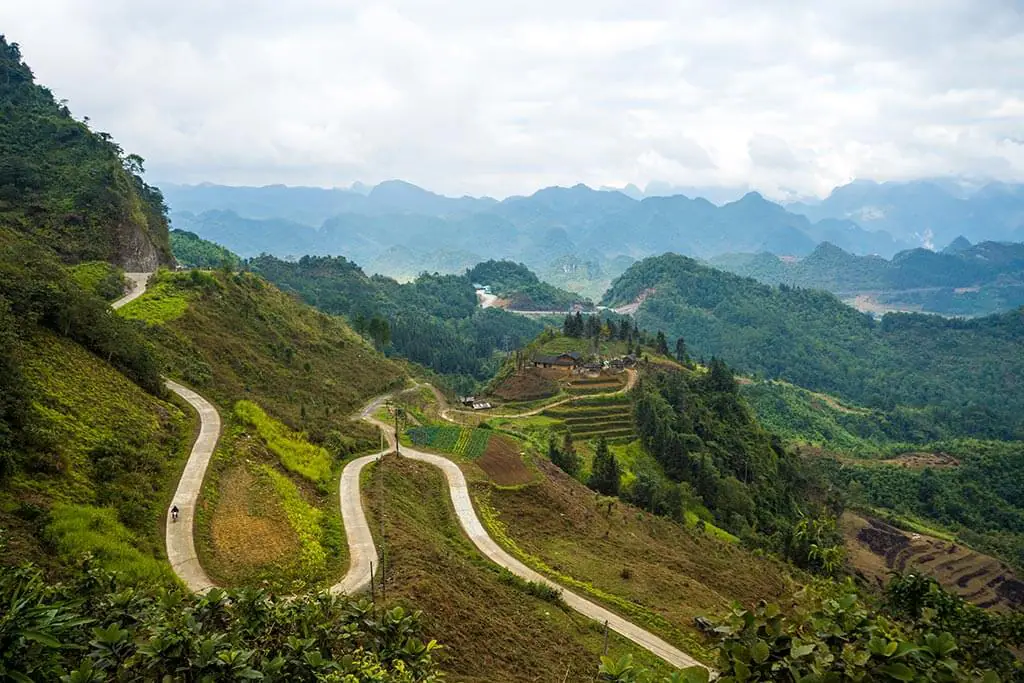 Into the clouds
The mountain cups the road in its rocky hand and carries us into the sky. We keep a steady wrist as the trail climbs the cliffs, disappears into the mist and takes us deeper into the north.
Heaven's Gate is the entrance to Vietnam's northern mountains and passing through takes us into another world far above the Vietnam we had just come from below. The extreme north borders southern China and is known as Vietnam's final frontier. Over 850,000 people live in these mountainous lands and it is home to dozens of traditional ethnic groups. Pottering through on a motorcycle is an incredible way to immerse yourself in its unique culture.
Mountain markets are always an interesting stop. Colourful fruits line the roadside, pork fat is roasted over fires, piles of flip flops and buckets of chicken feet are laid out on sheets and gloopy coffee, crispy baguettes and bowls of pho are sold from carts. Women clad in colourful clothes lug forests on their backs up trails. Kids run around with pet chickens and huge smiles, throwing out their hands for high-fives and are extra excited when we stop for a chat instead.
We pull into a traditional family homestay. A mattress in a wood building on stilts above the kitchen is our room for the night. The smoke from the chicken they're cooking for our dinner seeps through the cracks in the floorboards and warms our room. These nights make riding the loop extra special, and so does stopping to speak to as many locals as we can along the way.
Road conditions
We're in January (Ha Giang's coldest month of the year) and the benefit is there's nowhere near the number of people here compared to the high season. But there are still other travellers on the loop and the majority are on ropey semi-automatics.
We're on Honda XR150s, and here, that's like riding a GS. As a pack of 110cc step throughs sit ragging their engines while nervously peering around trundling trucks hogging the road on steep up-hill climbs, we glide past the lot with a flick of the wrist. These bikes are perfect for what we're doing, especially the near continuous mountain climbs. Aside from being way more fun to ride, they'll also help get you out of trouble on these sketchy roads.
The Ha Giang Loop is a series of hair pin turns running up and down sloping mountains and along terraced rice fields. And the tight roads are shared with trucks, bikes, buses and cars that have no problem crossing into your lane on blind bends. It's common to find yourself on a cliff face with no barrier as a truck forces you closer to the edge with its horn on full blast as if expecting you to fly off the cliff to get out of its way. As beautiful as it is here, it can be dangerous.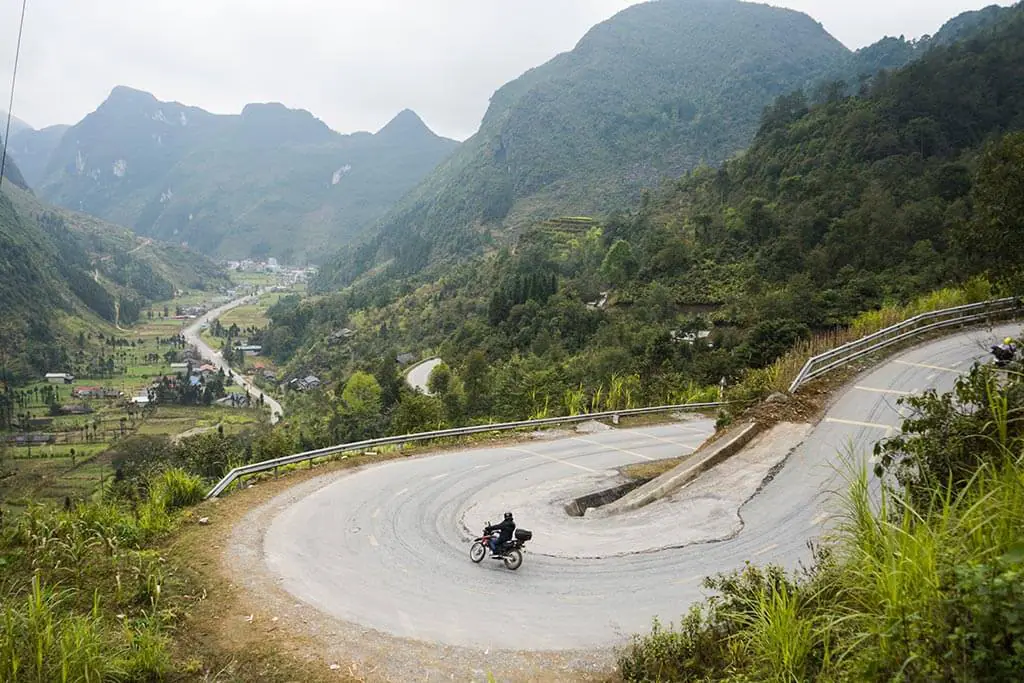 Explosions
Despite now being at higher altitude, the sun makes a grand entrance by lighting up the countryside in a warm yellow glow and we can finally take off our thermals. The deeper into the loop we ride, the better it gets until we hit Dong Van and the north of Vietnam explodes.
We're soaring a thousand metres above sea level, riding across narrow paths cut into cliff faces with one eye on the road and the other on the insane view over our shoulders.
But it's too much to bear, we have to constantly stop and gape in admiration at the plateau of karst mountains blanketing the valley below. Limestone blasts out of the earth forming ancient stone forests and we half expect to spot an apatosaurus munching on the green tufts perched atop each rock.
Home to Hanoi
Instead of looping back to Ha Giang, we hook a left, go off-piste and follow the squiggliest white line we can find on our map towards Ba Be National Park. The XRs are up for the challenge as we tackle narrow gravel tracks leading into more mountains.
The trail takes us to remote villages, caves, green rivers and another side of Vietnam. There are no more travellers on semi-automatics, no trucks or cars clogging the road and the only people we see are inquisitive locals and kids with pet chickens. Even though we've started our descent south back towards Hanoi, it feels more rural than the loop. The tracks connecting the smoky villages are too narrow for anything other than two-wheels making the region feel unexplored. While the views aren't as jaw dropping on the return leg, the cultural experience certainly is.
We've spent 10 months riding through Southeast Asia, and this 600-mile ride in Vietnam is now one of our absolute favourites. Go, you'll love it.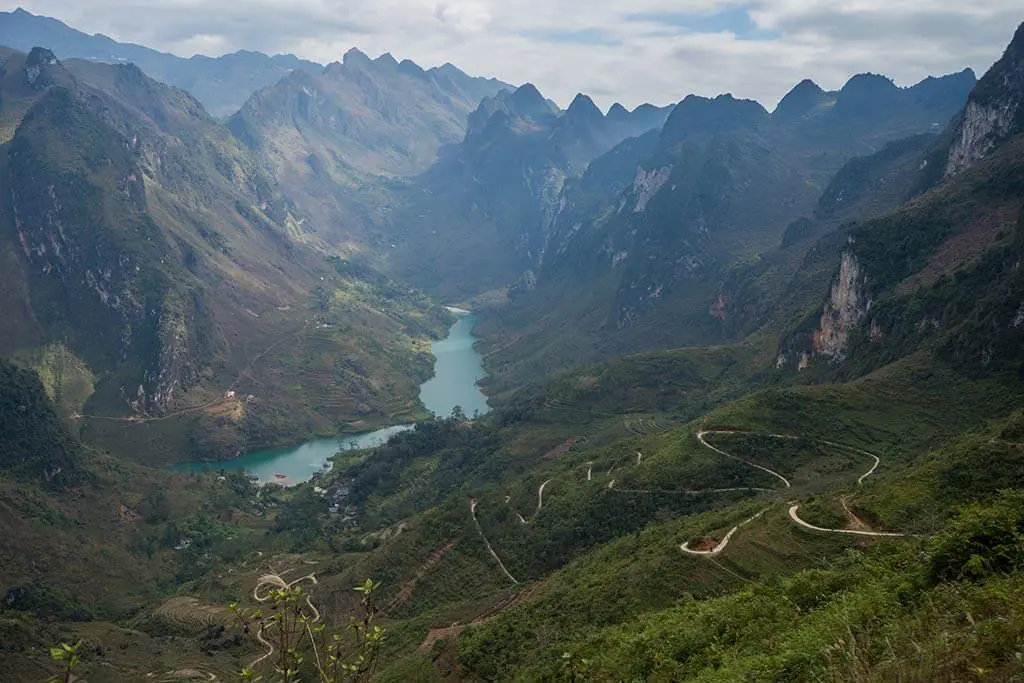 Read more on motorcycle travel in Vietnam and Southeast Asia
Thanks for checking out our Ha Giang Loop Motorcycle Travel Blog. We hope you enjoyed it! Here's a few more related articles on riding in Vietnam and Southeast Asia that we recommend you read next. 
If you enjoyed this Ha Giang Loop motorcycle travel blog or have any questions, please post your comments below. We'd love to hear from you.