Welcome to the UK to Greece and North Macedonia Route Guide. This article is packed with info, downloadable maps, route advice, expert tips and a top ride report.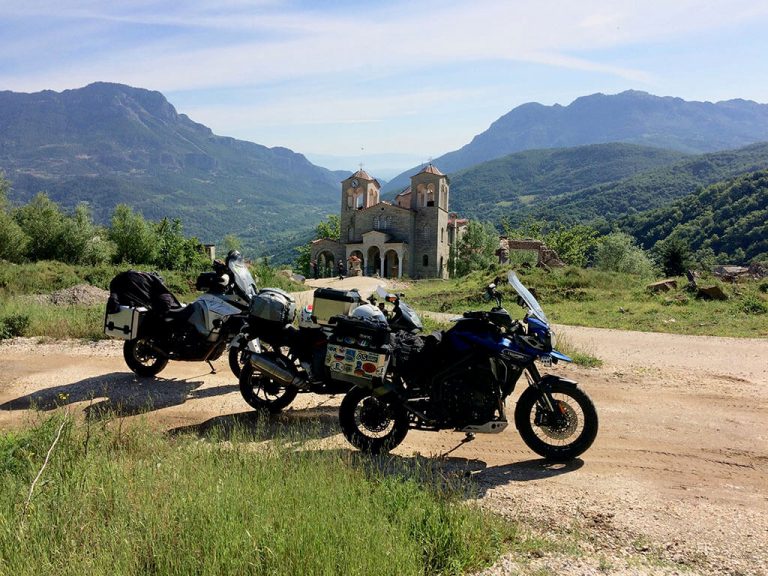 Most of us are used to European tours to our favourite spots like the Pyrenees and Alps. But this one is a little different… Riding to Greece and North Macedonia is a bigger trip, more miles and further afield, but don't let that put you off. It can be easily done and is an incredible trip. The only catch is the extra mileage to and from the ferry crossings across France – but just treat those as the price you have to pay to explore a new country on your bike! 
I had never travelled to mainland Greece before and after this trip I regretted leaving it so long. I loved the variety of roads, food and culture and highly recommend you make a trip there.
This guide will walk you through everything you need to know for a brilliant trip to Greece and Macedonia with a day-by-day route guide so you know what to expect and loads of tips and advice to make this the perfect trip. It's worth the ride!
The UK to Greece and North Macedonia Motorcycle Route Guide
The Route
The route we're suggesting is from Calais – Creutzwald, France – Airolo, Switzerland – Modena, Italy – Ancona Port for overnight ferry – Igoumenitsa Port, Greece – Meteora – Delphi – Thessaloniki – Skopje, North Macedonia – Struga – Igoumenitsa Port for return overnight ferry – Ancona.
Which way?
The amount of time available to you will determine which route is best for you. You've got two options here:
If you travel from the UK and your time is unlimited, then I would avoid ferry options from Italy and take a route through the Ardennes, Bavaria, Austrian mountains, down the Northern Adriatic, woodland Slovenia, beautiful Dubrovnik in Croatia, Albania and into Greece or North Macedonia first.
If your time is more limited, then you can save time (and your tyres) by routing further South through France and hit a Swiss Pass or two before heading for an overnight ferry from Ancona, Italy straight into Igoumenitsa, Greece.
When to go?
It's a good idea to use the extra Bank Holidays in May or August/September for a trip of this length and avoid the summer heat. This 17-day route incorporates three rest days in Greece for sightseeing.
How much?
The total cost for my trip including ferries, dinner, hotel, B&B (sharing a room) was approximately £890, plus Eurotunnel, vignettes, fuel, lunch snacks and bar bills. I prefer quality hotels with secure parking if possible. Cheaper accommodation is widely available dependent on your preference or budget. My dinner and B&B arrangements averaged about £65-75 per day. Be aware though, Switzerland can be expensive.
Accommodation 
Here's a list of hotels I used on my trip and recommend:
Paperwork
You should take originals of your passport, driver's licence, insurance certificate, MoT if required, your V5 (logbook) and Green Card insurance for your motorcycle. It's also highly advisable to get a 
UK Motorcycle Travel Insurance.
International Driving Permits (IDP) are available from your local Post Office and will be required once the UK leaves the EU, probably from Jan 2021. Check the
Gov website
for more information.
Getting there and away
The Anek Ferries overnight ferry leaves Ancona, Italy at 13:30 and arrives in Igoumenitsa, Greece at 08:00.
The Minoan Ferries overnight ferry leaves Igoumenitsa at 23:30 and arrives in Ancona at 13:30.
We recommend booking and checking with directferries.co.uk as you can find up-to-date and current sailing times and routes and book in advance.
Top Tips
Don't miss one of the reasonably priced, guided, minibus trips up to the historic hilltop monasteries of Meteora, Greece. Booking and pick-up will most likely be available from your hotel. The tour will be an unforgettable highlight of your trip.
The border formalities entering North Macedonia can be a little onerous, especially the rural one that I took.
Ensure you organise an insurance Green Card before the trip and you must have the original vehicle registration document for inspection, otherwise entry can be refused.
I rarely encountered any police presence or speed traps, just be sensible. However, be on your guard in Greece and especially North Macedonia where driving standards are lower than Northern Europe.
Vignettes are required for Austria and Switzerland and can be purchased online by clicking these links before you travel, or while in transit. Austrian online vignette and Swiss online vignette.
France has tightened up on speeding fines in recent years. Be especially careful within 20 miles of Calais, and close to any service areas with a cash point!
DO NOT get caught speeding in Switzerland – even by a few kph. 25kph+ over a limit and you will receive a massive fine and be walking home. 
UK to Greece and North Macedonia Ride Report
Day 1
316 miles from the Calais Eurotunnel on the A26/A4 motorway via Chalons-en-Champagne to just after Metz and to our Hotel Aster, Creutzwald, France. There is a scenic lake at the bottom of the road only a few minutes walk away if you want to stretch your legs.
Day 2
271 mixed miles today to our hotel in Airolo, Switzerland. Starting with the A4 motorway down to the Phalsbourg area before heading S.E. on 'D' roads via Molsheim and a ride along the Rhine Canal down to Basel. Continuing along the Western side of Lake Lucerne and through the Gotthard Tunnel to our destination.
If you have time for a blast, drop your luggage in the room, then head back up the road for the start of the St Gotthard Pass. Initially, we made a 'mistake' by taking the old, smaller road up the Pass which is cobble paved in areas but it was a good laugh. So, we headed back down again and joined the new, modern, sweeping road for a blast up to the hotel and car park area on the top before returning to Airolo.
Day 3
222 miles today to Modena, Italy.  Heading south via Lake Lugano and the southern tip of Lake Como before a lunchtime stop at the Monza race circuit to tick that box and soak up the atmosphere (if you like F1). It's located in a massive parkland on the northern side of the town centre, yet the main entrance is surprisingly difficult to find. It's open most days, just drive in via the main entrance and find the trackside café. Continue the route south east via Crema and Cremona to the outskirts of Modena and our modern hotel.
Day 4
A short but straight forward 163-mile ride down to the ferry port of Ancona for our 13:30 Dep' on Anek Ferries overnight trip to Igoumenitsa, Greece.  Be prepared, as your bike may be crammed in and no securing straps are provided.
Day 5
Arr' 08:00 at Igoumenitsa ferry port for a non-direct 186-mile route to Meteora. To make the most of the day and get a flavour of the roads, I routed south east inland from the coast, down to to the outskirts of Kenali before turning north east via Arta and the rural interior to Spitia, and then north as the rain started to our hotel in Kalampaka, a town just South of the nearby historic, hilltop monasteries at Meteora.
Day 6
A rest day off the bikes and still raining in the morning. Today, we explored the famous hilltop monasteries and surrounding areas on a half-day organised coach tour that you can book from your hotel. James Bond fans will recognise the monasteries from their part in 'For Your Eyes Only' where Bond scales a cliff face. Meteora is a must-see on this trip.
Day 7
181 miles today on a ride south east to our next destination in the historic town of Delphi. On a recommendation, we rode about 38 miles from Meteora via the central spine of my route to the village of Ropoto which was home to 300 families. The hillside village has been regularly hit by landslides over the years, the most recent in 2012. It is approached up a winding, single track, mostly tarmac road that leads to the old village centre where you can explore the buildings and a church that slid intact down the hillside. 
After Ropoto, we then rode via the outskirts of Trikala, Karditsa and Lamia to the ancient town of Delphi. Our modest hotel offered superb views from the terrace over the sea in the distance.
Day 8 
A rest day to explore the ancient ruins in Delphi. It became famous and rich as the seat of the most important Greek temple and 'Oracle' of Apollo and was considered the centre of the world by ancient Greeks. As the ancient theatre complex was a one-mile walk from our hotel and it was a very hot day when I visited, we limited our day to only exploring the ancient ruins because we couldn't face standing in the sun and joining the long queues outside the modern Delphi Archaeological Museum nearby. The tourist coaches start arriving early!
Day 9
A great ride of 258 miles today north to the well-known Port of Thessalonika. We rode via the outskirts of Larissa then past the westerly side of ancient Mt Olympus to our city centre destination with underground parking.
Day 10
A rest day in Thessalonika to explore the city monuments, museums, Byzantine walls and the famous White Tower near the waterfront. It's a busy metropolitan city with a huge selection of shops, coffee shops and restaurants.
Day 11
164 miles to Skopje in North Macedonia today via the rural border formalities at Doirani, Greece. The border guards seem to lack any sense of humour if you ride up with your GoPro filming….as I did. Give yourself time and make sure you have a Green Card for insurance, as the crossing I chose probably did not offer the opportunity to buy one from a nearby office. You must have the original vehicle registration document too, otherwise entry will most probably not be allowed. Just smile and continue on the roads around the edge of a lake, then enjoy the cross country ride before the hectic traffic of central Skopje.
Day 12
110 miles South Westerly today to the famous, Lake Ohrid and town of Struga, North Macedonia.  Leaving Skopje, my route takes the original, lesser road, next to the E-65 motorway towards Tetova, which will provide a better feel for the area, although be prepared for some gravel, potholes etc en-route.  We then diverted South on the R2233 towards Kichevo and Struga.  The hotel is easy to find backing onto Lake Ohrid and they laid on a great meal with some Macedonian music & dancing in the evening for our group.
Day 13
Plenty of time to choose your route today as the ferry doesn't depart Igoumenitsa until late evening. So, decide between experiencing the roads of Albania, or 250 miles through more of North Macedonian as we did. Leaving Struga and riding around the eastern shore of Lake Ohrid and over to the town of Bitola before dropping Southwards via Ioannina and to the ferry port for our overnight ferry back to Ancona. The Minoan Ferry departs at 23:30. 
Day 14
Arr: 13:30 Ancona, Italy. 168 main road miles back to our Modena hotel.
Day 15
232 miles back to Switzerland but this time I routed us along a different path on our return to Airolo.
Day 16
A longish day of 338 miles back to our hotel in Creutzwald, France due to routing a wider path to enjoy riding most of the Bavarian B500. I routed us over the nearby St Gotthard Pass into Andermatt, then North via the eastern side of Lake Lucerne this time. West of Zurich and then picking up the wonderful B500 at Waldau for 67 miles of sweeping roads, which continues onto the most famous section of the Black Forest panoramic high road B500, winding its way North to Baden-Baden. We then jumped on the main roads west to our destination.
Day 17
298-mile countryside route in more or less a straight-line ride to the Eurotunnel at Calais via some lovely Parc Naturel areas, passing Thionville, Ardennes countryside, Cambrai, Bethune & Saint Omer.
Paul Yarrow is based in the UK with 40 plus years' touring experience of the UK & Europe. Two years ago, he started filming his trips and created a growing YouTube channel, plus social media pages to share his trips, photos and routes with other motorcyclists.
You can follow Paul's travels here:
Read more on motorcycle travel in Europe
Thanks for checking out our Greece and North Macedonia Motorcycle Route Guide. We hope you enjoyed it! Here's a few more articles on motorcycling in Europe that we recommend you read next. 
Are you planning a motorcycle trip to Greece or North Macedonia or do you have any questions or tips to share? Let us know in the comments below.