Germany International Motorcycle Shipping Companies
Motorcycle shipping companies in Germany.
Please contact the companies listed on this page directly for more information.
In time Forwarding & Courier
"We are a freight forwarder specialized in vehicle transport. We have over 20 years experience in shipping vehicles internationally for vacation use. We offer all-in rates with no bad surprises after shipping."
Business: International freight forwarder. 
Ships to: International.
Services: 
Air freight
Sea freight
Customs clearance
Warehouse and storage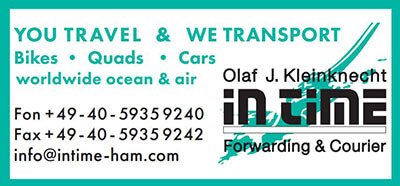 Hamburg, Germany
www.intime-ham.com
Olaf J Kleinknecht
+49 40 59359240
  ojk@intime-ham.com
"We have organised motorcycle transport to and from Mongolia for over 25 years and have now successfully implemented Central Asia as well. Your needs are solved with our experience"
Business: International motorcycle freight forwarder specialising in Europe, Russia, Central Asia and Mongolia with specialised transport services for Kazakhstan, Mongolia, Uzbekistan and Kyrgyzstan.  
Ships to: Specialises in shipping motorcycles from anywhere in Europe to and from Central Asia and Mongolia. Loxx Pan Europa is able to collect/deliver from all over Europe and EFTA countries and transport your motorcycle to Asia. 
Services: 
Primarily transit by road (truck), but are also able to organise full container loads by railway or sea as well. 
Pleidelsheim, Germany
www.pan-europa.de
Fabian Klassen
+49 7144 99 81 704
fabian.klassen@pan-europa.de
"For over 30 years we have provided a motorcycle shipping and transportation service for motorcycling enthusiasts who want to send their bikes around the world. We want to help you have the trip of your dreams."
Business: International freight forwarder and operator specialising in air and sea freight of motorcycles. 
Ships to: Knopf Tours mostly ship between North America, USA and Germany, but individual shipments to other continents and countries are available from April – October. Please enquire.
Services: 
Air and Sea freight of motorcycles between the USA and Germany as well as many other countries
Green card insurance for Europe
Motorcycle rentals and tours worldwide
Motorcycle servicing in Germany
Motorcycle storage in Germany
Bed and breakfast in Germany
  Heidelberg, Germany
  www.knopftours.com
 Stefan Knopf and Chris Knopf
 +491729786218
  Tours: Knopf also offer motorcycle rentals and tours from their base in Heidelberg, Germany as well as storage, servicing and motorcycle insurance services. Visit the Germany Rentals and Tours page for more info. 
International Motorcycle Shipping Companies
Welcome to the Motorcycle Shipping Companies Finder. This page lists worldwide freight forwarders, companies, agents, fixers, ferry services and detailed guides. Click a country on the map to see what's on offer.
Read More
Read more on Motorcycle Travel and Shipping in Germany and Europe.
Thanks for checking out the Germany Motorcycle Shipping Companies post. We hope you found what you were looking for. Here's a few more articles on motorcycling in Germany and Europe that we recommend you read next. 
What's next? Check out these resources to get started on your adventure!
We'd love to hear from you! Let us know about your Germany motorcycle shipping experiences and ask any questions in the comments below.