Over 5,000 miles from Melbourne to Brisbane criss-crossing the Great Dividing Range is a speck of distance in Australia… but we loved that speck!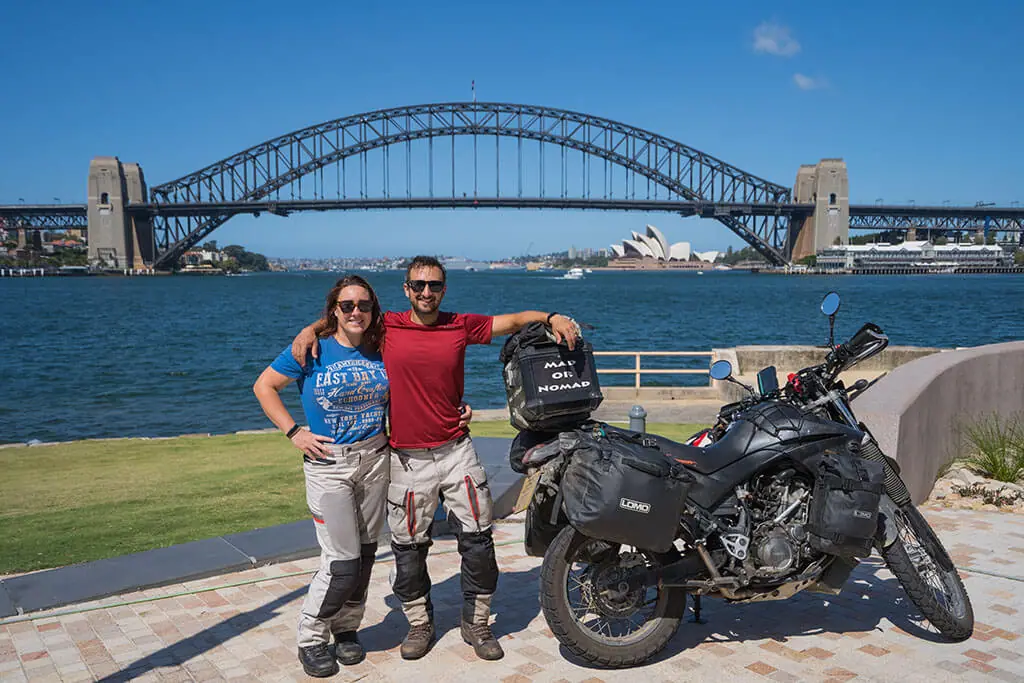 Welcome to the land down under
"Nah, sorry mate. Your bike failed quarantine – we found some grass on it" said the officer at the Melbourne shipping depot. Failing quarantine is like failing an MOT at a remote garage thousands of miles away from home. It means the inspection officer found some dirt, you're going to have to pay through the nose for them to re-clean and re-inspect and who knows when they'll do it…
There was no way they found a morsel of dirt on our bike after we spent Christmas Eve at a car wash in Bali with three people cleaning it four times over with acid dripping toothbrushes. 'No chance. Our Yamaha is immaculate…' "Oh! Yours is the Yammy? Yeah, no worries, she's a beaut."
We were finally reunited with our bike after the XT spent months at sea being shipped from Indonesia. A fellow traveller at the depot wasn't so lucky and had to wait four weeks for a reinspection.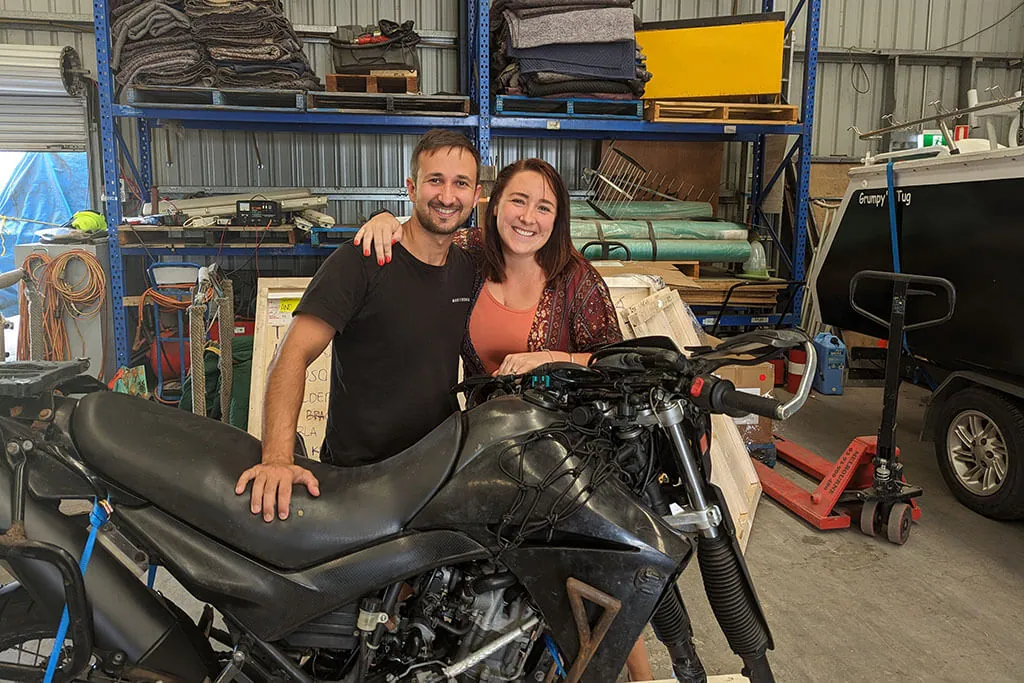 Timings
We were ecstatic to officially be 'down under,' but gutted we only had eight weeks. The original plan was to take eight months to ride the circumference of this continent, but Covid put a huge dent in that idea. Tasmania was a must and would take two weeks, which meant we needed to start in the south. So, with only six precious weeks on the mainland, we decided the east coast was the way to go from Melbourne to Brisbane criss-crossing the Great Dividing Range.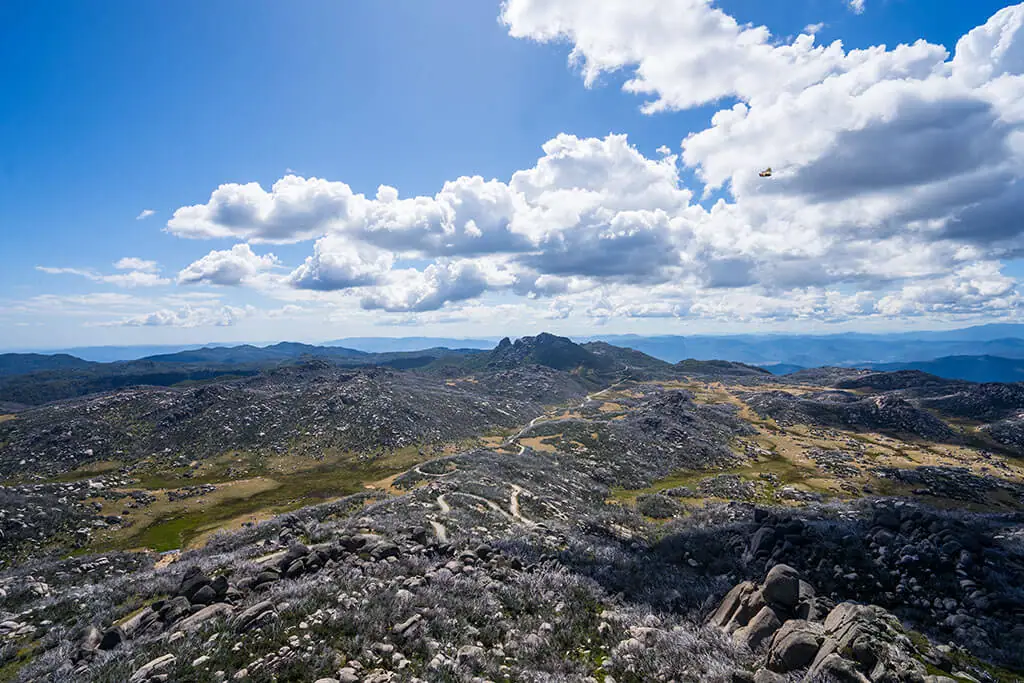 The Great Ocean Road
We quickly bolted the bike back together, slapped the handlebars, front wheel, racks and luggage back on and headed south for one of the world's most scenic drives – the Great Ocean Road.
The road carves its way along an ancient shoreline with gargantuan eroded rocks poking out from the sea. Waves with surfers on top and sharks underneath (probably) crash onto golden beaches and boutique towns filled with hip coffee shops and bronze-bodied Ozzies line the route.
Soaking in this incredible part of the world while being back on our own bike, under a bright blue sky with cool air flowing through our jackets made all the hard work of shipping totally worth it.
False sense of security
Maybe we made a mistake and it wasn't worth it after all. The magic of the coast disappeared as we turned north. It had only been a few days but it felt like an eternity of riding through nothingness. The sun was molten hot, the cool sea air turned to a stuffy hot hairdryer and the scenery changed from bright blue to a sea of yellow farmland.
There wasn't much to look at and we were chewing into our valuable time. But, seeing our first kangaroo hop along the road in front of us momentarily lifted our spirits – until we were later told it was actually a wallaby.
By the time we returned to Melbourne, we were frazzled from the heat and monotony and decided to head straight for Tasmania for a change of pace (read the Tasmania blog here). Two weeks later, reinvigorated and now firmly in love with Australia, we were back in Melbourne and ready to ride the divide.  
Into the woods
The Black Spur drive cuts through dense forest on beautifully laid tarmac, but take the slightest detour and you're thrown onto the rough stuff, chasing gravel tracks along rivers, up and down mountains and through logging roads. We were warned about carrying enough fuel and could now see why as the trails went on forever without passing any towns.
As the sun started to dip, we decided to stop and pitch our tent on the next patch of grass we come across. Thirty-odd mud-caked 4x4s filled the next patch we came across. Their owners were sat around a huge campfire and it seemed like a good idea to stop and say hello. We barely got off the bike before being pulled over and plonked in front of the fire, a beer was shoved in one hand, a chicken drumstick in the other and the rest of the night was a barbeque beer blur.
In the morning haze we're meticulous in packing away our gear and checking ourselves for bugs. After a huntsman spider crawled into Alissa's helmet while riding in Tasmania, we weren't taking any chances.
Creepy crawlies aside, camping in Australia is brilliant. The country is peppered with free, well-kept campsites (that even have free electric BBQs). Australians love camping and because Aussies are a lot of fun and very welcoming, it makes camping here perfect for motorcycle travellers.
Deliverance
Bellies full of breakfast we loaded up and continued along miles of gravel tracks through Victoria's valleys. We rode through the day only stopping to try and find supplies in empty towns. These outback settlements are often made up of a dozen wooden shacks, a general store and one cobweb covered petrol pump – they make for fun stops. 'Excuse me, do you know where we can get some water? "Yeah, outside… it's called a RIVER!" I waited a few seconds for a smile to creep across the lady's face and reveal the tell-tale sign that she was joking. But it never came, so we took a slow retreat and a mental note to carry extra water instead.  
Other than river lady, everyone we met was exceptionally welcoming and this region offered some of the very best riding from our time through Oz. The gravel is addictive and took us to some incredibly remote places where we had the most fun chasing trails and stopping in the middle of nowhere for a pie and vanilla slice (two of Australia's national dishes). Eventually the route poked out from the valleys and scrubland and we headed for the mountains.
The Divide
The Great Dividing Range is a mountain range separating Australia's east coast from the outback. The 2,300-mile stretch is the third largest mountain range in the world and runs almost along the entire length of the east coast.
As there's not much in the outback and the coastal routes are long straight motorways with expensive tourist towns along the way, we plotted the squiggliest route we could to continuously criss-cross the range.
And first on the list was the Australian Alps – nothing like the Italian Alps mind, but the roads didn't disappoint. The Great Alpine Road is Australia's B500 (literally) and we got hooked on it. From Wangaratta to Mount Buffalo, Bright and to the Hotham Heights ski fields, the road flicks around bend after bend almost making you travel sick from the continuous spiral climbs. We fly into pine forests, blast out on top of mountains with huge sweepers before weaving and winding through valleys, rivers and a constant rolling backdrop of stunning views and everchanging racetrack roads.
Life on the road
Through Dinner Plain to Omeo and up to Mitta Mitta in a dizzy haze. We rested for a few days before tackling Mount Kosciuszko (mainland Australia's tallest mountain) because you've got to stay sharp here for both the riding and animals.
Kangaroo signs are more common that speed signs and the sides of the road are covered in dead wombats (massive muscular creatures that could easily write off a car). Snakes slither across the hot road and we swerve to avoid them. Something bit my back four times before I could pull over and get my jacket off. Four bloody welts later and I spent the next few hours worrying if it was a poisonous spider.
But the most common sight are Australian bikers. Biking is huge in Australia, so huge that we develop neck cramp from all the nodding. As we near towns the roads are filled with riders from hordes of Harleys to gangs of sportsbikes, adventure bikes and everything in between and it's as if they're all waiting at the pie shop in town for a chat. Everyday here is a sunny Sunday ride.
Meeting fellow bikers – or anyone really – in Australia is the country's biggest draw. Within the first week of arriving, we were invited to stay at people's homes. BBQs were fired up every night and if we tried to help cook, we were immediately told to "get stuffed, sit down and behave."  
Hotting up
As we left Victoria and entered New South Wales, the landscapes began to change and the roads started to stretch. The ride towards Sydney took its toll as we headed towards the coast for the Grand Scenic Drive (there's a lot of grands in Australia). Bondi beach was rammed, the roads busy and Sydney was packed. It wasn't what we were after and we instantly missed the remoteness of the Divide. We hooked west and headed back for the mountains digging out famous rides like the Oxley Highway and Waterfall Way before dipping back to the Gold Coast for a swim.
But by the time we got to Noosa Heads the riding became endless. We'd ride all day, covering thousands of miles thinking we must be in Darwin by now, only to look at the map and realise we hadn't moved an inch. Australia is gargantuan – 32 times bigger than the UK and eight weeks is nowhere near enough to even scratch the surface. Even eight months would have been pushing it. You'd need one or two lifetimes here… But we loved our trip and seeing just a speck of it was worth every second. 
The ride finished in Brisbane where we dropped our bike off at the shipping depot. We took a quick flight up to Cairns to do some scuba diving at the Great Barrier Reef and have a little rest. It was sad to leave the XT again and say bye to Oz, but we were glad to escape the muggy heat – and spiders. Next stop, New Zealand…
With thanks to…
We always miss the people the most. And Australia is full of awesome, kind-hearted and wonderful people who really looked after us. So we wanted to say a huge thank you to all these awesome folk for taking us in. We loved spending time with all of you. It's people like you that make our trip special and what we remember about a country. Thank you for having us. 
Read more on motorcycle travel in Australia
Thanks for checking out our Australia Motorcycle Travel Blog. We hope you enjoyed it! Here's a few more related articles on riding in Australia that we recommend you read next. 
If you enjoyed this Australia motorcycle travel blog or have any questions, please post your comments below. We'd love to hear from you.