Welcome to the Fly and Ride Motorcycle Rental Guide. Here you'll find all the info you need on Fly and Ride motorcycle trips, how to rent bikes abroad, what you need, expert tips and amazing destinations…
Fly and Ride Motorcycle Trip Guide
What is a Fly and Ride motorcycle trip and is it for me?
If you don't have the time or money for that big round-the-world trip, one way to see the world is fly there, rent a motorbike, have a two-week mini motorcycle adventure and fly home. And this motorcycle rental guide will help you do just that.
This is RTW Patchwork adventure lite. Not having to get the bike ready for shipping, insurance, import paperwork the list goes on. We feel that riding a bike for a couple of weeks round a country without a tent, huge panniers with tyres balanced on top, deadlines, bureaucracy and border crossings is a pretty good idea!
We went on a two-week fly and ride to Morocco back in Sept 2017, travelling through the desert and around the High Atlas Mountains and it cost just under £1,000. If we had ridden to Morocco from the UK, we would have barely reached Marrakesh in seven days, then would have had to turn around and ride straight back to UK, missing out on what we consider to be all the good stuff. Not to mention, it would have cost considerably more on our own bikes riding there, approximately £1,400 as Europe is not cheap.
How to Rent a Motorcycle Abroad
Renting a motorcycle abroad is easier than you might think. Here are the three most important things. First thing's first… you need to check there is cheap bike rental in the country of your choice via a Google search before anything else. Then find a cheap flight by looking at a season, rather than a specific week or month, you have a better chance of finding a bargain price flight this way.
Next up, get decent travel insurance that covers off-road motorcycling as your main form of travel. The motorcycle rental company will include basic motor insurance with the bike. However, if you damage the bike, you are liable and they may not return all of your deposit, often £400. We have repaired the bikes ourselves with new mirrors and indicators so as not to incur any charges.
Finally, all you need to take is your passport, travel insurance and a UK driving licence. An International Driver's Licence (IDP) can be handy, but it's not common to be asked for it. And that's it! Now it's on to choosing the right bike rental company…
READ MORE: What You Need to Know About UK Travel Insurance
READ MORE: Motorcycle Travel Paperwork Explained
Choosing the Right Motorcycle Rental Company
You are often limited to who you can choose to hire bikes from. We open up some dialogue with the vendor to try and ascertain how professional they are. You can check reviews, but you can still get cases of bald tyres and damaged suspension on arrival.
We inspect the bikes prior to setting off normally the day before we want to leave so they have time to change any things we are not happy with. We always ask what will happen in the event of breakdowns. Normally the vendor will cover costs of fixing the bike or bring you a new bike on a truck, but that may take a day to arrange.
Sometimes breakdowns or mishaps are part of the adventure. To date we have not encountered serious damage, but this day may come.
To save you researching for great companies, check out the page below. You'll find a worldwide interactive map, just click the country you're interested in renting in and it'll display a list of the best rental and tour businesses there. 
Recommended Motorcycle Rental and Tour Companies
Click a country on the interactive map and see what's on offer!
How to Choose the Right Rental Motorcycle
We always try and rent small cheap bikes, as light is right in our opinion, but it all comes down to cost and availability. We have rented a 125cc moped for £7 day and up to a 400cc Royal Enfield for about £30 per day. But a Honda CRF 250L is our steed of choice for dirt roads. You don't need to travel much quicker than local traffic on the tarmac as this leads to accidents so a small cc bike is adequate.
We always make a video of the bikes when we collect them, and take a few photos noting any previous damage. Check chain and sprockets, wheel bearings and tyre wear as a precaution though they will nearly always be semi worn road type tyres. Make sure you are given paperwork for the bike by the vendor.
READ MORE: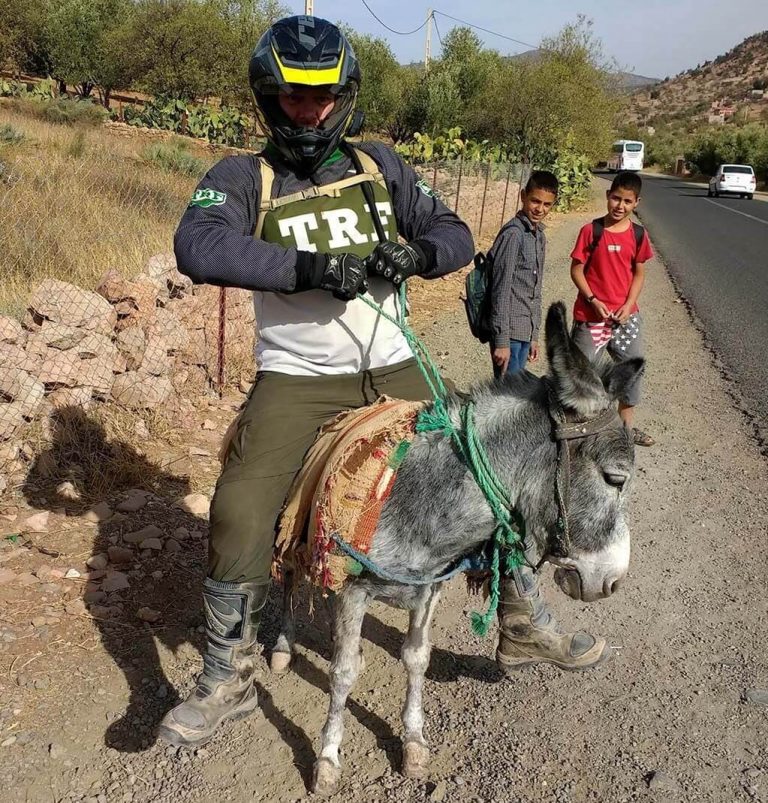 What to Take on a Fly and Ride Motorcycle Trip
Riding luggage
We take our own 50 or 60 litre roll top waterproof bags as you don't need to carry much for 10 days if you're not camping and also carry our own luggage (Rok) straps. You could also go for some throw over soft panniers if you prefer, but just make sure the bike you're going to be renting has racks first. 
Travel luggage
We carry all our kit in big 90L holdalls and put the 50 litre waterproof holdall inside. We fit everything in there including helmet, riding suit, medicine, tools, spare tubes, compressor, spare phone and electricals and that goes on the plane.
Riding gear and clothing
It's up to you what riding gear you feel comfortable in and the climate and weather conditions will of course make a huge difference. Many rental companies provide gear, but it's usually always a better idea to take your own kit that you know fits and works well. Check out the adventure riding gear guide below for more info.
As for personal clothing, we only carry one or two changes of clothes and swim wear. 
Tools
Basic tools should be supplied. Make sure you have a means of repairing punctures on the road and anything else you think you might need 
Electricals
Take a phone mount, USB cable to battery, power bank, etc. We always take a powered phone holder to attach to the handlebars and use our phones to navigate.
Extras
First aid kit and a sense of humour.
The 3 Best Fly and Ride Motorcycle Rental Destinations
To give you a taste of pricing, time, bikes and the type of roads you'll be facing, we've jotted down our notes and expenses for three of our absolute favourite Fly and Ride motorcycle rental destinations below. But of course there are countless amazing countries to travel to. For more info and riding guides on motorcycle destinations check out the below.
READ MORE: Motorcycle Travel Destination Guides
Peru is hands down our favourite. The altitude and rugged terrain is hard going, not to mention the water crossings. It was slightly more expensive than our usual £1,000 pound limit because we cut down travel by flying to Cusco, and there was no way we were missing the fabled Inca City of Machu Picchu!
📆 17 Days
✈️ £680 flights return to Cusco (via Bogota) from London
🏍️ £300 per bike. Honda CRF 250L (10 days 50% up front) (£200 deposit)
🛒 £20 per day per person expenses
📄 Free Visa on Arrival for UK nationals
💸 Total £1,500 including an expensive visit to Machu Picchu (entrance, guide, train and buses for £170)
Total distance and road type: 1009 miles covered in 9 days riding with 1 day off. 30% off-road, 20% poor tarmac, 50% main roads.
READ MORE: Recommended Motorcycle Rental and Tour Companies in Peru
Nepal was an amazing experience riding up into the snowcapped Annapurna Himalayan mountains on Royal Enfield Himalayans. The main roads were dangerous due to crazy drivers, and the off-road sections challenging due to landslides. People were friendly and mostly spoke English. It was cheaper in the countryside but more expensive the higher you climbed in the mountains as well as the big cities.
📆 15 Days
✈️ £421 flights return to Kathmandu (via Dubai) from London
🏍️ £270 per bike. 400cc Royal Enfield Himalayan (10 days)
🛒 £20 per day per person expenses
📄 Visa £35 for 15 days & Annapurna trekking permit £35
💸 Total £1000
Total distance and road type: 574 miles covered in 9 days of riding with 1 day off. 50% off-road, 20% poor tarmac, 30% main roads.
READ MORE: Recommended Motorcycle Rental and Tour Companies in Nepal
We love Morocco as it is the closest place to the UK that you can have a real adventure. It's like stepping back in time with people riding donkeys and the often basic lifestyle. Once you pass through Marrakesh and cross the Atlas Mountains, you drop down into the heat of the Sahara Desert. It's like a real Dakar adventure playing in the sand dunes along the Algerian border. The people are friendly and helpful – despite their pushy stereotype and all the children run to high-five you as you ride past.
📆 15 Days
✈️ £240 flights return to Marrakech from London
🏍️ £340 per bike. XR 250'S (10 days 25% up front ) (£260 deposit)
🛒 £25 per day expenses
📄 Free Visa on Arrival for brits
💸 Total – £1000
Total distance and road type: 1342 miles covered in 9 days riding with 1 day off. 40% off-road, 40% poor tarmac, 20% main roads.
READ MORE: Recommended Motorcycle Rental and Tour Companies in Morocco
5 Top Tips for Fly and Ride Motorcycle Trips
Buy SIM cards at the airport and get the shop to install them so you know they work.
Never book accommodation in advance just use booking.com (barter though). as you go along as you don't know where you'll end up each night.
Never have a set route. Speak to people and the bike vendor on arrival, read blogs and mark up a map with places of interest. A route will organically unfold.
Use Wikiloc or Viewranger to find off road routes other have done, just download the .gpx files and follow them at your leisure.
Make use of public holidays or enforced time off like at Easter or Christmas to extend trips.
Find out more about Ferdinand and Fern's Grand Idea…
The Grand idea is BIG adventures on small budgets. We would love to travel the world non-stop for years, but can't get the time off and don't have the money saved. So, we use our two weeks annual leave twice a year to fly round the globe, hire motorbikes and explore the world one country at a time. Each trip costs approximately £1,000 with the next adventure never far away. This is the joy of the fly and ride.
This is the Grand Idea formula! It's no secret, but it was surprising how many people didn't realise it could be done so cheaply, without a tour guide, hassle and too much pre-planning.
Follow their adventures here
Read more on Motorcycle Rentals and Tours
Thanks for checking out our Fly and Ride Motorcycle Rental Guide. We hope you enjoyed it! Here's a few more articles to help with renting a bike abroad  that we recommend you read next. 
Liked that? Try these next…
We hope you found this Motorcycle Rental and Fly and Ride Guide helpful. If you have any questions, please leave a comment below, we're happy to help!