Women only motorcycle tours are gaining in popularity – and for good reason. Julie Price is an expert on women only tours and runs awesome tours in Cyprus. Here's her take on why ladies love women only tours, why they're brilliant fun and why you should join one…
Since the mid '80s we have been chanting 'girls just wanna have fu-un' and there is nothing truer of us female motorcyclists, but is this the only reason women only bike tours are getting more and more popular? Or are there other more serious reasons why today, more women are choosing to leave the guys at home and go off on a tour organised by women, for women? Here's what I found when asking the question:
Why are women only motorcycle tours such a great idea and why you should join one?
Five Reasons Why You'll Love a Women Only Motorcycle Tour

There are many reasons why we ladies choose to go on a women only tour rather than mixing with the boys. And the most obvious answer is that of safety for solo female travellers. Now, before any boys reading this start protesting, we don't mean that you guys automatically make us feel unsafe, but motorcycling is still generally seen as a male pursuit, a very masculine activity and no one can deny there is a very different dynamic in a mixed group. 
With divorce rates higher than ever and less people getting married than before, more single women are travelling solo and are choosing to stick with single sex tours simply for ease and comfort. To date, the highest increase in women learning to ride are over 45s. Most women over 45 don't want to travel totally on their own, and if single can be left to feel like the odd one out in a group of couples or when the other singletons are in their 20s.
Consider this too: women love hanging out with other women – sometimes to the dismay of their male peers (sorry boys).
So, the number one most common reason we have found why women enjoy and want to join women only motorcycle tours is to feel safe, secure and included.
For women who choose to travel alone but not be alone, we totally understand your safety and mental comfort. Joining a ladies tour is the perfect solution for first time travellers who have no one to go with.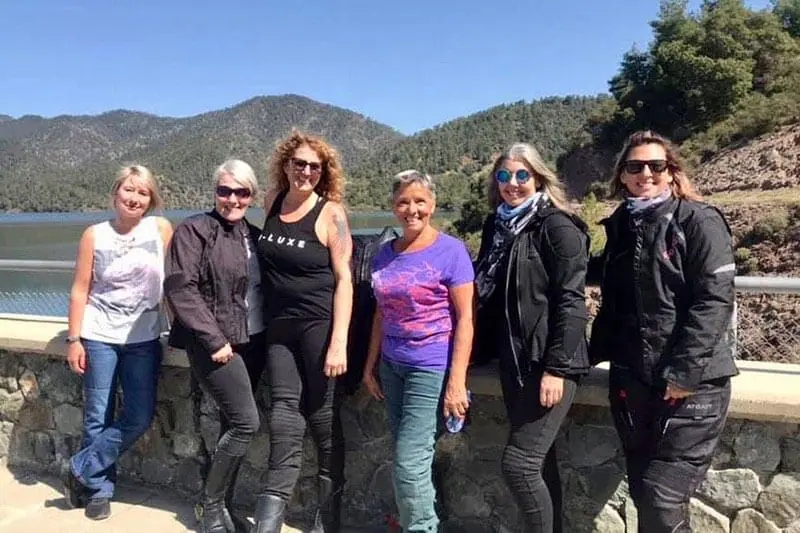 Next in at number two comes camaraderie and friendship. Everyone knows the saying 'what happens on tour stays on tour' and this definitely applies to motorcycle tours too!  As women bikers, not all our friends ride motorcycles, and although we love our non-biking friends, they don't always get us. So, it's extra fun and interesting to be around other women with not only similar interests, but different life perspectives too. With more Venus and less Mars, opinions are heard more, peeing in the woods is easier, women open up more without a male presence, it's risk free, there are no gender limits, it's a non-competitive environment and a complete safe haven for want of better words.
Women only tours often turn into total giggle fests where we can laugh, empathize, support and encourage each other. Share stories, eat well, drink a little (or a lot) and learn from one another. By the end of any women only motorcycle tour there is always a bonding of spirits and a lowering of stress levels.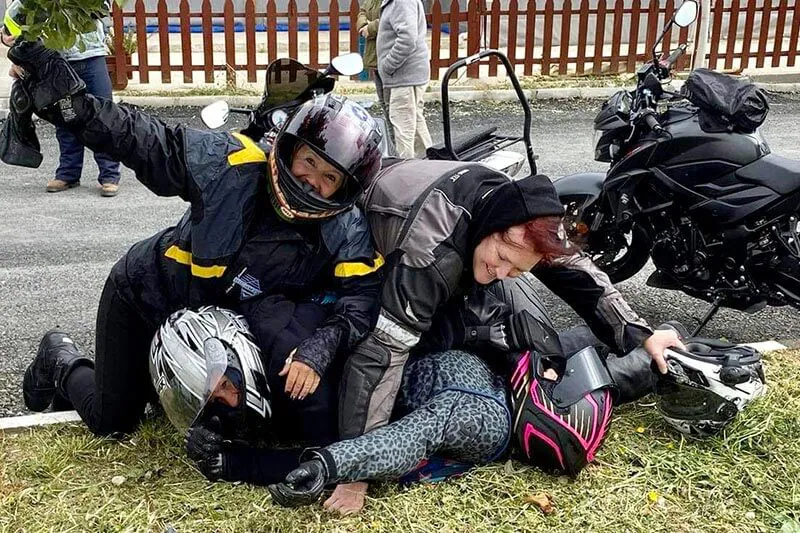 Easy riding
Being looked after comes in at number three. Ease is a huge one for us lady bikers.  In today's world we have to live with Covid restrictions, working from home and shouldering even more housework as we're home more. Then for others there's looking after elderly seniors and childcare – not to forget the drama of home schooling!
Finding space for oneself has never been harder. Getting away from the humdrum of life with likeminded people who understand and are going through the same thing helps the spirit soar and is amazing therapy. Women only tours allow us to leave behind: mum, carer, wife and just be our wonderful selves – arriving back home refreshed and energized.
Joining a tour takes the stress out of it. Women especially love being looked after – considering it's normally them doing the looking after! We like that someone else is doing all the planning and we, for once, are being looked after with no one needing our attention or intervention. Women only guided motorcycle tours are zero stress because all you have to do is book your flight. From the moment you land everything's taken care off including your riding route, all the best sights are plotted out, planning is sorted, hotels booked, where and when to stop for food and so on. You just have to sit back and enjoy the ride.
Women in mind
With motorcycling being male dominated we have found some women (particularly those who are just starting their riding journey and want to get out there on their first tour) just feel more comfortable on a tour catering for women only. Perhaps because these tours are specifically designed for women with all their needs and wants in mind every step of the way. And all the bits that might worry someone who is just getting into biking and thinking of going on their first tour are guaranteed to be catered for.
The route and pace are adjusted, there's regular snack and photo stops, toilet breaks, lunches, and so on. The guides are female and are able to understand and meet your needs far better.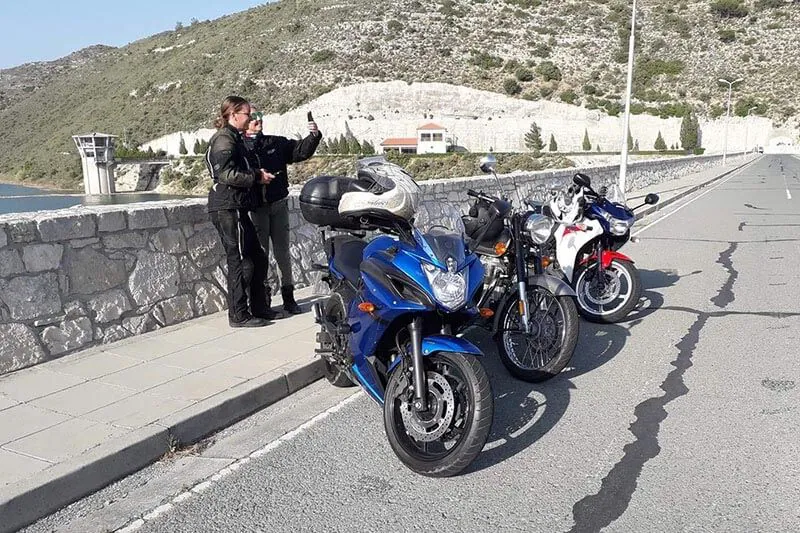 Empowerment
And last but not least in our top five reasons why women only motorcycle tours are such a great idea: they're empowering!  Women only tours can be life changing for some. It isn't because riding with men is hard or we can't keep up or any of that, it's just because it's fun going for a ride with your girlfriends! Women get an amazing feeling of independence and freedom and gain strength and confidence, which they take back to their day-to-day lives. 
Touring on your motorcycle with like-minded women gives a sense of accomplishment, connects you with your feelings, re-awakens desires, refreshes the spirit, touches the soul, increases self-worth, offers a sense of adventure, imparts a can-do attitude all whilst improving self-confidence and developing a sense of belonging, acceptance, trust and true sisterhood. Often for the first time.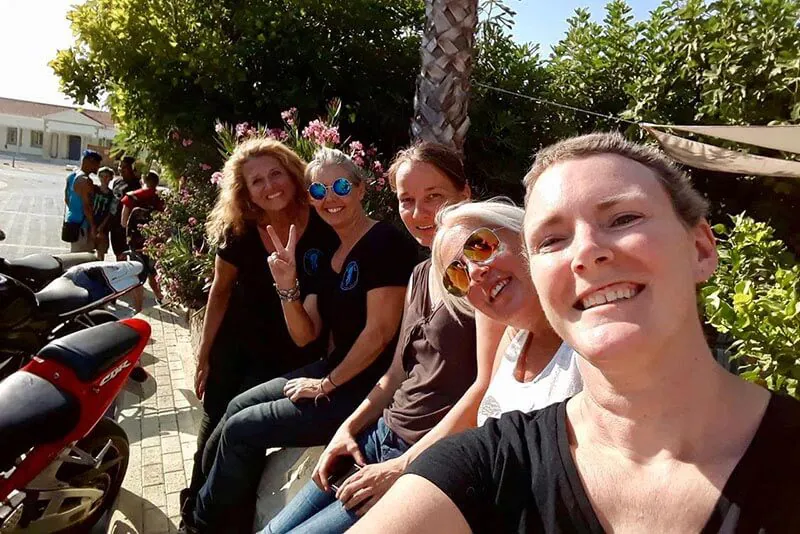 Your turn…
If you're still asking why you should join a women only motorcycle tour, then simply put: it's a safe and welcoming community full of amazing women who love meeting other women from around the world and going on adventures together…
So, what are you waiting for?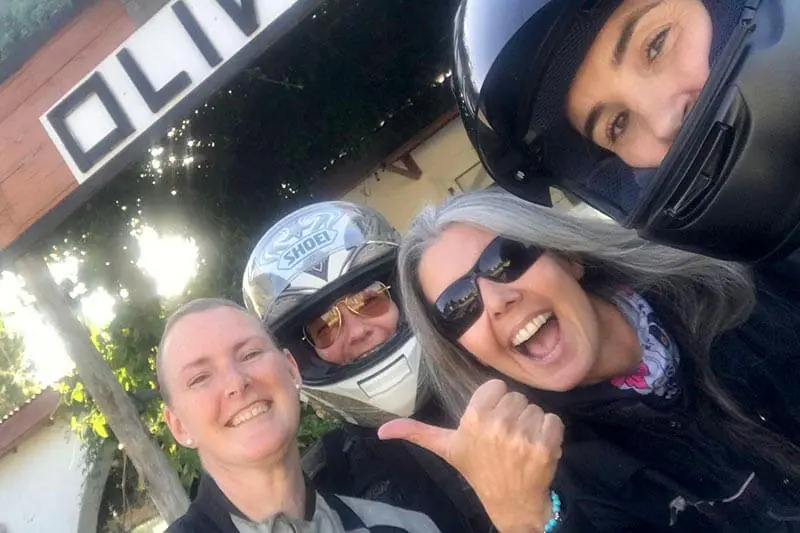 Julie Price is a highly experienced motorcycle rider, instructor and owner of the Cyprus motorcycle rental and tour company Adventure Angels Tours.
It's the only motorcycle tour company in Cyprus set up for families who have a biker amongst them and for people wanting to improve their riding skills and obtain their RoSPA whilst on vacation. Adventure Angels also run popular women only tours, so if you're thinking about joining a tour abroad, check them out: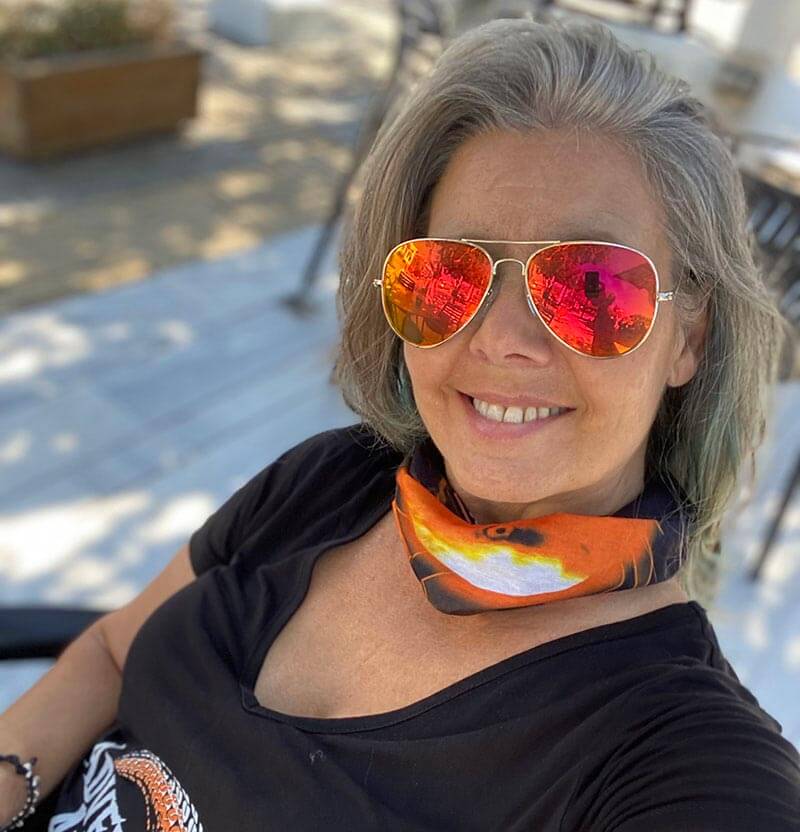 Read more on motorcycle touring
Thanks for checking out Five Reasons to Join a Women Only Motorcycle Tour. We hope you enjoyed it! Here's a few more articles on motorcycle touring in the UK and Europe that we recommend you read next. 
Are you planning on joining a women only motorcycle tour? We'd love to hear from you! Let us know in the comments below.