Welcome to Thoughts from the Road. Here's Deepak Kamath on why you should chase your biking dreams – no matter how big they are…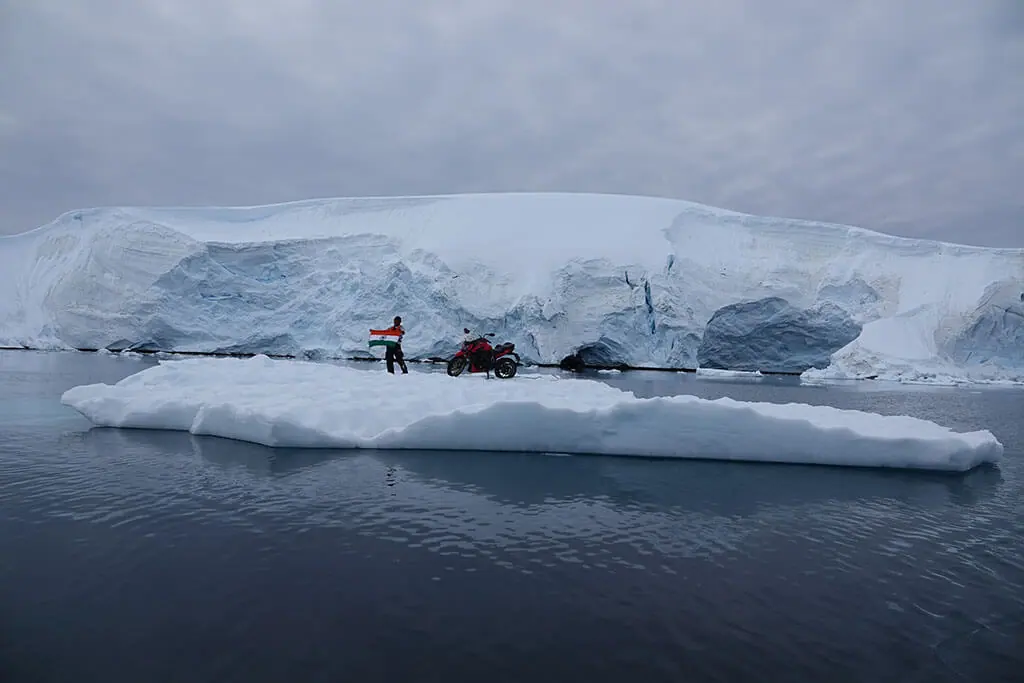 Deepak Kamath's motorcycle travels started when he completed two India cross-country rides in 1990 that took him across the length and breadth of India. The 6,946 miles in 267 hours earned Deepak and his riding partner an entry into the Limca Book of Records (the Indian version of the Guinness Books of World Records). Their next record was riding two-up across 6 continents in 47 days on a Jawa motorcycle.
Over three decades of motorcycle travels, Deepak has covered more than 300,000 miles, across 37 countries, all 7 continents and he's now planning his next big trip!
Follow Deepak's adventures here:
Website: www.deepakkamath.com
Facebook: The Adventures of Armstrong
YouTube: Deepak Kamath
Instagram: The Adventures of Armstrong
Why you should chase your dreams - right now.
"If you don't go far enough, how would you find your limit? I'd like to find my limit." ~ Hubert Kriegel
If you don't know him, you should!
Gifted were those few moments when I got to meet Hubert and we stayed in touch over emails and exchanged stories and pictures. Some people leave a lasting impression and this man certainly did.
We all have dreams. And we all have those big dreams too – you know the ones that dare us to do something different – just for the thrill of it and not just to get in the limelight (let's keep social media "influencers" to one side here!).
It's natural for humans to indulge in greed and if it is related to travel, I am perfectly fine with that because I have succumbed to it. And that means always doing the unthinkable, pushing those boundaries and chasing the big dreams…
I've been chasing mine forever. That includes riding from the shores of the Indian Peninsula to the highest motorable road amidst the mighty Himalayas and circumnavigating the world across the six Continents in a record time of 47 / 119 days.  
And then there was the five landings across the Antarctic Peninsula and finally getting to ride between the Bellingshausen Base of Russia to the Gen. Artigas Military Base of Uruguay. It may not have been everyone's cup of tea, but reaching the 7th continent on my bike will always stay with me as on of my most beautiful moments…
Today, my dream is to fly our Indian Tricolor at land borders across every continent and, as I write this, I'm up to border number 46 on my current trip and still going strong. India is celebrating 75 Years of Independence and my big dream is to hit the 75th border by the 15th August 2022. 
Some people may try and put you off your dreams. I say to each his own. For example, many may feel that I'm rushing across borders or that I've missed things or that I'm doing this trip too quickly, but trust me: I have good, bad, must see, would be good to see, it's okay to miss and save it for another trip lists and will get round to them all eventually. It's my trip and my challenge and we shouldn't be put off by what others say. 
It's a BIG beautiful world out there and we don't have forever. So, if you have a dream, you need to chase it, no matter how big or difficult it may seem or what people may say about it. If you don't push your boundaries and go for the big ones, how will you ever find your limits? Make the most of today, we've been blessed with a beautiful yesterday and no one has seen tomorrow…
Deepak Kamath
What's stopping you from having a go at your big dream? Is it work, family,  time, money or something else?  Or have you already fulfilled it and are looking for the next big challenge…
Thanks for checking out this Thoughts from the Road column. We hope you enjoyed it! Here's a few more articles that we recommend you read next.