Welcome to the Adventure Motorcycle Traveller Reviews. Here's a 40,000-mile review of the CCM GP450 Adventure by round-the-world motorcycle traveller Geoff Keys.  
Quick info
Bike: 2016 CCM GP450 Adventure  
Purchased for: £9,000 + £1,000 for extras
Miles covered: 40,000
Years owned: 4  
CCM GP450 Adventure specs
Engine: Single-cylinder, liquid-cooled, 449cc, FI
Power: 40.23 bhp
Torque: 31.6 ft-lbs
Dry weight: 125.5kg
Seat height: 790-950mm
Tank capacity: 20 litres
Tyres: 21 and 18
Front suspension: 47mm USD forks, 18 stage rebound, 12 stage compression
Rear suspension: Single shock, pre-load, 12 damping and 24 compression stages
Mainly because of its light weight. It's only 125kgs dry weight. I liked the style of it and the fact that it was designed as an adventure bike. It has genuine off-road capabilities. The 450cc engine with its 40bhp output is about ideal for adventuring. It looks pretty good too.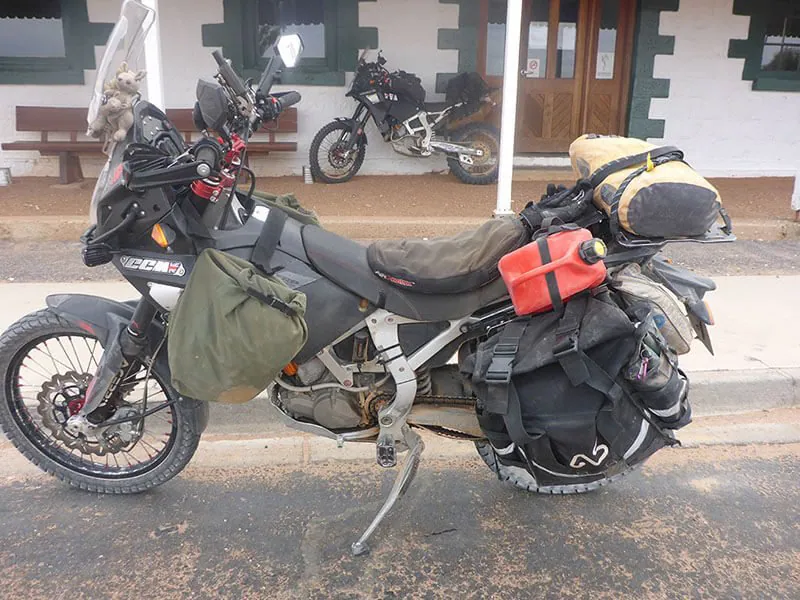 I fitted ram mount double take mirrors,
Oxford heated grips
(very good), twin filament spot lamps and a Tutoro chain oiler (very good). The factory installed a slightly lower suspension knuckle (a favour from the mechanic), a hydraulic pre-load adjuster for the rear suspension and a level 1 Power Commander to tame the low speed jerking.
The factory supplied a luggage rack too. To this I fitted aluminium backing plates on which to mount my pannier bags. They were made by Zen Overland specifically for this bike. Zen also supplied a plate to go on the rear rack, which increased the size quite a lot. I use the
Adventure Spec Magadan soft panniers
(brilliant), an
Enduristan luggage bag
and have tank panniers too.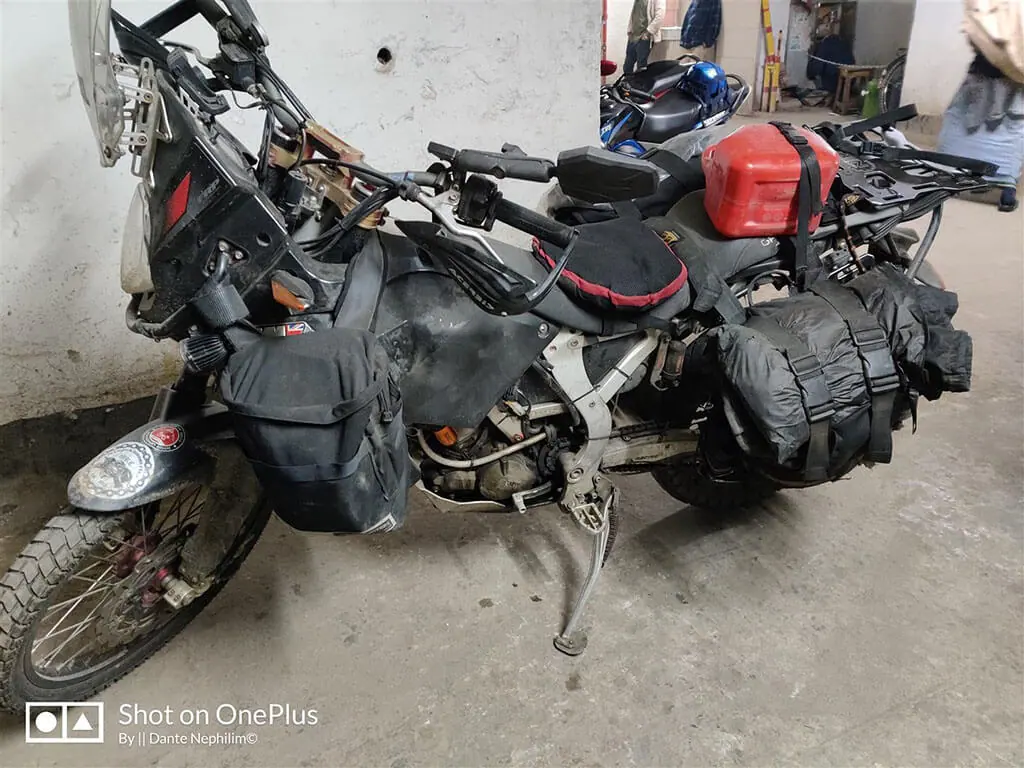 If I'm honest, not all that reliable. There are some inherent faults which suggest a lack of development time such as the front mudguard stays that keep fracturing (they're metal), exhaust header pipe splits next to where a boss is welded on and the horn bracket breaks. Most people put this down to the excessive vibration produced by the engine. The generator failed, as did the regulator eventually. The biggest problem was that the electric fuel pump failed. Replacing it involves removal of the under seat fuel tank. Doing that involves removal of the rear suspension. The instrument panel got condensation inside it and never worked properly again.
In fairness to the factory, they replaced some parts under warranty. And I should add that I give my travelling bikes a hard life.
Not bad. The factory suggests a 5,000-mile oil change interval. I did it at 3,000 miles. Most other items are as and when. The air filter is foam, so that's easy to maintain.
Servicing is very simple, although one of the side tanks has to come off to check the spark plug. I bought a K&P stainless steel oil filter, mostly to save the hassle of carrying new filters around with me. I wouldn't have been able to get them on the road. Checking valve clearances is a workshop job because they're bucket and shim.
Getting parts means sitting somewhere and waiting for them to arrive from the UK. But the service from the factory is very good when you need something. But when I needed the fuel pump and the regulator I was stuck while I waited. I carried spare cables, brake pads and sprockets. A few other odd bits too.
It's quite a comfortable bike to ride. I always use an Airhawk seat, which helps a lot. The screen is useful at keeping the wind off you. For me, the riding position was good.
The design of the bike is very good in most respects. It feels right when you're riding it and it's great off road. I love the light weight. The quality of most of the components is very high. They look similar to KTM gear. Suspension and wheels are high quality. Carrying luggage was easy enough. It will hold a speed between 70-80mph no problem. The power and torque of the engine are ideal. It handles very well too.
Fuel consumption is poor. If I got 20kms per litre, or more, I felt I'd had a good day. By comparison, if my Suzuki DR350 gave me less than 25kms/litre, I thought I'd had a bad day. You can't access anything on the engine without removing the side fuel tanks, and that's a real PITA to do. The engine only holds 1.2 litres of oil, so it has little in reserve. Oil consumption was fine until the mileage got high, then it started to use a fair bit. The quality of build wasn't great. Some of the wiring installation was very poor.
It needs a different and more road orientated engine. It's fitted with a Kymco designed enduro racing engine as used by BMW, Husqvarna and Husaberg. It's been detuned for road use but does suffer from that heritage. The layout of the front tanks needs to be revised. The instrument panel is useless. It's far too complex yet lacks a rev counter.
In fairness to CCM this is their first try at this kind of bike. In that respect they've done a pretty good job. The price seems quite high but so is the quality. Other bikes that cost less then make up the difference with the cost of extras. They don't make this bike any more but if they do develop another one I suspect they'll use the 630cc SWM engine they're using in their other bikes. That will be much better.
I've enjoyed travelling on this bike, apart from the reliability issues. These must be addressed on any future model. It got admiring looks wherever I went, so the quality obviously impresses. I don't think it's a great RTW bike, simply because of the reliability issues. But they need to take note of user feedback as well and rethink the design a bit.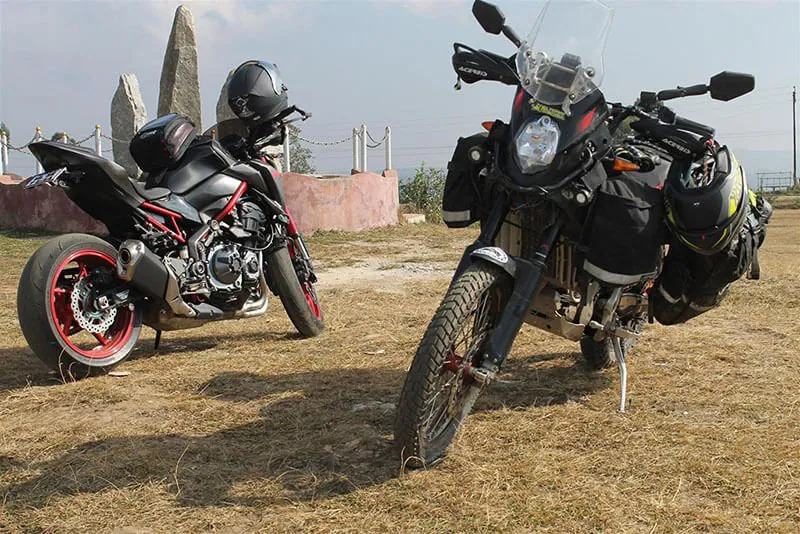 Geoff Keys
Geoff was 62 years old when he left London six years ago to ride his bike round-the-world. In his words, "I'm mainly travelling simply because I want to see the world and find out about other peoples' lives".
Follow his epic adventures on Facebook, Twitter and his website motopangaea.com.
Read more about his trip here: Trapped by Coronavirus
Read more on Motorcycle Reviews 
Read more on adventure motorcycle reviews 
Thanks for checking out this CCM GP450 Motorcycle Review. We hope you enjoyed it! Here's a few more articles on motorcycle reviews that we recommend you read next. 
Are you planning a motorcycle trip, interested in this bike or have any questions? Let us know in the comments below.