Crossing the Caspian Sea by ferry can either be a smoother, easier and faster way of getting to Central Asia than riding through Russia or Iran… or it can be two weeks of waiting at the port, stress at customs and ridiculously long crossing times. Either way, you're going to have a memorable experience. Here's how to get from Azerbaijan to Kazakhstan via the Caspian Sea…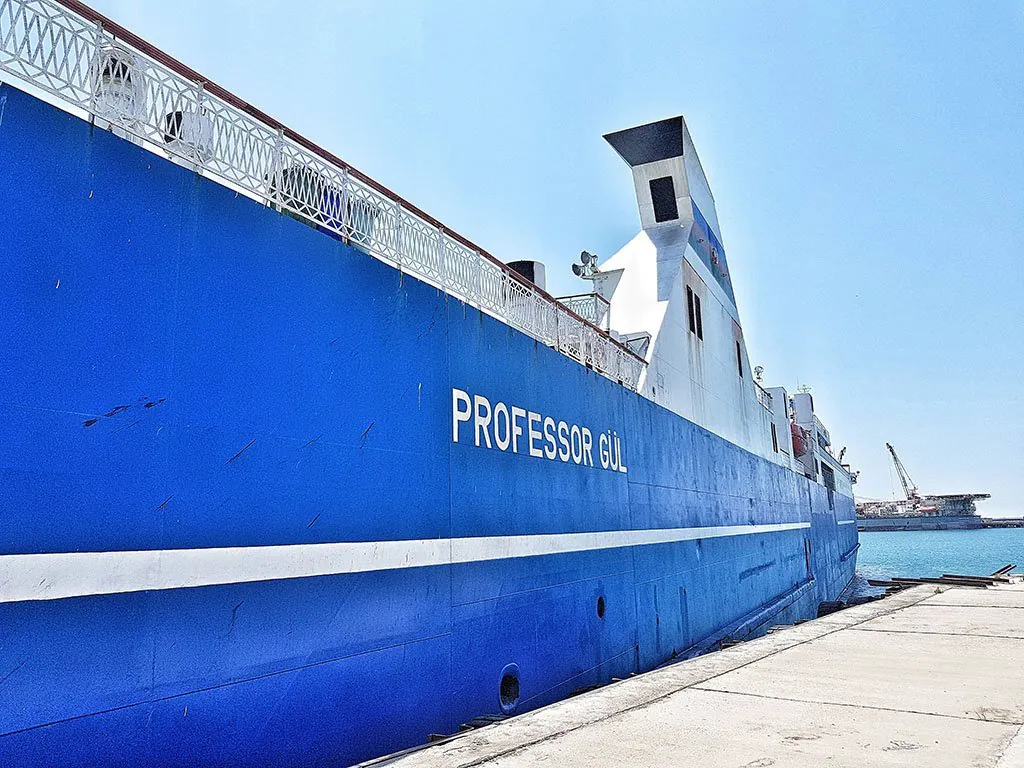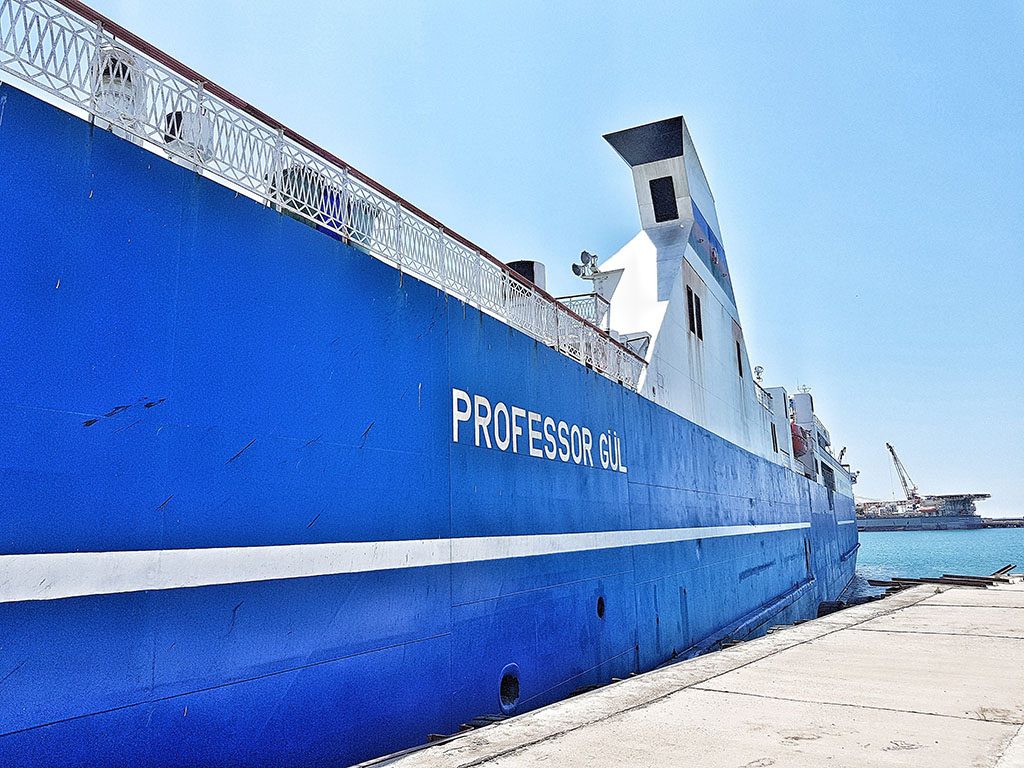 Azerbaijan is closed
UPDATE: August 2023
The land border between Georgia and Azerbaijan is still closed. You can travel from Azerbaijan to Georgia, but not from Georgia to Azerbaijan. This is because Azerbaijan shut its borders back in 2020 due to the pandemic. Since then it's constantly been reported that the border will 'open shortly'. But we're now in August 2023. Unfortunately, that means the Caspian Sea ferry is also not running and we have heard no reports of it opening back up as of yet.
As soon as we hear of a reopening we will update this section.
Where is the Azerbaijan ferry port?
If you're heading to Aqtau, Kazakhstan then the port is in Alat, some 70km south of Baku. You'll see this anchor on the main road, turn off here and head towards the sea.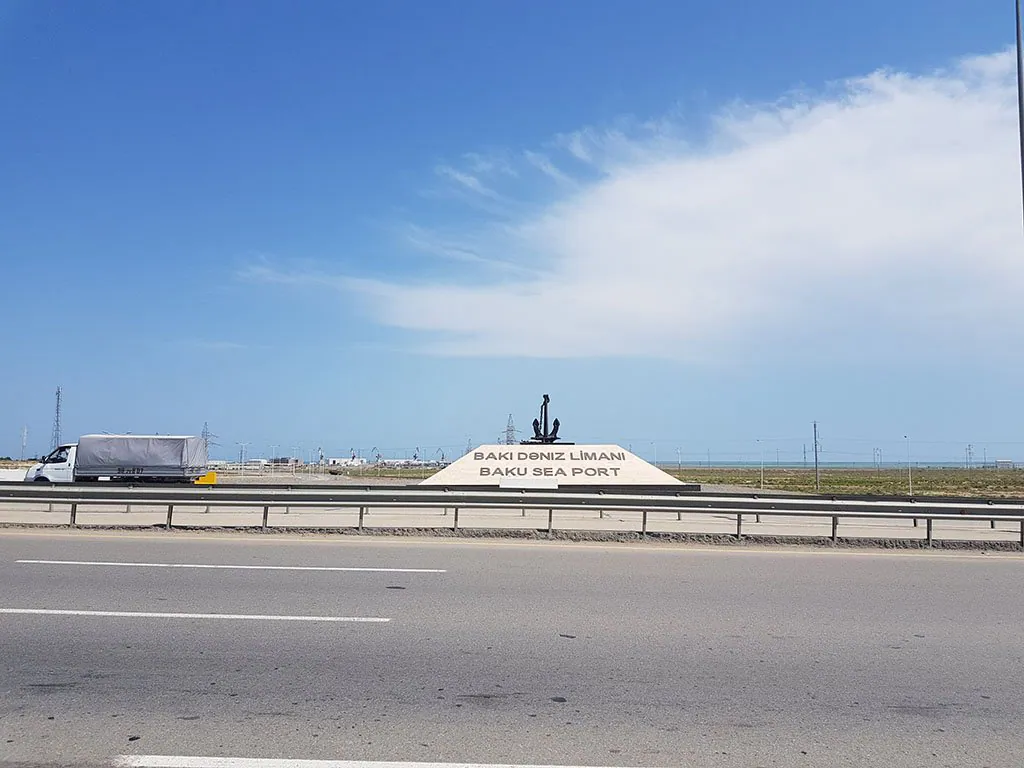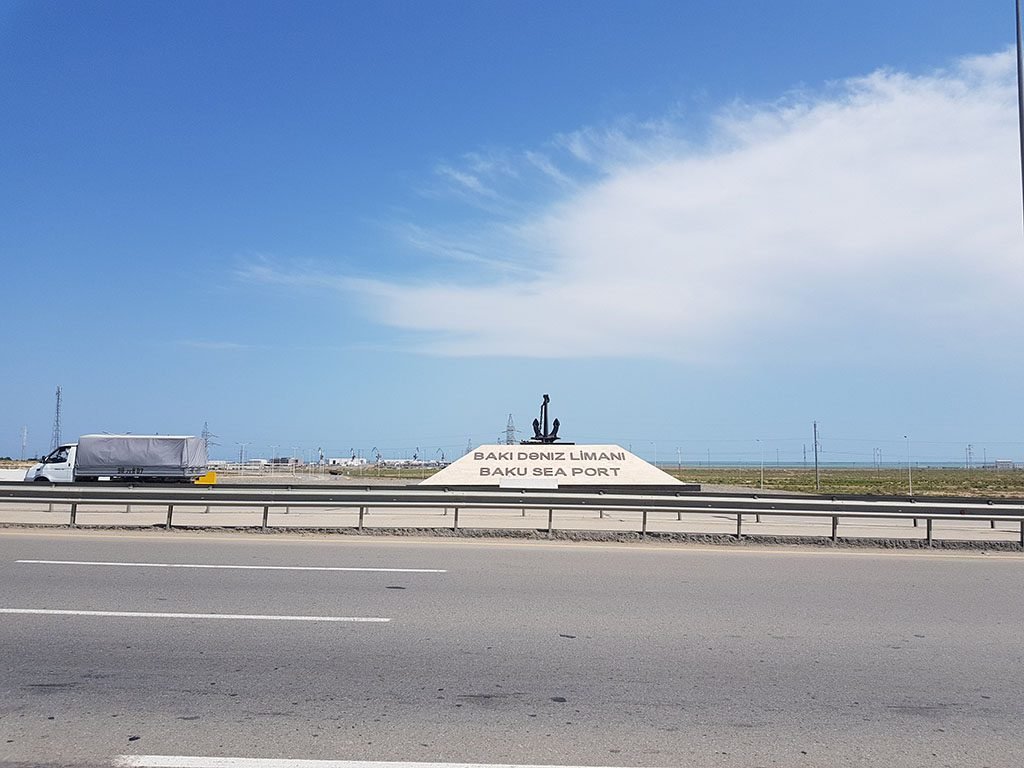 You'll then come to a barrier, they will want to see your passport and vehicle registration to log your port entrance. Once through, turn right and head to 'Border and Customs Check Point 2'. You do not need to go to any offices in Baku for any reason. Everything is now done at the port in Alat.
Azerbaijan ferry timetable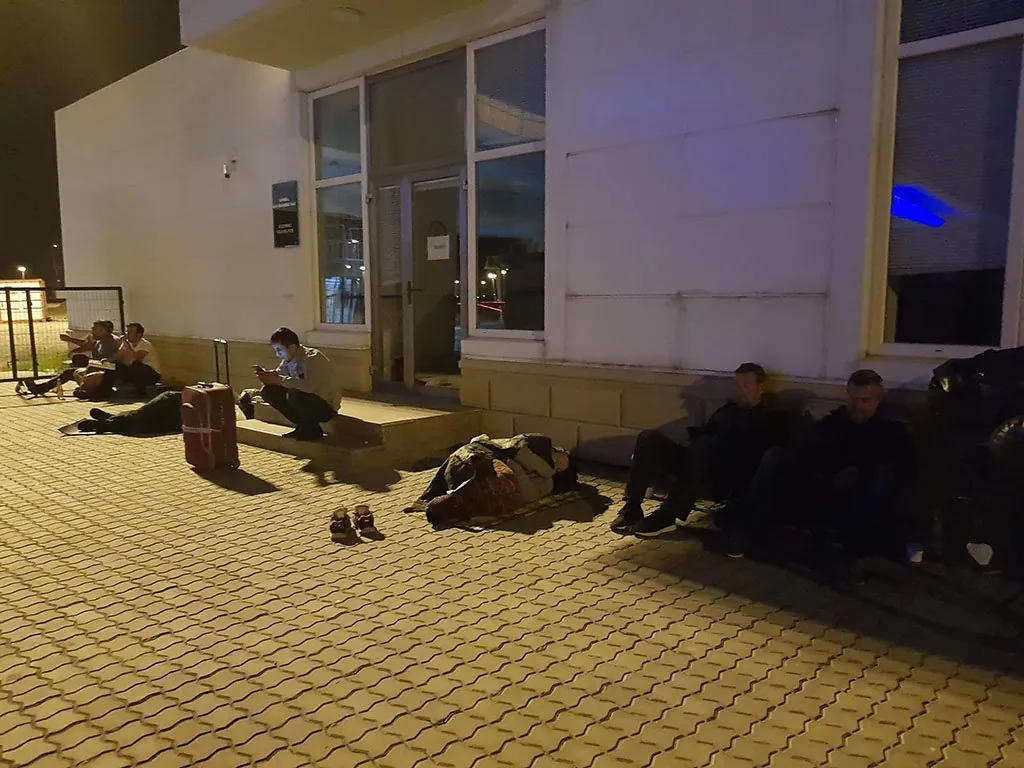 There isn't one. Many people advise calling the Caspian Sea Ferry contact numbers +99412 493 51 85 or +99455 999 90 77 every day to see if one is arriving. I'm not sure why, because it's incredibly unreliable and that's even if they pick up the phone. The ferry leaves when it's full and if weather permits – that's all there is to it. We waited 12 hours at the port before boarding. That's lucky – people camp out for three to nine days (nine is an exception, but it can and does happen). A good rule of thumb is to head to the port and expect to camp for three days.
Ferry departure and sailing times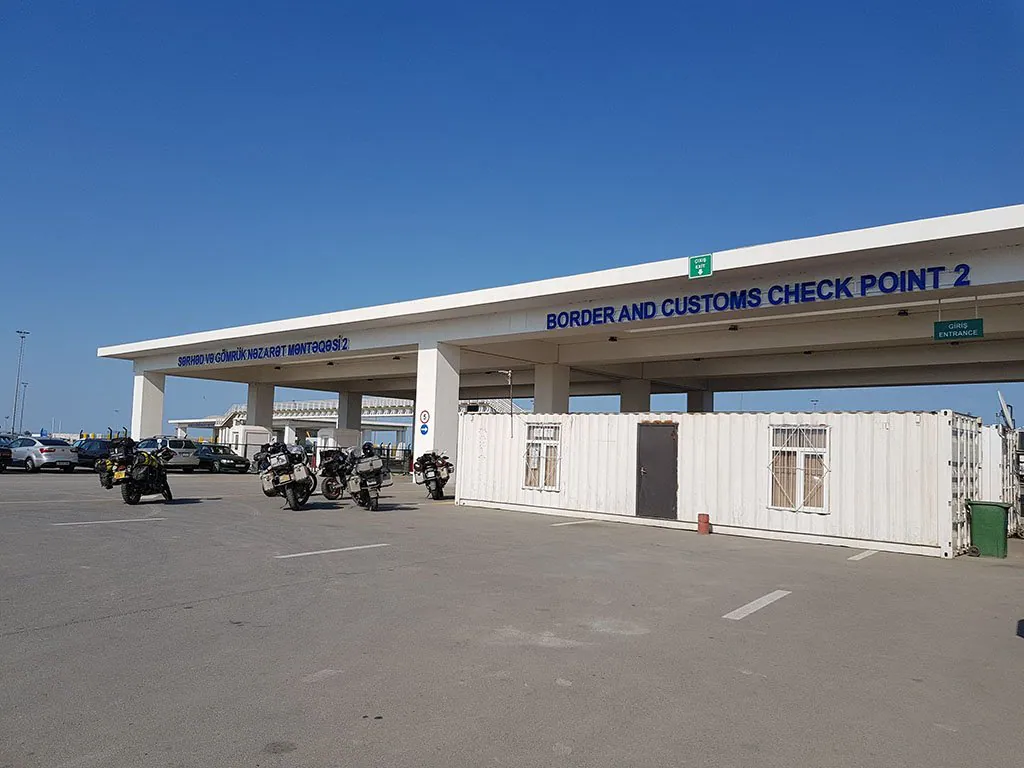 You don't. Your best bet is to head straight down to the port, buy your ticket and just wait it out. It sucks, but it's the best way. Once you're there, don't leave the port (you can, but it's not advisable). We were waiting at the port with three other motorcyclists who arrived a week prior and were told the next boat would be in three days. So, they left and when they returned, three days later, they learned that the boat had been and gone. If you're at the port, the boat isn't there, you're super confident it's not going to turn up and leave in the next three hours and you've got transport then consider taking a quick trip to the Mud Volcanoes at Gobustan – they are well worth a visit.
Buying your Azerbaijan ferry ticket
There is a website where you can purchase a ticket. It is pointless as you will still need to go to the port in order to obtain it. Just do it at the port. You'll meet friendly Vladimir in one of the shipping containers (speaks good English). He'll need your passport and vehicle registration if you have a car or bike and ask if you want a four or two-person cabin. He'll then give you a ticket and ask you to go to the bank next door and pay. Once you've paid, take the receipt back to Vladimir and he'll produce a ticket for you.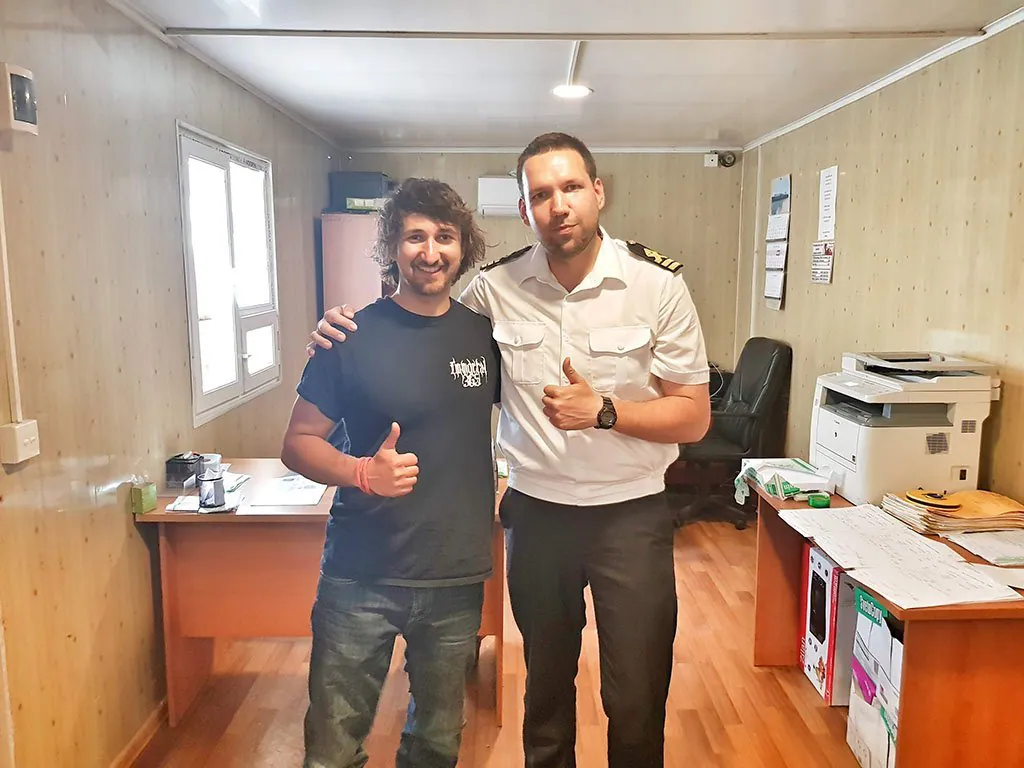 Prices
You will need to pay the foot traveller cost, plus whatever vehicle cost you have. The price includes three meals a day while on the boat, a four or two-person cabin, bed linens and 'strapping' your motorcycle down (a piece of string, but safe enough).
Foot traveller – 80USD
Bicycle – 10USD
Motorcycle – 110USD
Car – 300USD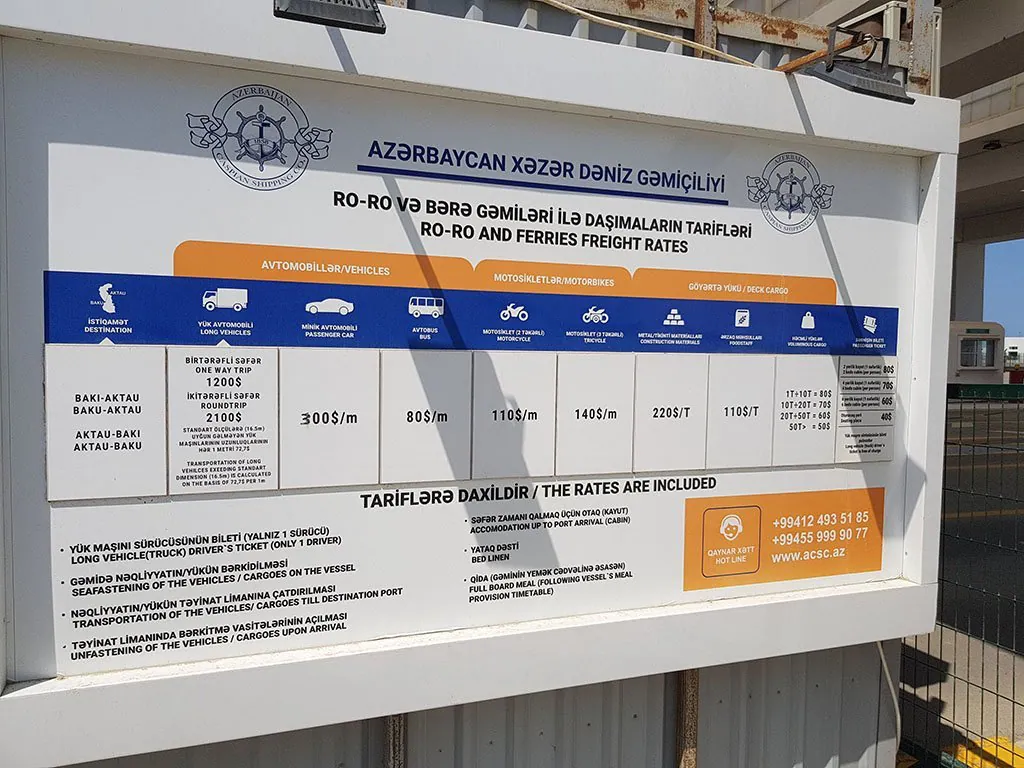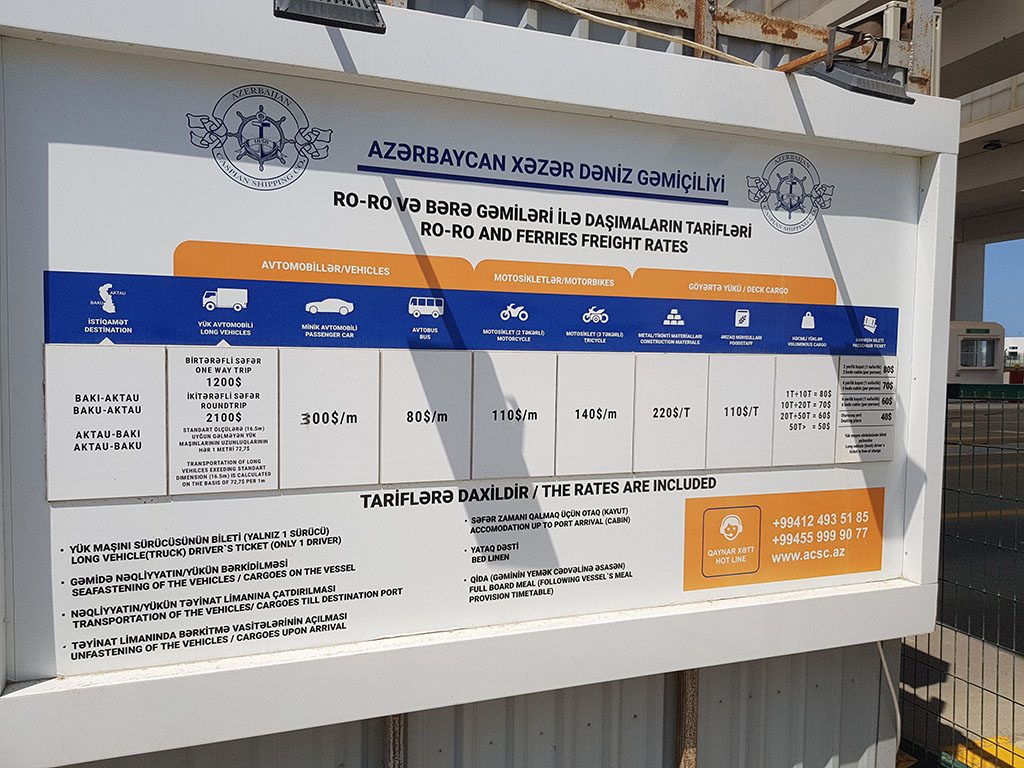 Vehicle owners will also need to pay an additional 7USD for a 'special bridge tax'. There are plenty of reports online of these bridge taxes being a scam, however, no proof to back it up as a scam, it could just be that the authors weren't happy paying it. Either way, they ask that you visit a separate container and pay the amount. It looks official enough as they write down your vehicle information and passport details and provide you with a receipt. Nobody checked we had this paper though. There should be no other fees, just ticket and bridge tax.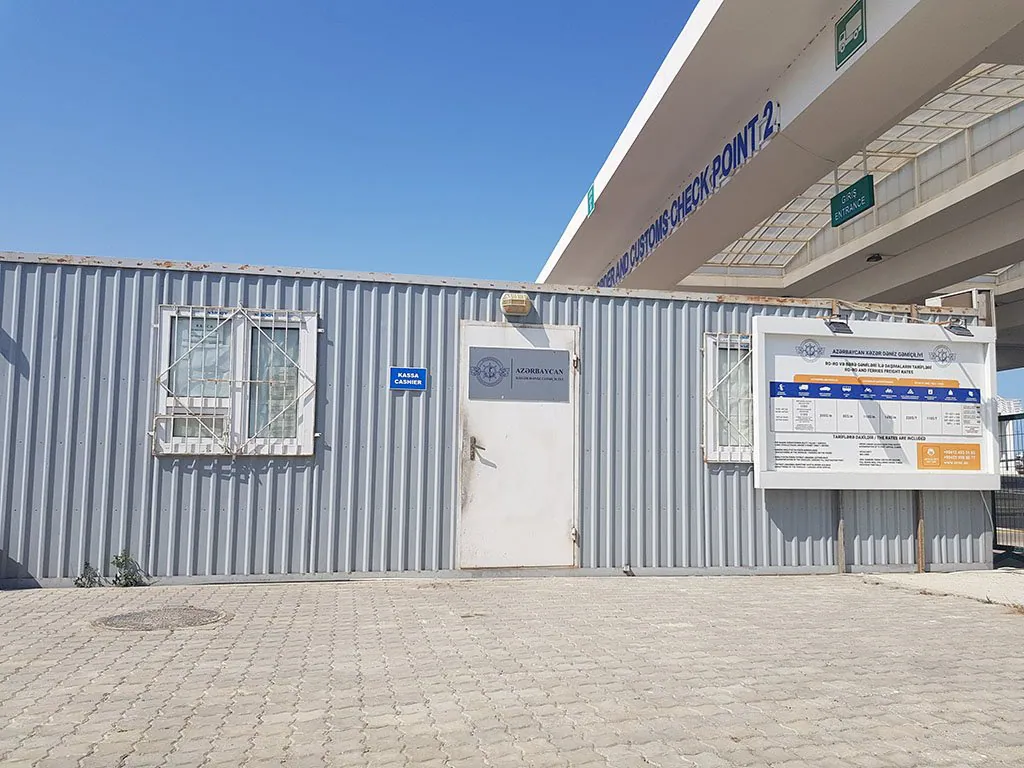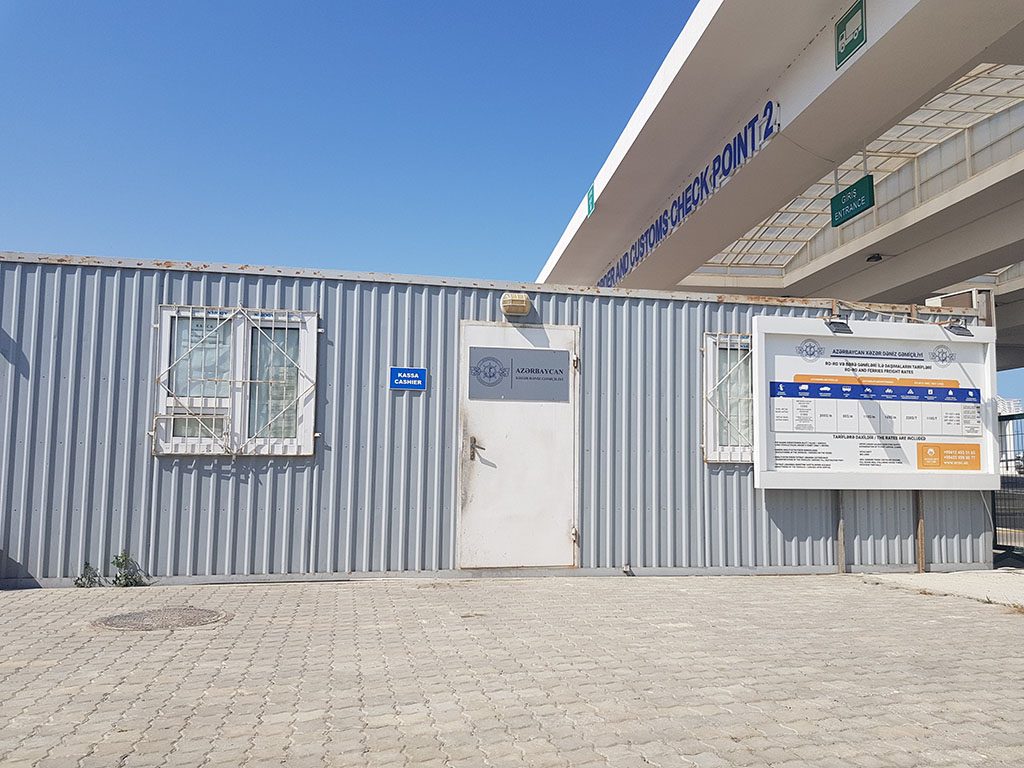 Money
There is nothing to buy on the ferry so you don't need to worry about having any Azeri, American or Kazakh money. Your three meals a day are included in your ticket price and you can find water. But, pack your own water and take plenty of snacks just in case. Get rid of your Azeri money at the Azerbaijan port as you won't need it anymore. It's always worth carrying USD through Central Asia, so you could always withdraw some from the port's ATM if needed. Don't fret about Kazakh money as there's a working ATM and a mini bank at the Kazakh port.
What can I find at the port?
The Alat port is surprisingly well equipped, despite how bleak it looks on arrival. There's a bunch of shipping containers, which all have a function. You'll find:
Vladimir's ticket office – Vladimir is a friendly chap who speaks good English and is your main contact.
The market shop – Very well stocked, sausages, eggs, vegetables, snacks, water, fruit. The market is open 24⁄7
The 'restaurant' – It's not actually a restaurant, you buy the raw ingredients from the market container and take them to the 'restaurant' container. The nice man in there will whip them all up into a tasty meal for you for about 1 USD.
The bank – There's a manned bank which will exchange US dollars and Manat. You pay the guys in there for the boat. They do have a card machine but it rarely works.
The ATM – An ATM sits just outside the bank, dispensing both Manat and USD. You will need to withdraw USD and pay for the boat in that currency.
Toilets – Not the most pleasant
Showers – Closed when we were there
Female toilets – Females can ask for a key to the locked ladies only toilets
Wifi – It can be purchased for 1USD a day. The best reception is by the 'restaurant'
Waiting at the port
Waiting at the port isn't a problem, regardless of when your boat leaves. It's advisable to take a tent or at least a mosquito net as they attack at night. You can pitch your tent behind the containers and in front of the ticket office. With food and water readily available it's not all that bad waiting at the port.
Visas
This is where it gets tricky if you're cutting it fine. You'll most likely have a 30-day Azerbaijan visa. You will need to make sure you plan your exit so you don't overstay your visa. Turning up at the port the day before your visa expires can land you in a lot of trouble if your boat doesn't leave for another three days. If you're planning on doing this then you'll need to check with the authorities on the procedure.
Customs
Once the go-ahead has been given, you'll be directed to Customs Point 1. There you'll need to visit the customs office, provide your passport and the slip of paper you received when entering Azerbaijan. You'll be given it all back and told to go to the passport booth to be stamped out. And then that's it – head to the boat!
If you stay in Azerbaijan for 10 days or longer you need to register yourself. Plenty of people worry about registration and if they'll be asked for it at customs. We registered online, did not print any confirmation slips and were not asked. For a full guide to the Azerbaijan visa and registration procedures click here.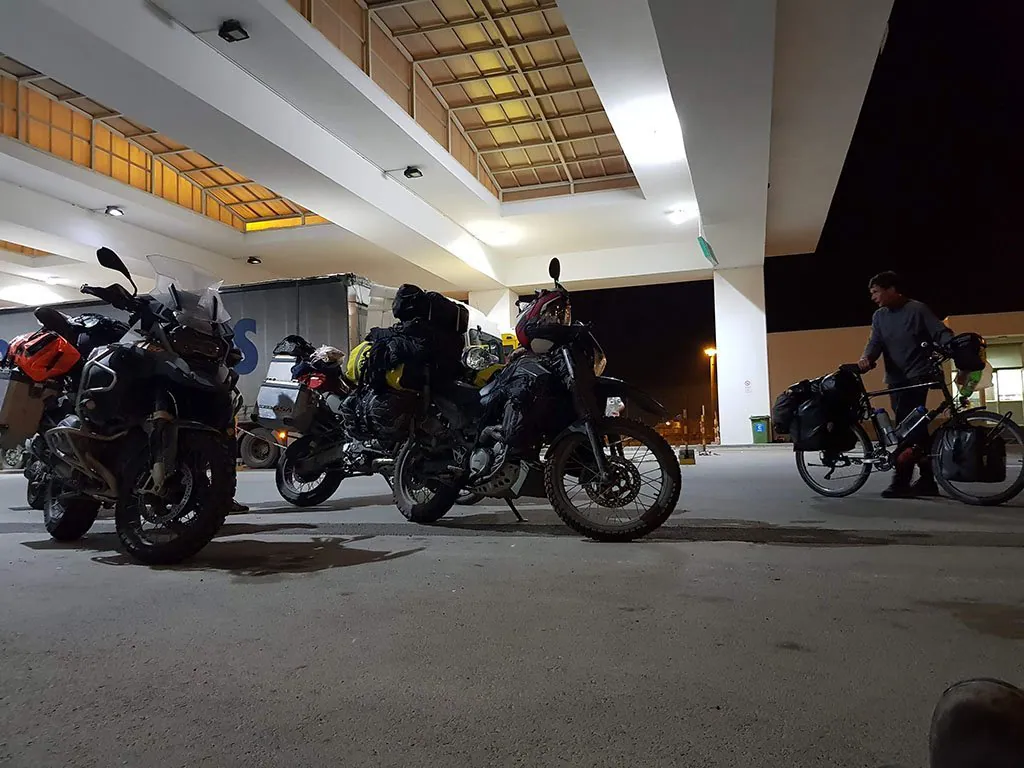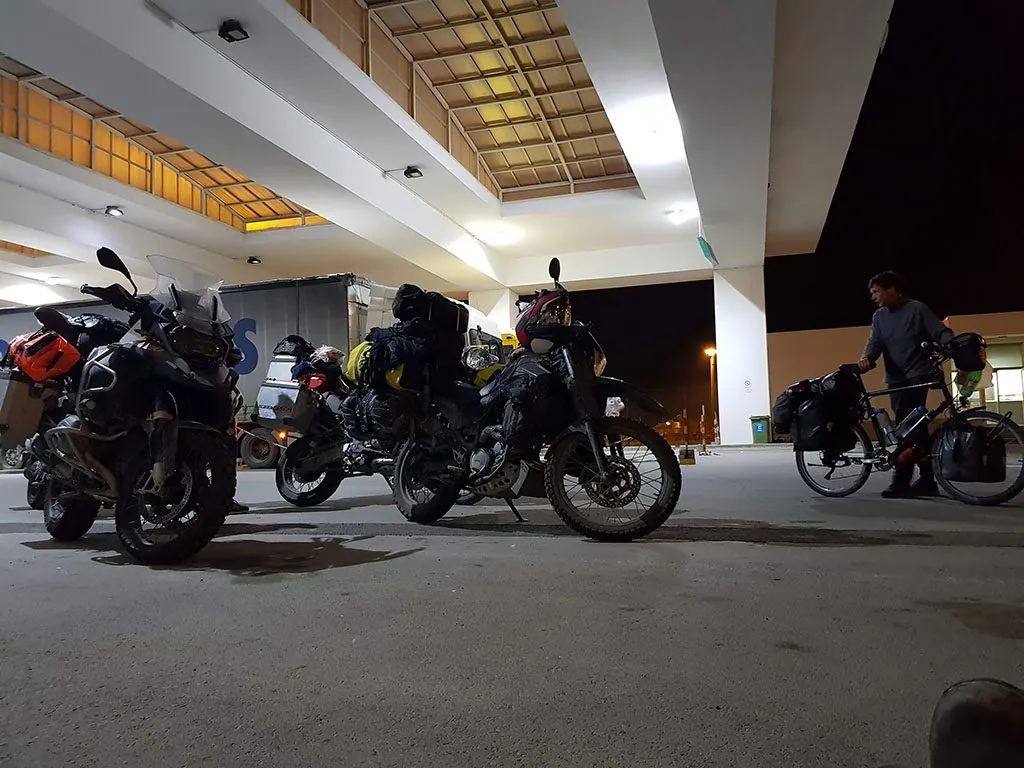 What to expect on the ferry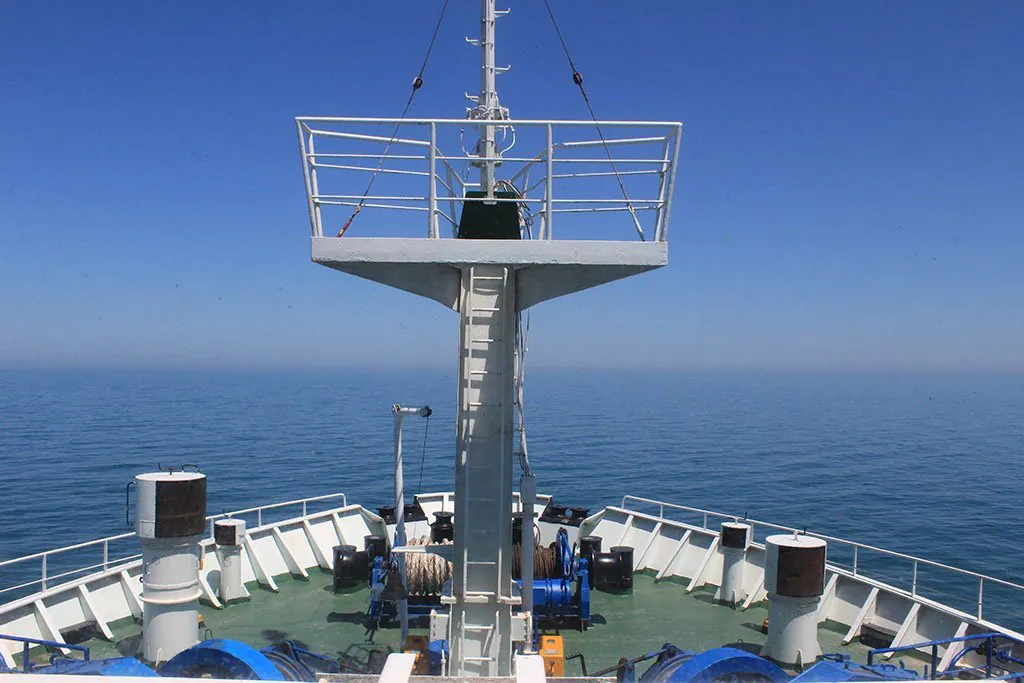 If you have your own vehicle it will be tied down. Grab whatever bags you need and head upstairs. You can return to your vehicle later, but only at specific times in the morning and evening as the doors will be locked.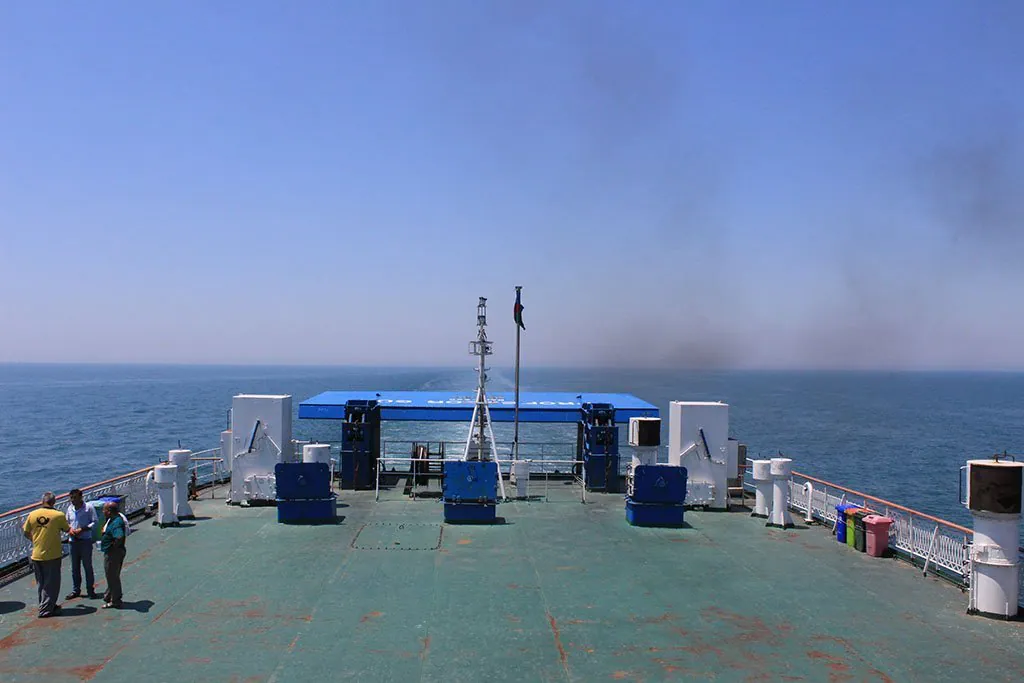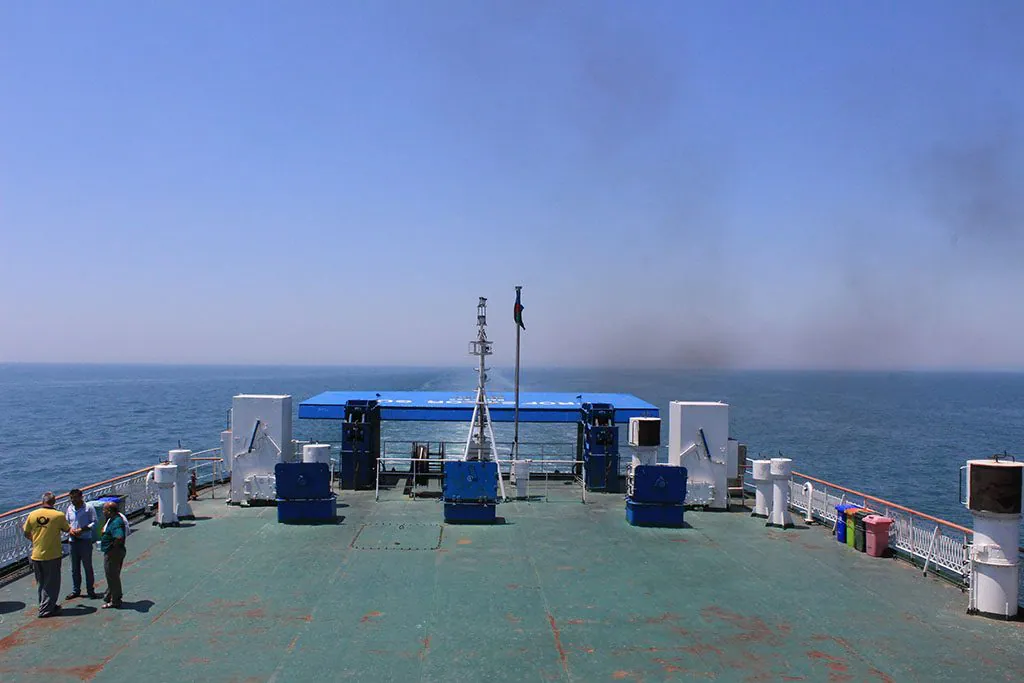 You're free to roam around the rest of the boat, sunbathe on deck or just hang out with fellow travellers on some of the benches. It's definitely worth exploring – as you won't have much else to do.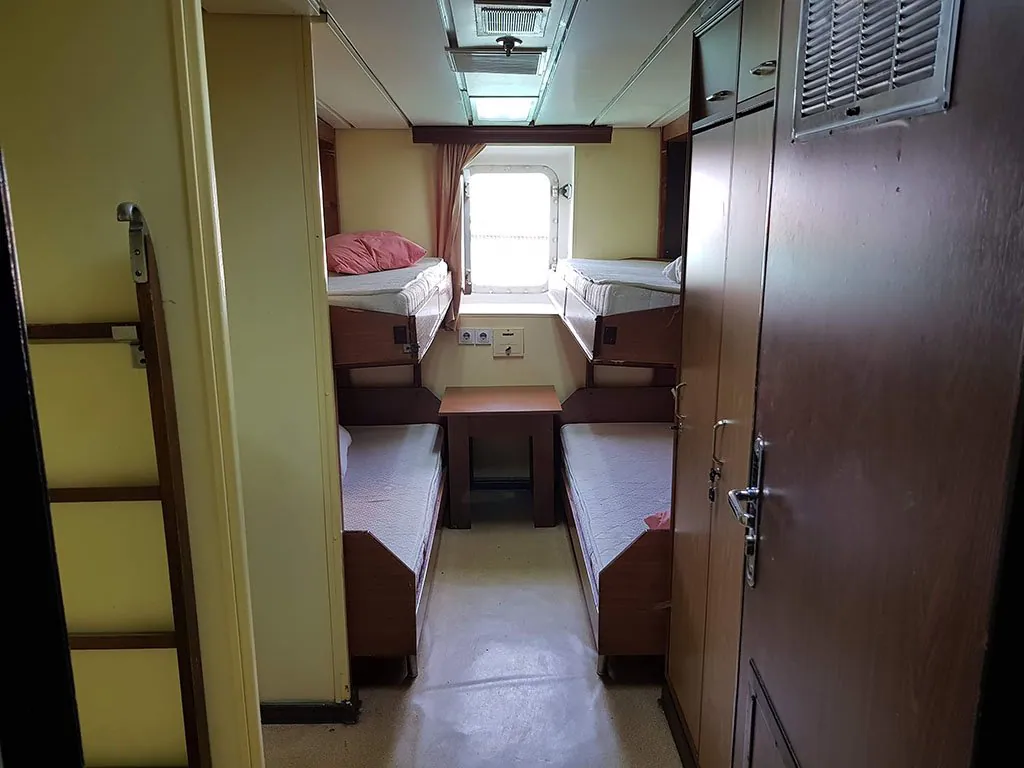 Once upstairs make your way to the common room area where you'll find a "friendly" lady with the cabin keys and linens. She'll direct you to your room. Rooms are very basic and usually with no window so they heat up rapidly. Most people sleep with their doors open.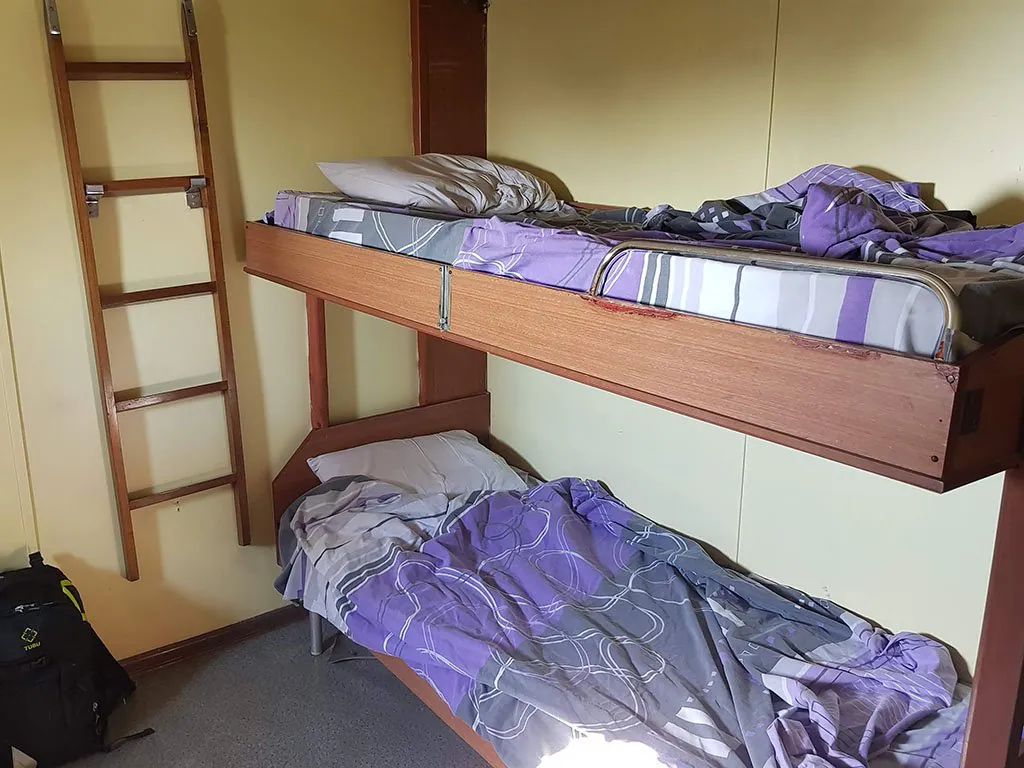 Females and those travelling with females are in luck. You'll be treated to a private room with an en-suite toilet and shower, and they usually come with a window too. If you're not a woman or travelling with one then you'll need to use the communal toilets and showers. Cabins come with a key to lock the door.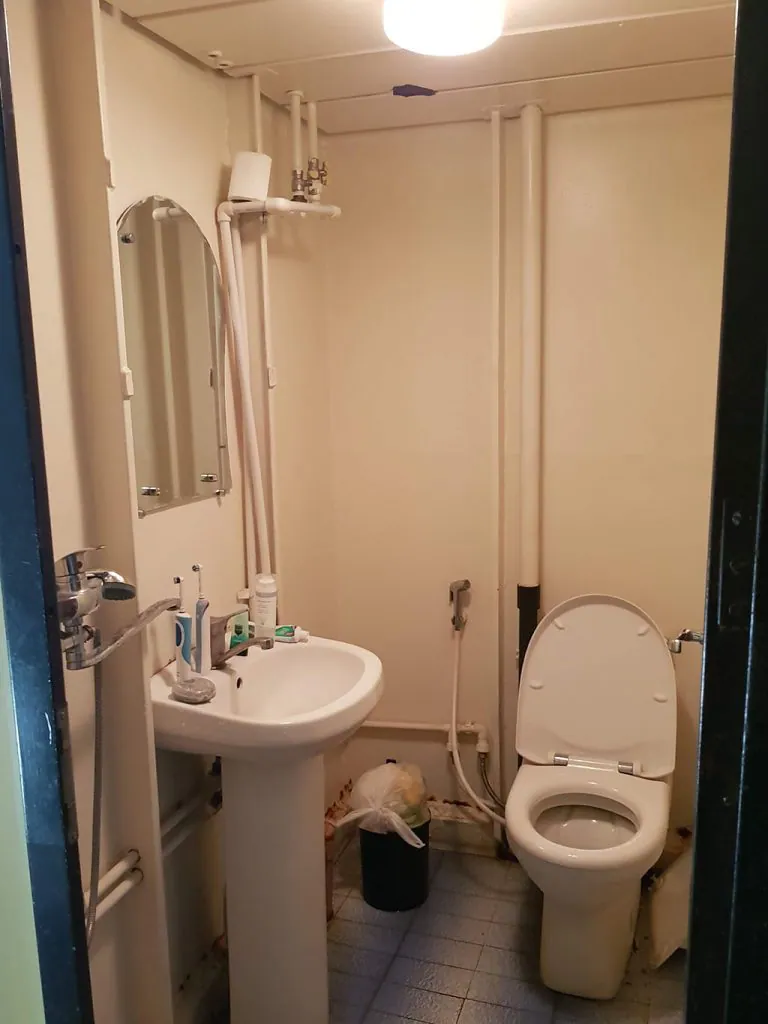 Food
The food isn't that bad at all. There are three meals a day and the times they're served are printed on the kitchen's door. Regardless, the 'friendly' lady who runs the cabins will almost smash your door down every time food is served – and if you don't answer she'll just walk in to tell you to get out of bed (lock your doors). You can expect boiled eggs, bread and tea for breakfast. Lunch is chicken and rice with Coke or Fanta and dinner is either the same as lunch or a soup with bread.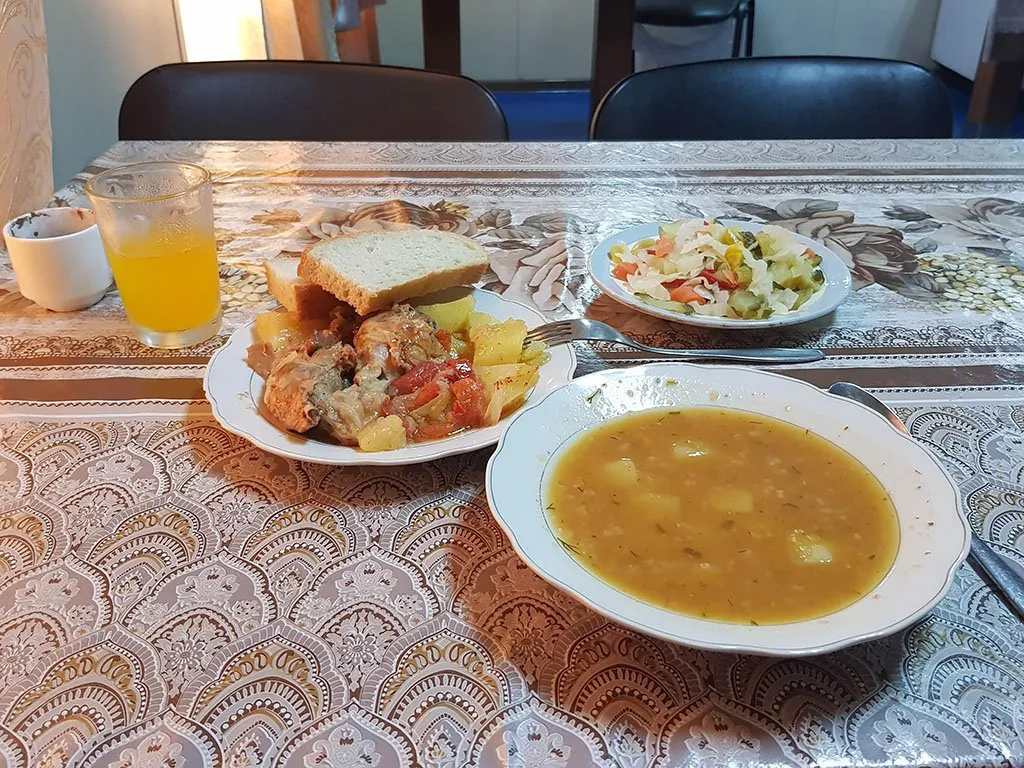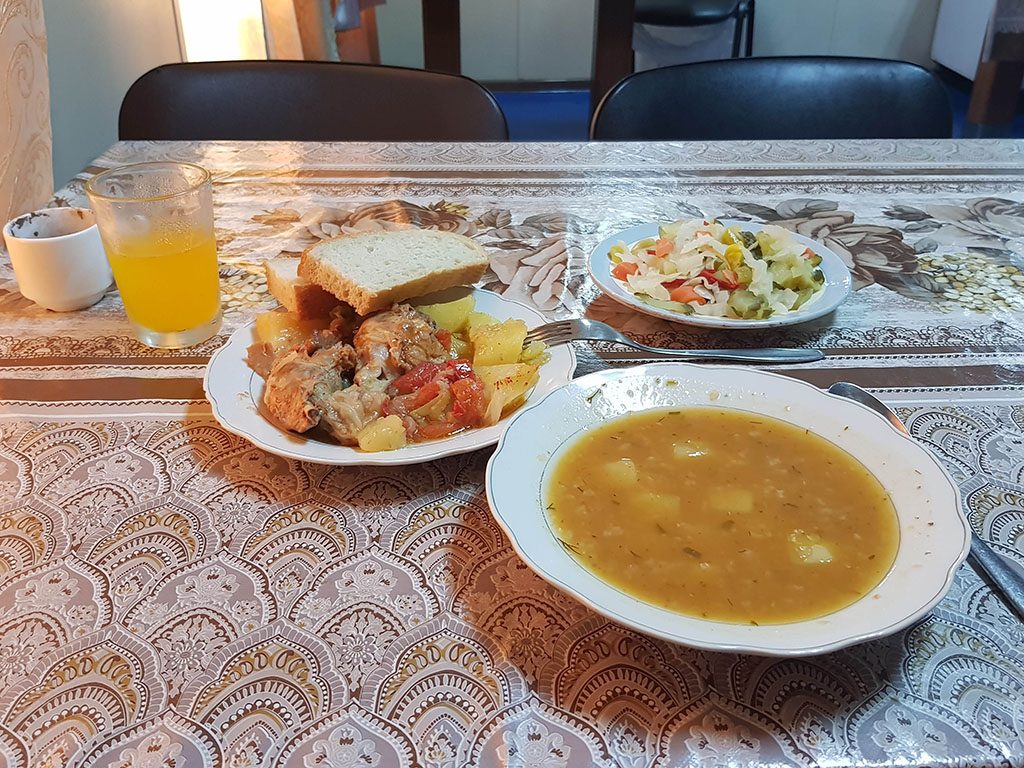 Sea sickness
Both myself and my partner suffer with terrible sea sickness. Neither of us took any medication for the crossing and we didn't need it either. It's very smooth so don't worry.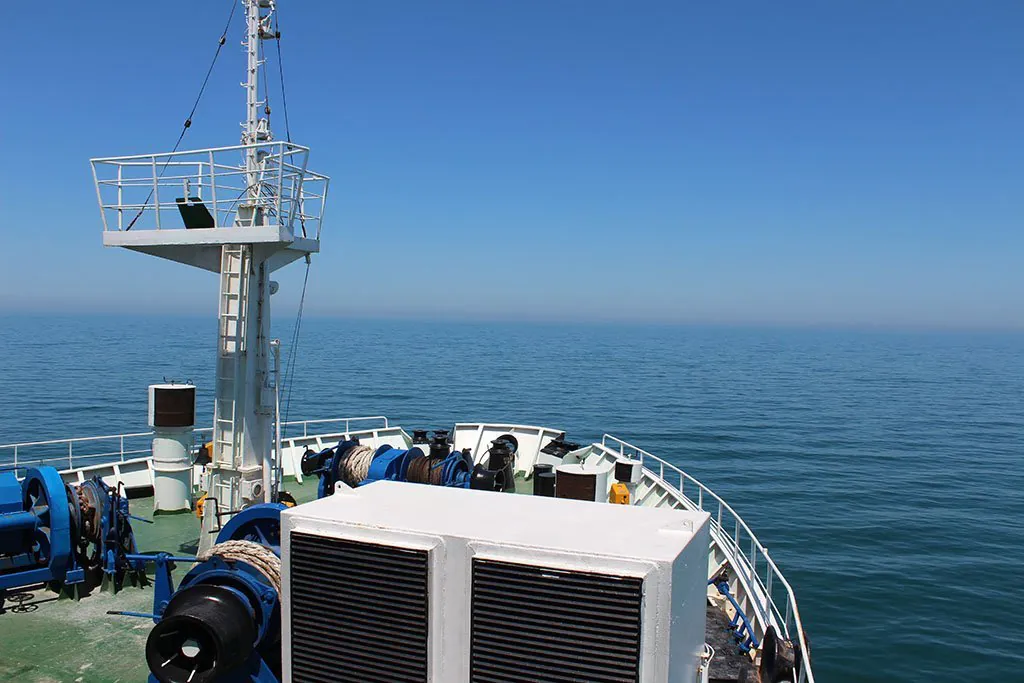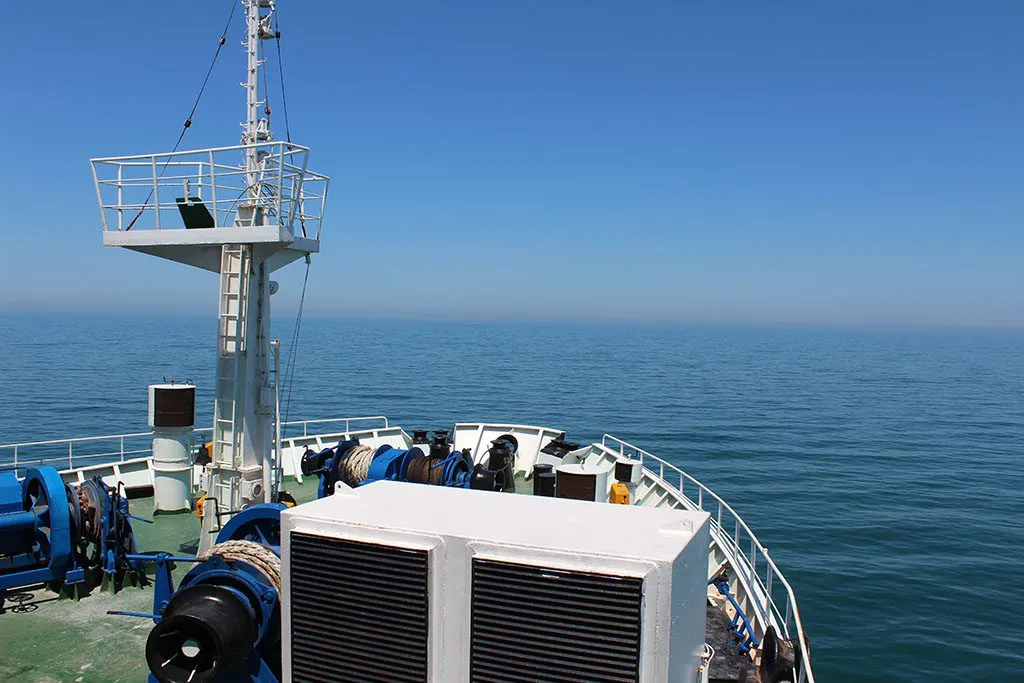 Sights
Believe it or not there is one sight on the cruise – the Oil City of Neft Daslari – the only one of its kind in the world.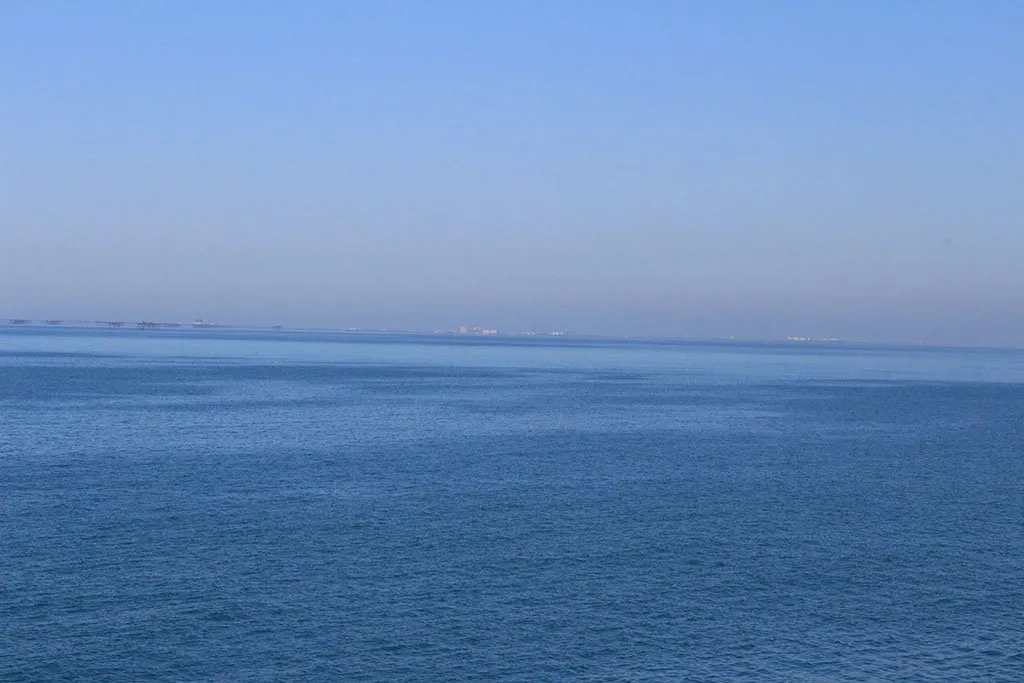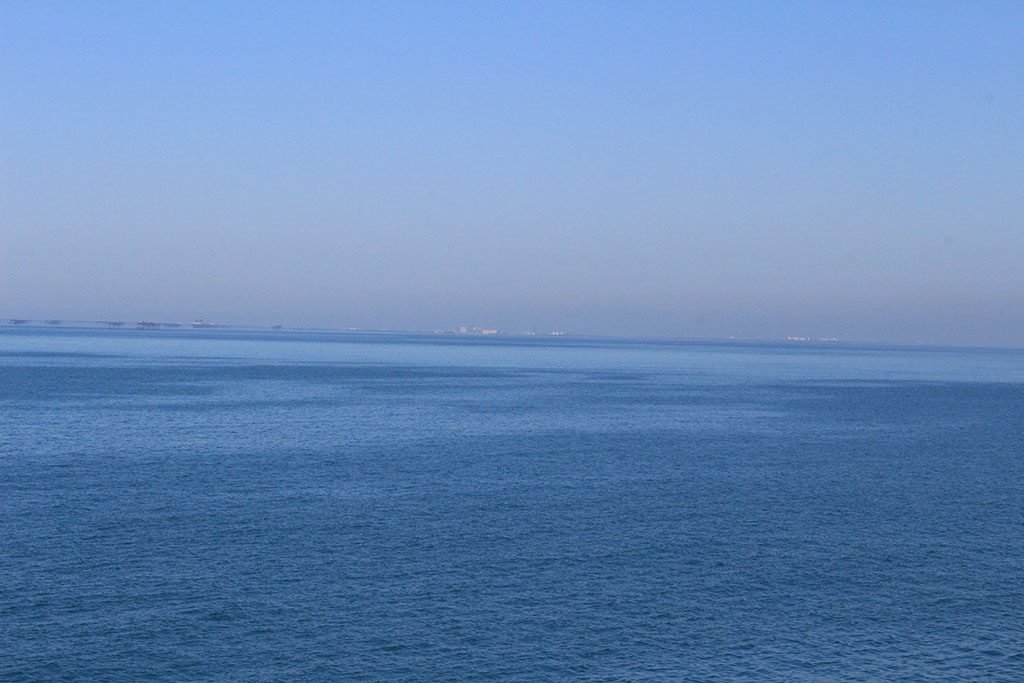 It's 100km away from Baku and is a full-on floating city on the sea. It was the first oil platform in Azerbaijan and the first offshore operating oil platform in the world (in the Guinness Book of Records). It's built on the backs of sunken ships and is now a functional city, with 2000 people, children, schools and over 300km of streets built on piles of dirt.
While the ferry doesn't exactly stop off for the day you can spot it in the distance as your boat cruises past all the oil rigs.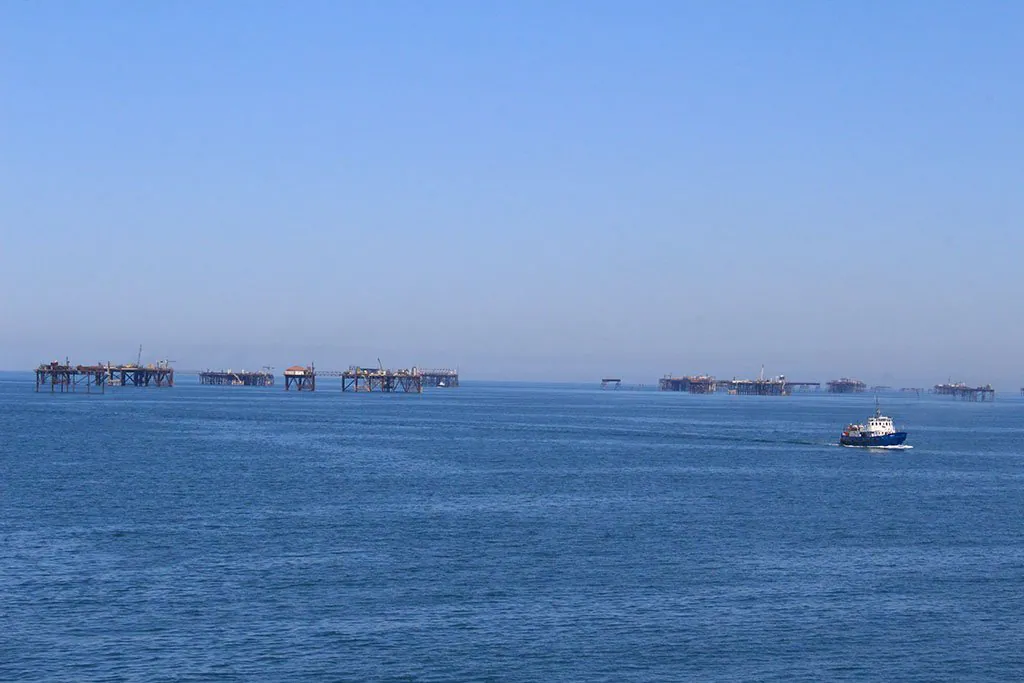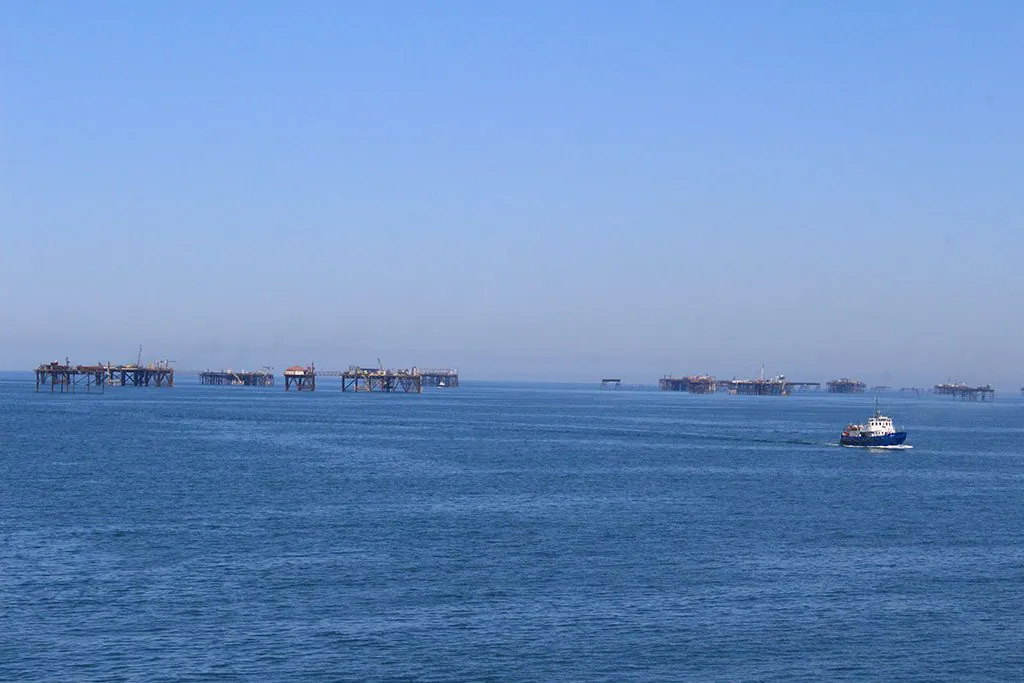 To know when to be on deck to see it just head to the bridge and ask what time they'll be passing it. You can find it on Maps.Me and follow the ferry's progress if not.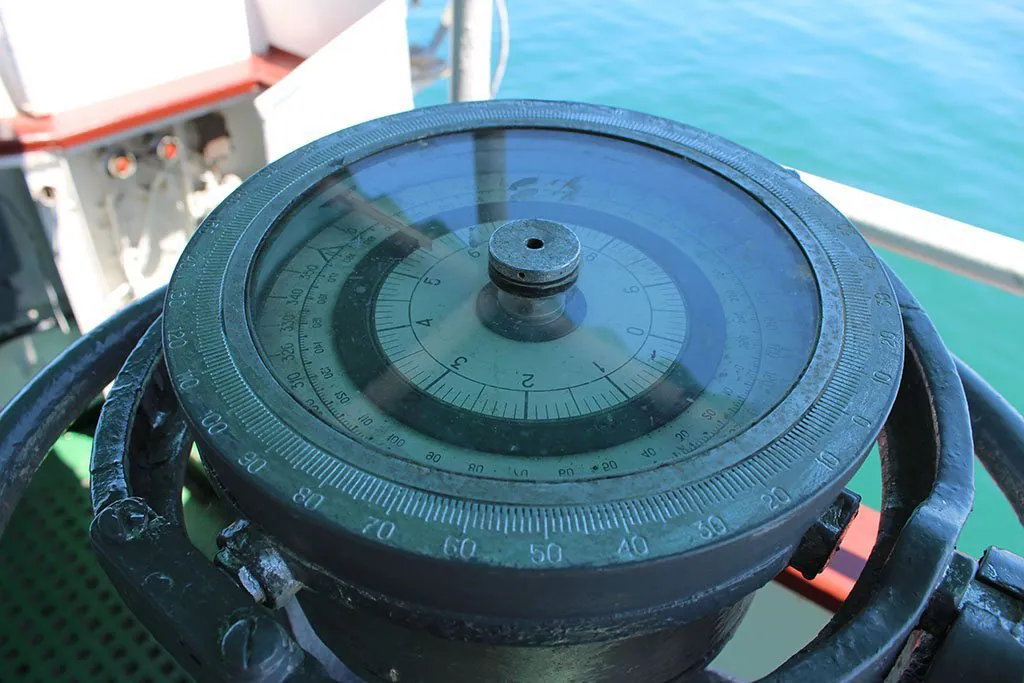 The Bridge
Head straight to the front of the boat and to the bridge. Politely knock on the door with a huge smile and say hello. They were very welcoming, letting us come in, take photos and examine the ship's controls.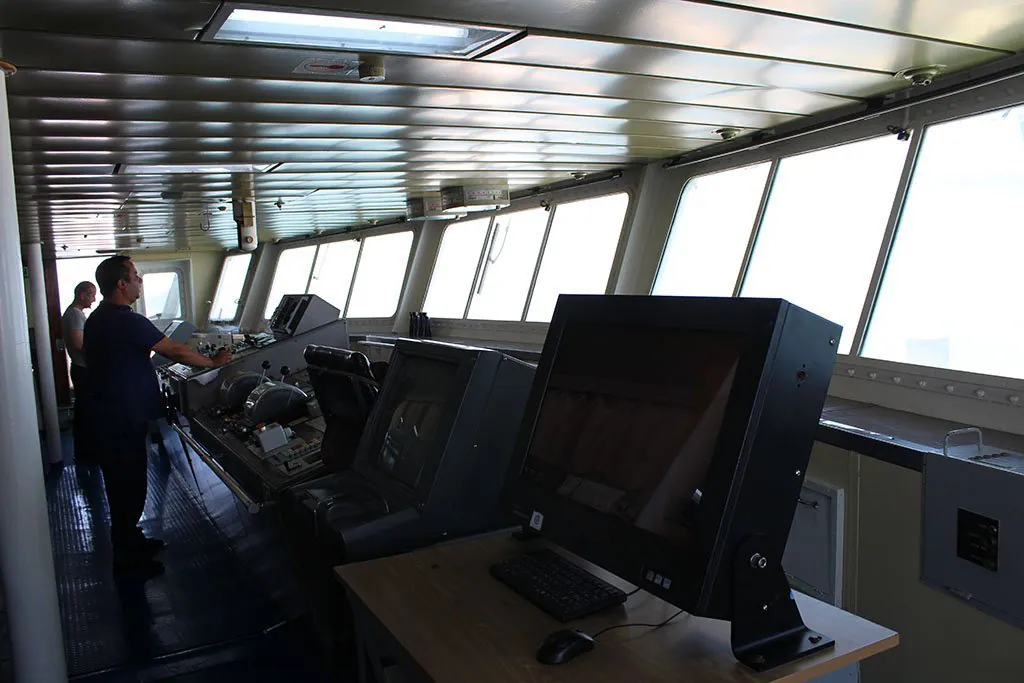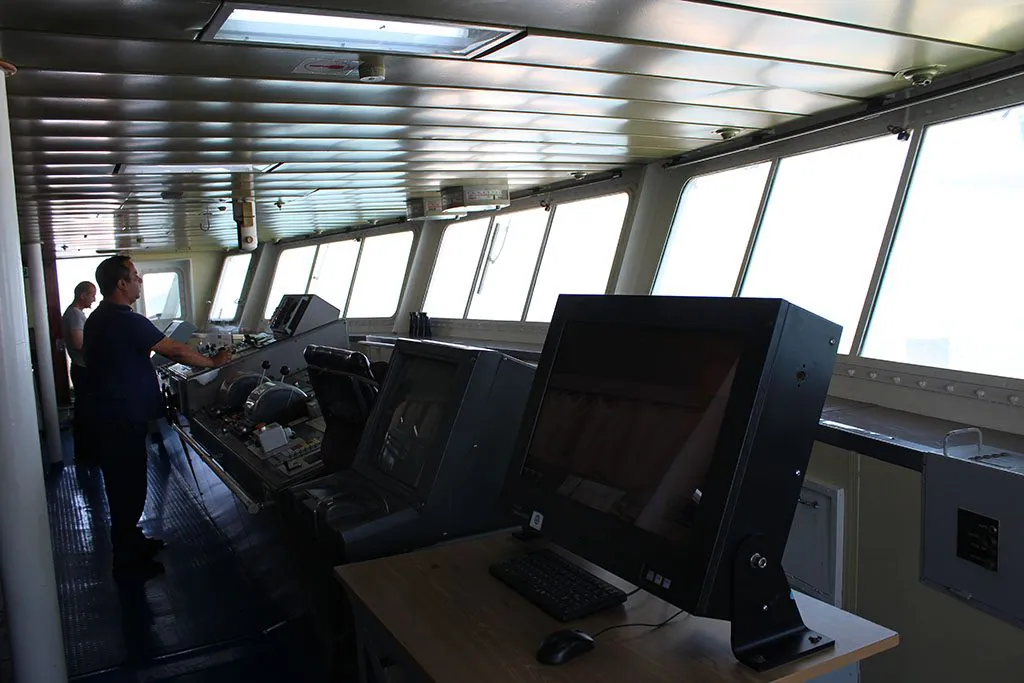 Ferry arrival in Kazakhstan
As the boat comes into the harbour you'll be asked to vacate your room, take your linens back and wait in the common room with your luggage.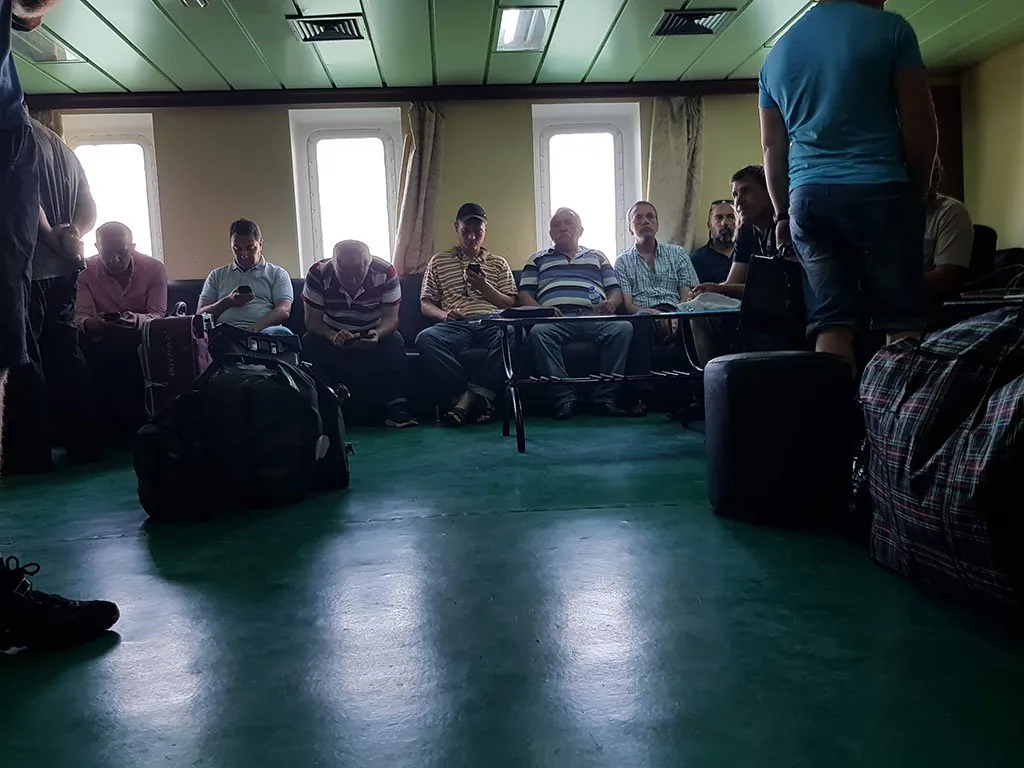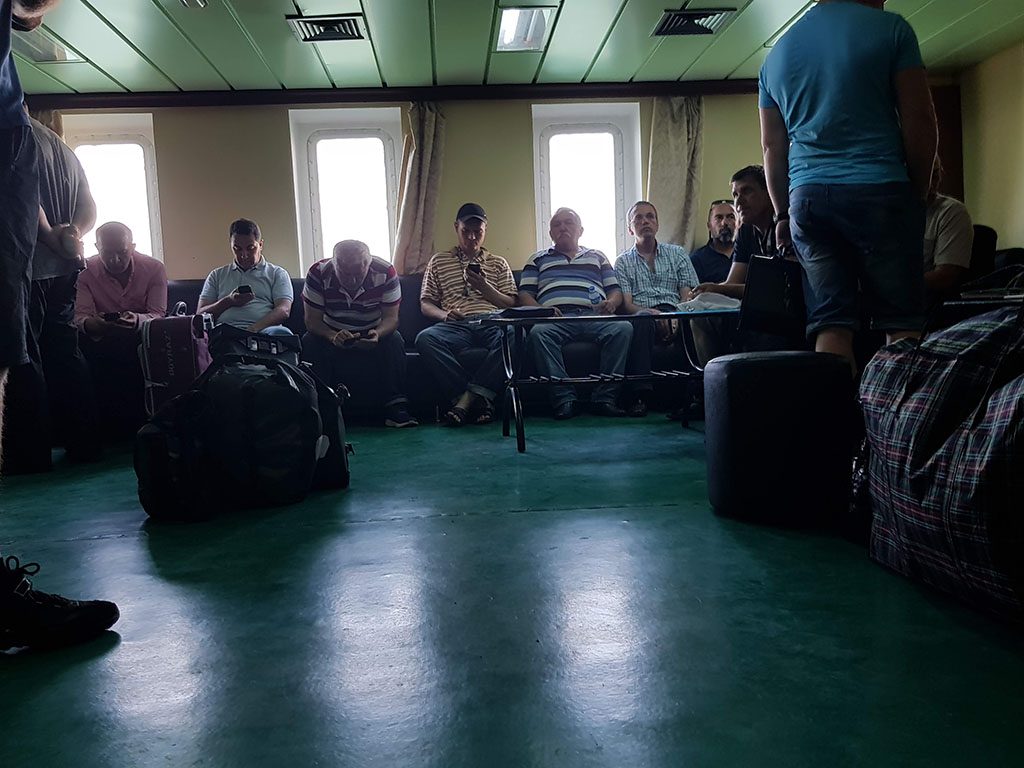 Once the boat docks it will quickly be boarded by Kazakh border police complete with a drug sniffer dog. You'll have to line up behind your bags as the dog sniffs you and your gear. Then you will be marched off the boat, bundled into a mini bus and taken to passport control.
There's a little trick here that we missed. Three motorcyclists on our boat managed to get one of the ferry's staff to open the hold's doors early morning and strapped all their luggage to the bikes. That way they didn't have to lug heavy bags off the boat, into the bus and to the passport control. They missed the sniffer dog, but there's plenty more sniffing to be done.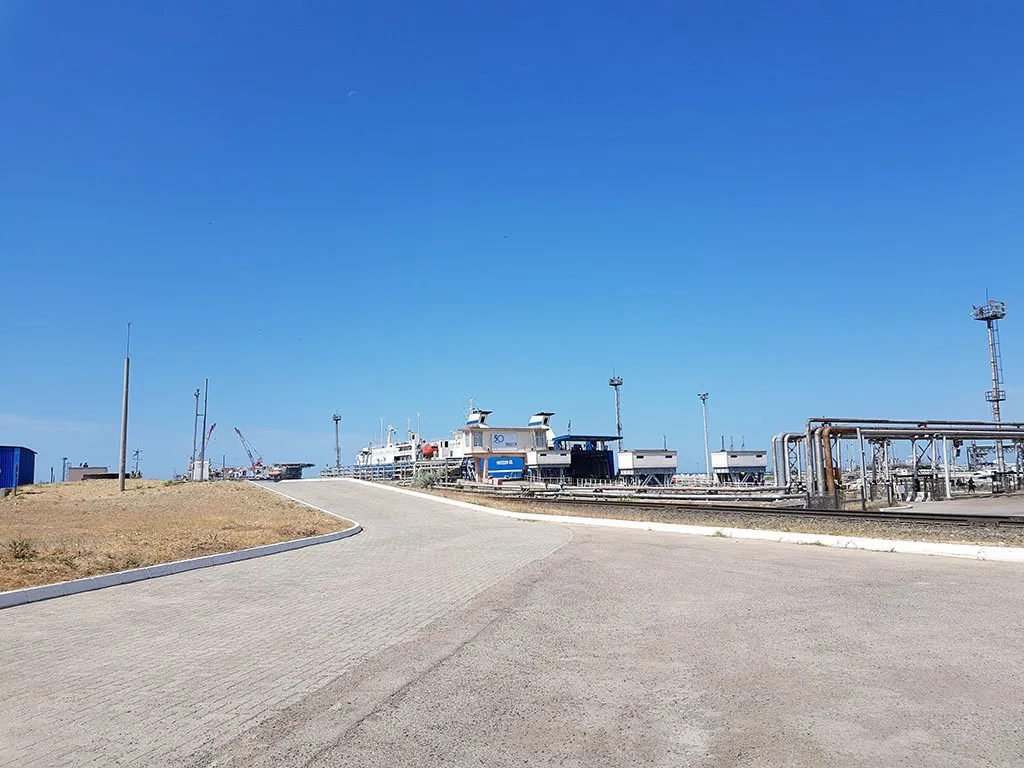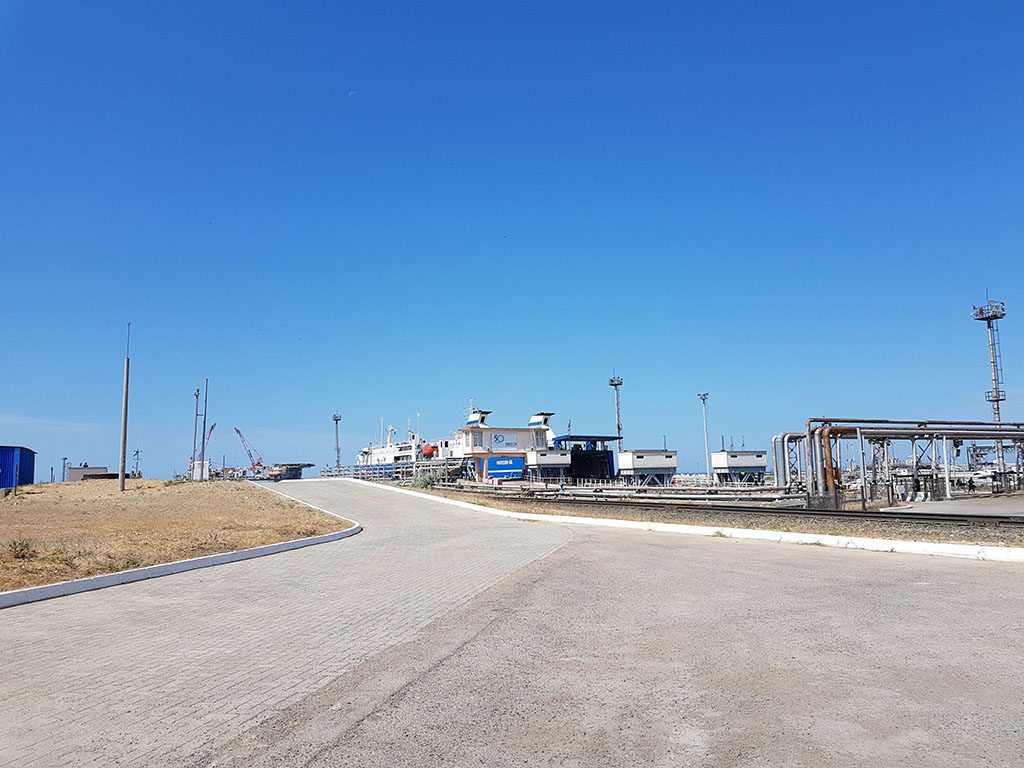 You'll go through passport control and then have to walk back to the boat where you'll stay until given a slip of paper. We ended up waiting a further 5 hours on the boat for our papers as apparently Azerbaijan's internet was down and they hadn't sent the paperwork through. Foot passengers don't need to wait, but cyclists did for some reason.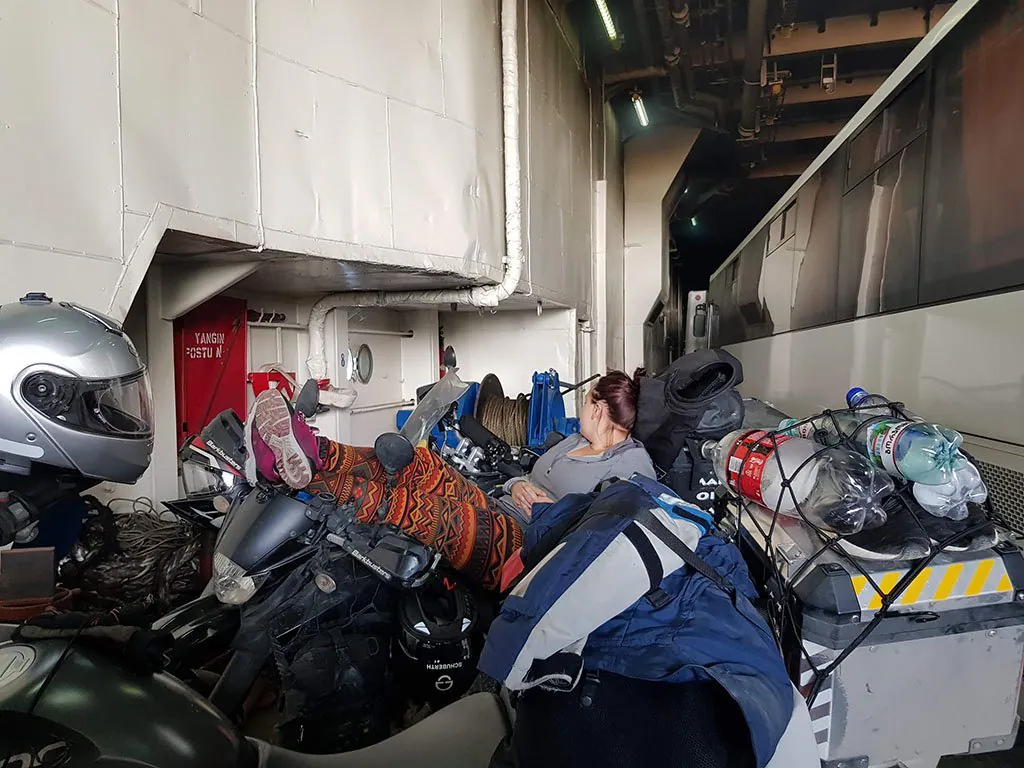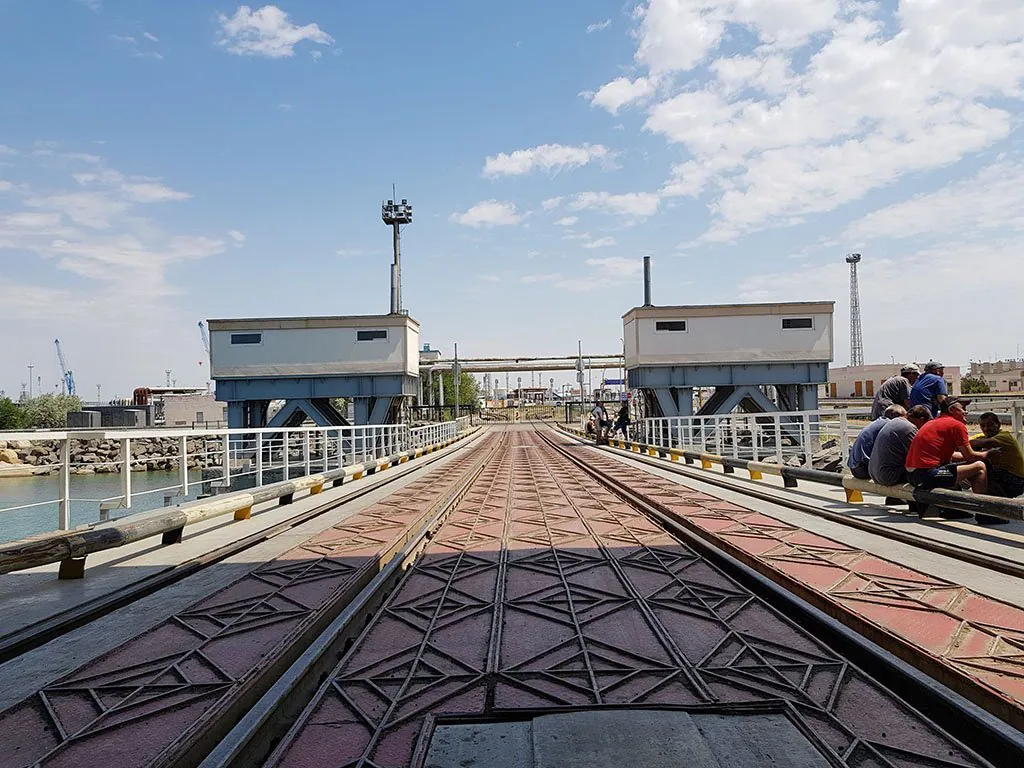 After, you will need to disembark, ride around a bit, have your papers checked again, take the gear off your bike, or out of your car and have it sniffed again. Then it's to the maze. Cyclists can leave at this point. Vehicle owners will need to leave their bikes and cars before the barrier, go through on foot and start a very long paperwork trail process. First up is Kazakh insurance (minimum of 15 days, about 10USD), then customs stamps, visa checks, paying 18USD into the bank for customs and more paperwork. There was a problem with their computer system when we arrived and we had to wait two hours for it to be rebooted. In total our border crossing was six hours (not including the five hours waiting on the boat).
There is a bank and an ATM next to the insurance office, you can withdraw in Kazakh Tenge here. There is a nice restaurant with decent Wifi, you can wait in there if you're delayed. Once you've got more paperwork and stamps than you thought possible, the barrier will be lifted and you're free!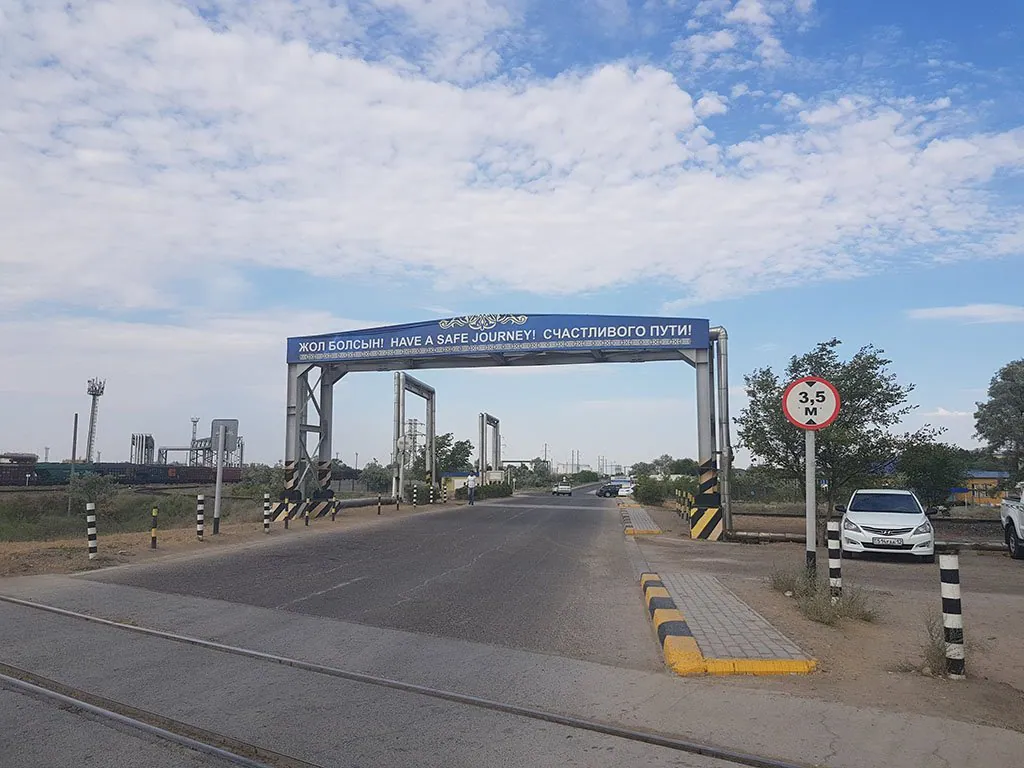 Our experience
Whether you cross the Caspian Sea by ferry or go south through Iran or north through Russia is down to you and your visas. For us, Iran was out of the question as Brits need an expensive guide and north wasn't possible as we didn't have a Russian visa. We took the crossing in June 2018 and while it was a little confusing trying to figure out how much time we needed, it all worked out fine.
We planned to camp at the port for three days. We turned up at 1pm, waited 12 hours and got on the boat. The crossing took 24 hours, we waited five hours to get off the boat and six hours to get through Kazakh customs.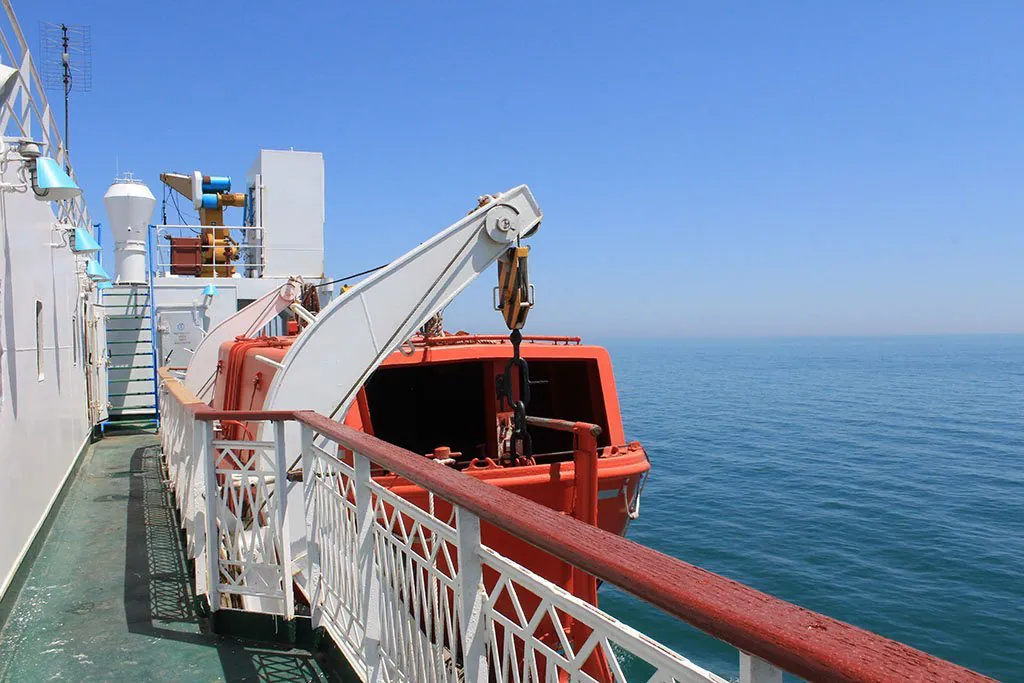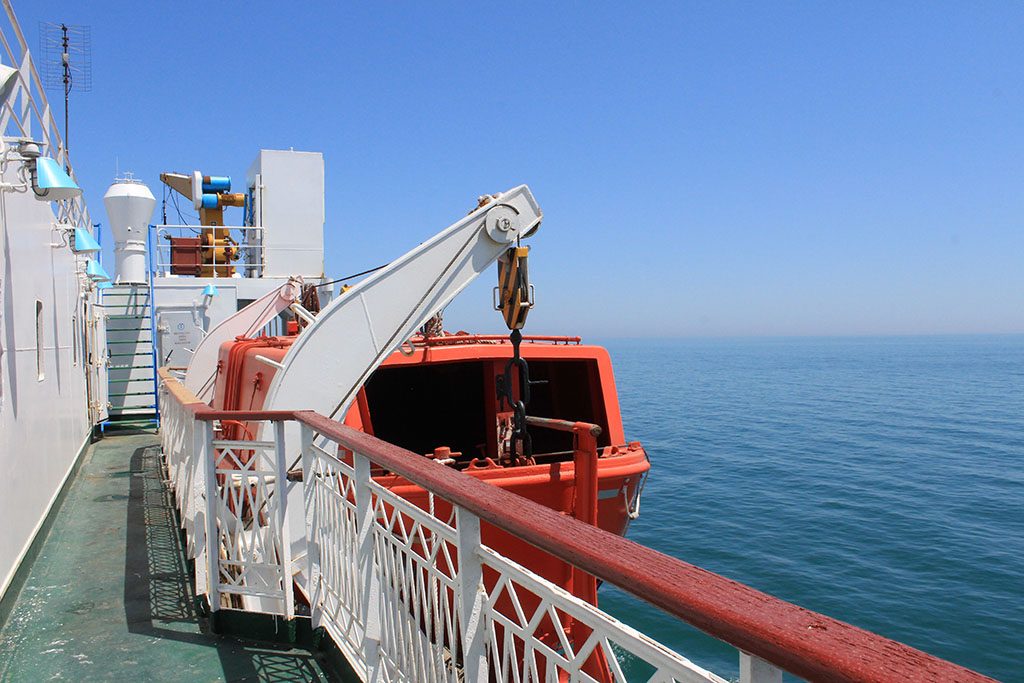 The whole procedure is very time consuming and there'll probably be a lot of waiting around, but it is by no means difficult. You just need to be patient and prepared to jump through their hoops.
Best of luck and bon voyage!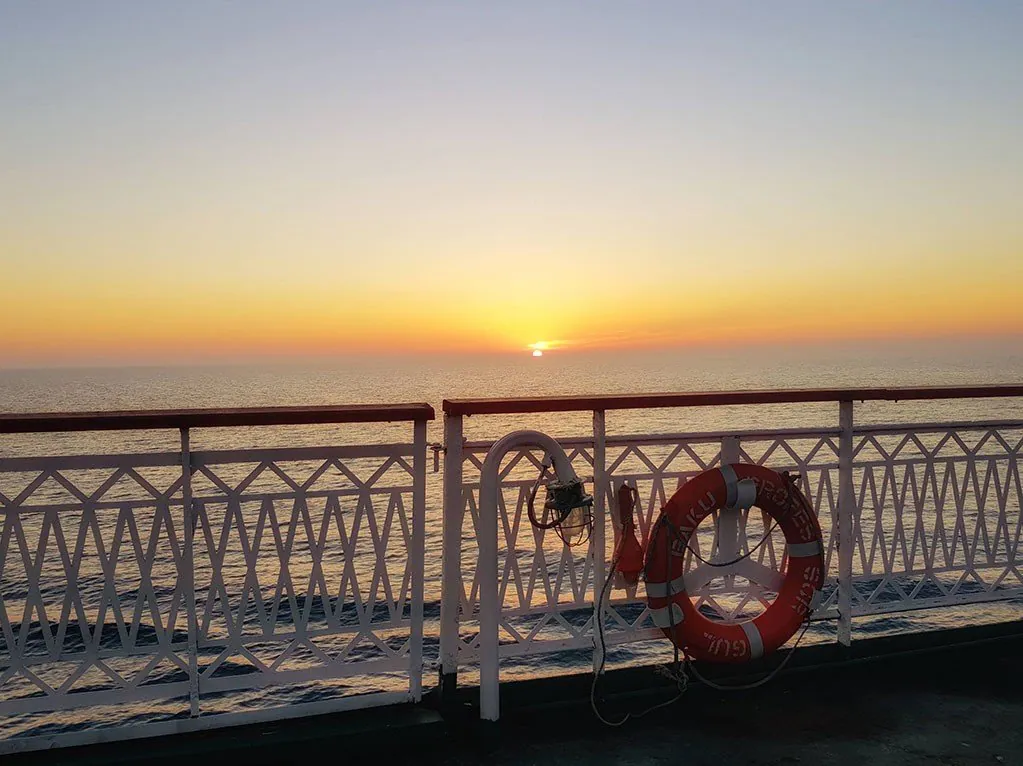 Read more on motorcycle shipping 
Thanks for checking out our Crossing the Caspian Sea Ferry Guide. We hope you enjoyed it! Here's a few more articles on motorcycling shipping that we recommend you read next. 
Liked that? Try these next…
Are you planning on crossing the Caspain Sea by ferry from Azerbaijan to Kazakhstan? Let us know if you have any questions in the comments below.