It's been five months since our last post. Here's what happened since then and what Covid means for our round-the-world motorcycle trip. Fair warning: it's not exciting!
Stuck in Thailand
Five and a half months ago we were heading to the south of Thailand when we stopped off at a friend's house for a few nights. That turned into two weeks as borders shut all around us. We posted our last blog Stuck in Thailand and said we were going to wait it out and see what happened…
Two weeks turned into two months of isolation. Luckily (very luckily) we were staying with amazing people who gave us our own space and said we could stay as long as we needed. We were in a small village and right next to the beach which was famous for kite surfing. But one by one, all the shops and cafes closed, kite surfing was banned and the place became deserted. 
We spent most of our time riding our friend's silang around and eating donuts. But there's only so many donuts we can eat… trust us, we tried.
Decisions
But after two months we decided to head home for two reasons. Firstly, we weren't going anywhere, there were no signs of borders opening, things were getting complicated visa-wise and everywhere was shutting down. Secondly, and more importantly, Alissa's leg had been getting worse. Four months ago, back in Chiang Mai, Alissa had an MRI scan on her leg as it had been getting harder to walk on. The surgeon found that a bit of metal screwed into her fibula is rubbing on tendons and needs to be removed to stop the pain.
It had got to the point where it was difficult to walk on for more than 15 minutes and wasn't getting any better. So, we figured it was a good idea to catch a flight back and get on the waiting list for an op. That meant leaving the bike and flying back to Heathrow.
Home time
Six months after we left the UK to continue the trip, we were once again flying home.
Confused? Here's a mini timeline:
1st January 2018
We left the UK to ride round-the-world – How Not to Start an Adventure
April 2019
Alissa had a nasty crash in Nepal and we flew home to recover – A Wrong Turn
January 2020
Recovered enough to walk and ride pillion, we headed back out to continue the world trip – What Happened Next
April 2020
Covid locked Southeast Asia down – Stuck in Thailand
June 2020
We flew home… (to eat and drink our own body weight in tea and scones)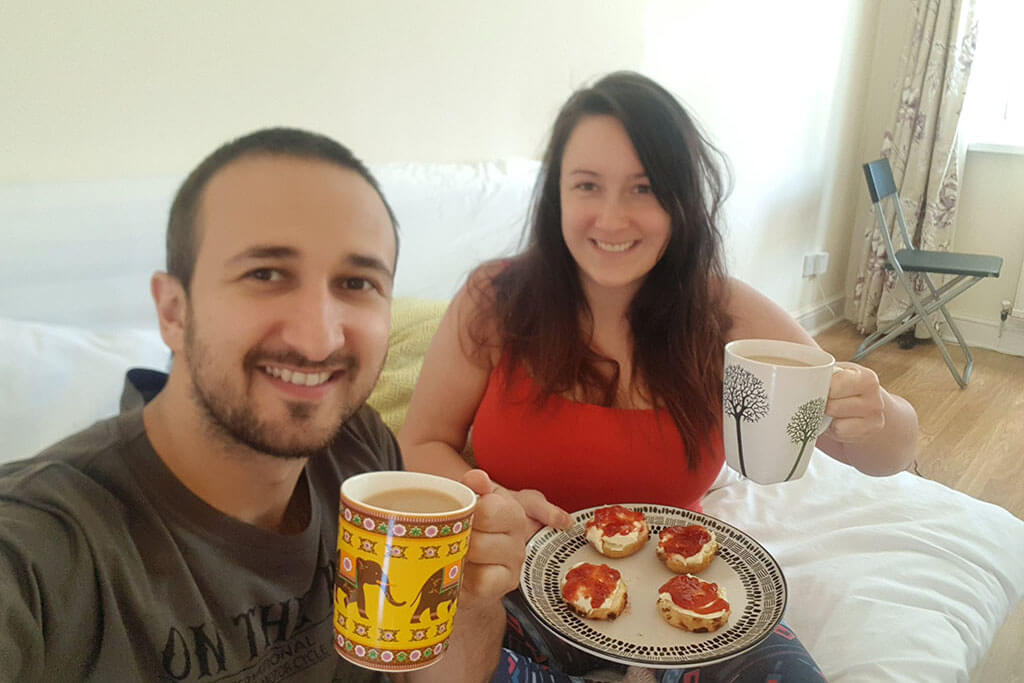 Leg progress
Our plan was to get back, isolate for two weeks and then get a hospital appointment asap. A month later and we saw a doctor. Unfortunately, he didn't know what to suggest so we were booked in for another appointment with a different doctor who recommended trying a steroid injection first before any metal was removed.
The steroid injection was nearly two weeks ago and it's made Alissa's leg and ankle worse than it was when we were in Thailand – she can barely stand on it now. So, we have another appointment next week and we'll see what they say.
What's next?
Like everyone else in the world, we're just sitting and waiting for this mess to hopefully one day blow over. We have no idea what will happen, when borders will open or when we can pick up from where we left off again. The most important thing is getting Alissa's leg right, so we won't be going anywhere until that's done anyway.
So, at the moment, we spend most of our time working on the website, adding stories, articles and guides to help others prepare to and travel on two wheels when we can all hit the road again.
But once the leg is fixed and we can freely travel, we'll be straight back out there… we've got the rest of the world to ride!
Stay safe and thanks for sticking with us,
Andy and Alissa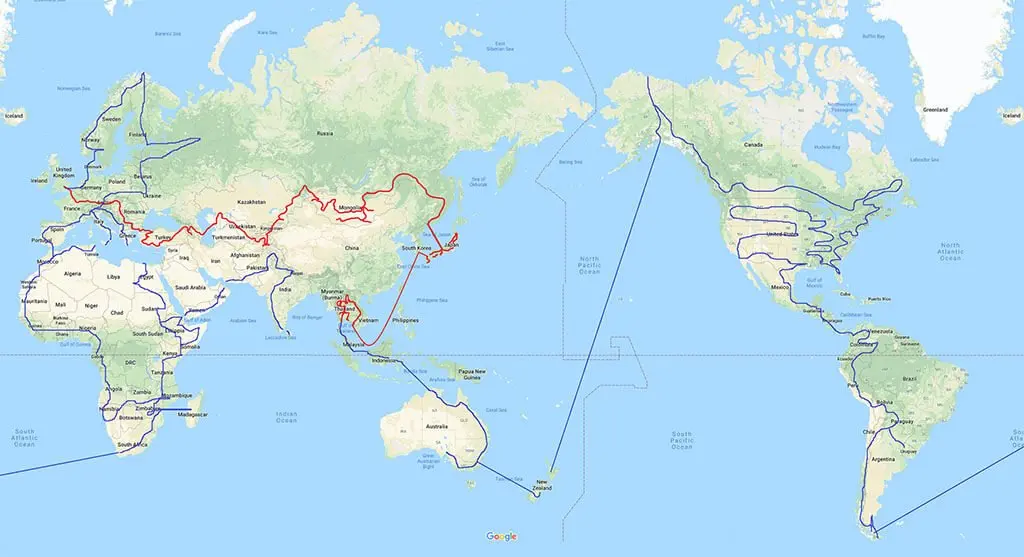 Do you have any questions? Let us know in the comments below.