Canada Motorcycle Rentals and Tours
Canada is one of the most pristine and beautiful countries in the world and you are going to love riding there.
Recommended Motorcycle Rental and Tour Companies in Canada
Please contact the companies listed on this page directly for more information.
"We used Cycle BC five years ago for a two-week ride through the Rockies and the service was impeccable."   
Services: Motorcycle rental/ Guided tours/ Self guided tours
Rental bikes: Cycle BC have a huge fleet of adventure touring, sport touring and cruiser bikes. Their adventure bikes go from the smaller Honda CB 500 X to the BMW R 1250 GS. For their complete range click here. 
Rental prices: Prices start at about £70 per day but vary with time and model. Check out the price list here. 
Tour prices: You'll need to get in touch with CycleBC for their tour prices. 
Insurance: Insurance is offered with the motorcycles.
Kit availability: CycleBC offer rental kit for around £6 a day.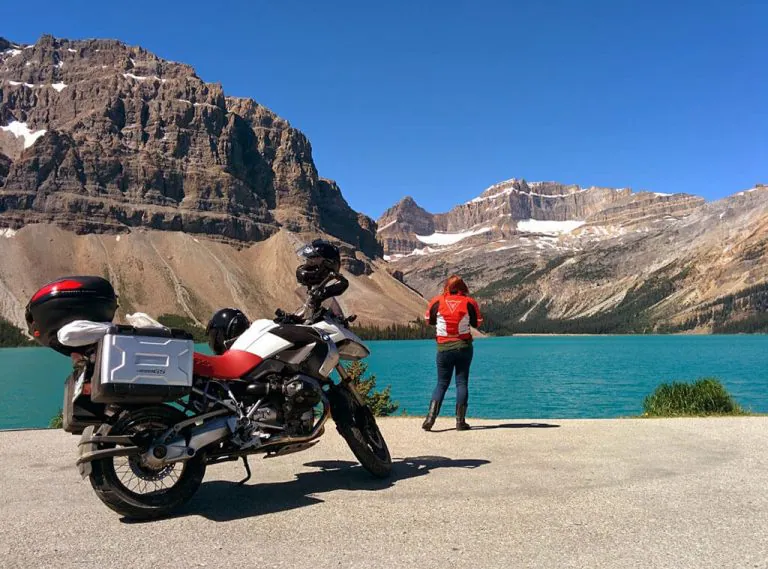 "Moto Experience is an adventure motorcycle touring company based in Pemberton, British Columbia, Canada. We specialise in creating epic guided motorcycle trips in BC's best riding areas."
Services: Half-day, full-day and multi-day guided motorcycle tours in Western Canada. As well as a range of guided motorcycle tour packages, Moto Experience offer custom made tours. You can also hire one of their experienced guides for the day for your own ride through Whistler or Pemberton.  
Tour bikes: A fleet of Kawasaki KLR650 motorcycles for guided tours.
Tour prices: Tours start at  £146 dependent on length.  
Insurance: Insurance is £15 per person per day. 
Kit availability: Helmet, gloves, jacket, boots and a communication headset are provided. 
Pemberton, BC, Canada
 www.motoexperience.ca
 Ben Harris and Jody Tracey
+1 778 802 8393
 sales@motoexperience.ca
Magellan Motorcycle Tours
UK, Ireland, France, Germany, Spain, Portugal, Austria, Switzerland, Italy, Hungary, Romania, Slovenia, Bosnia, Croatia, Greece, Norway, Sweden, Denmark, Morocco, USA, Canada, Cuba
"Magellan prides itself on the best customer service in the industry. We treat our customers as if they were a part of our family."
Services: Guided, self-guided, private and custom motorcycle tours throughout the UK, Europe, North America and Cuba. Customers can use either a rental bike provided by Magellan or use their own bike on any of their tour services. 
Rental bikes: A wide range of machines from the latest BMW R 1250 GS to the Ducati Multistrada 950 and Yamaha MT-09 Tracer. 
Rental prices: From £92 per day (rental bikes are included in the USA tours).
Tours: Tours start from £995. Check out their handy world map page to see what's on offer. 
Insurance: Yes, if renting. 
Kit availability: No.

 Saint Agnes, UK
  www.magellanmotorcycletours.co.uk
  Felix Billington
018 72 2 114 56
  info@magellan.co.uk
 European Tours: This company is also on our Europe Tour Companies and Worldwide Tour Companies pages.
FAQs on Canada Motorcycle Rentals and Tours
Read more on Motorcycle Travel in Canada and North America
Thanks for checking out our Canada Motorcycle Rental and Tour Companies post. We hope you found what you were looking for. Here's a few more articles on motorcycling in Canada and North America that we recommend you read next. 
Click here for all of our Canada Motorcycle Travel Guides
Motorcycle Rental and Tour Companies
Planning a Fly and Ride bike adventure? Here's our recommended motorcycle rental and tour companies from around the world. Check out the page, click a country and see what's on offer!
Read More