Cambodia Motorcycle Rentals and Tours
Cambodia is incredibly beautiful and peppered with stunning ancient temples. Discovering them on a motorcycle is its greatest draw – the friendly people, delicious food and endless miles of enduro riding is an added bonus. You'll love renting a motorcycle or joining a tour in Cambodia.
Recommended Motorcycle Rental and Tour Companies in Cambodia.
Please contact the companies listed on this page directly for more information.
"Big Bike Tours offer the most exhilarating authentic motorbike touring holidays and adventure motorcycle tours in Thailand, Laos, Cambodia, Myanmar, Vietnam, and Tibet (China) – all starting from Chiang Mai, Thailand."
Services:  Fully inclusive guided motorcycle tours from Thailand to Laos, Cambodia, Vietnam and Tibet.
Tour bikes: BMW G310GS, BMW F80GS, Kawasaki Versys 650, Kawasaki ER-6N 650, Honda CB650F, Honda CB500X, Honda CB300F, Honda CRF250 Rally.
Tour prices: Tours range from 3-20 days with their lowest priced tours starting at £180. There's a huge selection of tours to choose from and prices are dependent on the country, tour time and bikes. Check out their Tour Price page for more info. 
Insurance: Standard motorcycle damage insurance is included in the tour price and covers incidental damages. Customers are liable for the first £630. You can always opt for additional insurance.
Kit availability: Helmets, jackets, knee guards and gloves are all provided for free.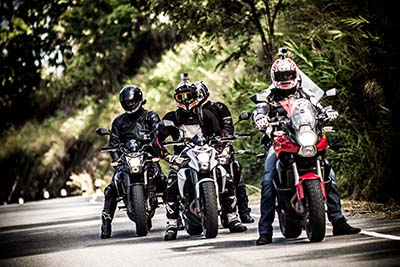 Chiang Mai, Thailand
  www.bigbiketours.com
 Mr. Nirin Chaiyapan
 (WhatsApp) +66 80 127 2595
  info@bigbiketours.com
Quick Facts on Cambodia Motorcycle Rentals and Tours
Money: ATMs are not hard to find and issue both USD and Cambodian riel.
Card is accepted in some hotels and restaurants. 
USD are widely used throughout the country, almost all restaurants, street markets and hotels accept USD.
Currency: Cambodian riel ៛ and USD $
Food: Local meals and street food £0.50 – £3, Restaurant £4 – £8
Accommodation:
You can wild camp in Cambodia.
Dorms £2-£8. 
Mid-range hotel £8 – £25
High: Nov – Feb 
Hot but still breezy. Can get very busy because it's dry season. 
Mid: April and Oct 
Can get very hot with little to no breeze. Temperature is around 35°C
Low:  May – Sep 
Although this is rainy season, scenery is green and looks beautiful. Can be hot and humid throughout the day.
Visa: Visa requirements are dependent on your nationality. Please visit the country's government website for visa information. 
Driver's licence: You need a valid motorcycle licence to legally rent a motorcycle or join a tour. If you risk riding without the correct licence, then not only will you be breaking the law, but your insurance will be invalid too. 
International Driver's Permit: An IDP is a requirement for many countries. The UK Gov website lists every country that requires one and which IDP is required. 
Insurance: Motorcycle insurance needs to be checked with the rental or tour company. Ask what they offer, what's included and what the legal requirements are. 
You should purchase personal travel insurance separately from your home country before travelling. 
Emergency: 118 – fire,  119 – ambulance, 117 – police
Language: Khmer 
Time: GMT/UTC plus seven hours
Land Mass: 181,035 km²
Angkor Wat: Cambodia is home to some of the world's most incredible temples and architecture. You can spend a lifetime exploring its 3,000 relics. 
Check out our Tomb Raider Blog Post for more info on Temples and the Genocide. 
Killing Fields: Cambodia has an extremely sad past due to the Genocide in the '70s. The Killing Fields and Prison in Phnom Penh are a must visit. 
FAQs on Cambodia Motorcycle Rentals and Tours
Read more on Motorcycle Travel in Cambodia and Southeast Asia
Thanks for checking out our Cambodia Motorcycle Rental and Tour Companies post. We hope you found what you were looking for. Here's a few more articles on motorcycling in Southeast Asia that we recommend you read next. 
Click here for all of our Cambodia Motorcycle Travel Guides.
Motorcycle Rental and Tour Companies
Planning a Fly and Ride bike adventure? Here's our recommended motorcycle rental and tour companies from around the world. Check out the page, click a country and see what's on offer!
Read More