Bolivia Motorcycle Rentals and Tours
Insane landscapes, incredible culture and customs, welcoming people and a hidden gem. You will love riding through Bolivia – from the Andes Mountains, the Atacama Desert and to the Amazon Basin rainforest – it's an adventure bike rider's dream.    
Recommended Motorcycle Rental and Tour Companies in Bolivia.
"GoBeyond is a tailored travel company organizing surf trips, winter camps, motorcycle touring and action-packed company trips. We believe that creating the perfect journey can only be achieved by concentrating on details based on first-hand experiences."
Services: Motorcycle tours, surf trips, snow trips, adventure tours and company trips.
Motorcycle tours: Embark on an extraordinary two-week adventure through Bolivia's rugged terrains and breathtaking landscapes. Journeying from Santa Cruz to La Paz on iconic Royal Enfield Himalayan motorcycles, traverse wild forests, rivers, and the Andean passes to reach the famous high mountain plateau, the Altiplano. Amidst herds of happy llamas, explore the surreal world's largest salt desert and an abandoned train graveyard.
Conquer the infamous Death Road, a thrilling single-lane route cascading waterfalls from 1,000-meter-high cliffs. Amidst snow-capped peaks, immerse in diverse cultural experiences, including a visit to a silver mine and historic towns. Bolivia's extremes promise unforgettable memories on this once-in-a-lifetime adventure.
Tour prices:
Bolivia motorcycle tour 5490€
Tanzania motorcycle tour 3990€
Mongolia motorcycle tour 2890€
Himalayas motorcycle tour 3190€
Kyrgyzstan motorcycle tour 2890€
The Great Balkan Rally 2290€ – 2990€
Motorcycles: Royal Enfield Himalayan and Honda CRF250.
Insurance: Insurance is included.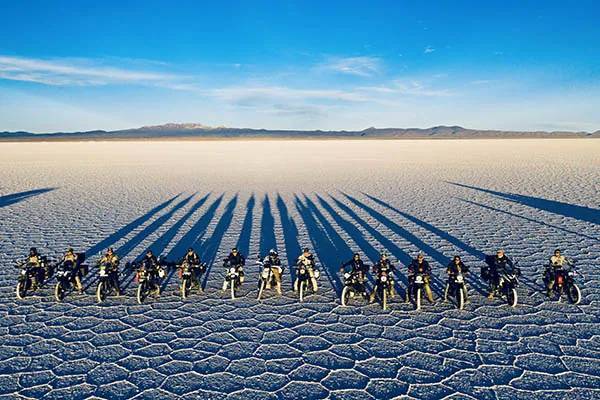 Hungary, Austrian-Hungarian company running tours worldwide.
Norbert Major 
+40 746 812536
norbi@gobeyond.travel
Tours are also provided in: Bolivia, Tanzania, Mongolia, Himalayas, Kyrgyzstan and the The Great Balkan Rally – check out their blog here for more info on their awesome adventure tours . 
FAQs on Bolivia Motorcycle Rentals and Tours
Read more on Motorcycle Travel in Bolivia and South America
Thanks for checking out our Recommended Bolivia Motorcycle Rental and Tour Companies post. We hope you found what you're looking for. Here's a few more articles on motorcycling in South America that we recommend you read next. 
Motorcycle Rental and Tour Companies
Planning a Fly and Ride bike adventure? Here's our recommended motorcycle rental and tour companies from around the world. Check out the page, click a country and see what's on offer!
Read More
We'd love to hear from you! Let us know about your Bolivia motorcycle tour and rental experiences and ask any questions in the comments below.