Welcome to the Adventure Motorcycle Traveller Reviews. Here's a 30,000-mile review of the BMW R80 G/S by motorcycle travellers Crendon and Emma-Jane. 
Quick info
Bike: 1983 BMW R80 G/S
Purchased for: Inherited from Crendon's grandad
Miles covered: Estimated 30,000 (broken tach)
Years owned: Since 2020  
BMW R80 G/S Specs
Engine: Boxer twin, air-cooled, 795cc, carburetted 
Power: 50 bhp
Torque: 41 ft-lbs
Wet weight: 186kg
Seat height: 860mm
Tank capacity: 19.5 litres
Tyres: 21 and 18
Front suspension: Telescopic forks 
Rear suspension: Monolever swingarm 
Crendon's grandad has been riding airhead BMWs since they were new on the scene, so after we lost him in 2020, the idea started to come together to do a big trip partly in his memory.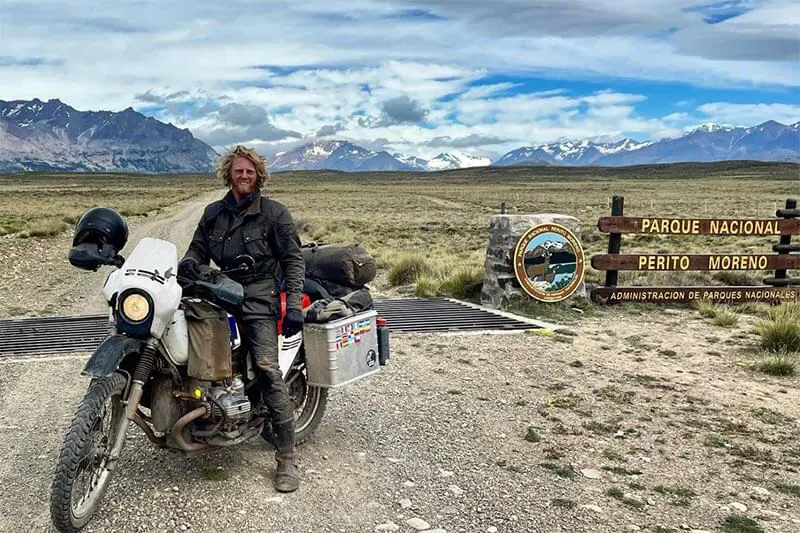 We made a few modifications prior to the trip, aiming to make it as robust and functional as possible – nothing shiny and nothing fast.
An upgraded Siebenrock 320mm front brake kit was well worthwhile when fully loaded, and the Ohlins BM317 rear shock is exceptional. The Siebenrock extended sump may have helped the engine run cooler, but we never had temperature issues and the number of times we grounded out meant we regretted fitting it. Even on road days, some of the speed bumps were just insane tummy-ticklers!
To make sure we could see and be seen we fitted Denali Electronic's smallest offering – the D2. They are compact, robust, and easily enough to ride with at night. But they did seem to attract mud at all times…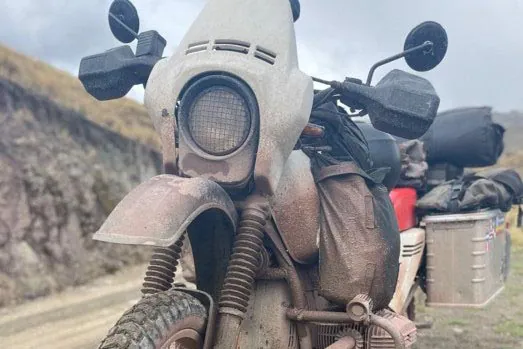 EJ is a tall woman, and is mainly leg, to such an extent that we had to move her footpegs down and forward for comfort. At the same time, we enhanced the pannier rack, and though this fractured in a number of places a few times, it was a quick weld to fix and we felt it would probably have been far worse without the extra metal work. Picking the bike up to load it onto fishing boats around the Darrien Gap certainly showed its strength!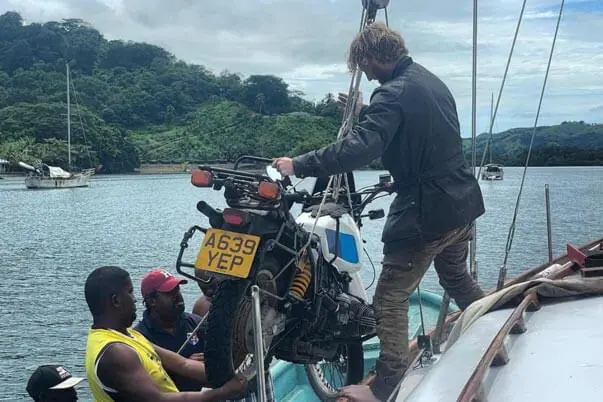 We raised the bars 25mm and dropped the front foot pegs 30mm, which gives a more relaxed posture on the knees and eliminated any forward lean when standing –a small adjustment but it makes a big difference on long days.
As a carburetted bike, we had to change the jets and clips to maximise power at altitude, but she proved perfectly capable even at our highest point of 5,070 metres in Peru! Trial and error gets you there and a carb definitely shouldn't put people off using old bikes for trips like this.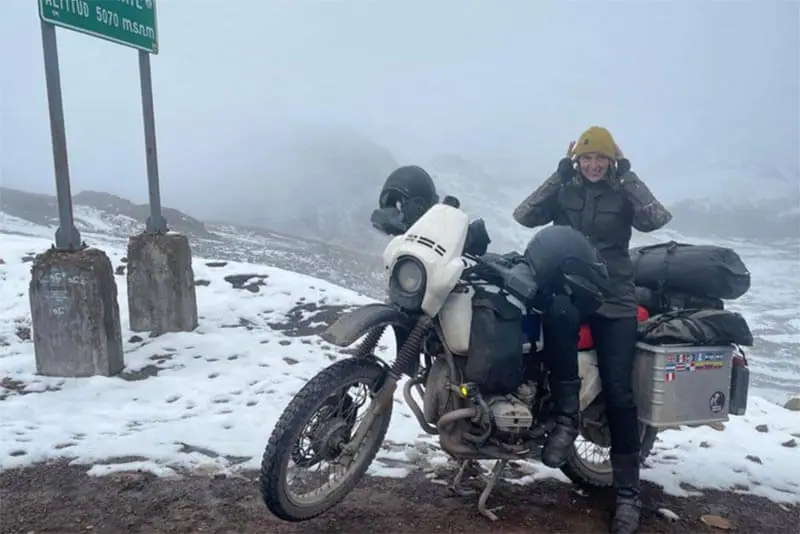 1x Malle tank bag (10 litres)
1x Malle moto duffel (50 litres)
2x Hepco and Becker Alu standard (30 litres each)
2x Ortleib Atrack rucksacks (25 litres each)
2x tank panniers (10 litres each)
190 litres total for two people – able to live from the bike for 4 days / 500km without resupply.
The Malle London wax cotton luggage was great because it's robust and discreet. The tank bag has a strap to use as a satchel which was perfect for more formal meetings. Having our Malle Hurricane oversuits in either end of the duffel bag on the pack worked really well when rain came in quickly. The Malle tool roll fits neatly into the bottom of the tank bag, which was handy for quick access. We re-waxed the kit twice to keep it waterproof and protected. While it looks big on the back, the duffel held sleeping bags and the tent so was very light.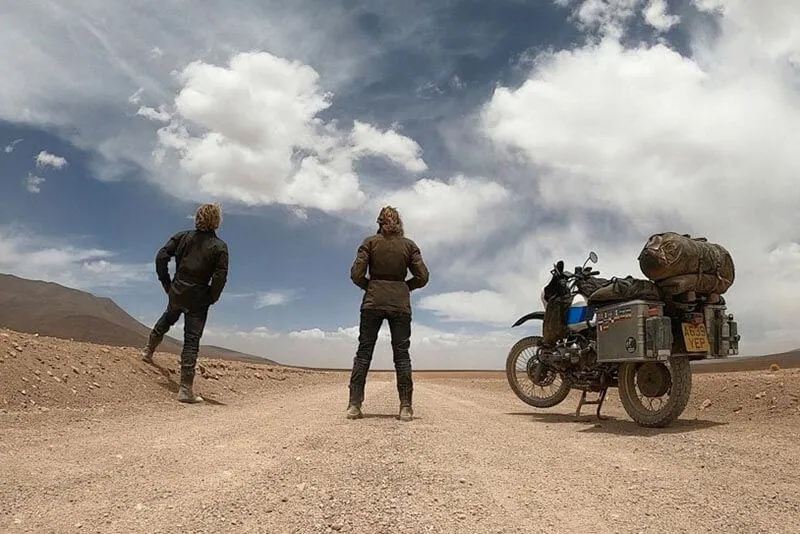 Hepco and Becker's aluminium standard panniers are bombproof – we took so many tumbles on the rough rocky routes, and they have only a few dents to show for it. Being silver meant they reflected a lot of the heat of the sun, which in some places we really appreciated to avoid cooking our electronics. We kept one side for spares and cold weather gear etc and the other packed for daily access. The Hepco and Becker dealer network is worthy of mention too; they're lovely people who did everything they could to help when we upgraded the spare fuel racks and had to replace a latch. Just remember, whatever space you have you will fill so go light, go fast and go far (Giant Loop's brilliant motto!).
Our tank panniers were home made from old military rucksack side pouches. They worked a treat and could be folded up to pack away elsewhere when not in use. These held our 10 litres of drinking water and keeping the weight low and forward worked well off-road. Bit too hot for carrying beer though…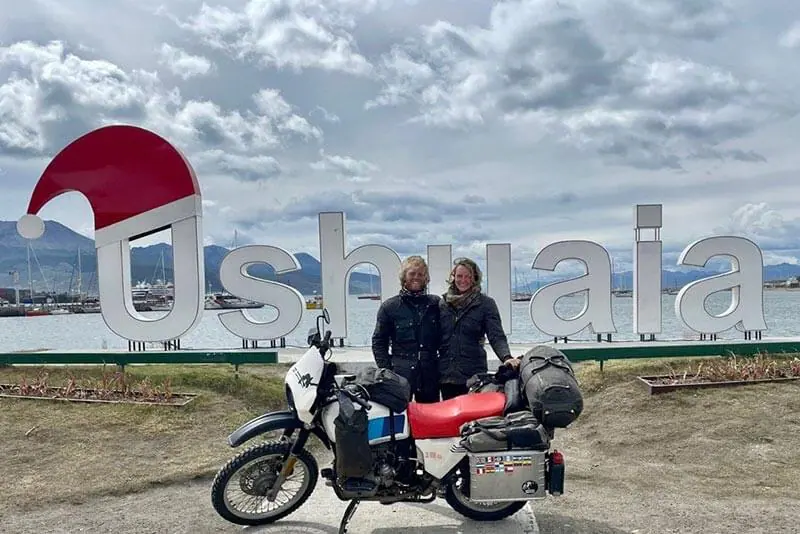 Hard to believe, but we haven't had a single issue with reliability. Sure, Barker the bike was reliably hard to start in the cold, needing a lot of 'encouragement' when iced over – largely from Crendon's morning wee… but hey, whatever works!
We had one 'breakdown' when a particularly rough route dislodged a connection from the key barrel, which obviously happened far from any help and on an awkward uphill somewhere in Colombia, but we traced the wiring to find the issue and had it taped up in no time.
There were innumerable falls during our journey, most of which caused no issue at all (and thankfully no injuries!), other than one failed hill climb at altitude on a very steep track that caused the bike to go right over on itself. We were fine, but she wouldn't start. We quickly worked through diagnosing the issues until we found the left cylinder (the side she had gone over) had filled with oil. With the spark plug out we tipped the bike over to empty it, then cycled the engine with the kick start to spurt out as much as possible. After a completely calm hour with no swearing, we pushed it up a hill and did a rolling bump start back down that brought her back to life – albeit very smoky for a few hours!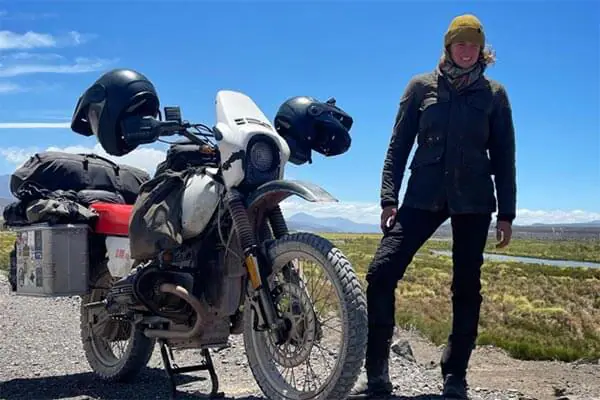 We strongly suspect that if we had done nothing on the bike at all it would still have made the whole journey. We started off rigidly checking valve clearances every 2,000km and changing fluids every 5,000km as per the book, but began to get a feel of when it was needed rather than on the clock, which was incredibly infrequent.
Given BMW garages don't touch these old models any more, and the number of local mechanics who questioned how our bike works without a chain, we didn't let anyone else touch the bike at all. If we needed to work on it under cover, we would pay to use a mechanics tools or welding kit but do it all ourselves. But most often, we did any maintenance on the road. Taking advantage of a great camping spot (of which there were hundreds), we would take a morning with the sunrise and a coffee to work on the bike. This included ratcheting her between two trees then using a large branch to leaver the pannier rack straight again after a knock (you have to be resourceful!).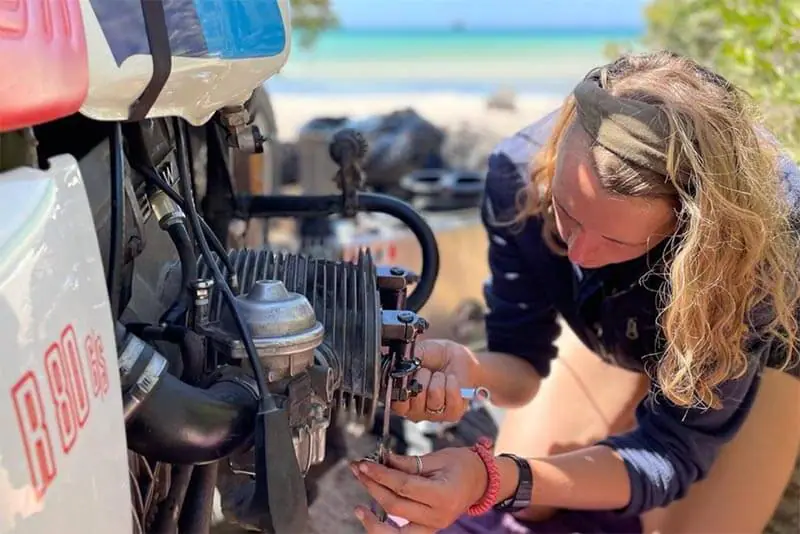 We took a fairly conservative stock of spares – just the consumable items to keep us going. Brake shoes took up the most space, and we didn't need to change them till very late on. Everything else was available on route, normally in a convenient 'motorbike street' that most Latin American cities seem to have! If they didn't stock it, they could make it. Stuff like gaskets took seconds and cost pennies.
The 120 x 90 x 18 rear rim caused us some issues. At one point we needed a new tyre after a disagreement with a rock, and ended up with a temporary knobbly dirt bike tyre that we had to trim the side lugs off to stop it rubbing the rear shock. It then got three consecutive punctures until we found a proper tyre. All good practice at least.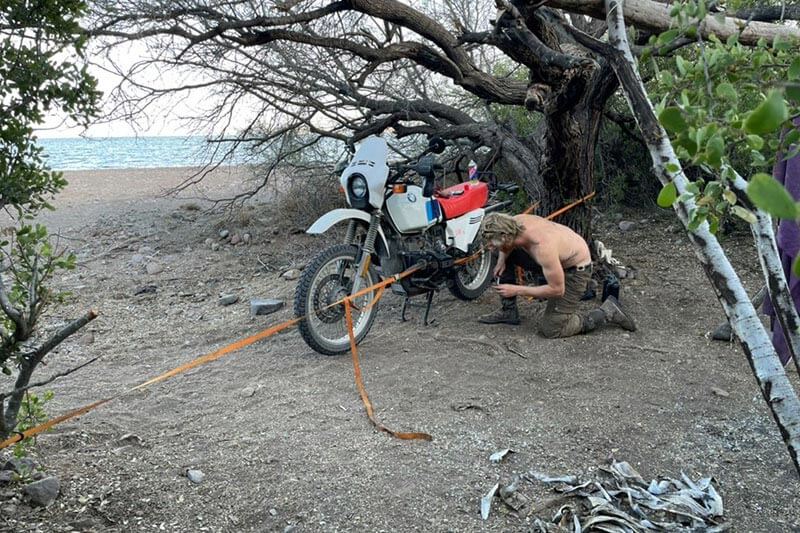 12 months on the road and we are itching for more, we think that shows how comfy it is! We would strongly recommend taking a sheep skin for the saddle – it's like a heated seat in cold weather and makes it significantly more comfortable. For those who think they will just do short days all the time, wait till you get to southern Argentina – there is just nothing for hundreds of kilometres, if you don't push on for some long days you will never reach Ushuaia!
It's cool as f***. As robust as they come. There is a reason this bike set up the whole big adventure big genre. It seems to have real character, with mood swings like the best of us – don't get a G/S if you want the bike to be the same every time you get your leg over.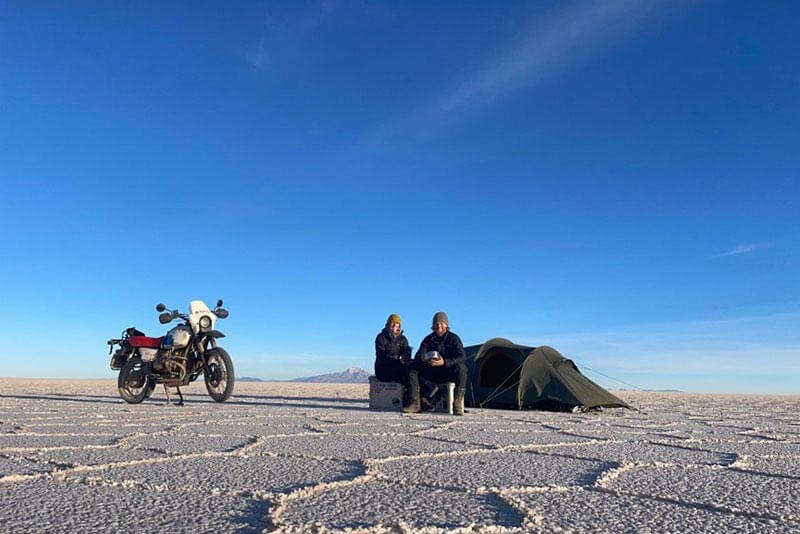 What's not? / Improvements?
All the paint work we did ourselves peeled off…
We reckon the 1000cc conversion kit would be worthwhile for comfier cruising on big road days and a bit more grunt on steep mountain tracks. But then again, the 800cc is supposedly smoother and deals better with poor fuel…
We couldn't recommend it highly enough – robust, simple and cool as they come. The route we took was also incredible; maximum time away from people and pavement.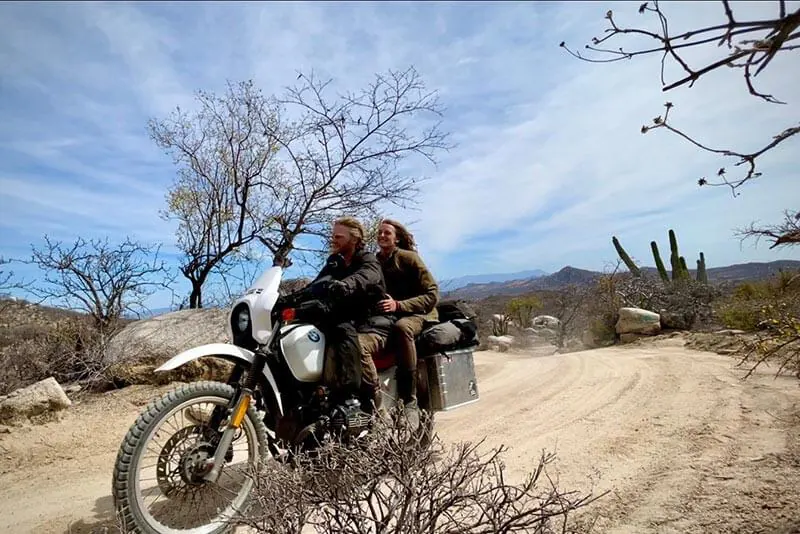 Crendon
Crendon is an ex- Royal Marines officer who has been to almost half of the countries in the world, though mostly the ones you don't want to or shouldn't go to! The last few years have seen him running counter poaching operations in Africa, mainly in the jungles of the Democratic Republic of Congo. Out in the DRC one bike is king – the indestructible Yamaha AG, but you wouldn't want to go a long way on them!
Crendon deployed to Ukraine soon after completing the Latin America trip to contribute his skills to getting correspondents in safely to get the truth out. This lead to some pretty interesting days, check this CNN clip. 
EJ
EJ is basically a mermaid, and is happiest when underwater. As a marine biologist and scuba instructor, she spends her time running marine protected areas and working on big conservation projects to help reduce illegal fishing. A passionate environmental advocate she will turn her hand to anything to help wildlife on land or sea, and seems to just have a way with the animals!
She is relatively new to motorbikes, having only experienced quadbikes when working in Madagascar and mopeds in Indonesia and Vietnam, but she loves the freedom and is now riding all the time. Barker took the two of us out on our second date (a trailer brought us back…) so the bike has always been part of the relationship! EJ jumped headlong into learning the bike inside out, and now has just as much understanding of the bike as Crendon, but combined with the patience to actually do things well…
Endangered Species Vanguard
Together we work for the Endangered Species Protection Agency (speciesprotection.com), a charity working to develop protected area law enforcement and combat the illegal wildlife trade. We were in Latin America looking for opportunities to bring our skills and experience from Africa across. Developing a network and assessing protected areas gave us a framework for our route, and helped us make friends along the way who could show us the best parts of their country. It was the perfect way to get to some of the more remote reserves, like in the photo below in Patagonia.
Follow Crendon and EJ's awesome adventures here:
Instagram: @endangeredspeciesvanguard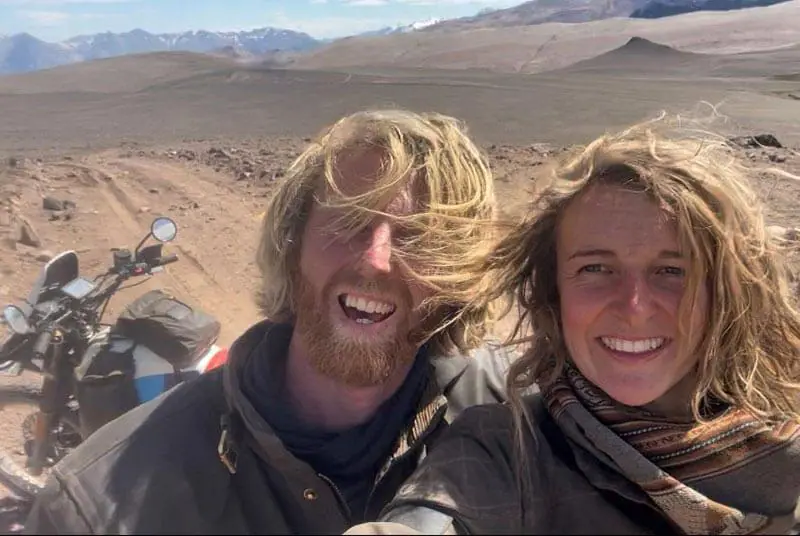 Read more motorcycle reviews
Thanks for checking out this BMW R80 G/S Motorcycle Review. We hope you enjoyed it! Here's a few more articles on motorcycle reviews that we recommend you read next. 
Are you planning a motorcycle trip, interested in the BMW R80 G/S or have any questions? Let us know in the comments below.