Welcome to the Adventure Motorcycle Traveller Reviews. Here's a 20,000-mile review of the BMW R1200GS Rallye by round-the-world motorcycle traveller Bento de Gier.  
Quick info
Bike: 2017 BMW R1200GS Rallye (with Sports Suspension)
Miles covered: 20,000
Years owned: since 2017 
BMW R1200GS Rallye specs
Engine: Boxer-twin, liquid-cooled, 1170cc, FI, shaft drive
Power: 125 bhp
Torque: 92 ft-lbs
Kerb weight: 244kg
Seat height: 850 – 870mm
Tank capacity: 20 litres
Tyres: 19 and 17
Front suspension: Telelever monoshock with ESA
Rear suspension: Paralever single shock with ESA
UK price: Rallye Sport £14,625 
I started riding motorcycles in 2014 when I saw a picture of a Triumph Street Triple and knew I had to get one. A few years later, I switched to a Triumph Tiger Sport so I could cover bigger miles in Europe. But within a few months I changed my mind and wanted to try some light off-roading too. I started looking into Triumph Tigers but then the BMW R1200GS caught my eye. The Rallye model had just been released, I went for a test rest and it absolutely blew me away. I didn't even bother test riding anything else and placed an order straight away. 
I didn't buy it specifically for this trip, but I figured that it would be able to do it and still be a fun bike to own and ride once the trip was finished.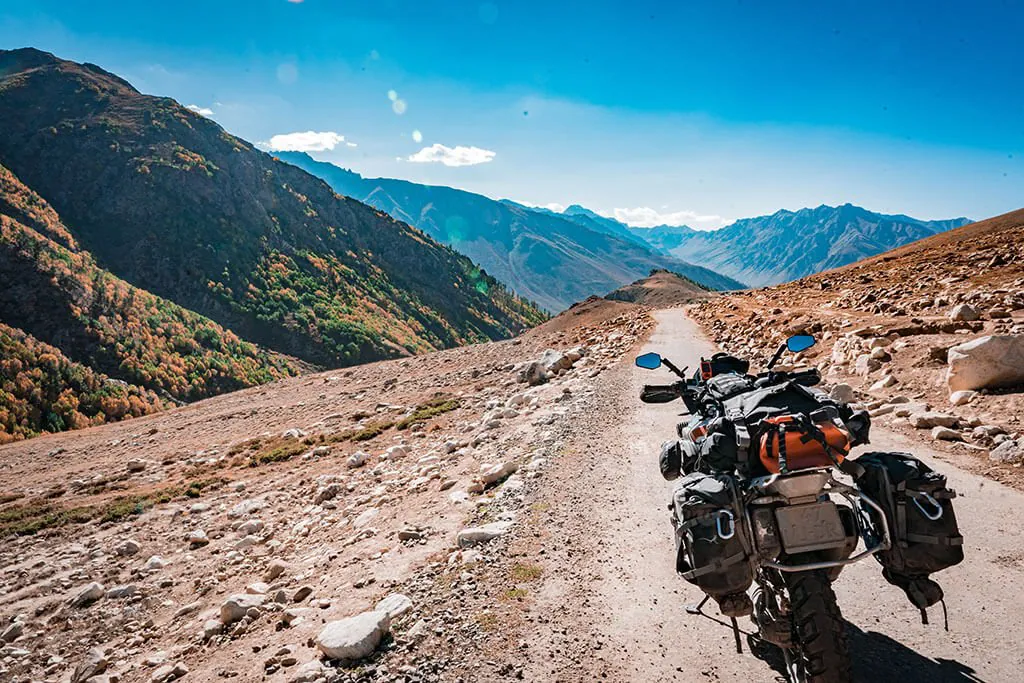 Upper and lower crashbars
BMW OEM luggage racks
Denali D4 spotlights (mega bright and I can set them to strobe quickly which was handy in the infamous Anzob Tunnel in Tajikistan)
Denali Soundbomb horn (Amazing to blast 120 decibels of train horn like noise at idiots on the road in India)
Big bashplate also covering the centre stand
Larger front and rear fenders prevent slinging mud onto my legs and rocks hitting the clutch cover. The clutch is at the front of the bike on the boxer engine.
Aluminium luggage plate on the back which replaced the OEM plastic thingy
Handguards
Cylinder head protection
Lower screen so the wind hits me in the chest and not the head. Best thing I ever did for comfort (I am 6'1).
GSA brake pedal (has a flip thingy which makes the pedal higher when standing up)
Toolbox behind the luggage rack
Guglatech fuel filter in the tank filler neck. Best thing you can do to protect the fuel system really.
25mm bar risers
Mitas E07+ tyres. These will last about 5,000-6,000+ miles dependent on the road surface and how heavy your right hand is!
The age-old debate of hard versus soft motorcycle luggage. I was worried about theft, so I was inclined to go with hard luggage. But aluminium panniers can easily be broken into with a screwdriver, so I settled on soft and after talking to someone from Mosko Moto I bought a lot of their stuff.
It's been amazing. I even crashed twice on tarmac (30 km/h oily hairpin in Pakistan) and you can hardly see any damage.
I use:
Mosko Backcountry 35s as panniers
Mosko Backcountry 40 as my top duffle
Mosko Nomad tankbag
I switched from a Mosko Scout 60 for the BC 40s in Kyrgyzstan. I dumped all my camping gear there before going into China because I wanted a smaller bag on the back.
Read more on luggage: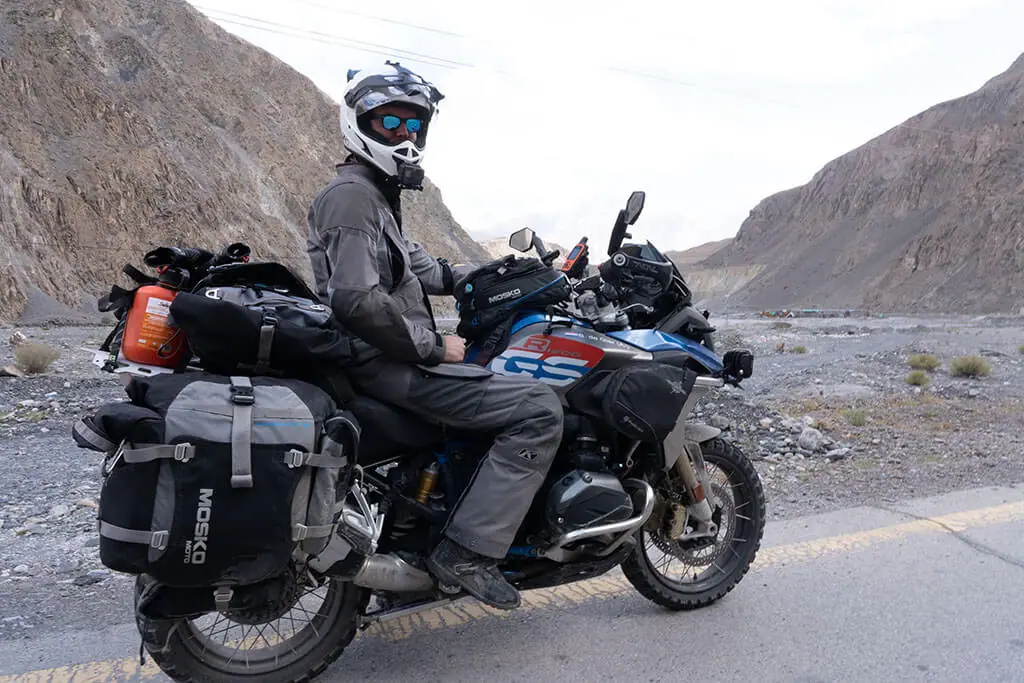 While most people who have never really travelled on a GS will try to make you believe it's the worst bike for that purpose because of all the electronics, I'd argue it's really not a big deal. Even the electronic suspension was mostly fine and it was amazing to be able to switch from a pretty stiff road mode to off-road mode with the push of a button and have soft and plush suspension on dirt.
I brought a device along for reading the bike's computer but never had to use it. Even running on 80 octane fuel the bike never had any major issues. On low quality fuel you just need to be very careful with the throttle otherwise it'll start to knock/detonate.
The only two things that really broke are the front shock and the headlight. The latter because the dealership in Baku "washed" the bike with a very high pressure washer and they must have pointed it straight into the headlight area.
The front shock started slowly leaking and then finally blew out in Deosai National Park, Pakistan. This was the one thing I thought might break before starting the trip, and it did.
Even BMW's "sports suspension" package is not really that good for days and days of off-roading in places like Central Asia where there's hardly any (good) tarmac.
Luckily, the BMW dealership in New Delhi swapped it out under warranty. If it were to break again today, I would swap it out for an ESA compatible kit from Tractive. That way the electronic suspension still functions normally but you get a much beefier shock which also is rebuildable.
Having said all that, the most common thing I saw breaking on other people's bikes were shock absorbers. From KTM to Honda to Kawasaki. Most stock suspension is just not up to the task of day in, day out off-road riding.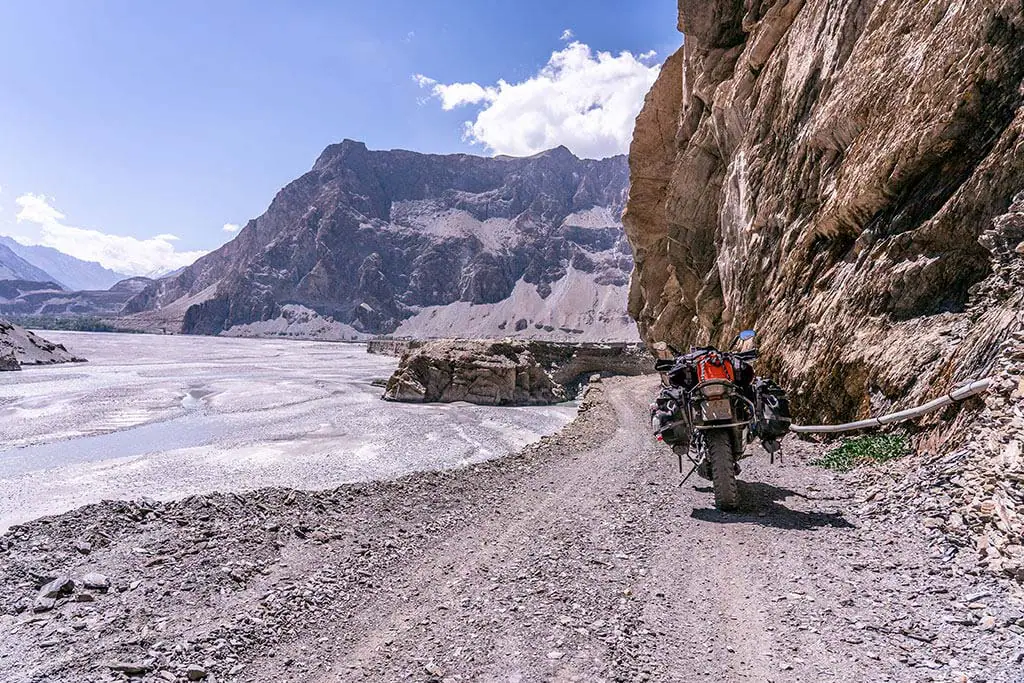 The service intervals are every 6,000 miles. I normally try to change the oil every 4,500 miles because I could feel the clutch biting point changing when the oil got more than 4,000 miles on it. It would've been totally fine, but it can't hurt to change it sooner. If you only do road riding then 6,000 mile intervals are completely feasible.
Boxer engines make it easy to change the spark plugs and do valve checks. I had my valves checked in India and they were completely fine after some 12,500 miles. Getting spares was not an issue in that part of the world either. Dealerships in Baku, Almaty and Delhi have (limited) stock and you can always have stuff overnighted from Russia or even Europe in the worst-case scenario.
All I brought along was a new oil filter, brake pads and an emergency inner tube in case I punctured a sidewall. I used neither of these parts during the trip.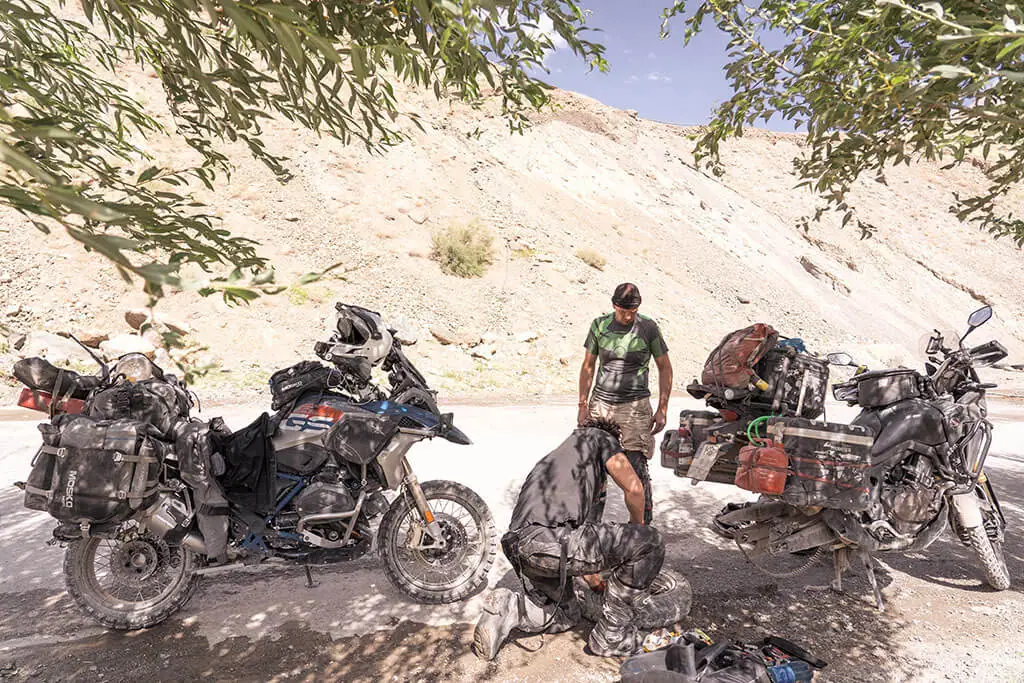 As you can imagine, the BMW R1200GS Rallye is one of the most comfortable bikes for long distance riding. If you sort out the windscreen for your height, then there's hardly any buffeting, the seat is plush and the riding position is pretty ergonomic. Both seated and standing up (angle the bars up a bit more for long days standing on the pegs).
Other than that, my bike has heated grips, cruise control and you can use the cylinder heads and upper crashbars as temporary foot/legrests to stretch out a little on long boring roads. The cruise control allows you to rest your right arm or adjust your gloves, tankbag, etc while not slowing down other traffic. It can also help with fuel economy, which it did for me on a very long and straight road in Kazakhstan.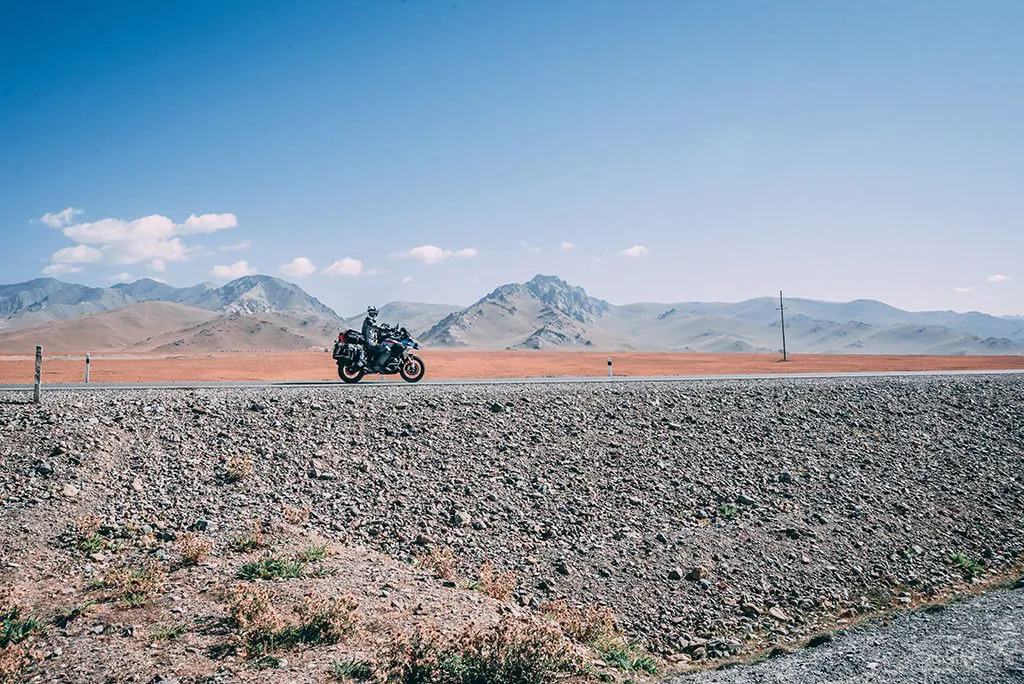 Comfort!
Heaps and heaps of power and bottom end torque
The power and torque were especially handy when trying to overtake slow trucks in countries like India where the roads are narrow and busy with oncoming traffic.
Looks amazing
Easily carries all the luggage you want
Comfortable for two-up riding. I took other travellers as pillion when they needed to get parts in a few places.
Zero issues with 48-degree heat even at slower speeds
No messing around with chains, lubricating, tensioning etc.
It draws a lot of attention in developing countries. That can get tiresome at times but it can also be a conversation starter or a way to impress the border guards and cross some borders more easily.
Could do with a 21" front maybe. But the 19" is a very good compromise for road/offroad riding.
Could use stronger shocks. But that's not unique to this bike specifically.
It's heavy. But that's not really an issue 95% of the time.
The rear OEM mudguard got lost on the Pamir. Put some Loctite on those bolts.
If I were to do this trip again, I would change the standard suspension for Tractive ESA Shocks. There's nothing else. I also own a 2019KTM 690 Enduro which I am setting up for crossing Africa. And that bike needed a lot more mods (and money) thrown at it to make it comfortable and suitable for long distances.
I would argue the GS is the best bike 90% of the time for a trip like mine. People who claim it can't go off-road need to seriously evaluate their own skills. The bike can do way more than most riders will be able to do and I can highly recommend going to BMW's Enduropark near Munich or the BMW Off-Road Skills school in Wales for a weekend (or two!) of training. Even if you ride another brand of big travel bike you will learn quite a bit.
The only times where I wished I was on a smaller bike was when I accidentally parked it in a narrow downhill alleyway and couldn't turn around. I had to get some help to back the beast up the hill and maybe in deep sand.
It's a handful in the sand or in deep slippery mud but it's not a that much easier on a KTM 690 in my experience.
Due to the boxer engine, the centre of gravity is nice and low and when you crash it won't go fully flat on the ground, so it's not that hard to pick up on you own – even with all the luggage on.
The shaft drive of the GS can break, but it doesn't really happen that much from what I've seen. If it breaks you will get stranded and can't just throw another chain on, but it's super nice not having to lube the chain every day or tension it, no checking of broken or worn sprockets either.
Another thing some go on about is carbs vs fuel injection. Personally I would pick FI over carbs any day. No faffing about with jets and screws as it will auto adjust. Super useful in the mountains for power and fuel economy.
Overall, for my ride from Europe to Australia it was near perfect!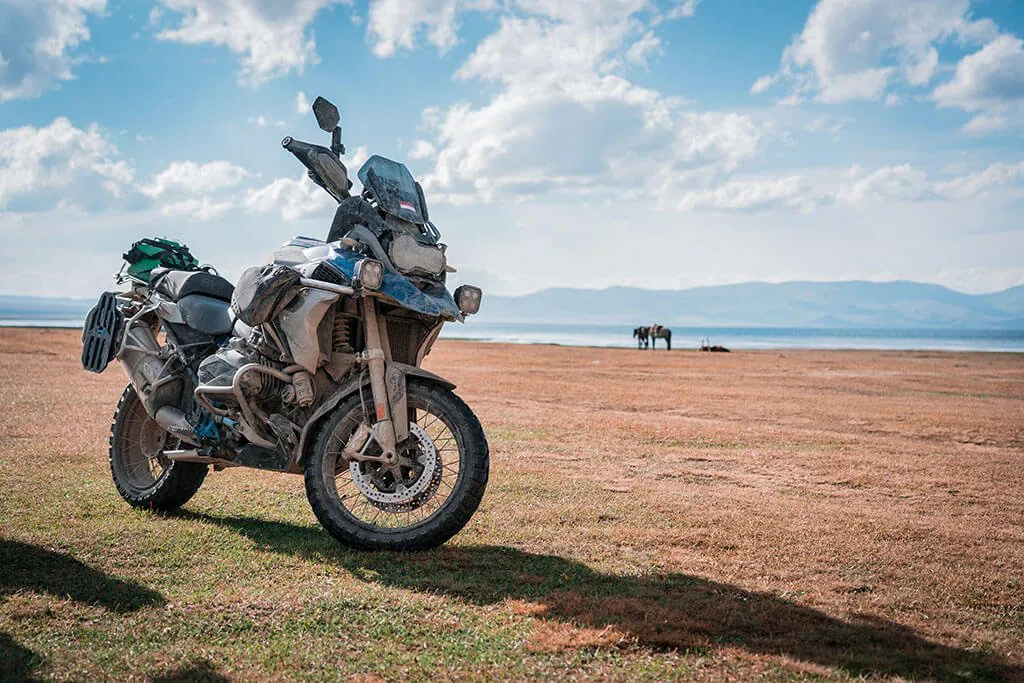 Bento de Gier
Bento is a Dutchman who completed an epic motorcycle journey on his BMW R1200GS Rallye from Amsterdam to Australia. His next trip is a ride from Europe into Africa!
You can follow Bento's adventures here: 
Facebook: Idiot on Wheels
Instagram: IdiotOnWheels
YouTube: Idiot on Wheels
Read more on Motorcycle Reviews 
Thanks for checking out this BMW R1200GS Rallye Motorcycle Review. We hope you enjoyed it! Here's a few more articles on motorcycle reviews that we recommend you read next. 
Liked that? Try these next…
Are you planning a motorcycle trip, interested in the BMW R1200GS Rallye or have any questions? Let us know in the comments below.