Welcome to the Adventure Motorcycle Traveller Reviews. Here's a 50,000-mile review of the BMW F800GS by RTW riders Anabela and Jorge Valente. 
Quick info
Bike: 2008 BMW F800GS 
Purchased for: £4,250 (second hand)
Miles covered: 50,000
Years owned: since 2014  
BMW F800GS specs
Engine: Parallel-twin cylinder, liquid-cooled, 798cc, FI
Power: 85 bhp
Torque: 59 ft-lbs
Wet weight: 207kg
Seat height: 850-880mm
Tank capacity: 16 litres
Tyres: 21 and 17
Front suspension: Marzocchi USD forks 
Rear suspension: Single shock, preload and rebound adjustable
Before buying our BMW F800GS, we travelled through South America for six months with a BMW 650GS. We were very happy with it, and liked the fact that it had barely any electronics. Unfortunately, and because we ride two-up on one bike, occasionally we felt the need for more power. That's why we decided to upgrade and move to the BMW F800GS.
We added pannier and top case racks and changed the saddle. We integrated air cushions into our original BMW saddle, by carving the foam of the saddle and adding the air cushions inside. The seat became much softer and now we can ride for hours without feeling too much discomfort in our backsides. But that's it for mods, everything else on the bike is standard because the F800GS is already so well set-up for adventure travel.
We travel very light. Even though we're two on one motorbike, we only have the following set-up: two Touratech side aluminium panniers (31 and 38 litres) – we decided never to have plastic panniers again, after our first ones broke during our first long trip in South America, one BMW tank bag, one Touratech speed-bag 49 litres on the top case rack, and sometimes we add another much smaller one on top of the speed-bag.
READ MORE: The Ultimate Motorcycle Luggage Guide
READ MORE: The Best Hard Panniers for Adventure Bikes
READ MORE: The 6 Best Soft Panniers
We find the BMW F800GS to be very reliable and haven't had any really annoying issues. We had to replace the fuel pump in Kyrgyzstan (but there were no fuel pumps for BMWs on sale there, so a mechanic did a by-pass and added a filter from a car!). And we had a flat tyre in Kyrgyzstan only two kilometres away from a mechanic – how lucky!
We had planned to have the first service in Azerbaijan. We'd seen online that BMW had a dealership in Baku, so we were confident about it. Unfortunately, they had no motorcycle spares available, as they only had cars. By chance, a friend of a friend of a friend was flying to Baku in a few day (really???) and brought us the spares. This is the kind of coincidence that happens to travellers all the time.
The second service was in Kyrgyzstan, where there's a good mechanic who has the 'usual' spares for 'big bikes' (oil filters, etc).
READ MORE: The Ultimate Adventure Bike Tool Kit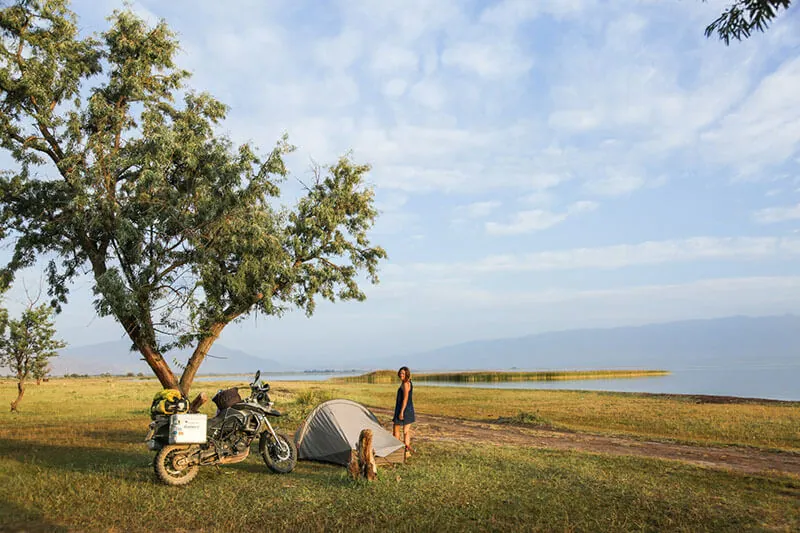 We have been lucky with spares, but this is probably the most annoying part of a long-term motorcycle trip. We don't like carrying spares with us, but since our chain broke in South America, we always carry extra chain links with us. Since then, I'm very careful with the chain and try to keep it clean and oiled as much as possible during the journey.
We flew home after Japan, and when we joined the bike in Cambodia, we brought with us (on the plane) one rear tyre as checked-in luggage. It was funny, because everyone could see we were transporting a tyre, but it wasn't a problem anywhere.  
The BMW F800GS is very comfortable, especially with the new seat setup we made. I also like that it's not too heavy. One of my rules is that I need to be able to lift the bike up on my own if I drop it. And the seating position, which is practically vertical, is very comfortable and good for our backs on long rides.
READ MORE: How to Ride Long Distance in Comfort
Everything! It's an all-round excellent motorcycle for adventure bikers because it's comfortable, reliable and has more than enough power for our needs (rider, pillion and luggage). Its riding qualities on and off road are very good as it's smooth and easy to handle and it's also very comfortable for the pillion too. And another big plus is that it doesn't have too many electronics.
The bike itself, services and spares are generally not cheap. But with so few issues along the way, we believe it was worth paying a bit more. For this specific 2008 model, the fuel pump can be an issue – especially if you are riding in countries with poor fuel quality. But the fix was relatively quick and cheap. And this is an issue many motorcycles face.
When riding in deserts and very hot weather, there's a lot of heat generated from the engine which flows onto the legs and can be uncomfortable, but again this is an issue many motorcycles also face. Overall, it's hard to find ways to improve the BMW F800GS. Although, we would love to see this model in an electric version with a decent range of over 200 miles per charge.
Thumbs up! We are very happy with the BMW F800GS and have no plans to change it anytime soon. The more and further we travel with it, the happier we are. The F800 has taken us two-up with all our gear from Portugal to Vladivostok and onto Southeast Asia, covering 50,000 miles without giving us any trouble. We'd say this is a brilliant adventure motorcycle, can cope with big loads, is comfortable for two-up riding, is reliable and fun to ride. The only negative is the cost of repairs, spares and parts, but you can easily get around this if you plan your trip and services in advance. If you're looking to travel the world then the F800GS is a great choice.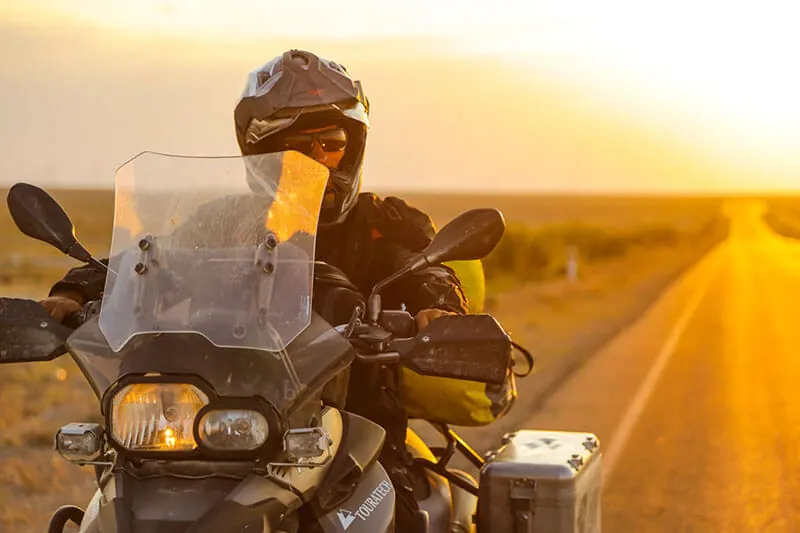 Anabela and Jorge Valente
After a sabbatical break of six months back in 2013, which ended up being a six-month trip around South America on our motorcycle (at the time the 650GS), we decided that we wanted more for our lives than comfortable jobs that gave us enough money to travel but hardly any time to do it… 
So, in 2015 we quit our jobs and have been travelling the world on our motorcycle ever since. We left from Portugal with the aim to slowly reach Vladivostok. After Vladivostok we went to South Korea and Japan, from there we shipped our bike to Southeast Asia. Covid-19 caught up with us in Laos, forcing us to return home, while our bike is still there waiting for us to return and resume the trip to Thailand and southwards…
Anabela and Jorge run the awesome diariesof travel magazine. Their coffee table mag is full of incredible photography, writing and travel and will inspire anyone to get out there. We definitely recommend you have a read! Check out their site and adventures here: 
Read more on Motorcycle Reviews 
Thanks for checking out this BMW F800GS Motorcycle Review. We hope you enjoyed it! Here's a few more articles on motorcycle reviews that we recommend you read next. 
Liked that? Try these next…
Are you planning a motorcycle trip, interested in the BMW F800GS or have any questions? Let us know in the comments below.