Bhutan Motorcycle Rentals and Tours
Here's our recommended motorcycle tour and rental companies for Bhutan.
"We are a small, swift and well established company. We pride ourselves on our bikes, clear and friendly communication and a dedicated service for your motorcycle adventures in Bhutan."
Services: Half, full or multi day motorcycle rentals. Accommodation, biking guide, mechanic, support vehicle, itinerary planning and customisation and more.
Rental bikes: Royal Enfield Classic 500 & Royal Enfield Himalayan.
Rental prices: Starting from 100 USD for half day with Classic 500 to full day for 150 USD with Himalayan. Significant discounts provided on multi-day trips.
Tour prices: Approximately 250-400 USD per person per night depending on season and number of people in group and tour length. Price includes bike rent, accommodation, meals, guide, support vehicle and Bhutan government permit fees. A range of shorter tours covering just some parts of Bhutan to biking expeditions across the entire country are available.
Insurance: Not included.
Kit availability: Helmet and gloves are included in the rental and tour price. Other gear is subject to availability.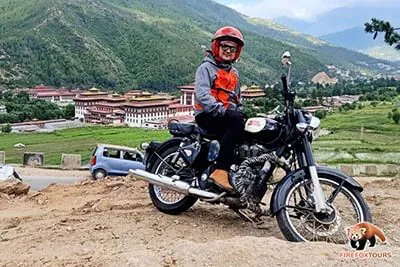 Thimphu, Bhutan 
  www.firefoxtours.com
  Dawa Dorji Tamang
Whatsapp/telegram/signal: +1 989 244 9610

Voice: +975 17 98 99 28
  info@firefoxtours.com
Read more on Motorcycle Travel in Bhutan and Asia.
Thanks for checking out our Bhutan Motorcycle Tour and Rental Companies post. We hope you found what you were looking for. Here's a few more articles on motorcycling in Bhutan and Asia that we recommend you read next. 
What's next? Check out these resources to get started on your adventure!
Motorcycle Rental and Tour Companies
Planning a Fly and Ride bike adventure? Here's our recommended motorcycle rental and tour companies from around the world. Check out the page, click a country and see what's on offer!
Read More
We'd love to hear from you! Let us know about your Bhutan motorcycle tour experiences and ask any questions in the comments below.