Two years later, we've returned to Thailand to get our motorcycle and continue our round the world journey…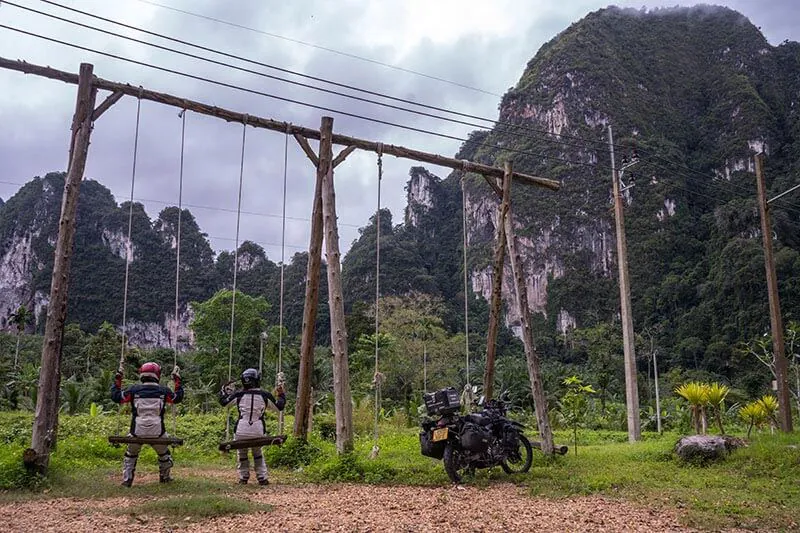 Motorcycle Travel Blog Borneo
Back to it
Just over two years ago, the pandemic hit, all the land borders closed and we had to abandon our motorcycle in Thailand and fly home to the UK – putting a huge pause in our round the world trip.
But the land borders have finally reopened between Thailand and Malaysia, the quarantining and entry rules have been relaxed and it was time to get back out there. We packed our bags and booked one-way tickets.
Non-starter
The two years of storage hadn't been kind to the XT. The fuel tank had completely rusted inside (probably due to the gasohol left in there) and the fuel filter had corroded to dust. A local mechanic said he could sort it all out within 10 days while we went looking for a new fuel pump – which proved impossible.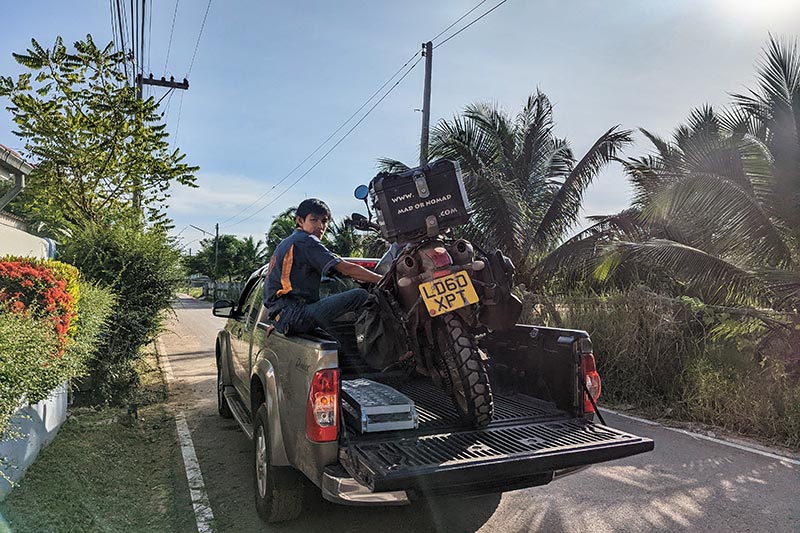 Wet, wet, wet
Ten days behind schedule and desperate to hit the road and enjoy Thailand's beach life again, we made a dash for Samui. We had a couple of good days in a hut right on the beach, but the weather turned sour and the rain was relentless. So, we darted to Koh Sok on the other side of the country – for more rain and exceptionally sticky weather.
Into Malaysia
Our plan was to ship the bike from Kuala Lumpur to Sarawak, Borneo after a leisurely ride down through Malaysia. But while in Koh Sok, we realised there was a miscommunication with the shipping agent and we only had three days to get to the port – not seven.
Luckily for us, Malaysian roads are excellent and the motorways are fast going. There are even motorcycle dedicated lanes on some sections and the hard shoulder is exclusively used by bikes too.
The rain chased us all the way from Thailand and we had more torrential downpours with a splash of thunder and lightning just to keep us on our toes. But with fast roads, we could outrun it most of the time, so long as we kept the throttle pinned.
Along the way, we received a comment on one of our website's articles and a subsequent email from a reader asking a couple of questions about the BMW 310GS. As he sent the email from his work mail, I noticed his address in the email footer – a town we would be passing through the very next day. We emailed back saying we're literally passing your workplace tomorrow and ended up meeting for a coffee! Small world or what?
Explaining Borneo
Borneo is an island that is administered by three different countries. The north belongs to Malaysia and Brunei (a tiny spec) and the south of the island belongs to Indonesia. 
It's a little confusing, but to get from Peninsula Malaysia (also known as West Malaysia) to Java (Indonesia's largest island and its centre) with your own (foreign) vehicle, you need to ship from Port Klang (West Malaysia) to Sarawak (Borneo, which is East Malaysia), ride south and cross the land border to Indonesia Borneo and then get a ferry to Java.
The first shipment from Klang to Sarawak would take two weeks. But that suited us because our plan was to fly to the north east of Borneo, go scuba diving and check out the island's incredible wildlife while we waited.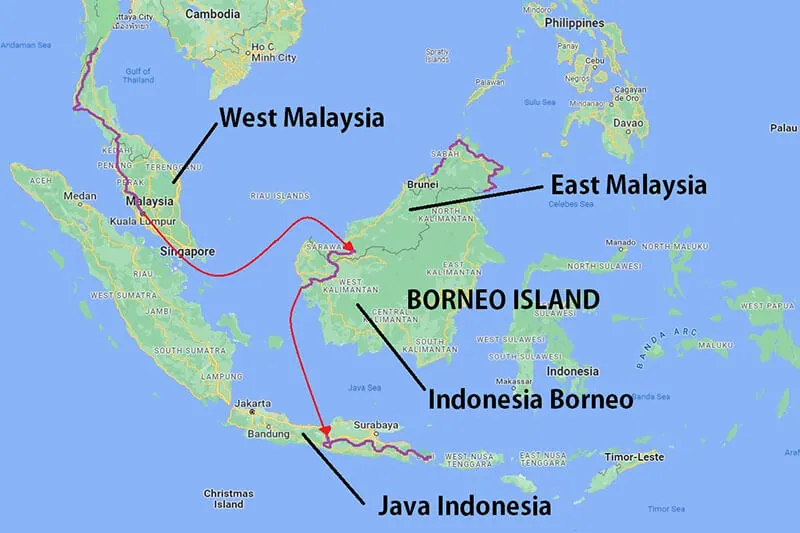 Bye-bye bike, hello Borneo
We apologised to the XT for leaving it so soon after being reunited again and left it with the shipping company at Port Klang to catch a flight to Sabah, Borneo. It's a place we've always wanted to visit – mainly for its wildlife. The world's third largest island, home to one of the oldest rainforests in the world (130 million years old making it twice as old as the Amazon), it's one of the most diverse places on the planet and around 100 species of animals residing on the island can only be found in Borneo.
We spent two weeks flying all over the north of Borneo, scuba diving, jungle trekking and cruising down rivers. Most importantly, we wanted to see animals in the wild and the best way to experience that is by boating down Sabah's mighty Kinabatangan River with a local guide as it snakes its way through tropical rainforests.
All of these animals are living out in the wild, which makes it extra special seeing them in their natural habitat. We were lucky to see an orangutan and its baby just living life in the trees, silvered leaf monkeys, macaques, snakes, crocodiles, lizards and birds.
The boat driver took us into the forest on foot too, but that was mainly met with hundreds of spiders and we lost count of the amount of leeches we had to pull off our legs. Back on dry land, we headed to a few sanctuaries to see more of these incredible animals up close.
Sun Bears
These guys are the world's smallest and least known bears – and they're also one of the most endangered animals in the world too.
There's only around 2,500 left and the Sun Bear Conservation Centre here in Borneo is dedicated to raising awareness and saving these little bears.
Their numbers are shrinking rapidly due to illegal logging, deforestation and palm oil plantations. Farmers see them as pests and kill them, they are hunted for their gall bladders which are used in Chinese medicine and poachers kill the mums and sell the cubs, which then spend their lives in cages.
The Bornean Sun Bear Conservation saves these bears, rehabilitates and looks after them and release orphaned bears back into the wild while also raising awareness for them.
Here's some interesting info about Sun Bears.
Sun bears can live up to 38 years old (12-15 in the wild due to a lack of food).
They are fully grown at four and go on to live independently and are solitary.
They're called sun bears due to the yellow horseshoe shape on their chests, which resembles the rising sun – no two markings are the same.
Sun bears are afraid of humans and noises. When startled they sound like barking dogs.
Males have a home range of 15km2 in Borneo.
They're surprisingly quick movers and exceptional climbers.
They have loads of excessive skin, which means that if they're grabbed by a predator, they can turn around in their skin to fight or bite back. The loose skin also acts as armour.
Orangutans
In Sepilok we visited the Orangutan Conservation Centre (where orangutans are rehabilitated). The centre isn't an enclosure and the apes can come and go from the forest to the feeding platform. They feed them the same food everyday so that they get bored of it and end up venturing out deeper into the forest to find their own food.
Orangutans are critically endangered. There are only three species and they're all native to Malaysia and Indonesia. But their homes in the tropical rainforests are destroyed due to logging, deforestation and illegal poaching. It's estimated they may be extinct in the wild within 50 years.
Here's something interesting we learned about them. Orangutans are the only great ape outside of Africa and around 96.4% of human DNA is identical to theirs. They have the longest childhood dependence on the mother of all the world's wild animals. Orangutan mothers nurse their baby for around six years. Young females stay close to their mum to watch and learn how their younger siblings are nursed (cute!).
Proboscis monkeys
One of the main reasons we visited Borneo was to see the Proboscis monkey as they're endemic to the island.
There are a couple of things you may have noticed from these pics. Both are super weird, but here we go…
Firstly, their noses. The bigger the nose, the more attractive the monkey is and the more likely it'll mate. If a male monkey has a huge schnoz (they can grow up to 18cm), it shows he's the alpha as he's more dominant and able to make louder honks.
They're incredibly vocal, making honking noises to show who's boss (it's hard not to laugh when you hear it).
And secondly (this one is even weirder), the male has a permanently erect penis. 
Head hunters and food
As well as the endemic wildlife, Borneo is also home to around 300 different ethnic groups and its deep history and culture are incredibly important. Over 300 years ago, there was a chap called Monsopiad who was a feared head hunter. He was a Kadazan warrior who killed 42 of his enemies and hung their skulls as trophies in his living room… 
You can visit a heritage site in Borneo where he lived and learn about his life and tribe and the way the Kadazan people lived centuries ago.
A big part of that is spirit worship and the Bobohizans – who were like witch doctors – ruling the villages and taking care of their village's health and spiritual well-being. Sadly, the last high priestess died back in 2002 and with her the long line of Bobohizans.
If you're ever in this neck of the woods, it's definitely worth a visit to learn about their medicines, the way they bury their dead, learn how to use a blowpipe, eat chunky live worms, walk on stilts to cross rivers and watch their native dances.
Welcome to Indonesia
The text came through, the bike had arrived at the port in Kuching. We took a midnight flight, picked the bike up first thing in the morning and headed straight for the border. We had read a few reports of overlanders saying how terrible the Entikong border was, and that the Aruk border was far better. But it was an extra two-three-hour ride and we needed to be in Pontianak to catch the ferry in two days so we risked it.
The immigration guys were exceptionally friendly. I ended up jumping on the back of a scooter with one of them as we headed off to an ATM (we didn't have any Indonesian money on us for the visa on arrival) while Alissa stayed with a bunch of guards and officers and agreed to marry off one of her sisters to them.
Customs wasn't as smooth. The rules at this border state that all our luggage has to go through an X-ray scanner. The last time we had to do that was when entering Azerbaijan – and that was only because we had visited Armenia.
It wasn't their fault; they were just doing their job. They were very friendly and a good laugh too. We were at the border for an hour and a half, but 30 minutes of that was because of the visa.
Two days later and we're riding up the ramp onto a ferry headed to Java and watching Borneo disappear into the distance…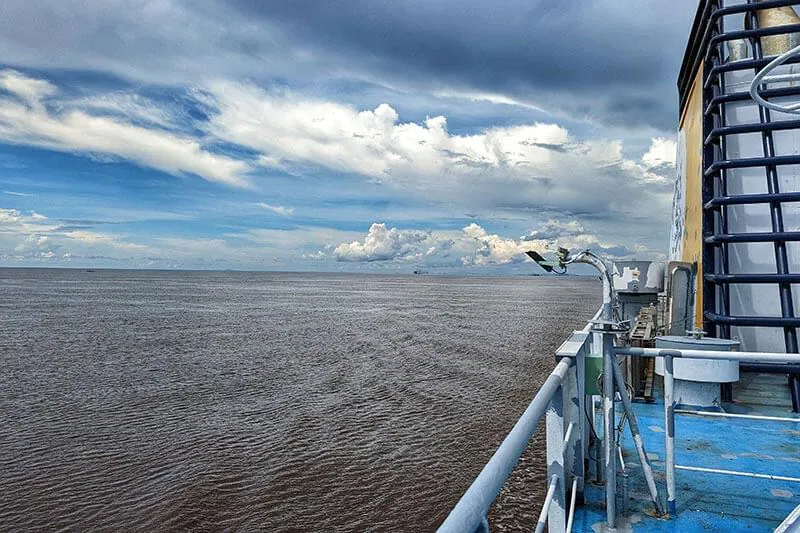 What's next
The plan is to arrive in Java, ride East to Bali and ship the bike to Australia, New Zealand, then onto America. The reason we've had to move relatively quickly on this section is because our riding window in New Zealand is in April and if we miss it, we won't have much fun riding in the cold! And also, we're planning on riding in Alaska, and can't be there much later than June. So, until we've visited Alaska, we're on a schedule.
It's been a bit of a mad, delayed, rushed and rocky start with meeting shipping dates and terrible weather at the start, but we're finally back on the road and that's what matters…
With thanks to…
Steve and Waew
When we were last in Thailand, our friend Jayem in Chiang Mai put us in touch with his friend Steve in Pran Buri. As Covid loomed over the country we got in touch with Steve who invited us to stay at his place until things calmed down. Not long after we arrived, the country went into lockdown. Steve and his lovely wife Waew gave us the keys to their annex and we spent the next five months living there before giving up, leaving the bike and flying back home.
Their generosity and kindness is out of this world. Not only did they let us stay at their place, they looked after our bike for two years. They're amazing people and we can't thank them enough for everything they've done for us.
Read more on motorcycle travel in Borneo
Thanks for checking out our Borneo Blog. We hope you enjoyed it! Here's a few more articles on motorcycle travel in Thailand and Southeast Asia that we recommend you read next. 
If you enjoyed this Borneo Motorcycle Travel Blog or have any questions, please post your comments below. We'd love to hear from you!