Welcome to our Awesome Motorcycle Christmas Gift Ideas guide! This article is packed with cool gifts, ideas and experiences for bikers. You'll find a range of goodies from budget stocking fillers to big trips and everything in between… Merry Christmas!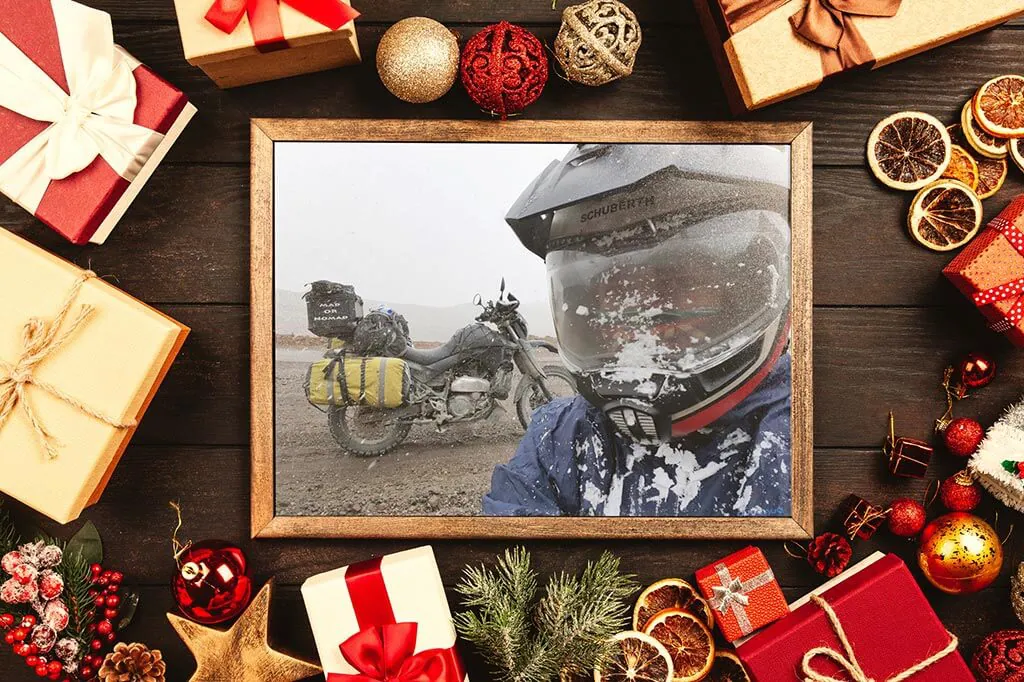 Motorcycle Christmas Gift Ideas
The Christmas holidays are nearly here! Or have just gone, depends on when you're reading this really? But anyway! If you're reading this you're either on the lookout for a motorcycle Christmas gift for your friends, family or loved ones OR you're treating yourself to some two-wheeled goodies! Either way, you've come to the right place…
Here's an awesome selection of perfect motorcycle Christmas gifts for bike lovers ranging from stocking fillers to all-out extravagant trips of a lifetime. Enjoy and Merry Christmas!
Motorcycle travel books
What better way to spend a warm cosy evening this Christmas than with your feet up, a mug of hot chocolate and a good motorcycle travel book! There's so many incredible tales of adventure out there to choose from so we've added a link below to our best books article packed with a selection of our favourites. And, if you're strapped for time and just want a quick suggestion, here's our current top pick.
OUR TOP PICK: Lone Rider by Elspeth Beard
READ MORE: The Best Motorcycle Travel Books
Phone mount
The good ol' paper map used to be king. That all changed with the motorcycle sat-nav and then changed again with smartphones as navigation devices thanks to the simple and handy phone mount. You can quickly and easily plot a route using Google Maps on your phone and fix it to your bars using a simple, no faff bar phone mount. They're cheap and easy to use and, most importantly, make a great Christmas present! Here's our current favourite and another article listing the best on the market today if you fancy digging deeper.
OUR TOP PICK: Shape Heart Phone Mount
READ MORE: The Best Motorcycle Phone Mounts
Stocking fillers
If you're after a smaller gift, perhaps something you can shove into an oversized sock, then check out this cool selection of stocking fillers. All of these items are under £50 and are handy little extras every rider could do with. Click the pic for our recommended examples online.
Helmet
Treat your head this year with a brand new lid. Go on, you know you want to! Plus, if need that little extra push or just need an excuse, then don't forget that helmet manufacturers recommend you change your helmet every five years.
There's such a huge array of helmets on the market today from touring, to enduro, adventure, hybrid, flip front and so on. To help out, we have two guides on the best touring and adventure helmets available today and our current favourite listed below. And if you're trying to decide what type of helmet is best for you, perhaps take a look at the helmet section of our How to Choose Your Adventure Riding Gear Guide first.
OUR TOP PICK: Arai Tour X4
READ MORE: The Best Adventure Bike Helmets
READ MORE: The Best Touring Helmets
Heated motorcycle gear
Buying heated motorcycle gear is like buying a warm cosy hug. Heated kit is an excellent investment and even better gift because you're literally warming the recipient's heart… nice, huh?
It's also a great gift idea because there are so many different heated gear options including: heated jackets, vests, trousers, socks, insoles, gloves or even heated grips.
They're simple and easy to use and  you'll no longer have to layer up and waddle out to your bike like a sweaty Michelin man. Just plug in, turn up the heat and ride through winter in comfort. Check out our Keis Review and the 'read more' guides below for extra info on other heated kit recommendations and winter riding gear.
OUR TOP PICK: Keis Heated Jacket
READ MORE: The Best Heated Motorcycle Gear
READ MORE: The Ultimate Winter Motorcycle Gear Guide
Tool kit 
Now this is a good one. Tools are one of those things you don't really want to spend money on, but absolutely love once you get a shiny new set. But it's always worth having a dedicated travel tool kit filled with lightweight, hardy and multi-use tools to get you out of tight spots. This is essential for motorcycle travellers and riders who go on mammoth biking tours. Carrying the basics can easily save you an expensive trip to a garage or having to be towed – especially for simple fixes. The only tricky thing is deciding on what exactly you need. So to help out, we have a packed article explaining how to pack a tool kit complete with a list of essentials. And if you're after a high-quality kit already made for your specific bike model, then check out our SBV recommendation and review.
OUR TOP PICK: SBV Adventure Motorcycle Tool Kit
READ MORE: SBV Adventure Tool Kit Review
READ MORE: The Ultimate Adventure Bike Tool Kit
Backpack
A backpack is an essential for many riders – especially commuters and social riders. It's easy to just stuff your work gear or change of clothes in there, jump on the bike and get going in no time without having to strap extra bags down. I've had the same Kriega rucksack since my first European tour 16 years ago and refuse to change it. We reckon this one will make a great Christmas present because they last forever and are probably just about the best quality you can get.
But there's loads of other luggage options out there if you don't fancy a rucksack. Check out our luggage guides below for more info.
OUR TOP PICK: Kriega R20 Backpack
READ MORE: Kriega Backpack Reviews (R20 and R30)
READ MORE: The Complete Motorcycle Luggage Guide
Bluetooth headset
Motorcycle Bluetooth headsets are revolutionary. Yes, that's probably quite an over-the-top statement, but they are! If you ride in groups or with a pillion and don't have one yet, then you are missing out. Long gone are the days of sign language, helmet tapping and aggressive pointing, you can just tell your riding buddies that you're pulling over for a wee instead! They're easy to use, you can make phone calls, listen to music, connect to your sat-nav, play podcasts and talk to your mates on tours. They'll make your two-wheeled life easier and are fantastic Christmas presents!
We're recommending the Interphone Tour 4 here, but there are so many to choose from dependent on your needs and budget, so to help out we've narrowed down the very best on the market and put them in one easy to read guide below.
OUR TOP PICK: Interphone Tour 4
READ MORE: The Best Motorcycle Bluetooth Headsets
Sat nav
Motorcycle Sat navs save so much time. It's nearly impossible to get lost with one of these navigation devices. They help you plan your trip, find fun squiggly roads on the map, warn of speed cameras and real-time traffic updates, will instantly find hotels, petrol, restaurants and other places along your route and are now near essentials on motorcycle tours. If you're after a new toy for Christmas, then treat yourself to one of these bad boys.
OUR TOP PICK: Garmin Zumo XT Sat Nav
READ MORE: The 5 Best Motorcycle Sat Navs
Video camera
A motorcycle video camera is probably one of the best presents you can get yourself! The quality on these little technological wonders has improved drastically over the years and they're really nowhere near as expensive as they used to be. You can film your rides, upload them to YouTube and most importantly, find out who your real friends are when you try and show them four hours of helmet cam footage of your ride through the Peak District! Here's our current top pick and a gear guide on camera, video and electronic equipment for bikers.
OUR TOP PICK: Drift Ghost XL Action Camera
READ MORE: The Motorcycle Camera and Video Gear Guide
Off road motorcycle training
Off-road schools and adventure bike training are some of the most fun you can have on two wheels and the perfect thing about it is that there's something for everyone!
It really doesn't matter what skill level you are, they're designed for all riding abilities from beginner to expert and the instructors work to get you the right training so you're in a comfortable learning environment. That means you can go for one-to-one classes if you don't want to be in a group and want a more personal approach, or a ladies only class, rally training for the more advanced riders or just a fun day out with your mates! 
You can opt for an enduro bike school or an adventure bike school, or even take your own bike if you want to practice before a big trip.
You'll learn new skills and be more confident on the rough stuff and it'll plaster a huge smile across your face. Treat yourself (or someone else with a voucher) and get dirty this Christmas!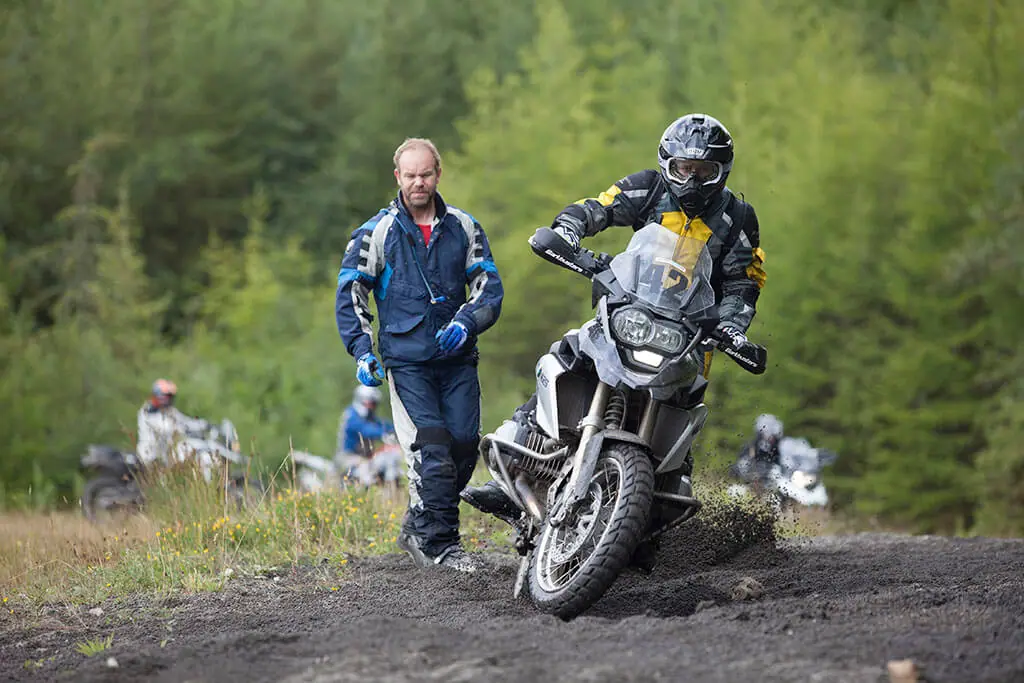 Field mechanics course
If you're planning a big trip, RTW adventure or even a week-long tour, it's worth knowing how to repair your bike and keep it going while on the road. Not everyone is comfortable with that and it does easily put a lot of people off travelling and that's completely understandable. So, why not sign up for a motorcycle travel mechanics course where you'll be taught the basics of preparing, maintaining and fixing your bike while travelling or touring.
You can take your own bike and tool kit or use the instructor's. You'll learn loads and feel more confident should you need to work on your bike on a Namibian hard shoulder.
You'll find a selection of companies who offer mechanics courses on our UK Off-Road Schools page. 
Join an organised motorcycle tour
This is the big one! If you really fancy pushing the boat out and treating yourself this year, sign up for an all-inclusive organised motorcycle tour! Here's why…
It'll take all the stress, faff and time out of planning an adventure. Professionals, who know their country and routes inside out, will plan and take care of everything from your bike to paperwork, fuel, food, pitstops, hotels, sights and amazing routes. All you have to do is turn up. What more could you want!
We have an entire section dedicated to Recommended Motorcycle Rental and Tour Companies with over 100 companies from around the world listed. So check them out if there's somewhere specific you fancy riding. Open up the link and click a country on the interactive map to see what's on offer. 
But if you're looking for some ideas, we've narrowed down our top pick to Free Ride Spirit in Portugal for this year because they've got a pretty sweet Christmas December deal on.
The deal is that you can purchase an all-inclusive gift card tour now, but you get 12 months to book the tour, which is pretty good if you don't know when you'll get time off work yet or just want to spend longer deciding on dates. Plus, your pillion rider gets to go with you for free on road tours or you can get some enduro gear thrown in on off road tours. That's a decent deal if you want to go away with your partner anytime in 2022.
OUR TOP PICK: Free Ride Portugal
READ MORE: Recommended Motorcycle Rental and Tour Companies
ps. We may receive a small commission, at absolutely no cost to you, if you purchase any product using this link to Sportsbikeshop, this link
to Amazon or any of the buttons and links on this page. We're not sponsored by anyone, are completely impartial and don't run ads. So this helps us keep our site and motorcycle running. Thank you for your support.
Read more on motorcycle travel
Thanks for checking out our Awesome Motorcycle Christmas Gift Ideas guide! We hope you enjoyed it! Here's a few more articles that we recommend you read next… 
Liked that? Try these next…
Got any great Christmas gift ideas for bikers that we should know about? Or do you just want to know what Santa's getting you? Chuck your questions and comments below. We'd love to hear from you!